ASUS Rampage V Extreme (LGA 2011-3) Motherboard Review
---
---
---
Ryan Martin / 8 years ago
Introduction, Specifications and Packaging
---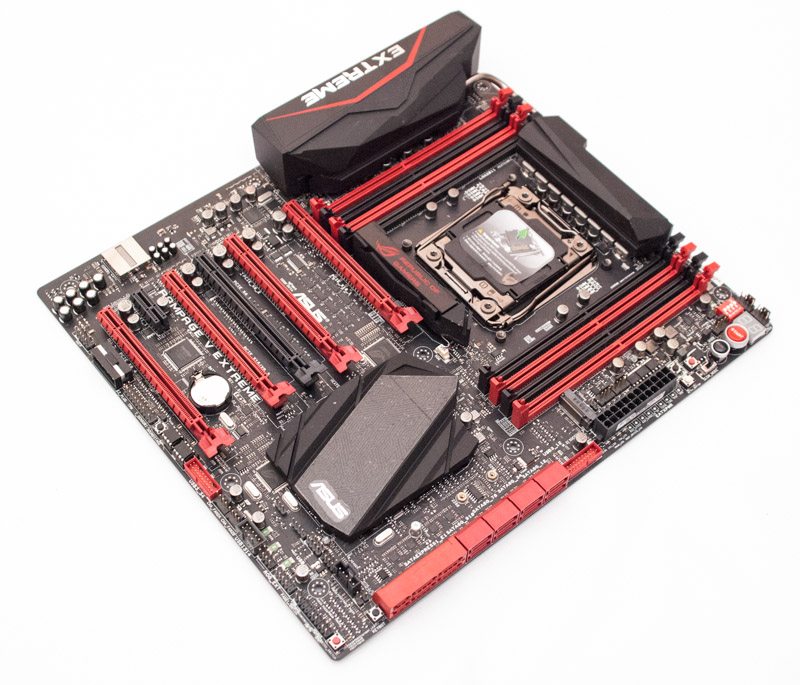 The Rampage line of ASUS motherboards are famed for their class-leading performance and prestigious reputation. With every new CPU on Intel's High-End Desktop (HEDT) Platform we've seen new ASUS Rampage motherboards. The first Rampage arrived with LGA 775 and the X48 chipset, we saw the second iteration Rampage II come with socket LGA 1366, the X58 chipset and Bloomfield CPUs. The Rampage III arrived with the same socket and chipset but with the new 32nm Gulftown CPUs that introduced 6 cores for the first time. Intel continued the 32nm and 6 core trend when ASUS brought out the Rampage IV Extreme for X79 and Sandy Bridge-E CPUs. With Ivy Bridge-E ASUS refreshed the Rampage IV Extreme with a Black Edition variant that used the same socket and chipset as the original board it improved on. Now we've got Intel's Haswell-E 8 cores and ASUS have brought the Rampage motherboard into its fifth iteration – and it's more bada$$ than ever before.
The ASUS Rampage V Extreme is the complete package for the Intel LGA 2011-3 X99 platform. It supports all the bells and whistles….. and then ASUS added a gong and foghorn just for good measure. The R5E draws its inspiration from its predecessor and continues to target a broad user-base with features suitable for extreme overclockers, gamers, workstation users and elitist PC users. ASUS haven't just settled for the X99 chipset, they decided to keep on adding more and keep on improving. Of note for this board is the ASUS OC Socket which adds extra pins to allow for additional voltage controls with Intel Haswell-E CPUs, ASUS claims better DRAM and CPU overclocking than on rival motherboards. We could go through all the new features of the ASUS Rampage V Extreme but there's just so much, we refer you over to our ASUS X99 launch article which explains in-depth all the new features of the ASUS Rampage V Extreme and other ASUS X99 motherboards.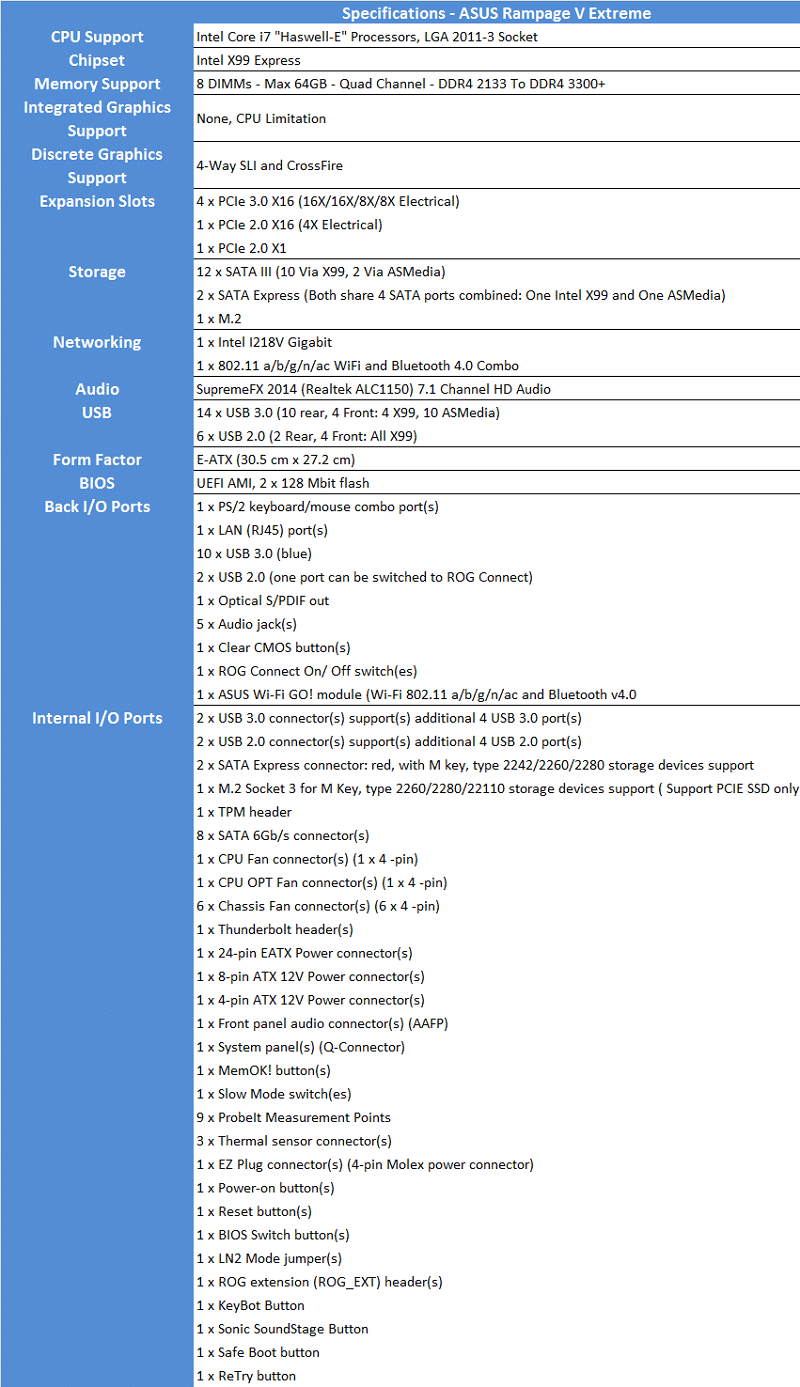 Packaging and Accessories
An ASUS Rampage V Extreme motherboard wouldn't be complete without a lavish package. Straight away you notice just how big the Rampage V Extreme is, there must be a ton inside the box!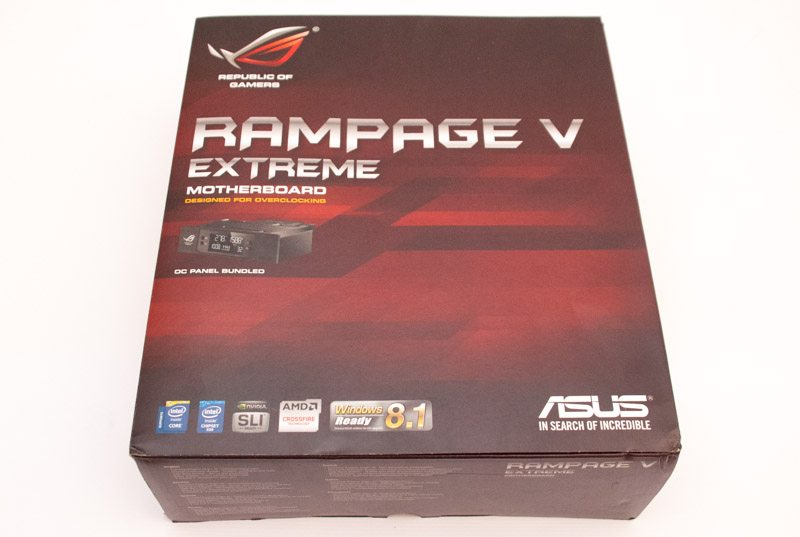 Flipping the box over gives us a detailed break-down of features, specifications and other technical details of which more can be found at the ASUS Rampage V Extreme product page.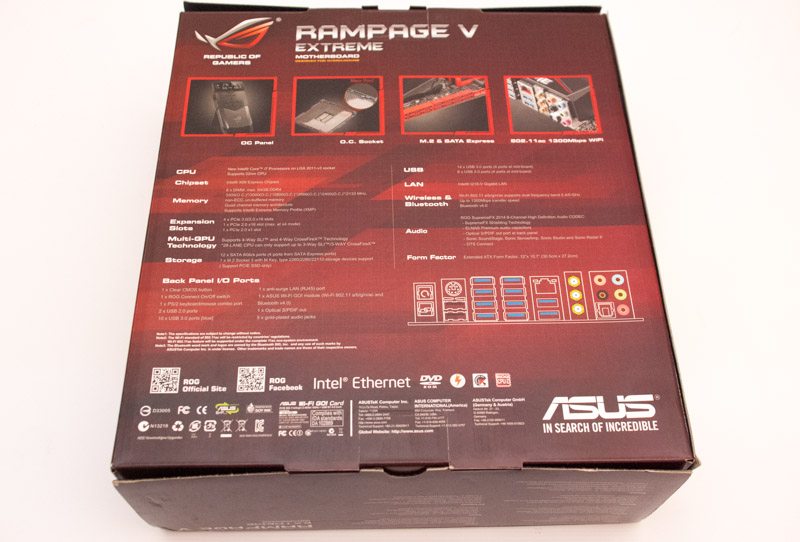 Normally we wouldn't bother showing you all the different parts of a product's packaging but with the R5E there's an exception to be made, it comes beautifully presented and ASUS certainly know how to make their buyers feel special.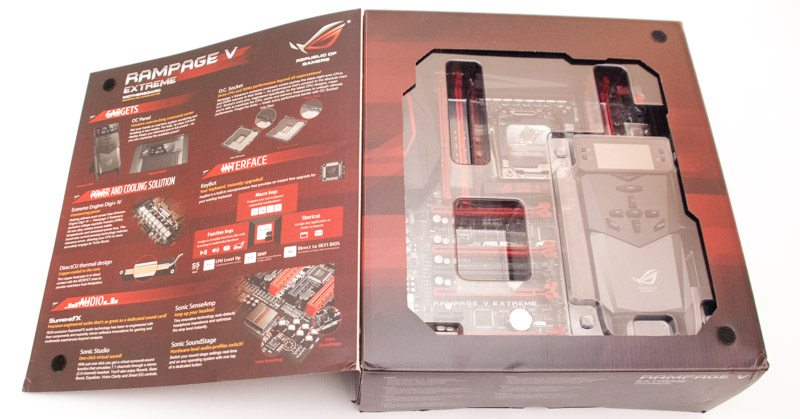 You get a tonne of accessories with the R5E so let's work our way through them. Firstly, you get a variety of documentation, a driver utility DVD, a door hanger and some stickers for managing your internal components.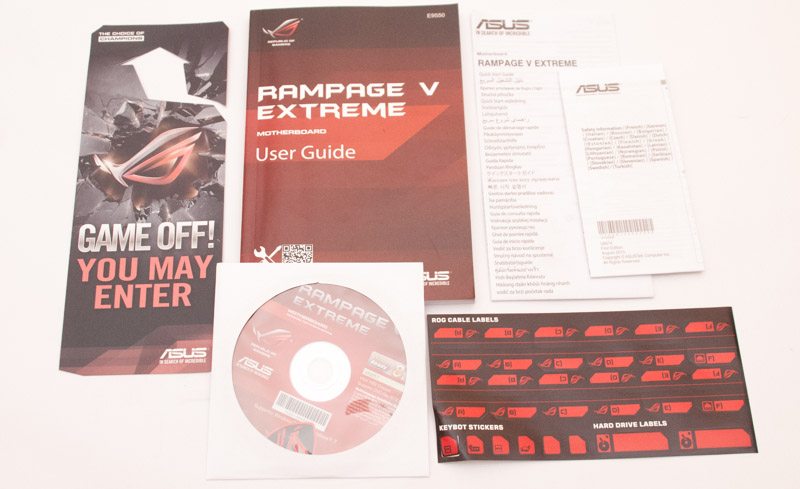 Next we find an alternate backplate for LN2 pot mounting, the rear I/O shield which is padded, a 2 way Crossfire bridge and 2/3/4 way SLI bridge.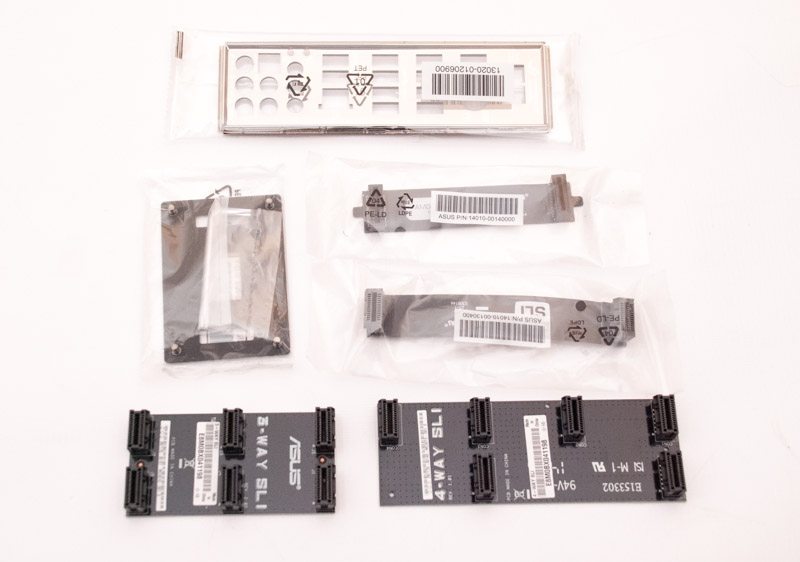 ASUS include 10 SATA cables, a variety of temperature probes, Q-Connectors for the front panel connectors and a WiFi Antennae for the dual band 2.4/5GHz WiFi.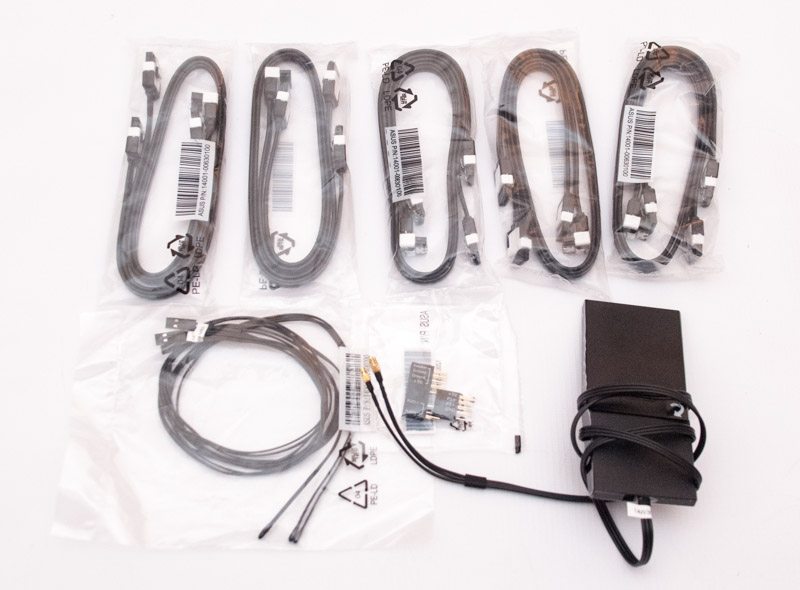 The final piece of the accessory pack is the OC panel, this allows you to easily overclock and tweak your motherboard.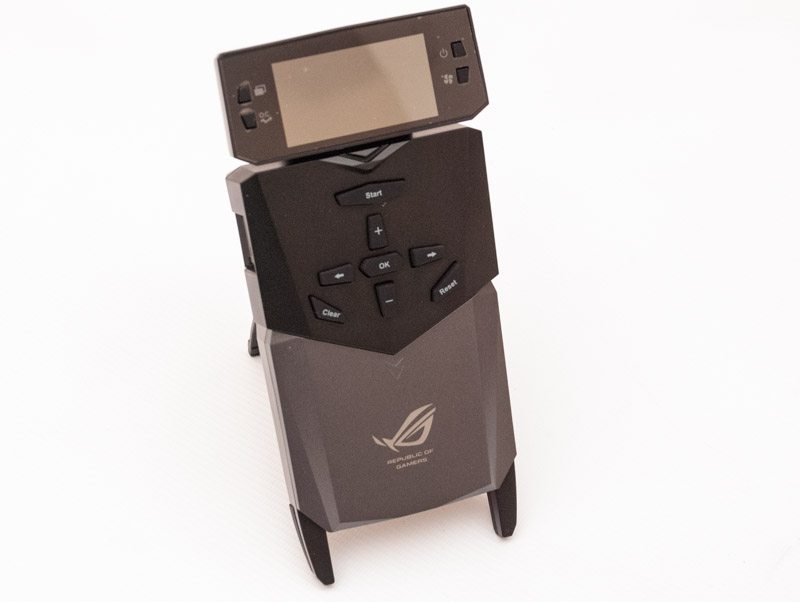 ASUS also give you the option to mount it into a provided 5.25 inch bay and access it from the front of your case, a USB cable is also provided for interfacing between the OC panel and the system.