ASUS Release Technicolor Color Certified Monitor
---
---
---
Robert Ainsworth / 6 years ago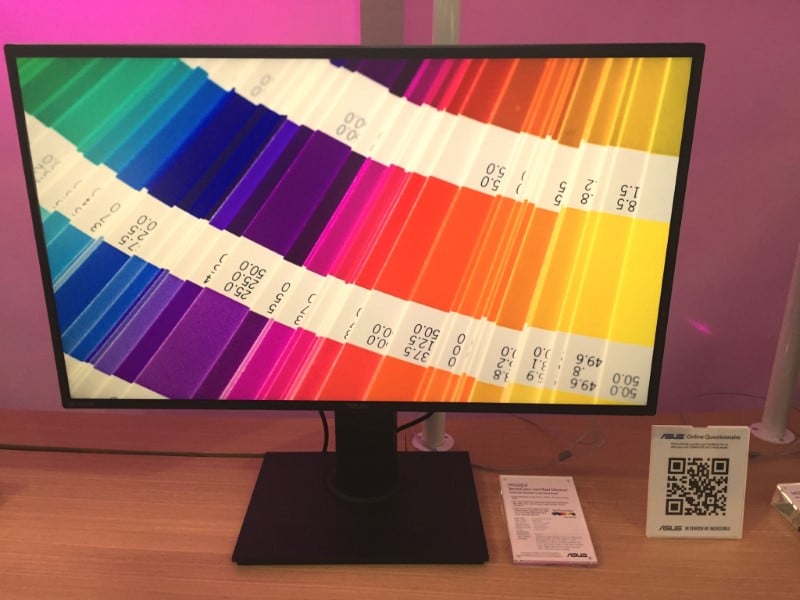 A new monitor being shown off at Computex that is under design and development is the new ASUS PB328QT. This new monitor special is it is the one of the first Technicolor certified monitors on the market. This makes it a pretty big deal as one of the key reasons users purchase higher end monitors is to ensure a better colour accuracy and overall performance. So how does this help and what is so special about this?
Technicolor released the following:
None of today's display standards (sRGB, Rec. 709, Adobe RGB, etc.,) include a tolerance to describe when a device is actually "in-spec" or "out-of-spec." This distinction matters because a device that is supposedly tuned to sRGB may in fact display photos inaccurately. Displays purportedly tuned to Rec. 709 may actually cause a loss in contrast and detail in whites and blacks and inaccurate skin tones.
Technicolor Color Certified  solves this problem by defining specifications, including tolerances, for a monitor's color gamut, gammas, color fidelity, white point and backlight brightness that match the quality of today's Blu-ray disks (ITU-R Recommendation BT.709).
Consumers don't just watch videos & movies on their HD TVs, they also watch them on computer monitors, tablets, smartphones, and more. They then use these same devices to view videos and photos, play games, and peruse online shopping catalogs. What many consumers don't realize, however, and which they often discover too late — particularly in the instance of online shopping –- is that each of those screens might be using different technology to display the image on the screen.
Since there are so many devices out there using different technologies and color standards, the consumer is left with a wide variety of device gamuts all claiming to support the sRGB color space. It can be very frustrating for the consumer when they discover that when they view the same content on different devices that they will experience that content completely differently, with no guarantee of what color the image really should be (see the "Not Certified" images above). That's why Technicolor  teamed up with Portrait Displays to create the Technicolor Color Certified program.  Together, we are working with display manufacturers to ensure that the same kind of strict adherence to the color standard used in creating content is passed onto the consumer through displays that safeguard the integrity of the created content. Through certified displays, consumers will no longer have to endure a reduction of detail in the highlights and shadows and color shifts throughout the tonal range.
The specs for the new monitor are as follows:
Key specifications & features
*not all specifications / feature or functions are detailed.
32-inch
2560 x 1440 resolution
10-bit panel
100% color saturation sRGB
Brightness 300cd
Input/Output: DisplayPort, HDMI, DualDVI, D-sub
Connectivity: Integrated 4 port USB 3.0 hub
ASUS 5 way OSD navigation joystick
ASUS QuickFit OSD
ASUS VividPixel
Low Blue Light operating modes ( ASUS Eye Care )
Flicker Free operation ( ASUS Eye Care )
Integrated 3 WATT stereo speaker
Ergonomic adjustment including tilt, swivel and height adjustment
Quick release design and VESA mount support
Thank you to Asus for providing us with this information
Image courtesy of Asus