ASUS ROG Networking Upgrade Guide
---
---
---
Peter Donnell / 1 month ago
ASUS WiFi 6E Gaming ROG Rapture GT-AXE11000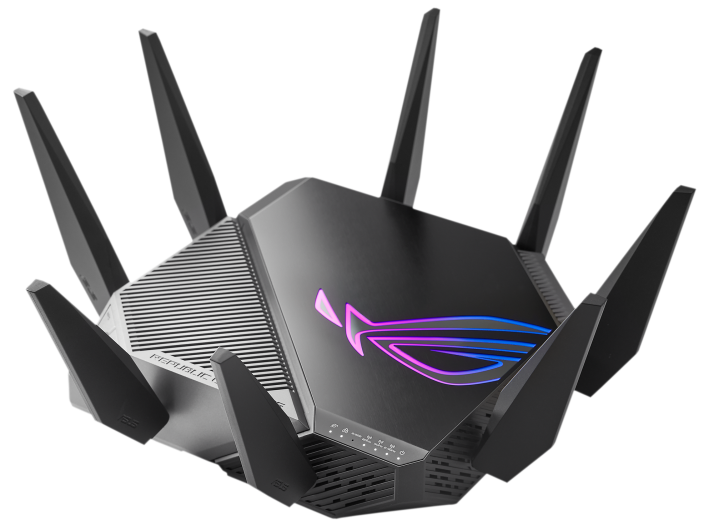 Who's it For?
This is as extreme as consumer networking can get, and it's best suited for those who want the absolute best out of their network and online gaming experience. It's one of the first WiFi 6E routers, and can shift data around at an incredible 11000 Mbps over WiFi!!! It also has a 2.5G LAN setup, ensuring your gaming PC gets priority and ensuring extremely low latency and maximum transfer speeds. While it's not cheap, if you want the best, this is it. However, unless you have fast internet, and the latest motherboards or networking hardware on your systems, it's likely overkill.
More Power, More Everything!
It has eight powerful antennae allowing it to provide a full-speed signal over greater distances and for multiple users simultaneously using the latest 6GHz band, but of course, it'll still work with 5GHz and 2.4GHz bands older devices in your home too. You can even pump two internet connections into this beast, giving you a fallback connect, or using both to boost your overall network performance.
Next-Gen Lifestyle
If you plan on running multiple gaming systems, the latest smartphones and devices, streaming multiple 4K and 8K streams from your high-end NAS configuration to anywhere in your home, then this is the router for you, it's quite literally as fast as networking gets right now.
What ASUS Had to Say
"ASUS ROG GT-AXE11000 is the world's first WiFi 6E Router supporting newly opened 6GHz band. The ultra-fast WiFi 6E 802.11ax tri-band wireless gaming router boosts up to 11000 Mbps, delivering wider channels, higher capacity, with virtually no interference from the pristine 6GHz band. The router accelerates game traffic with Game First 2.5G Multi-gigabit LAN/WAN Port and WAN Aggregation for total domination."
Features
Next-gen WiFi standard – World's first Wi-Fi 6E tri-band router boosts speeds up to 11000 Mbps.
6GHz spectrum available – Wider channels and higher capacity to deliver higher performance, lower latency, and less interference.
2.5G LAN/WAN Port – All traffic through 2.5G port is given the top priority, and 2.5G port unlocks the full potential of WiFi 6.
Performance through engineering – Quad-core CPU processor, cooling system and optimized antenna design that brings its computational capability to the next level.
Triple-level Game Acceleration – Accelerate game traffic every step of the way — from device to game server.If no 6G SSID is displayed, please check whether your OS and client device are fully licensed to support the newly released 6GHz band. You can check with your OS and client device provider for WiFi 6E driver release schedule.
The world's first WiFi 6E router – ROG Rapture GT-AXE11000 has landed, it features the newly available 6GHz frequency band, with up to 7 extra 160MHz channels and massively expanded device capacity. Up to 11Gbps combined WiFi speeds; 2Gbps WAN aggregation and 2.5Gbps WAN/LAN for high-bandwidth 4K/8K streaming in densely populated networks. Advanced software features include Triple-Level Game Acceleration, VPN Fusion, ASUS AiMesh and ASUS AiProtection Pro for total game network control.
Price and Availability
You can check for the latest ASUS WiFi 6E Gaming ROG Rapture GT-AXE11000 prices and stock on Amazon here.