ASUS ROG STRIX RX 6700 XT Graphics Card Review
---
---
---
Ben Enos / 3 years ago

Another AMD RX 6700 XT Launch Day review and this time, from our friends at ASUS with the ROG STRIX version. ASUS is one of the more well-known GPU makers and their ROG STRIX line is famous amongst gamers and enthusiasts alike. ASUS has gone with their triple-fan cooler, a pair of 8-pin power connectors and a lovely looking backplate to complement the new 6700 XT cards from AMD. When it comes to the ROG STRIX line of GPUs, we expect them to be some of the better performing cards but this does generally come with an added 'ROG' tax. Personally, I love the look of the ROG cards but this is subjective and will come down to each individual users preferences.
ASUS ROG STRIX RX 6700 XT
We have had the pleasure of testing a few different 6700 XT in time for their official Launch Day. I won't go into much detail but they do have some amazing performance and the ROG STRIX Variant surely is no different. Trying to go head to head with the GTX 3070 from the Green Team was never going to be the easiest of feats but AMD has come to the battle prepared.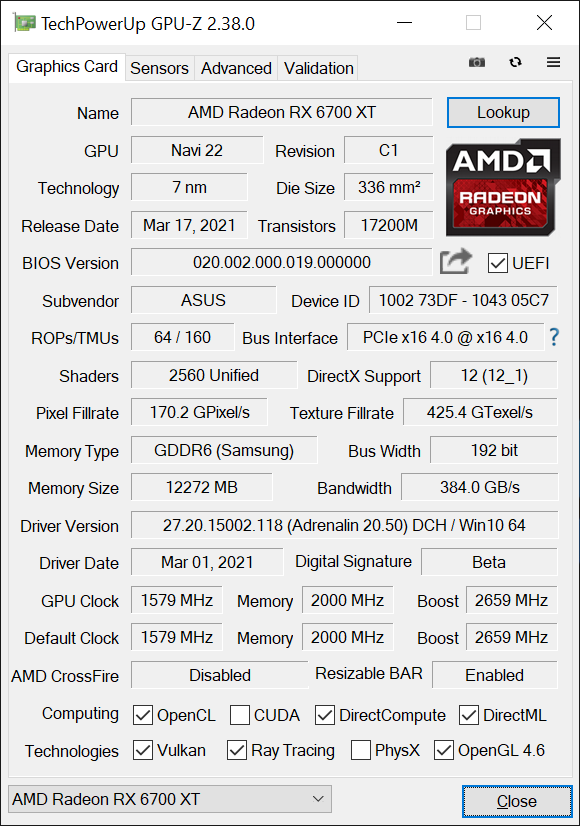 For in-depth features and specifications, please visit the official ASUS ROG STRIX RX 6700 XT product page here.