ASUS ROG Thor 1000W Platinum II Power Supply Review
---
---
---
Mike Sanders / 7 months ago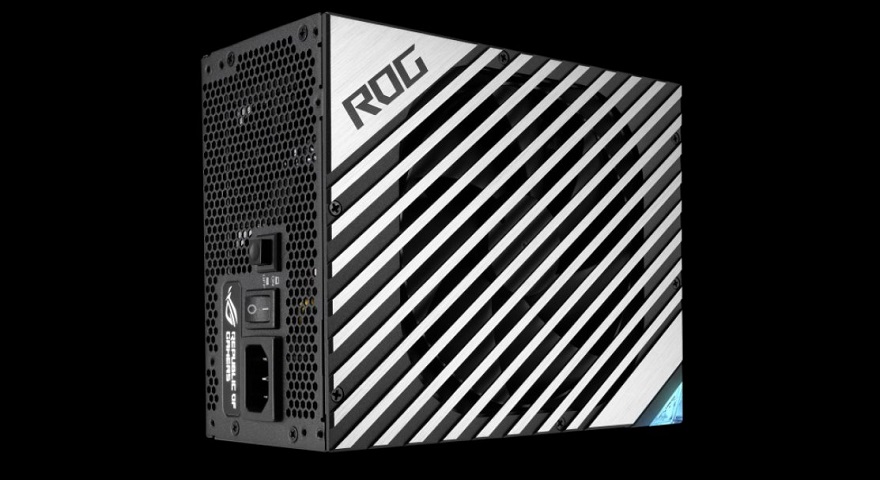 There comes a time with most manufacturers that they occasionally feel compelled to push the boat out with a particular product. ASUS, however, I think it would be fair to say, tend to do this a lot more than others. With the recent launch of their new ROG Thor 1000W Platinum II power supply, this isn't so much of pushing a boat out though as a fully decked out cruise ship. – Created very specifically with enthusiast gamers in mind, the ASUS ROG Thor 1000W Platinum II is their latest flagship PSU release and comes absolutely packed with not only excellent features but some of the most impressive aesthetics ever seen on a power supply!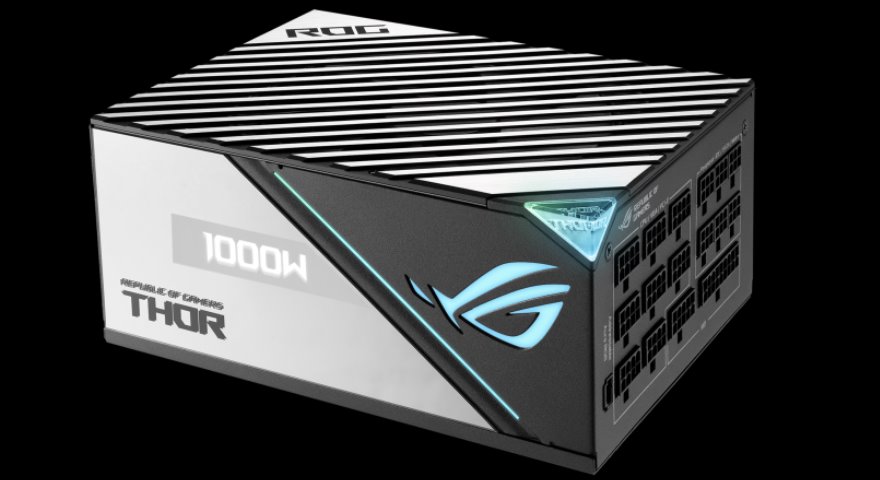 ASUS ROG Thor 1000W Platinum II
Offering 1000 watts of power output, a fully modular cable design, and an 80-Plus Platinum efficiency rating, the ASUS ROG Thor 1000W Platinum II already looks to tick all of the boxes the savvy consumer should have. This is also the very first consumer PSU to come, out of the box, with a PCIe 5.0 power connector! – Yes, this is 100% ready for the next leap forward in powering graphics cards!
Without a doubt, however, what will mostly catch the more casual eye is the hugely impressive aesthetics of the design. Not only is this quite possibly one of the best-looking power supplies ever released, but ASUS has also thrown in some ARGB lighting embellishments. However, avoiding the pitfalls of going overboard, the ASUS ROG Thor 1000W Platinum II definitely looks to be catering to the enthusiast gamer market. And, at least on what we can see in terms of its features and presentation, it certainly seems well geared to that purpose.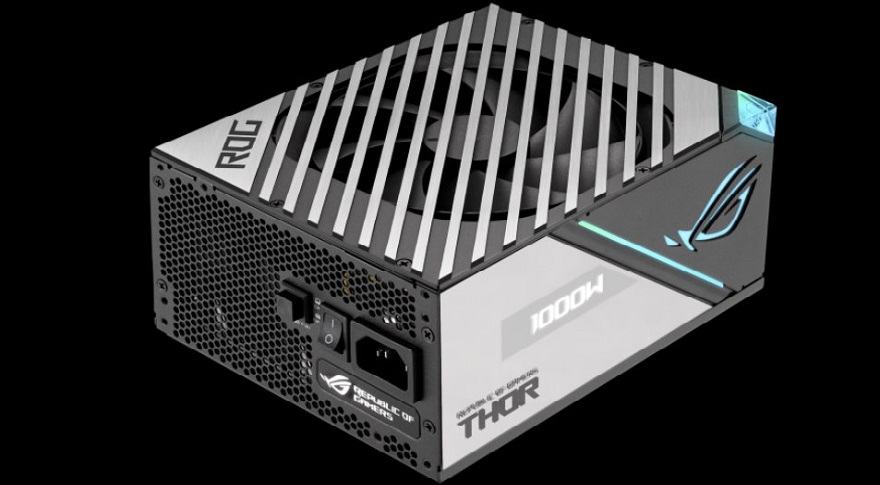 What Does ASUS Have to Say?
"Back with a vengeance, the second iteration of the ROG Thor 1000W Platinum wields cooling and component upgrades that make it the quietest PSU in its class*. And to compliment the latest high-end ROG motherboards and bring additional flair to beastly rigs, we've added a mirrored side panel that neatly frames the OLED display."
Just to clarify on the 'OLED' display, this is pictured below and what this essentially does is list exactly how much power is being drawn. An exceptionally handy feature for those who need to know what their limits are, such as, merely for example, overclockers.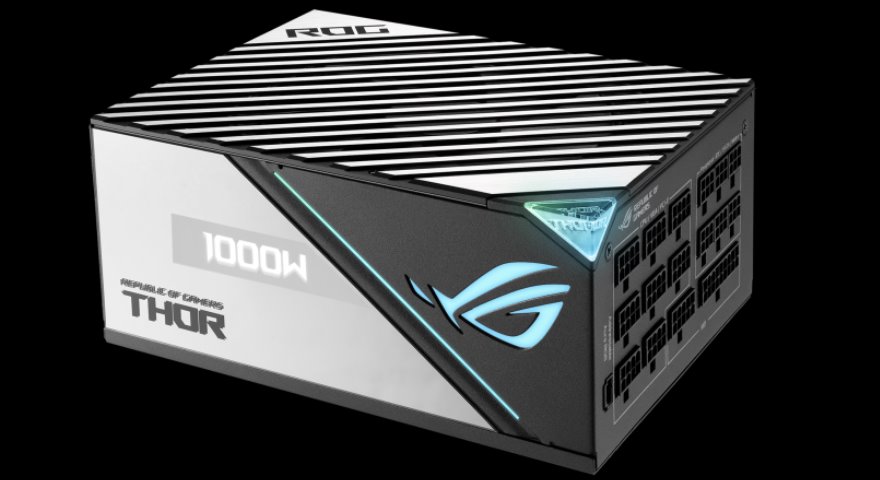 Features
Lambda A++ Certification confirms the latest Thor wields menacing power in absolute stealth.
ROG heatsinks cover critical components, delivering lower temperatures and reduced noise.
A 135mm Axial-tech fan with PWM control delivers lower noise and keeps thermals in check.
Built with 100% Japanese capacitors and other premium components to achieve 80 Plus Platinum Certification.
OLED display monitors power draw in real time.
Aura Sync compatibility lets you customize and sync lighting effects with other compatible hardware.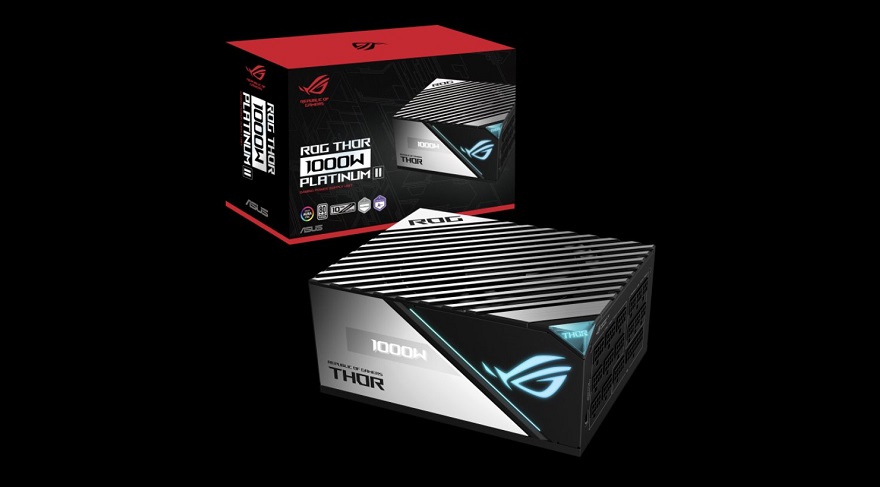 Specifications
For more detailed specifications, please visit the official product page via the link here!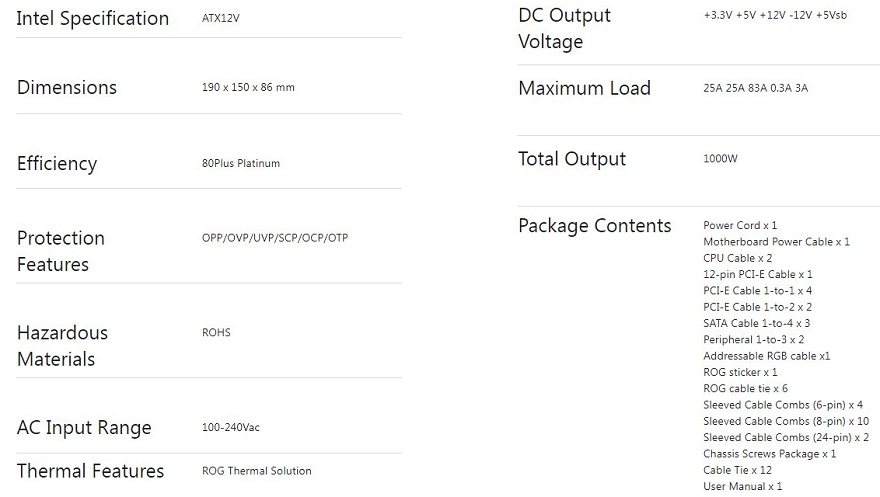 Connections
Coming as a fully modular design, the ASUS ROG Thor 1000W Platinum II comes with masses of cable connections that should make it more than suitable for even the most potent of gaming PC systems. This even includes, for what we believe is the first time ever, the new 12-pin PCIe 5.0 cable that not only makes it ready out of the box for all current Nvidia 30XX GPUs but what is also set the represent the new GPU cabling standard moving forward. – Yes, they had a good run, but the old 6+2 PCIe ports are definitely on the way out.
Oh, and just in case 1000 watts of power isn't enough, this also comes supplied with an adaptor to daisy chain a second power supply. – Put simply, this power supply has you, and all your components, easily covered!

———————–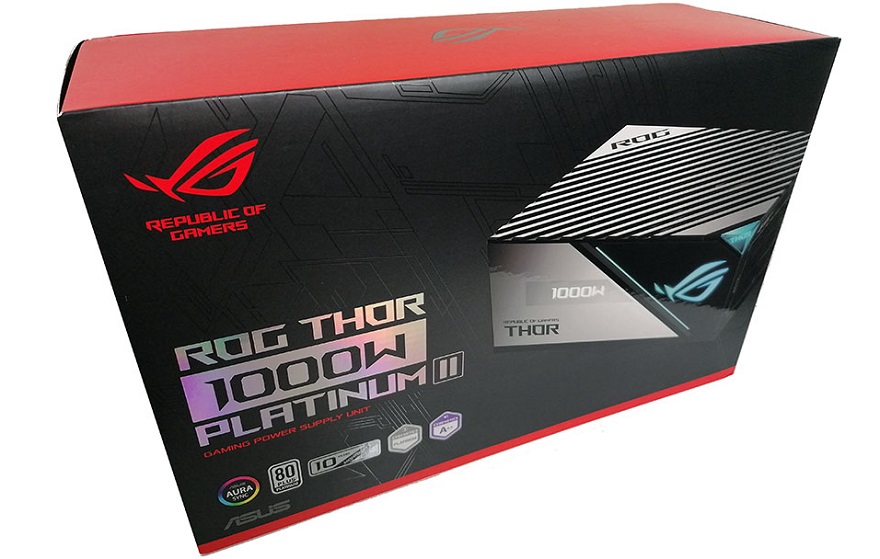 Packaging
Carrying all the colours and branding you would expect from an ASUS ROG product, the front of the packaging goes big and bold with a nice clear image of the power supply on display as well as listing all of its key features in an easy on the eye glance.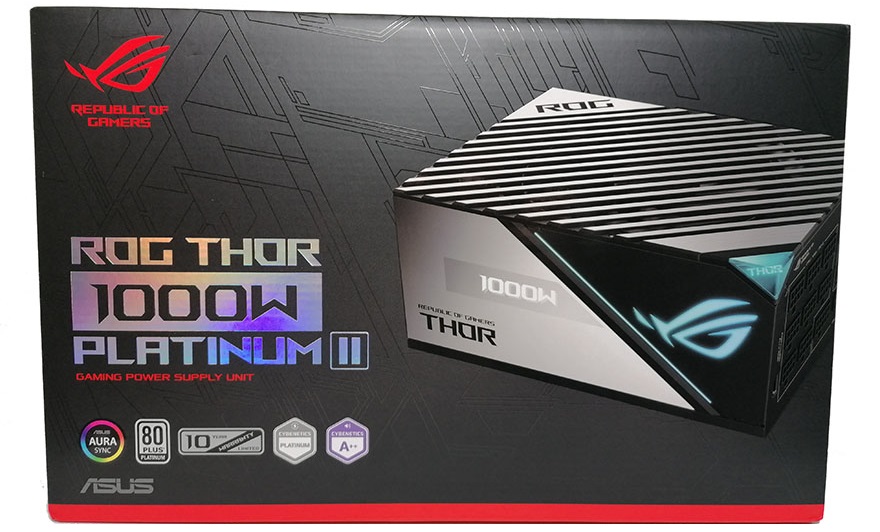 The rear of the box work is absolutely crammed full of useful information. This doesn't just include product descriptions, but also detailed information on the features as well as a good number of images and performance charts. In terms of presentation, ASUS has truly done an excellent job here!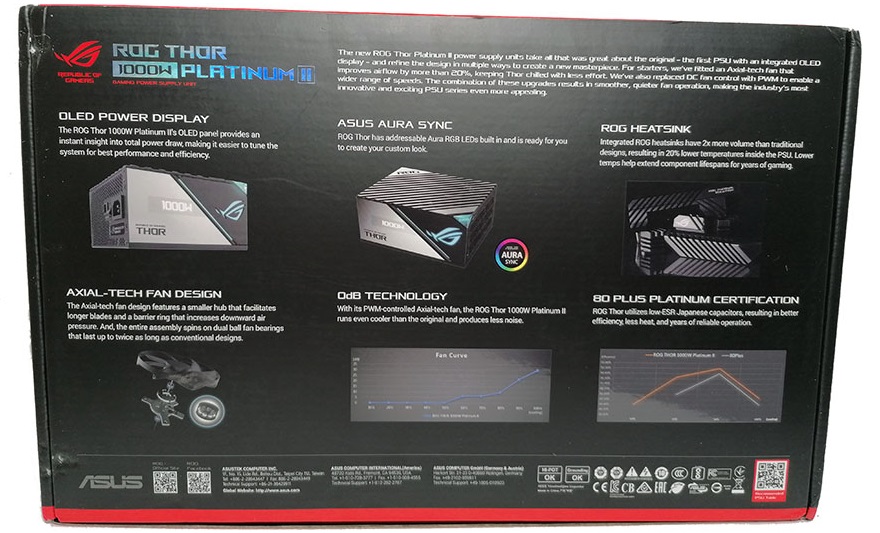 Although not a point we generally have to raise, we should note that the quality of packaging doesn't just begin and end on what you see on the outside. As per a lot of ASUS ROG products, the interior box work is excellently presented and is clearly of exceptionally high quality. – With the lid sliding neatly open, you're greeted with two cardboard inserts. One contains the power supply and the other contains all of its accessories and cabling.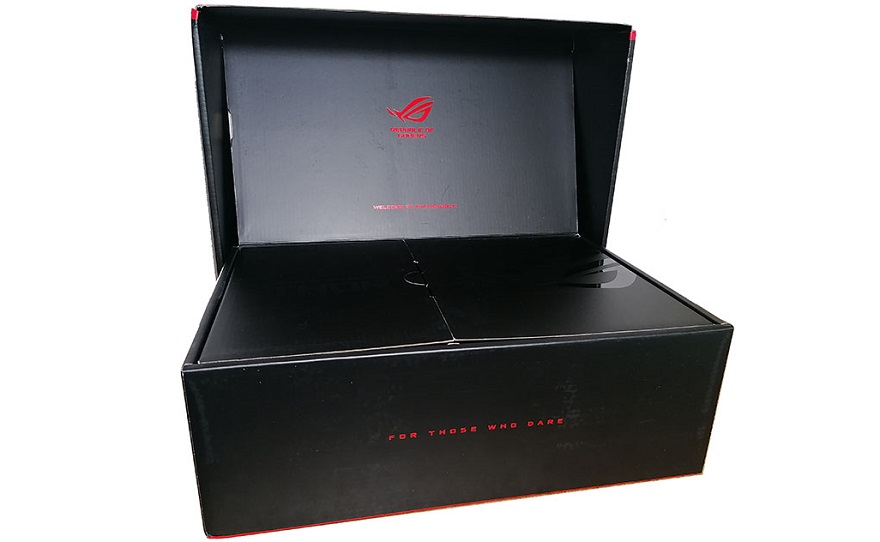 In addition, while we will shortly be taking a look a the PSU itself, we should also note that ASUS has gone to the effort to very neatly wrap it in sealed cellophane (which, incidentally, is contained itself within a foam protective covering). It's a small touch, but with all of the elements of the packaging combined, your power supply should arrive with you in absolutely pristine condition!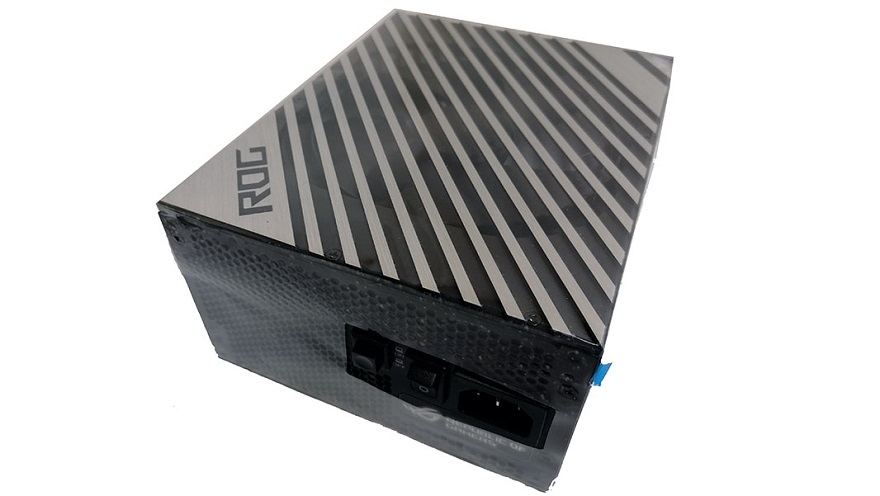 Accessories
More often than not, when purchasing a new power supply you don't tend to expect much in the way of accessories. With the ASUS ROG Thor 1000W Platinum II, however, you are definitely in for a very pleasant surprise.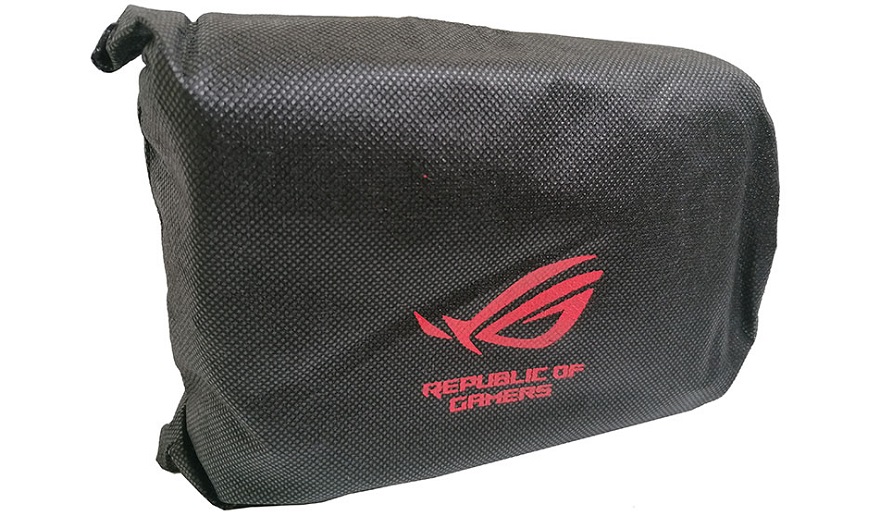 Starting with the cabling, this is provided in a good quality branded canvas bag. An excellent and safe place to keep what you don't need today for a potential upgrade tomorrow! – In addition to that, however, ASUS has certainly not skimped out. You are also given branded cable velcro ties, a surprisingly large quantity of standard zip ties, cable management strips, a product manual, screws (to attach the PSU to your case), and even a metal badge which you can easily stick wherever you think it'll look best!
Oh, and you also get a 20% off voucher should you wish to invest in some custom cables. – Put simply, in terms of accessories, ASUS scores a bit fat 11 out of 10 for this!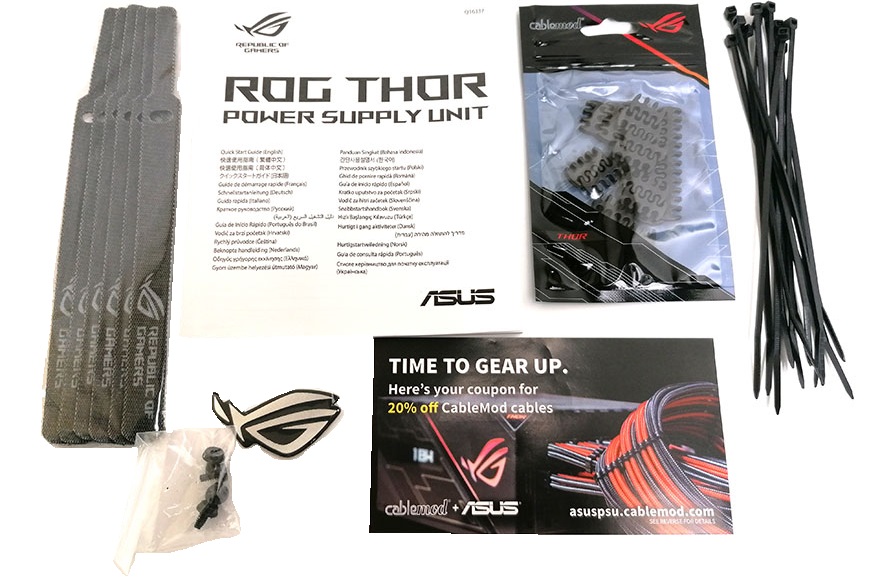 ———————–
A Closer Look
Out of the box, the ASUS ROG Thor 1000W Platinum II looks absolutely fantastic. The presentation has clearly been a huge factor in the design of this PSU, and it definitely seems to have paid off with an exceptionally eye-catching aesthetic.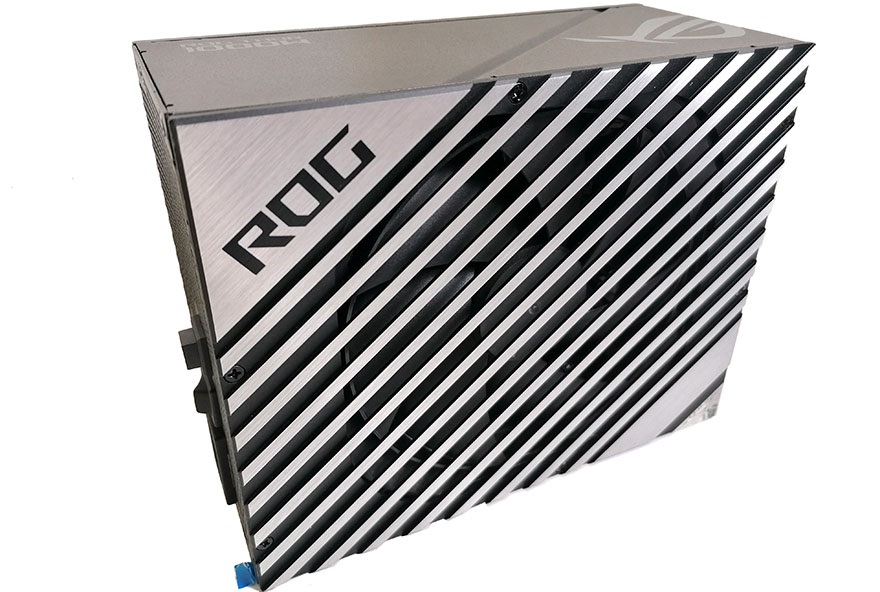 Without a doubt, your eyes are immediately drawn to the top of the power supply. With its brushed steel effect and diagonal crossing fan cover, this is perhaps one of the best looking power supplies I have ever encountered. With nice large gaps to the vented section, however, that fan (which you can just make out below) should be capable of drawing in an excellent amount of airflow.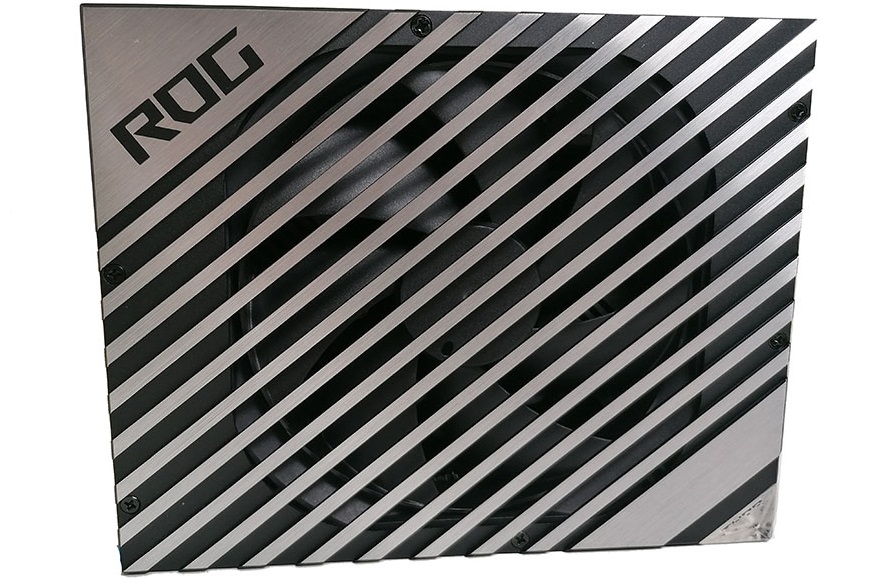 Branding is evident throughout all of the ASUS ROG Thor 1000W Platinum II. Despite its somewhat demanding nature, however, it is neither overly large nor garish. In fact, everything both looks really well placed and sized that definitely adds to the overall aesthetic rather than detracts.
In taking a closer look at the side panel, although not immediately evident with the power switched off, you can just make out the OLED panel (look for the discoloured square on the silver). From this section, the ASUS ROG Thor 1000W Platinum II will display exactly how much power it is drawing during operation. A very important piece of information for enthusiast users and particularly those who like dabbling in the realms of high-end overclocking.
Oh, and just because we think it worth mentioning, that 'ROG THOR' branding to the bottom right is blurred because it's incredibly unphotogenic (even ASUS' own pictures of it aren't great). From the naked eye, however, trust me when I say that its 3D effect looks fantastic!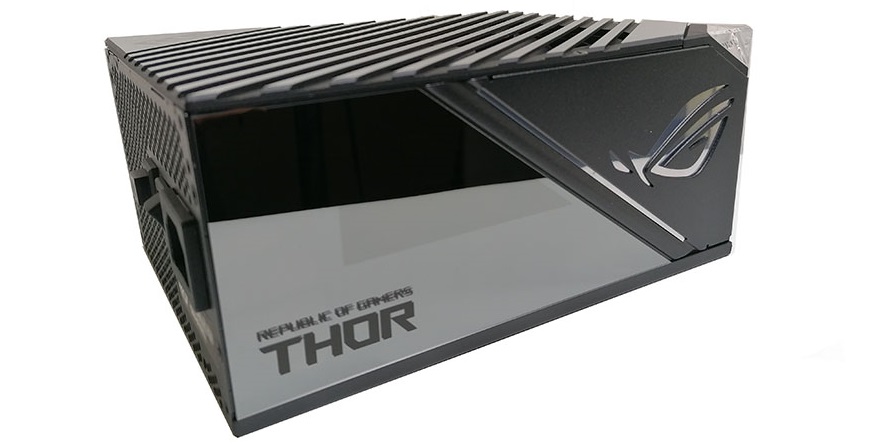 As noted earlier, while there are some ARGB lighting effects to this power supply, they are relatively understated and primarily located within the corner pictured below. Exactly how visible these would be when installed in a system would entirely depend on the case. – If you do, for example, have a PSU shroud (which is very common on a lot of chassis designs these days) then the sad aspect is that you're not going to get to see much of anything here. With the right case though, it could definitely add a bit of icing to your ARGB cake!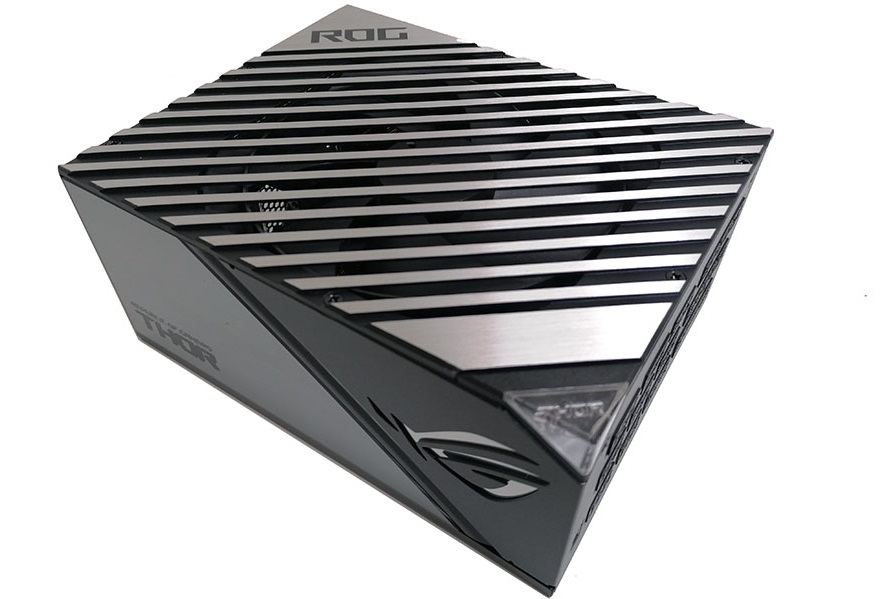 The cable input bank is exceptionally well presented with each section being clearly denoted for its use. The only criticism I have with this, however, is that without a 'back to back' design, removing the cables can be tricky work. Just for example, while testing this PSU I had two PCIe cables inserted into the two ports on the bottom left-hand side. The removal of these didn't give me much 'wiggle room'. I could do it, but not without uttering a few choice words under my breath.
As such, it is perhaps strongly suggested with this PSU (as many consider to be good practice anyway) to, if not space your cables apart, then to at least have them all pre-inserted before you fit this PSU into your case. Don't get me wrong, it's not impossible to add and remove cables. When the ports are crowded though, it's definitely fiddly!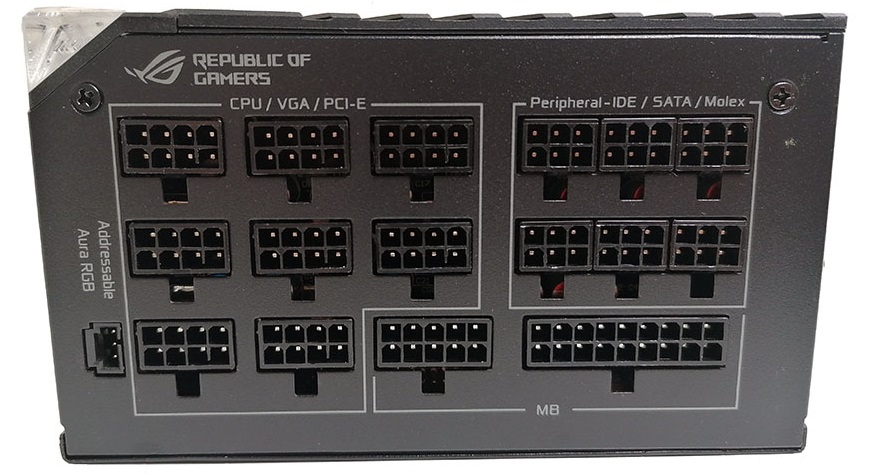 The rear of the power supply is exceptionally well vented with practically all of the available area allowing for airflow. This is an important factor as the ASUS ROG Thor 1000W Platinum II comes with a 'ZERO RPM' fan mode (denoted here as '0 dB Fan') that effectively places it in a passing cooling state for as long as possible.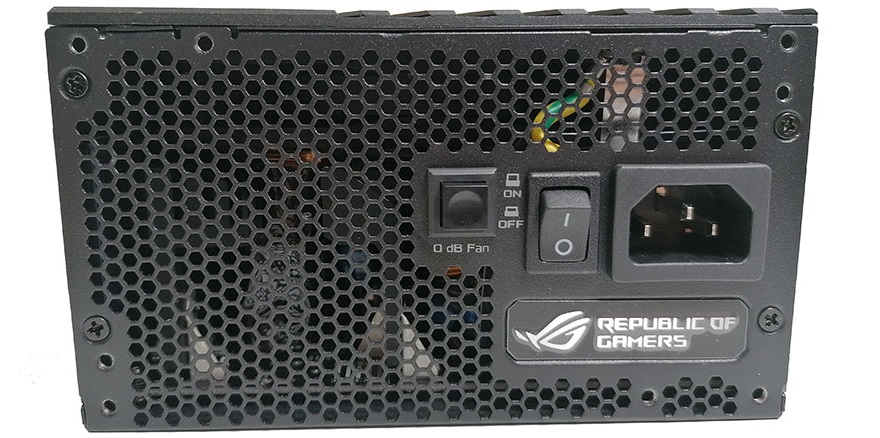 Cabling
The cabling with the ASUS ROG Thor 1000W Platinum II is of some of the highest quality we have seen. Coming in both a strong and flexible braided casing, this isn't just more than long enough but offers excellent levels of flexibility to ensure the best levels of cable management possible.
With each cable denoted for its use (as well as which end goes where), this is a foolproof design that both beginners and experienced hands will appreciate.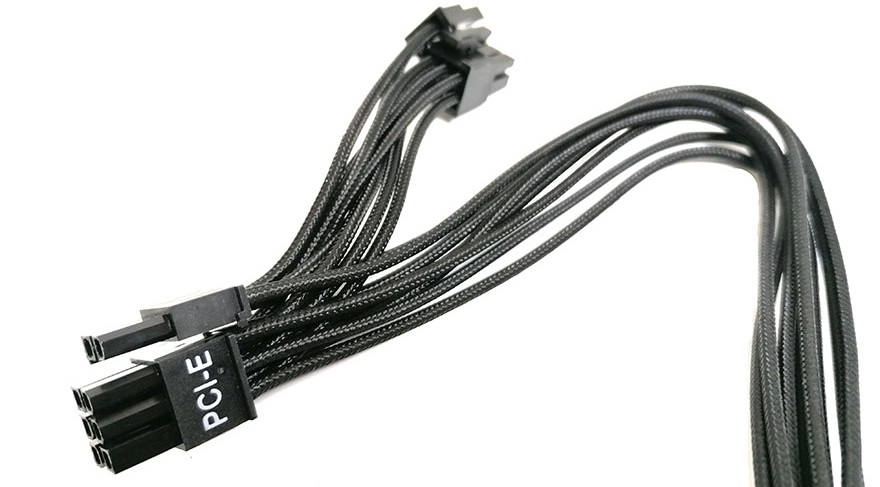 Internals – A Look Inside!
Getting inside the ASUS ROG Thor 1000W Platinum II isn't easy. In fact, I would describe it as something of a Rubix cube of screws. Put simply, it seems that ASUS really doesn't want you to get in here. Neither should you either as this will clearly invalidate your 10-year warranty. – At an initial glance, however, this power supply is presented very well with a nice clean internal aesthetic.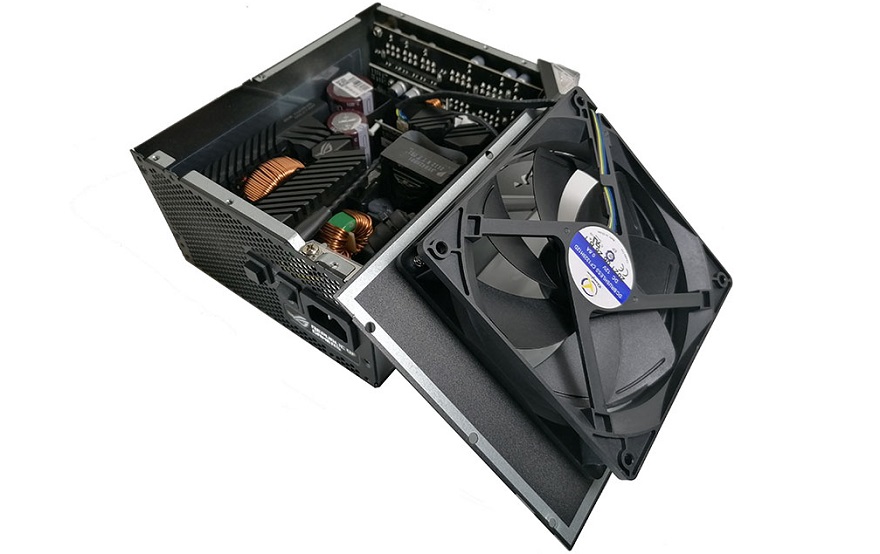 The fan itself is a third-party design coming from 'Champion'. A manufacturer that I'll freely admit that I've never heard of or seen before. When it comes to power supplies, however, this honestly isn't unusual. In fact, it's far more unique to see manufacturers who do use their own branded technology for this cooling aspect. – Using an alternative manufacturer is often an excellent means of reducing the cost of one component while not compromising on the overall quality. Why? Well, PSU fans honestly shouldn't ever have to work too hard at their job!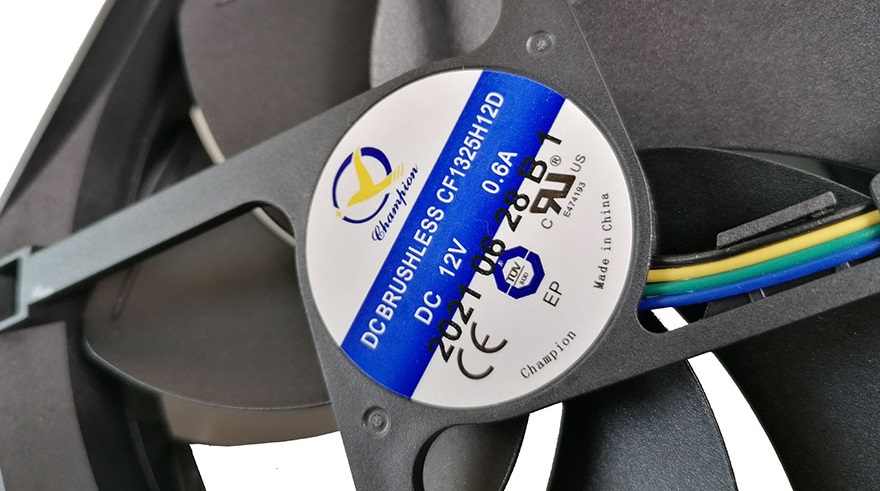 A closer look at the PCB shows an exceptionally tidy and clearly well-thought-out design. Admittedly, it's very busy inside with a lot of components tightly packed. You will, however, note the use of ASUS' own ROG thermal solution. In essence, these are high-quality heat sinks that are, at least in theory, significantly better than what is usually seen on a PSU (the majority of designs generally tend to just leave the heat sink metal exposed 'as is').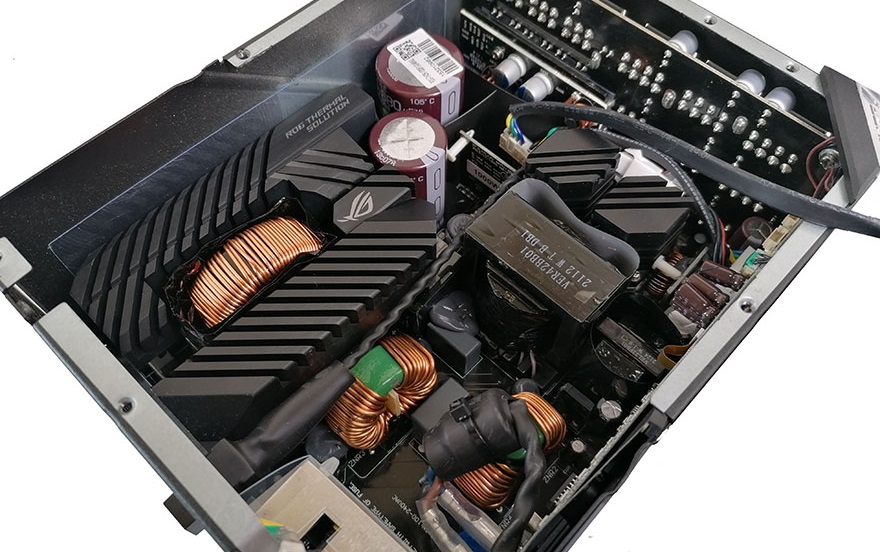 Citing that the ASUS ROG Thor 1000W Platinum II comes with 100% Japanese capacitors, a closer look confirms this to be an entirely accurate claim. Coming from 'Nippon Chemicon', this is a well-recognized and highly reputable manufacturer of capacitors. Rated to 105C, this is exactly what you want to see in any kind of good quality PSU.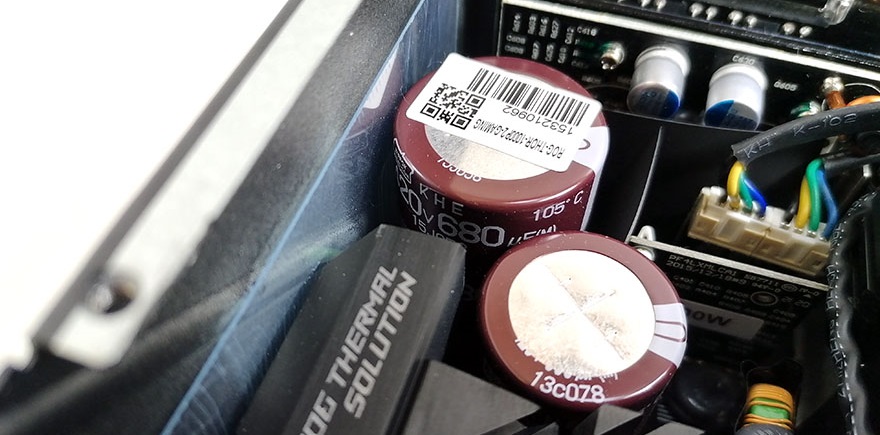 Overall Thoughts!
Both internally and externally, the ASUS ROG Thor 1000W Platinum II is, without a doubt, one of the best-looking power supplies we have ever encountered. It just screams, from top to bottom, of an exceptionally high no-compromise design.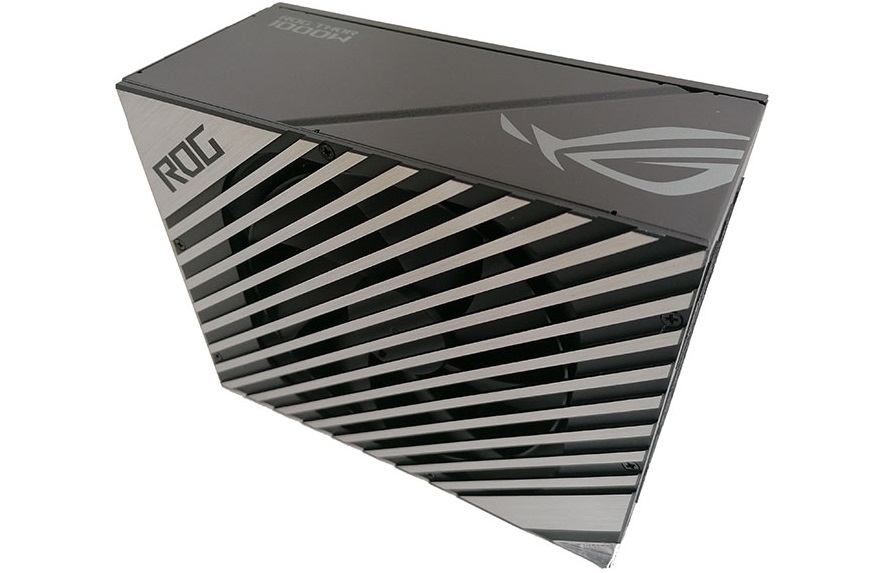 In specific regards to the ARGB lighting, as noted above, this is somewhat understated but is still more than bright and vibrant enough to definitely act as a strong addition to the overall aesthetics. To get the best out of it, however, you are going to need a case that ideally has a cutout section on the PSU shroud. Or simply a case that leaves the PSU exposed. Without this, everything is going to be hidden. And for a PSU that looks this good, that would be a real pity!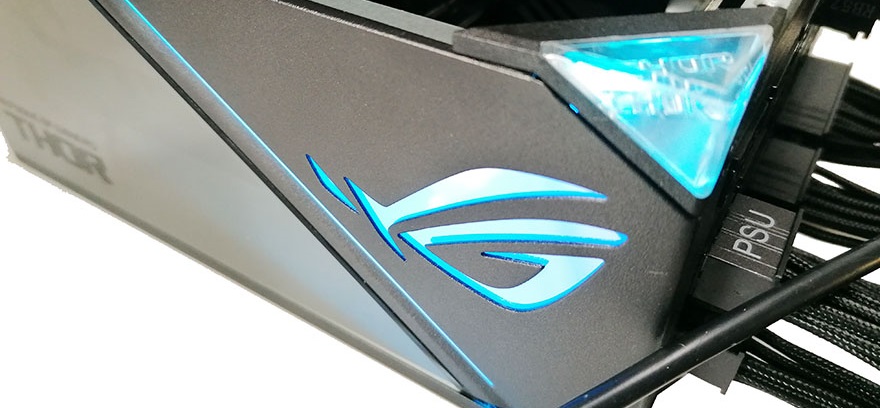 So, the ASUS ROG Thor 1000W Platinum II definitely looks fantastic both inside and out, but how does it perform? Well, there's only one way to find out. Let's get this hooked up to our test bench and see what happens when we crank that wattage up!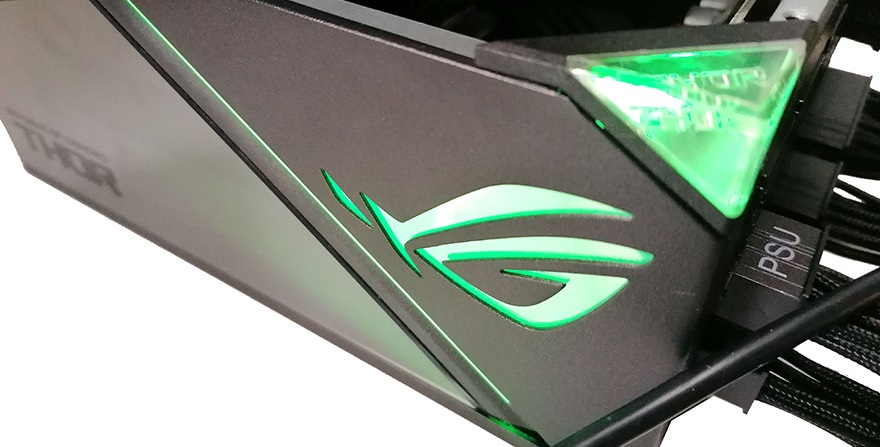 ———————–
Methodology & Testing
At eTeknix we take the power supply testing procedure very seriously and have invested a lot of resources into acquiring the appropriate testing equipment. For all power supply reviews, we test the power supplies with dedicated power supply testing equipment. This means we are able to get the most accurate results from our testing as opposed to using software benchmarks (such as OCCT) or multi-meter readouts which are broadly inaccurate.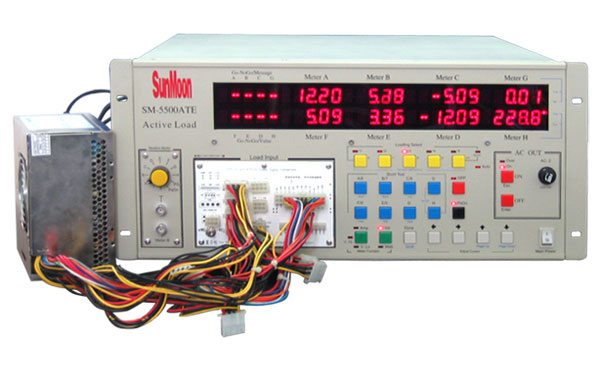 Testing Hardware
Sunmoon SM-5500ATE Active Load Tester (1200W rated)
Stingray DS1M12 USB Oscilloscope
Voltcraft DT-10L laser tachometer
What the eTeknix Test Procedure Involves
Testing each power supply at 20/40/60/80/100% load (with load balanced across all rails) and measuring PFC (power factor correction), efficiency (actual power divided by power "pulled at the wall") and voltage regulation (deviance from expected voltages of 3.3/5/12 on the main rails).
Measuring ripple with an oscilloscope at 20/40/60/80/100% load.
Measuring fan speed after a stabilisation period of five minutes at each load scenario using the Voltcraft DT-10L laser tachometer and a reflective strip on the fan.
Testing each power supply's OPP (Over Power Protection) mechanism and seeing how many watts each power supply can deliver before shutting down
Other Things to Consider
We recognise that a single 12-volt cable can provide only 6 Amps before overheating (which corrupts voltage regulation and efficiency) and so we used an adequate number of cables for each power supply to ensure there is not efficiency loss from poor cables selection
Our Sunmoon SM-5500ATE power supply tester is not capable of testing more than 300W on each of the 12-volt rails so where a power supply provides more than 300W on a 12-volt rail that power is distributed over multiple 12-volt rails on the load tester. For example a power supply with one 12 volt rail supplying 750 watts would be spread equally over three 12 volt rails on the load tester, a power supply with two 450W 12v rails would be spread over four 12v rails on the load tester, two 225W 12v rails for each of the 12v rails on the unit.
We use the same time scale and horizontal millivolt scale on our oscilloscope for all ripple tests, that is a 20ms T/DIV (horizontal) and a 0.02 V/DIV (vertical) meaning the scale is from -80mV to +80mV, ATX spec dictates that the 12v rail must fall within 150mv of ripple and the 3.3/5 within 50mv so that scale allows us to include both 150 and 50mV peaks. (Some older PSU reviews use different scales which were later ditched as the visual representation they give is inadequate, in these reviews written measurements are provided only).
Deviance is the terminology used to represent the way voltages diverge from the expected values
Voltage Regulation
To test voltage regulation we load the power supply to five different load scenarios that give an equal spread of load across every single rail. So that means 20% on all rails, 40% on all rails and so on. We then calculate the average deviance of each rail from its expected voltage. Ideally, anything of +/- 2% regulation is seen as a very good result.
Power Efficiency
Power efficiency is measured by calculating actual supplied wattage divided by the wattage drawn at the wall/plug, multiplied by 100 to give a percentage. We then compare that to the particular 80 Plus certification the company claims to see if it meets that. You can see the 80 Plus certifications below, we always test power supplies at 230v.

Power Factor Correction
Power Factor Correction is the ratio of the real power flowing to the load, to the apparent power in the circuit. The aim of PFC is to make the load circuitry that is power factor corrected appear purely resistive (apparent power equal to real power). In this case, the voltage and current are in phase and the reactive power consumption is zero. The closer the number to one the better as this allows the most efficient delivery of electrical power (Source – Wikipedia).
Ripple
Noise and Ripple can easily be measured by an oscilloscope. These show how much voltage fluctuation there is on a particular rail. We tested the rail stability of the 3.3-volt, 5-volt and 12-volt rails using an identical time and millivolt scale for all graphs. millivolt ripple is measured by the peak to peak size of the voltage curve.
The latest ATX 12 volt version 2.3 specifications state that ripple from peak to peak must be no higher than 50 millivolts for the 3.3-volt and 5-volt rails, while the 12-volt rail is allowed up to 120 millivolts peak to peak to stay within specifications. Millivolt figures are stated to the closest increment of 5 given their variability.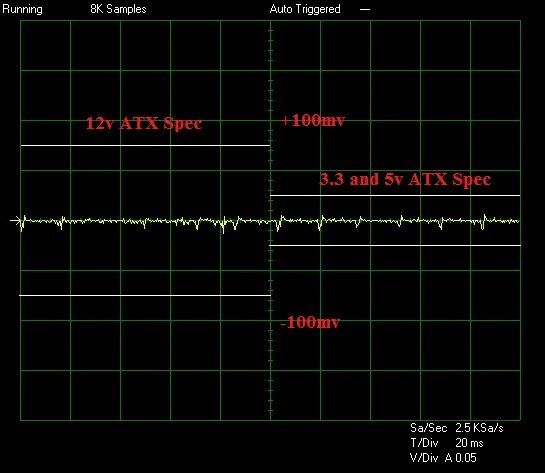 OPP
Power supplies often quote as having various protection mechanisms such and the most important of these is Over Power Protection. In our testing we crank up the power draw until the power supply either shuts down (meaning the OPP mechanism is present and working) or blows up (meaning it is either not present or not working). We then note the maximum power consumption before the power supply shut down, or before it blew up.
Fan Speed
When testing in a power supply laboratory it is difficult to take fan noise readings as the noise from the Sunmoon test equipment and air conditioning corrupts everything. The next best thing in our circumstances was reading off the fan speed with a tachometer to get an idea for the noise. The ambient temperature during testing held constant at 22 degrees, with 1 degree of variation. Each power supply had a consistent time period of 5 minutes to stabilise between each load scenario.
In my experience, the following general relationships apply between noise levels and fan speeds, though it can vary greatly between the type of fan used.
Below 800 RPM – Inaudible/Silent
800 to 1000 RPM – Barely audible
1000 – 1200 RPM – Audible but still quiet
1200 – 1400 RPM – Moderately noisy
1400 – 1800 RPM – Noisy
1800 RPM or above – Intolerable
———————–
Efficiency
With the ASUS ROG Thor 1000W Platinum II carrying (as the name might suggest) a platinum efficiency rating, this requires an exceptionally high level of performance. In fact, there is only one tier higher than this, and, quite frankly, 99.9% of models with that rating often carry a pretty eye-watering price tag. – With this in mind, therefore, how well did this PSU manage to do?
Well, the short answer is that within a fairly reasonable margin of error, it makes Platinum, but only by the skin of its teeth. In all honestly, the results are far more in line with a very high 'Gold' (the tier immediately below) rather than Platinum. Given the consistently high results after 40% load, however, we are willing to concede that this does perform at the official stated efficiency value.
PFC (Power Factor Correction)
The PFC, as often is the case for the vast majority of power supplies, initially starts off quite low at the 20% load mark. Once you start asking the ASUS ROG Thor 1000W Platinum II to put in a little more effort, however, the results very quickly ramp up to very respectable levels. With a top score achieved of 0.976, this is definitely more than a little indication that this is power supply utilises some quality components.
Voltage Regulation
As you can see in the results below, the average deviancy provided by the ASUS ROG Thor 1000W Platinum II is exceptionally low. In fact, regardless of the power output we tested this PSU at, the results largely remained superbly consistent. However, a particular highlight is undoubtedly seen in the 3.3V results and, arguably far more important, the 12V rail/s.
———————–
Ripple
Aside from clearly something of a moderate blip at 80% load, the ripple results for the ASUS ROG Thor 1000W Platinum II are exceptionally low. We should note, however, that while the highest score recorded was 29, this is still hugely below the EU maximum requirement of 50. When you look at that lowest score of 2.8 as well, on the whole, the ripple results for this power supply are excellent!
| | | | |
| --- | --- | --- | --- |
| Load (%) | 3.3V Ripple | 5V Ripple | 12V Ripple |
| 20 | 3 | 2.8 | 13.4 |
| 40 | 5 | 3.2 | 14.4 |
| 60 | 3.4 | 3.2 | 11.6 |
| 80 | 19.8 | 29 | 27.8 |
| 100 | 3.2 | 3.2 | 11 |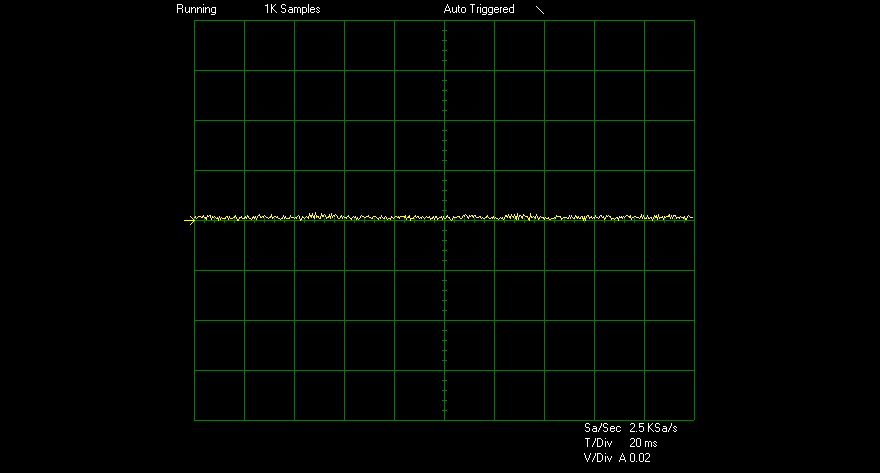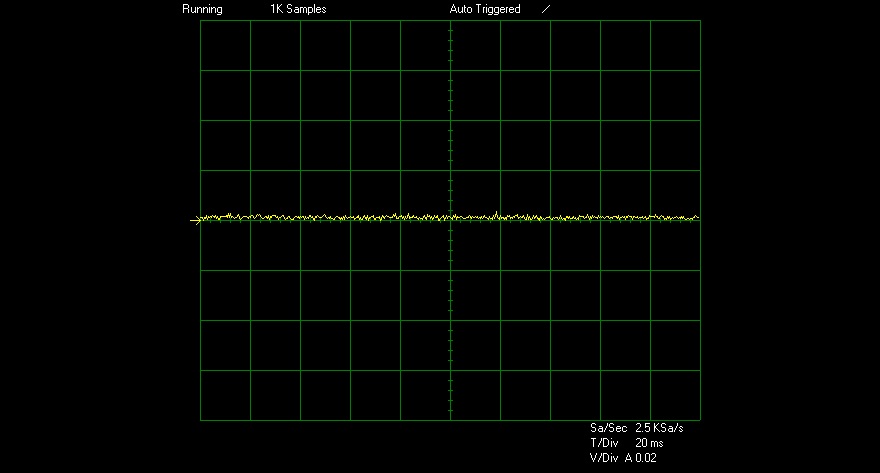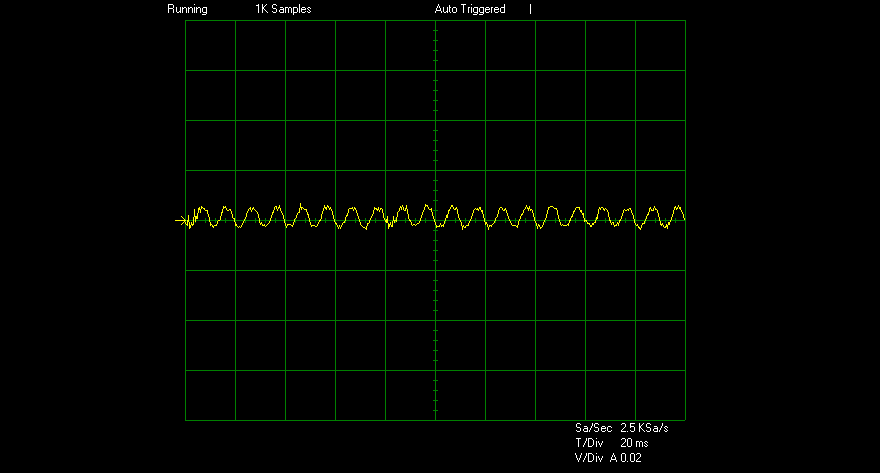 ———————–
Over Power Protection and Max Wattage
Although officially rated to 1000 watts of power output, it is never unusual that a power supply is capable of producing a significant amount over that value. While this is, of course, never recommended (you should always buy a PSU suitable for your components) it is important to know that if things are pushed too hard that protections are in place to prevent any damage to not just your PSU, but also potentially your system's components.
With this in mind, therefore, we can happily confirm that after achieving a maximum wattage output of 1495 (nearly 50% above the official rated amount) the OPP worked perfectly to successfully shut the PSU down before any risk of damage was entertained.

———————–
Fan Speed
One of the key features of the ASUS ROG Thor 1000W Platinum II is having a low level of noise output. No, generally speaking, power supplies are often not the loudest of components. If you do, however, value quiet system performance, then having a PSU specifically catered towards that task can make a huge difference.
The ASUS ROG Thor 1000W Platinum II is quite clever in that it does come with a 'ZERO RPM' fan mode that, in its simplest terms, sets the fan to only run when absolutely necessary. In this mode, despite having the power supply running at 100% load for over 15 minutes, it never deemed it necessary to operate once. As such, quiet performance is definitely a huge positive factor for this PSU design.
Presuming you do, however, prefer to have a little generic airflow, then even in this more 'standard' mode the ASUS ROG Thor 1000W Platinum II is notably quiet. In our testing, the fan speed never exceeded 475 RPM and dropped to around 400RPM at a low wattage output. The fan noise output at this level was exceptionally quiet, and, so much in fact, that it almost makes the 'zero' mode somewhat redundant.
For those of you who value super-quiet system performance, however, the ASUS ROG Thor 1000W Platinum II certainly puts a big (but near-silent) tick in that box!
———————–
How Much Does it Cost?
At the time of this review, we were unable to confirm any exact retail prices for the ASUS ROG Thor 1000W Platinum II. However, based on what can be determined from the original 'Thor' series, we would expect this 1000 watt variant to cost something in the region of $299.99. – So, in terms of power supplies, this certainly isn't cheap.
You do, however, have to consider that this is not a 'generic' power supply and shouldn't be compared to others that are. This is a premium-level product, designed for overclocking and gaming enthusiasts. With this in mind, therefore, this, unfortunately, carries a price tag that ultimately tends to reflect that particular market. – On the plus side, however, this does come with a pretty huge 10-year warranty, so if you plan to really put this PSU through its paces, you can perhaps afford to think of this as an investment rather than a purchase!
Performance
For as absolutely fantastic as the ASUS ROG Thor 1000W Platinum II looks (both internally and externally) the only mild disappointment I had was that the performance figures provided in our testing were so, for want of a better word, mundane. Yes, admittedly, that requires a little explanation.
What I'm trying to say is that for as aesthetically pleasing as the ASUS ROG Thor 1000W Platinum II is, and for the clearly exceptionally high level of quality control that has gone into it, I did expect (or rather hope) that the performance it provided would've equally blown my mind. The reality, however, is that it did not. It did everything it was supposed to and did it competently and quietly. Sure, the ASUS ROG Thor 1000W Platinum II sets the bar high with its Platinum efficiency rating. I just can't help but feel though that while still an excellent power supply in a practical sense, the aesthetics perhaps write a metaphorical cheque that the performance doesn't quite match.
Practicality & Functionality
The practicality of the ASUS ROG Thor 1000W Platinum II is predominantly covered by its fully modular cable design. Not only does this allow you to only insert the cables your components need, but the strong, long, and flexible braided coating should make cable management an absolute dream.
Offering a huge 1000 watts of power output as well, this model should easily cover even the most elaborate of gaming setups while still offering plenty of overhead for the enthusiast and/or overclocking user!
Should I Buy One?
Tricky question. The ASUS ROG Thor 1000W Platinum II is undoubtedly both tailored and marketed towards a very specific user. While ASUS themselves are clearly angling this PSU towards gamers, I honestly don't think that this is the key demographic for this. I personally view the ASUS ROG Thor 1000W Platinum II as a premium-level power supply, both in terms of aesthetics and performance. With this in mind, therefore, and given its rather hefty price tag, this isn't going to be the best option for, quite frankly, the vast majority of more generic PC gamers.
The ASUS ROG Thor 1000W Platinum II is, without a doubt, an absolute dream for extreme/enthusiast gaming systems, and perhaps more notably, overclockers who love to squeeze every ounce of performance out of their components.
So, in conclusion, the ASUS ROG Thor 1000W Platinum II is not for everyone. If you are, however, looking for an exceptionally strong power supply that offers high levels of performance and a level of aesthetics rarely seen in this particular aspect of PC components, then this is definitely an excellent choice to make!