ASUS ROG STRIX SQ7 M.2 SSD – Is ASUS Getting into Internal Storage?
---
---
---
Mike Sanders / 1 year ago

Over the last few years, there has definitely been a trend within the PC hardware manufacturing community to move towards the launch of new internal SSD storage products. – For many companies, this is an entirely brand new venture. In other instances, this still marks a pretty significant transition from only previously having sold external storage devices to now getting into the world on M.2 SSD products! – With more and more people looking to upgrade to the super-fast data access on offer through such technology, however, it's hardly surprising that companies want a slice of that pie!
Why are we even talking about this though? Well, following a report via TechPowerUp, an image has appeared online that seems to strongly suggest that ASUS is about to officially enter the world of internal SSD storage! Yes, they're seemingly making their first-ever internal M.2 SSD!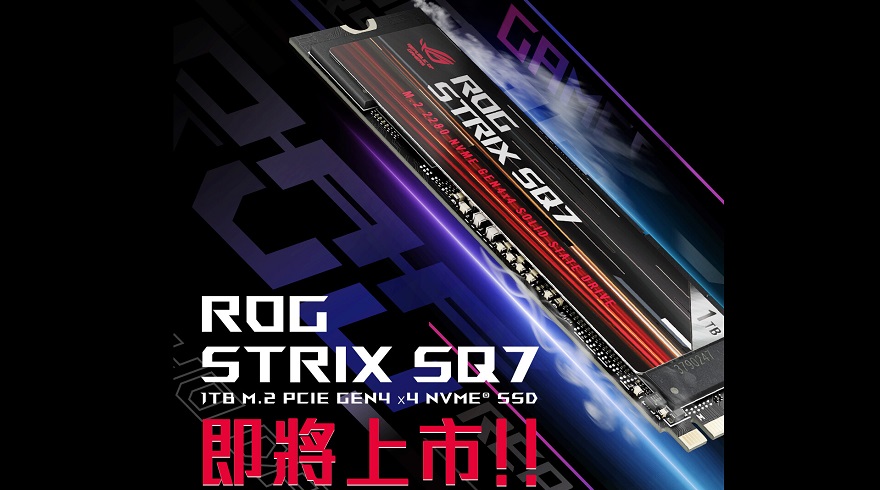 ASUS ROG STRIX SQ7
Now before you go running off thinking that this is some kind of elaborate hoax (because, in fairness, it wouldn't be hard to photoshop an image like this), the source of this leak is pretty reliable here. Namely because it's ASUS' own Taiwanese Facebook channel (click here)! – This also comes with a little text which, when roughly translated, states '#ROG #NEWTHINGS'.
Now, admittedly, they might've been hacked. But why would a hacker bother posting a teaser image like this? – Let's be honest, ASUS, under their ROG branding, is 100% getting into the world of M.2 SSD internal storage with their new SQ7 1TB NVMe storage device! – The only question is when they're officially going to announce it, and more so when we can expect to see it hit retailers.
In this regard, it should be noted that ASUS does have an event scheduled for May 17th, and, in addition, there's also the small matter of COMPUTEX on May 24th. – Overall though, it does look like this new M.2 SSD device from ASUS will be officially confirmed by the end of this month!
Exciting stuff for sure! It'll be interesting to see how this stacks up against its competition!
What do you think? – Let us know in the comments!