ASUSTOR Adds New Braswell Quad-Core Rackmount Models
---
---
---
Bohs Hansen / 5 years ago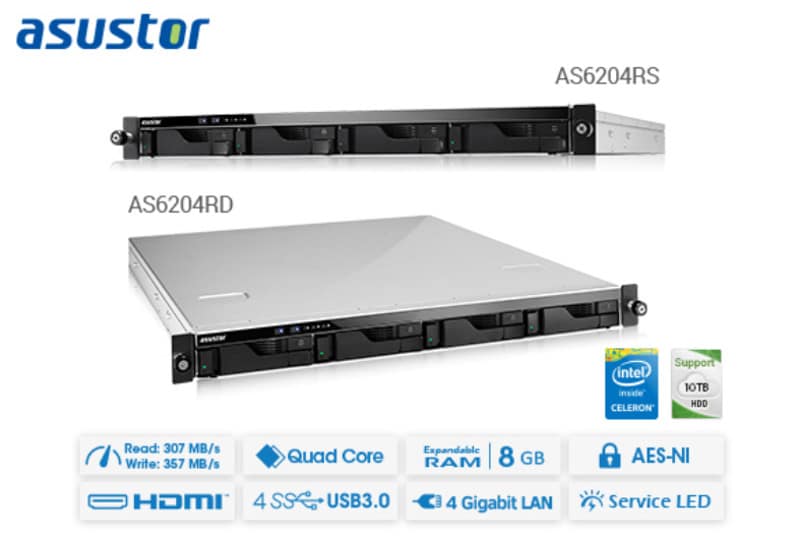 ASUSTOR launches new rackmount system called the AS6204RS/AS6204RD NAS which is powered by an Intel Braswell quad-core processors and comes with 4GB SO-DIMM DDR3L memories. This new system is equipped with stable performance and a rich variety of functionality such as comprehensive backup and storage services, seamless integration with virtual environments and simplified management for network administrators, creating an optimal enterprise storage solution.
You might have noticed that there are two model numbers above, yet I only referred to it as one system and that is because the only difference between the two is whether it comes with a redundant power supply or a single one (identifiable by the last letter in the product). In the past, a four-bay model wouldn't sound like much, but when we take the newest 10TB drives into consideration, which are supported, then we can get up to 40TB raw capacity from a system like this. Shouldn't that be enough for your needs, then you can expand it with USB 3.0 expansion units such as the ASUSTOR AS6004U which provides you with another 4 bays of storage options.
Four Gigabyte Ethernet ports ensure great connectivity options and the system is capable of read and write speeds of over 307MB/s and 357MB/s with Link Aggregation and in an iSCSI RAID5 setup. It also comes with the security features you'll want in an enterprise environment such as 256-bit data encryption, firewall, network defender, 2-step verification, and all the other great features that ADM has to offer.
"With regards to software, ASUSTOR provides the simplified ADM operating system. With regards to hardware, ASUSTOR's efforts are apparent in the attention to detail that we put into crafting each device," said Johnny Chen, Product Manager at ASUSTOR. "For example, most enterprise server rooms contain multiple servers. When IT staff goes in to perform maintenance on particular device it may be difficult to locate the device quickly. ASUSTOR's AiMaster mobile NAS management app features the Find Me function which causes the NAS to beep and flash its lights, making it easy to find. Also, each rackmount NAS also features a dedicated service light on the back of the device. This light becomes activated after pushing a button on the front panel and helps guide IT staff to locate the correct device."
Key Features
Intel Celeron 1.6GHz Quad-Core Processor (Automatic Overclocking to 2.24GHz)
RAID 5 Read Speed of up to 307 MB/s and Write Speed of up to 357 MB/s (Link Aggregation, iSCSI)
Supports Intel AES-NI Hardware Encryption Engine
Built-in Dual-Channel 4 GB SO-DIMM DDR3L High-Speed Memory (Expandable up to 8 GB, 4 GB x 2)
4 x Gigabit Ethernet Ports
4 x SuperSpeed USB 3.0 (5 GB/s) Port
1 x HDMI 1.4b Port
1 x RS-232 Com Port
Supports RAID Volume Management: Single, JBOD, RAID 0/1/5/6/10, RAID 0/1/5/6/10+Hot Spare
Supports Hot Swappable Hard Disks
Disk Tray Locks
LED Service Light
Supports Largest Capacity Hard Disks on the Market (10 TB)
Smart Fan Temperature Control
AS6204RD Features Dual Power Supplies
Key Software Specifications for ADM 2.6
Seamless Cross-Platform File Access (Windows, Mac, Unix-Like Operating Systems)
Virtualization Support: Citrix, Hyper-V, VMware (NFS)
Scheduled and Automatic iSCSI LUN Snapshots
Virtual Machine Support with VirtualBox (ASUSTOR Portal and ADM Web Interface)
Comprehensive Backup Solutions (Public Cloud, Local Device, PC, Mobile Devices)
Integrates Windows AD, Windows ACL Permissions and Batch Importation of Accounts
SNMP Network Management Protocol Support
DHCP
Instant System Event Notifications (Email, SMS or Push Notification)
Supports 3-Step Seamless System Migration
Supports Online Capacity Expansion and RAID Level Migration
Supports N-1 MyArchive Hard Disks with Encryption and Binding of USB Devices as Encryption Keys
Newly Added File System Support for MyArchive (EXT4, NTFS, HFS+) Increases Compatibility of MyArchive Disks.
Remote Access via Cloud Connect Technology
App Central App Repository Features Rich Variety of Apps for Multimedia, Business Productivity, and More.
Surveillance Center Supports up to 25 Camera Channels