Attitude One A1 Vintorez Gaming Mouse
---
---
---
Peter Donnell / 8 years ago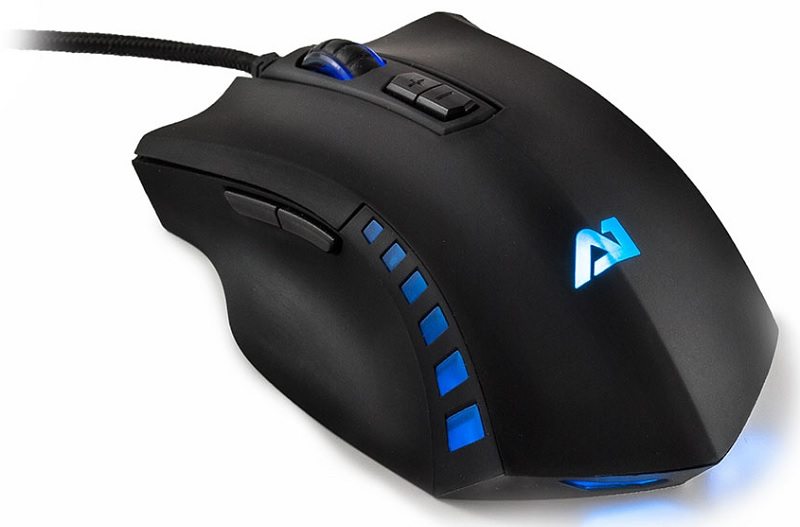 Today I feel very lucky indeed, it was only a few days ago I got to test the gorgeous Attitude One Tunguska 7.1 headset and now I get to try out their new Vintorez USB gaming mouse. While that may not sound like the most exciting week ever to some, it is to me, because Attitude One are a new brand to us here at eTeknix and it's always great to see some fresh products in the market that aren't coming from the current big players.
Gaming mice are in no short supply, the market is flooded beyond count with peripherals that are all shapes, sizes and colours. There seems to be a product tailored to every type of gameplay, style and age group so it's always a tricky one when you see a new product in this sector as there is often very little innovation to offer the market at this time. Yet style, performance and many other factors are highly subjective so when it gets down to it, it never really hurts to have more choice on the market as there should always be something out that is right for you, the trouble is, it can often be hard to tell which one.
Hopefully today we can clear up a few things and find out if the Vintorez is right for you or not, so let's get straight to the good stuff and see just what Attitude One have to offer us this time around.
Much like their headset the Vintorez comes in a bright orange box that is so luminous that it makes my camera struggle to capture it properly, you wouldn't have a hard time finding this box in a dark room.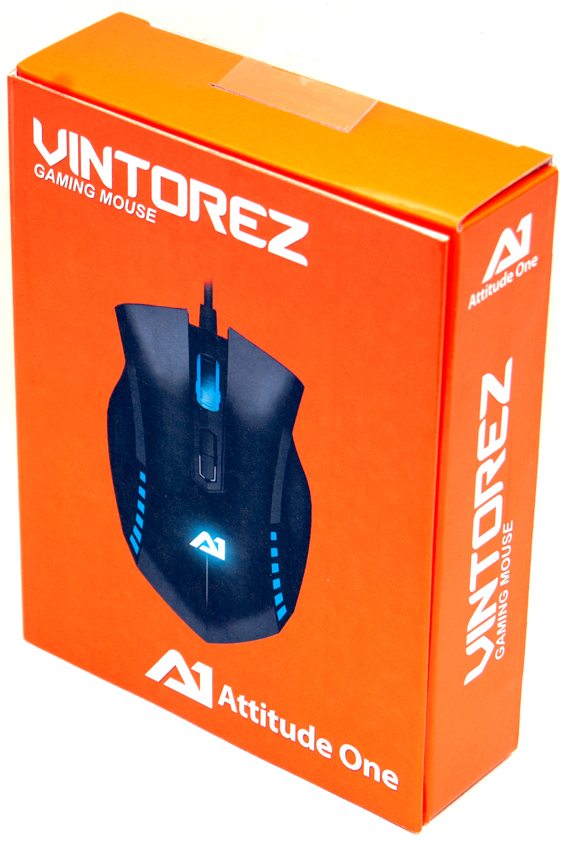 The box folds out and this allows us a sneak peak at the overall shape of the mouse, handy for those buying the item at a retail outlet.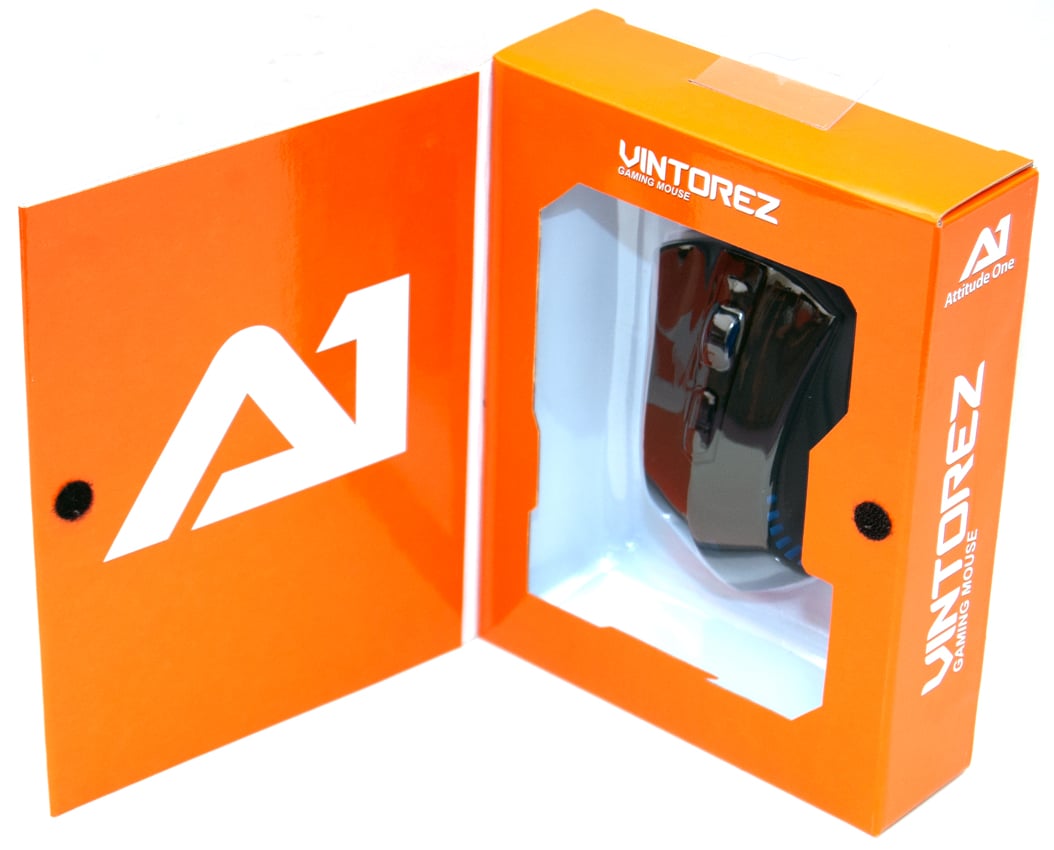 Around the back we have a couple of product shots as well as a few technical details that include the 400/1200/2000/3200 DPI resolution, ergonomic ambidextrous design, full programmable keys, custom LED light system and a 1.8m braided cable.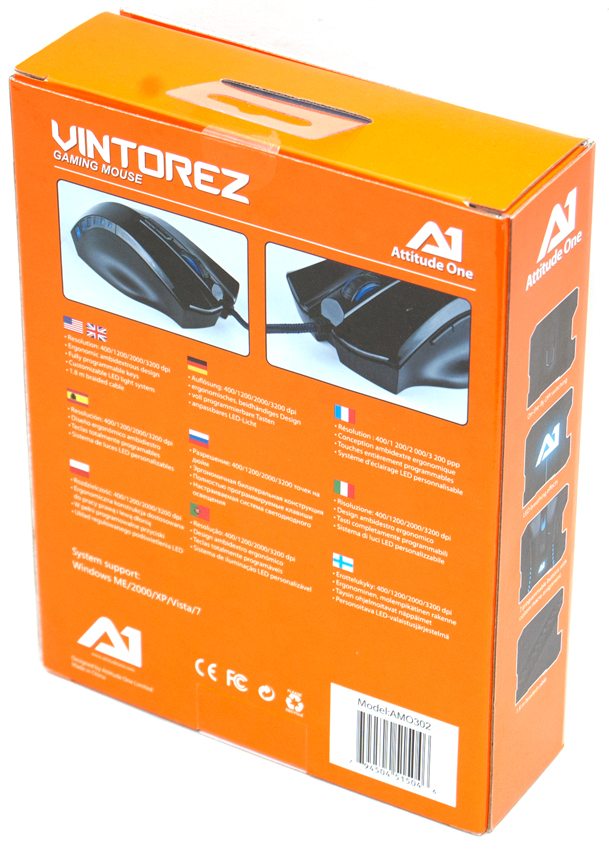 In the box I found a simple user manual that talks you through basic setup as well as a mini CDR that contains the driver software and setup files.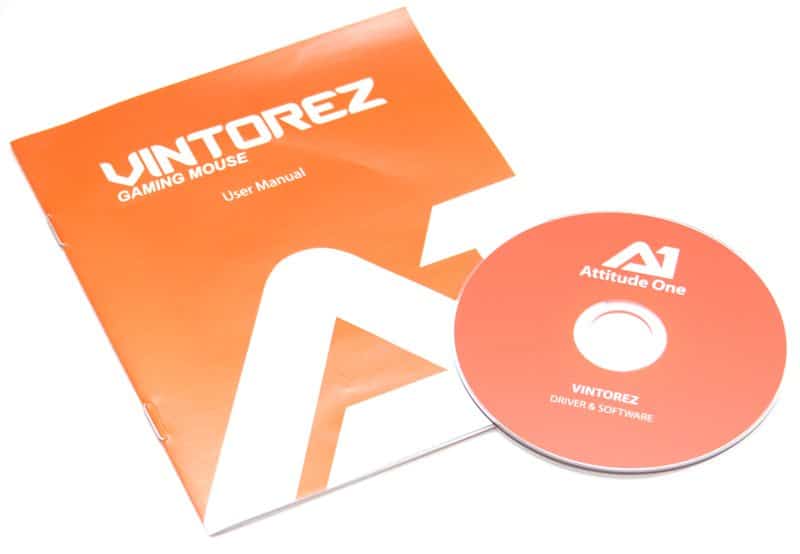 The mouse comes hard wired with a good quality braided cable and a heavy duty plastic covered USB connector.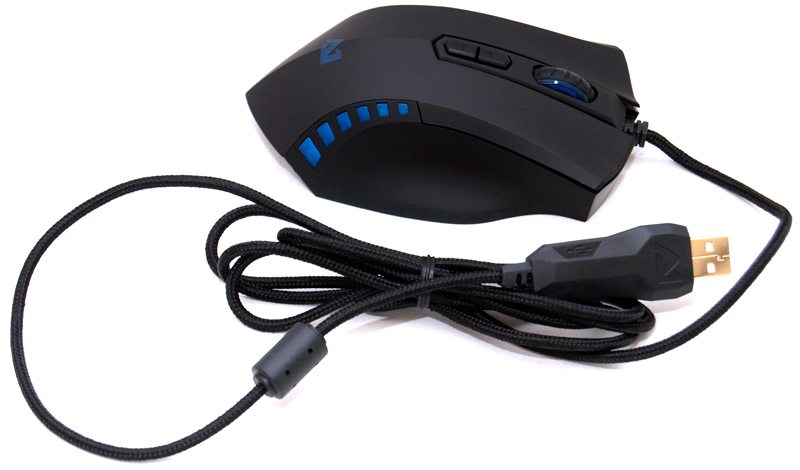 The Vintorez features a heavily curved design mixed with pronounced edges, its shape reminds me of the Razer Naga from some angles. The right side of the mouse features some blue squares that feature LED backlighting, while the bottom of the side panel features a small lip to provide your hand with a comfortable resting spot.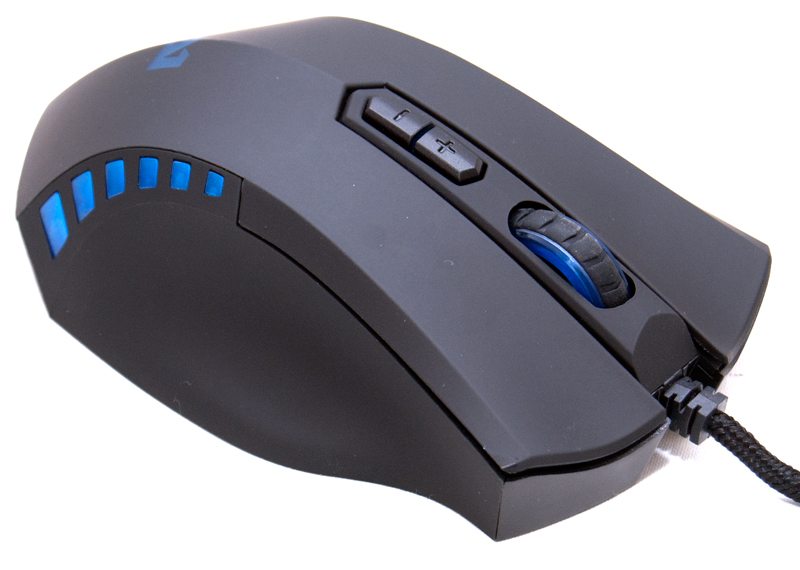 The back of the mouse features the A1 logo as well as some small detailing on the underside that also feature LED lighting. Here you can also better see where the top panel forms the front mouse buttons as the edges join up to the right side panel.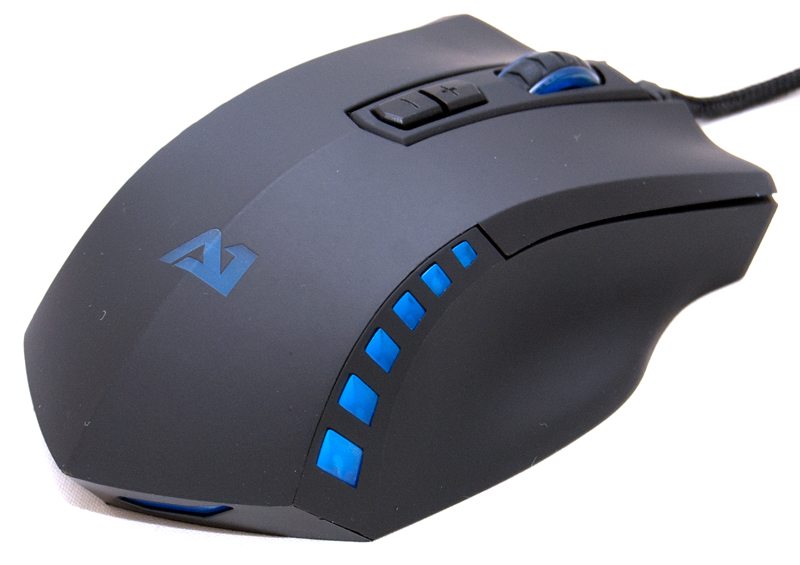 The left side features the same ergonomic shape and LED detailing as the right, making it comfortable for ambidextrous usage, although only the left side features the two side buttons.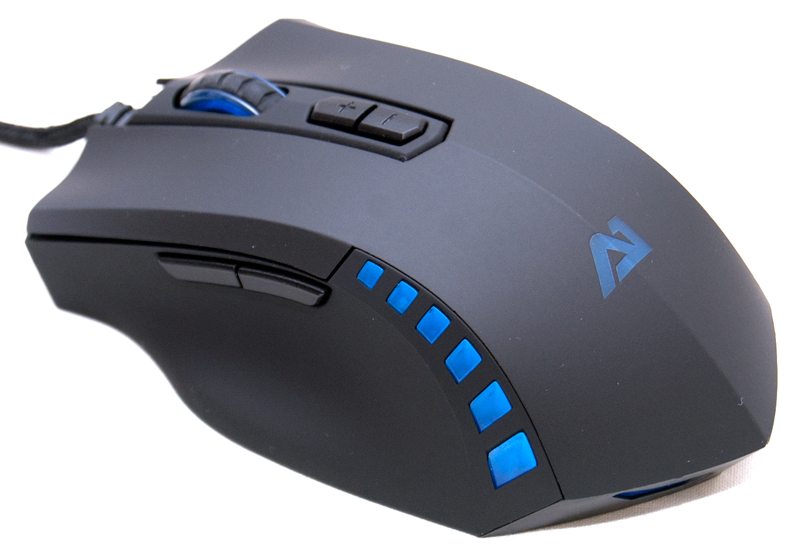 The mouse buttons are curved at the front to provide a good resting position for your fingers. The centre strip features a pair of switches for the DPI toggle which are marked + and – while the mouse wheel features a grippy, notched rubber coating that makes it easy to make quick and precise adjustments. The scroll wheel features a small blue inner ring and this is also backlit by LED lighting.
The overall shape of the mouse might features a lot of curves, but it's still quite aggressive looking overall, almost like a mash up of the Gigabyte Avia Krypton and the Razer Naga for shape, which is no bad thing as they're both great looking mice.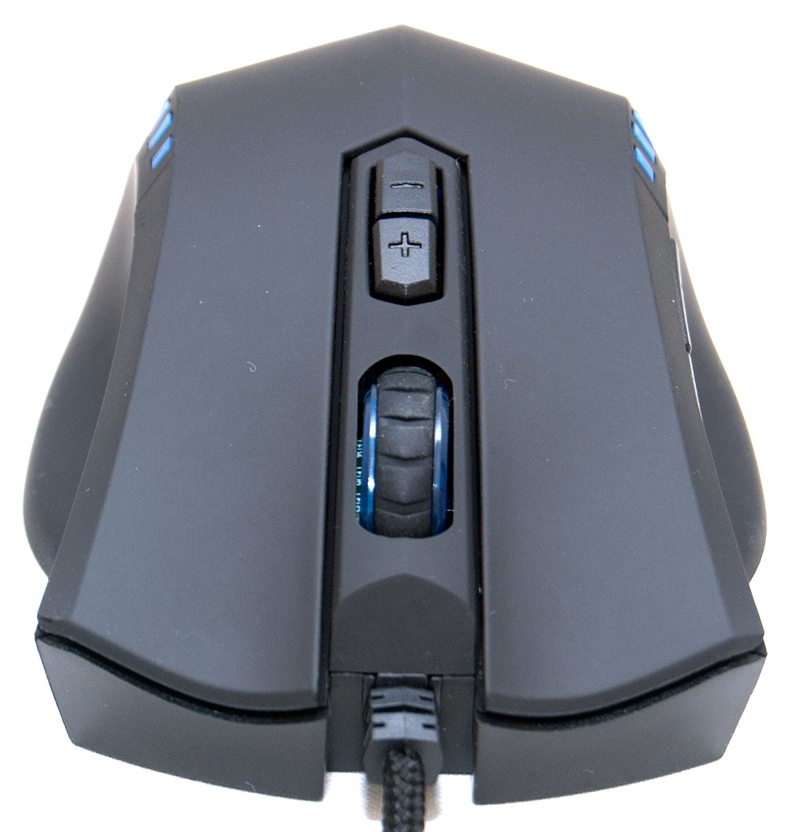 The mouse is low and sleek, but its ergonomics lend better to a claw grip rather than a palm rest hand position, although it's not ideal for a lift-off technique as the surface feels a little slippy to quickly lift the mouse.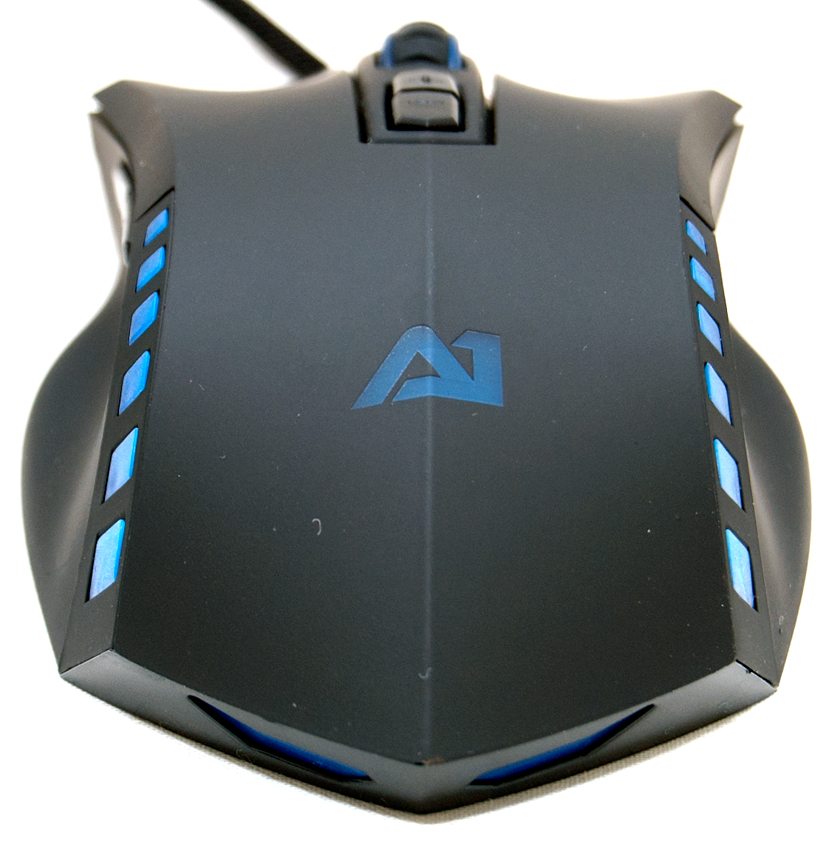 The underside of the mouse is pretty basic, the sensor in the middle and six slipmats around the edges, more than enough to provide plenty of glide over a multitude of different surfaces.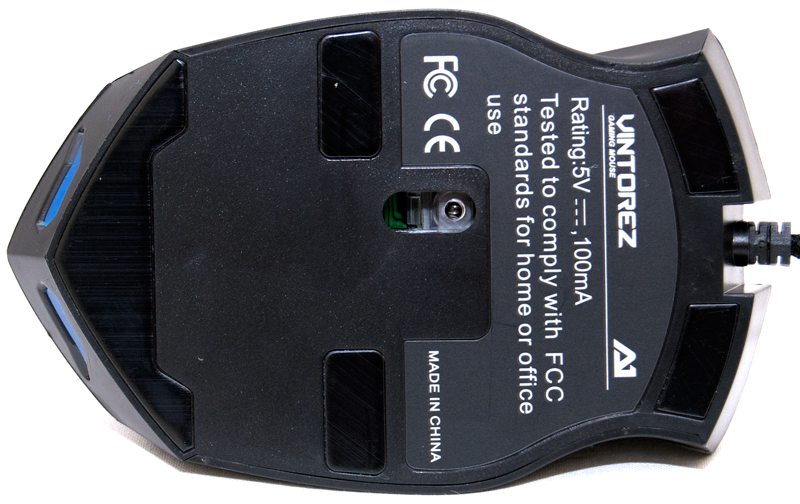 Setup & Installation
Once powered up the mouse lights up in a range of colours and just flicking through the DPI settings brings up a range of blue, green and red colours on the rear logo.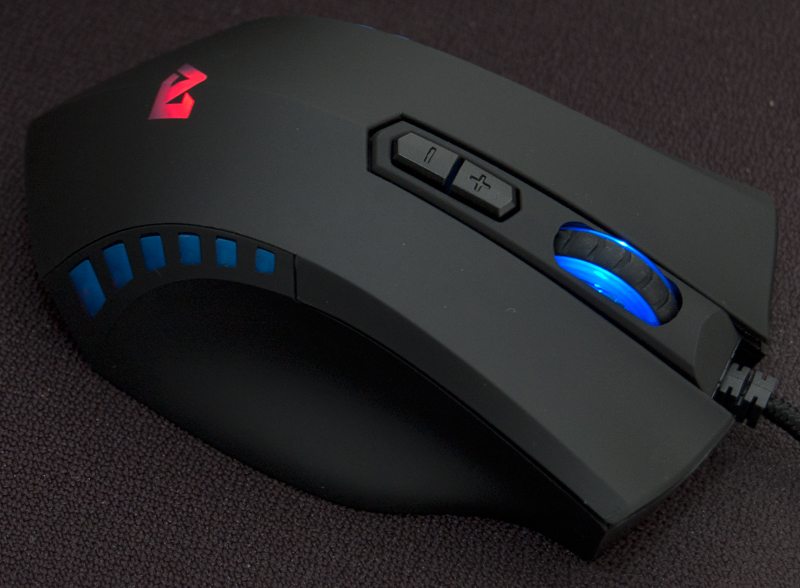 The software install took a couple of minutes but provided me with plenty of customisation options. The first tab allows for tweaking of the mouse buttons allowing you to set custom button configurations to any key.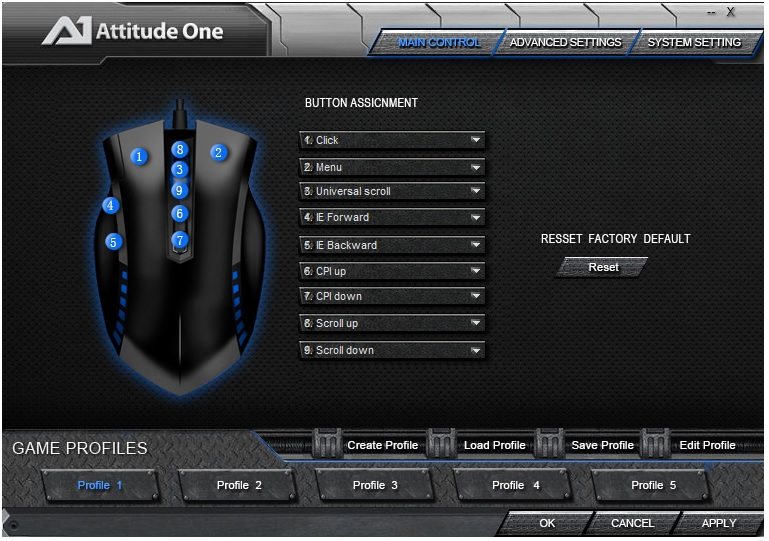 The next tab is for configuring the sensor, custom X/Y sensitivity, polling rate, lighting effects and CPI modes. The final tab allows you to adjust the Windows mouse control panel settings from within the A1 software.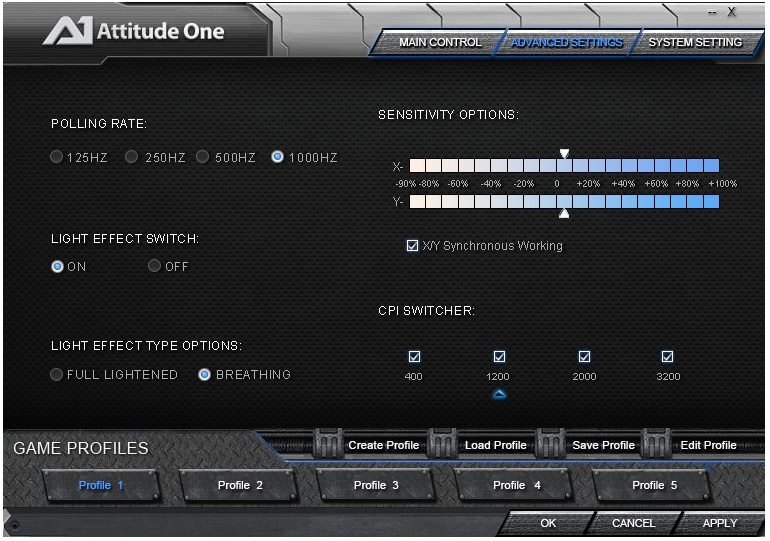 Sensor Performance
The first thing I checked was the lift-off height, which was under 2mm and while that isn't very low, this mouse doesn't lift easily due to its shape, so the lift-off height isn't really going to affect usage.
When checking for prediction I found that there was a very small amount present, but so little that it wouldn't affect gaming in any noticeable fashion. I did however notice a worrying amount of jitter and straight lines or smooth curves were impossible to draw on both the 2000 and 3200 CPI settings, but smooth as silk on the 300 and 1200 settings.
I performed an acceleration test and discovered a slight loss in tracking while moving the mouse quickly over a longer distance and the mouse pointer fell short of my original start point. This is tested by moving the mouse (while in a first person game such as Skyrim) slow across the mouse mat, the quickly returning it back to the start point to see if the mouse pointer lands in the same location. It wasn't as present at lower CPI as it was higher but typically it was at acceleration speeds that are unlikely to be achieved in day to day usage, either way there was some definite deceleration.
Gaming & General Performance
The claw grip that this mouse promotes isn't my usual play style, but the ergonomics here are well suited to it and they certainly have some benefits to ambidextrous usage. Of course if you do play left-handed there isn't any switches on the right side of the mouse, only the left, so that is a minor draw back there.
The left and right mouse buttons have a firm and slightly loud click, but they have a nice tactile feel to them that will no doubt improve once the switches have been worn in a little. The sensor may have been erratic at high settings, but 1200 CPI was more than enough once settings were tweaked up in Windows, offering plenty of speed and accuracy that did well in Battlefield 3 and League of Legends, then when you need to you can still drop down the CPI for those precision moves.
Day to day use is pretty good, but I find that my wrist hurts a little after a few hours as I like a wider mouse with a good palm rest position, although I do have fairly long fingers and wide hands so that mild discomfort may not be the case for most people.
Final Thoughts
The Vintorez is a mixed bag product, its performance wasn't quite as great as I expected but it still offers a good level of performance for the price range and a huge amount of style and flair that I think will prove quite popular. The brand might not have fully established its self here in the UK yet, not having the same level of fame as brands like MadCatz or Corsair, but they're certainly heading in the right direction.
The sensor could be better, there is no doubt about it and the top CPI settings are all but useless in my opinion. The bottom two still offer a mixture of speed and precision, both of which can still be tweaked a good amount from the configuration panel, so there is more than enough performance to be found for your average gamer who enjoys some casual FPS, MMO or RTS gaming. Of course the mouse is still good for day to day usage too but its extreme styling is clearly targeted at a more gaming orientated consumer.
It's nice to see another budget friendly option on the market that packs a lot of features, with full customisable button layouts, LED lighting, adjustable DPI, multiple profiles and a cool design, I really do like this mouse. Unfortunately it just missed out on our Gamers Choice Award today due to the sensor being a little erratic at higher settings, but if this is to be the first in a long line of products from A1 then I have high hopes for what they can do in the future.
Pros
Affordable
Great design
Plenty of features
Responsive switches
Cons
Sensor gets twitchy at high CPI settings
Ambidextrous design falls short by only having left side buttons
eTeknix says: "While this might not be the best mouse on the market, it is competitively priced while offering an extensive feature set. For around £30 you'll be hard pushed to find a better product in this price range."