Backblaze Publishes Q2 2018 HDD Reliability Statistics
---
---
---
Ron Perillo / 4 years ago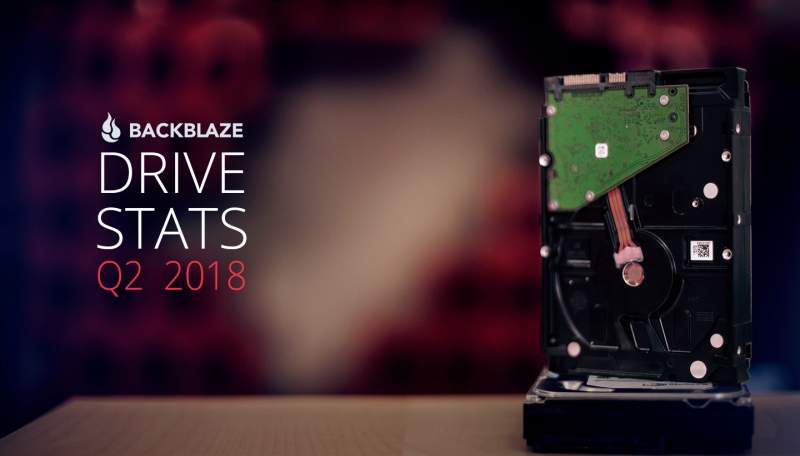 A Hard Drive Lifetime Retrospective
Cloud back-up and storage provider Backblaze has published their Q2 2018 statistics of hard drive failure rates. Specifically, it covers the statistics between April 1 through June 30, 2018.  This also includes the lifetime statistics as well for the data drive models within their data centers. Plus, Backblaze is also comparing enterprise with consumer drives this time around.
What Does the Backblaze Statistics Say?
Backblaze has 98,265 drives in their data centers. This statistic however, does not include drives used for testing purposes or drive models which they have less than 45 on hand. That leaves 98,184 in total.
The resulting annualized failure rates this round are actually lower than normal. Backblaze is still continually upgrading their storage. Specifically, replacing the 3.5 to 4 year old 4TB drives with 12TB models. The change is not so much due to age, but for increased density. They are replacing 4600 4TB drives with 4800 12TB drives. This will allow them to offer more storage space while taking up less server storage space.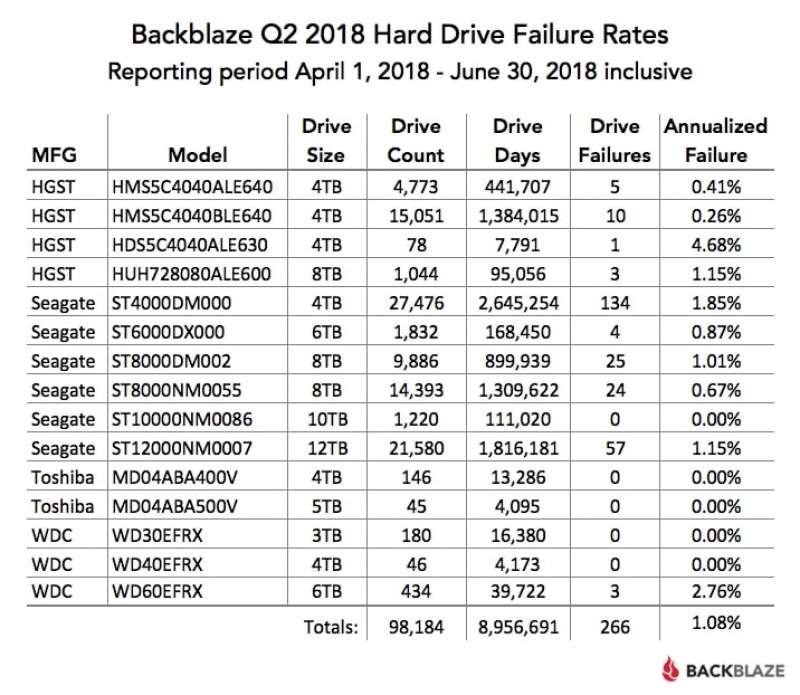 To get the full picture for regular consumers, Backblaze also provides the quarterly numbers against the backdrop of their lifetime Hard Drive failure rate statistics. This is the full test of the drives longevity, computing its reliability starting from when it was first installed.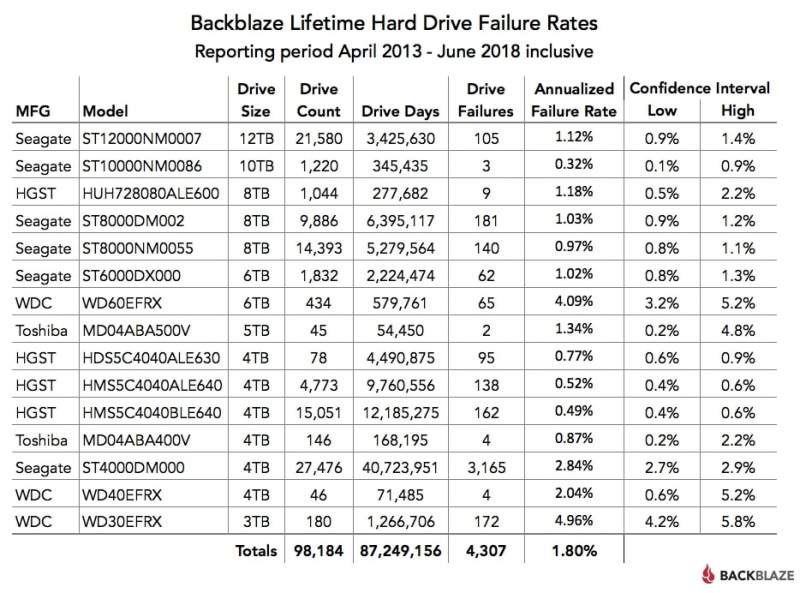 Of the list, Western Digital WDC30EFRX 3TB the drive had the highest failure rate at 4.96%. They do not have much of this drive on hand, but of the 180 drives, 172 failed. The WD60EFRX 6TB drive is similarly high at 4.09%, and they only had 434 of these. Of which, 65 failed.
The failure rates for everything else looks pretty good for the most part, hovering around or below 1%. The overall failure rate is actually the lowest they have experienced according to Backblaze. Totaling only 1.8%.
The larger capacity 8, 10 and 12TB models are also recently deployed last year. So there is some actually some volatility in the data. Which means it might even lower further over the next few years.
For more information and to get the full details about their quarterly statistics, visit the Backblaze blog.