Battlefield 2042 Update 4.0.1 Patchnotes Revealed
---
---
---
Peter Donnell / 1 week ago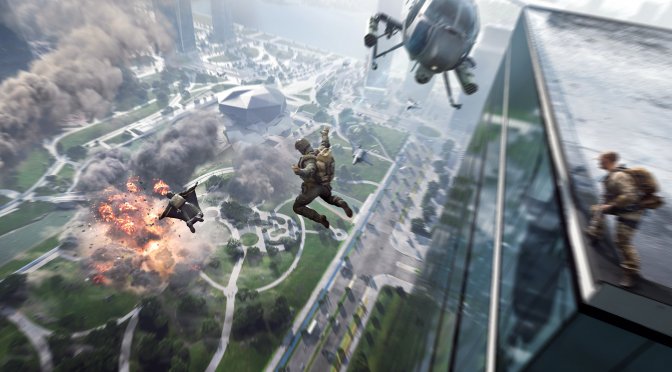 DICE has been doing pretty great with Battlefield 2042, a game that got pretty hammered by fans when it first launched. However, I've been playing it a lot in recent weeks, and it's been pretty fantastic. Sure, I'm not a particularly hardcore FPS gamer or anything, but the game has been surprisingly stable for me, unlike the Warzone 2.0 which I have tried a few times now and just hate with a passion due to its instabilities. Alas, DICE has just released a brand new update for Battlefield 2042, which sees the game taken up to version 4.0.1. Not a major update, but there's a good set of changes here to improve quality of life and fix some balancing issues, so it's still worth checking out what has changed.
There are some improvements to the spawning of AI soldiers in the prologue stages. There are a few audio issues that have been fixed, such as scrambled voice lines when near an enemy X6-Infiltration Device. However, you can check out the full changelog below.
To get the update, just load your client, and let it do its thing before you try to launch the game, not that you can launch it without the update, of course.
Battlefield 2042 Update 4.0.1
AI Soldiers
AI Soldiers should now correctly spawn during the Prologue stages of Battlefield 2042.
Audio
Resolved an issue that resulted in Voice Lines remaining scrambled after exiting the vicinity of an enemy X6-Infiltration Device.
We've done an audio pass on the X6-Infiltration Device, specifically aimed at addressing audio-overload where players place multiple devices in a small area.
Reduced the rate at which the X6-Infiltration Device registers audio pings upon entering and exiting an area.
Added more nuance to the noise emitted from the X6-Infiltration Device, resulting in it no longer producing a continuous static noise.
Gadgets
Resolved an issue that resulted in an oversized crosshair while placing the M18 Claymore.
M18 Claymore sensors should no longer trigger through walls.
Reduced the amount of healing per second the Repair Tool replenishes by 15%
The Tracer Dart will now last 16 seconds up from 12 seconds.
Fixed an issue where the Designated UI Indicator would appear under the world when hitting some gadgets with the Tracer Dart
Fixed an issue where drivers in vehicles would sometimes not get a warning in the HUD about incoming missiles if they were designated by a Tracer Dart
Also fixed an issue where the Tracer Dart would sometimes fail to designate moving targets
Resolved an issue that resulted in SOFLAM targets on neutral vehicles being shared across both teams.
It should now be possible to place the Insertion Beacon within Smoke.
Specialists
Blasco
Fixed an issue that caused Blasco to be hidden from the minimap when firing unsuppressed weapons. You're stealthy, but not that stealthy!
Updated Blasco's Tutorial Video within the Collections Screen.
It should now be possible to place the X6-Infiltration Device within Smoke.
Crawford
Reduced the effectiveness of Crawford's Critical Repair Trait from 100% bonus repair amount to 40%.
Irish
Irish's APS-36 Shootdown Sentinel should no longer intercept C5.
Lis
Lis' G-84 TGM missiles will now correctly detonate when impacting Dozer's Ballistic Shield.
Rao
Resolved a Field of View issue for Rao's "Volatile" cosmetic.
Soldiers
Lowered the soldier health regen delay from 7.5s to 6.5s.
Increased the soldier health regen from 5hp/s to 7.5hp/s.
Increased the health regen rate post-revive from 5hp/s to 7.5hp/s to match the new regen values of 2042.
Weapons
Removed the remaining Aim Down Sight deploy adjustments for the Extended Magazines.
AC9
Increased the amount of bullets required for a kill with Medium Ammo between a distance of 50-75m from 6 to 7.
Increased the amount of bullets required for a kill with Subsonic ammo for distances beyond 40m by 1.
RPT-31
Reduced the amount of bullets required for a kill with Heavy Ammo under a 30m distance from 5 to 4.
M39 EMR
Reduced the Headshot Multiplier from 2x to 1.6x
SVD
Reduced the Headshot Multiplier from 2x to 1.6x
Vehicles
Resolved an issue with the CAV-Brawler not correctly spawning in with the "Tier 1" and "Water Wheel" Vehicle Cosmetics