Battlefield V Player Finds Inventive Way To Thwart V1 Rocket
---
---
---
Mike Sanders / 2 years ago
How To Beat A V1 Rocket
Despite what you might personally think of Battlefield V, some people out there are clearly enjoying it. Anyone who has played it (specifically online) will note that the V1 rocket is perhaps one of the most feared weapons in the game. The weapon itself is, incidentally, based on the real rockets used by Germany against Britain towards the end of World War 2. Yes, EA and Dice did manage to get some aspects of accuracy in this title!
When a squad accrues a certain amount of points (via a leaders tactical decision), if you save up enough, you can call in a rocket that will likely wipe out everything within its blast radius. It's not quite as potent as a nuclear bomb in CoD MW2, but you get the idea.
One player has, however, found a unique way to thwart it. Put simply, you 'intercept' it.
Some Precise Flying!
Sadly a video of the entire clip doesn't appear to be available at the moment. In the gif image below though, you can see the user very precisely line up his plane to cause a collision. As surprised as you might be, this did actually work. It caused the rocket to detonate in mid-air rather than on the ground. As you can probably tell though, this is a lot easier said than done!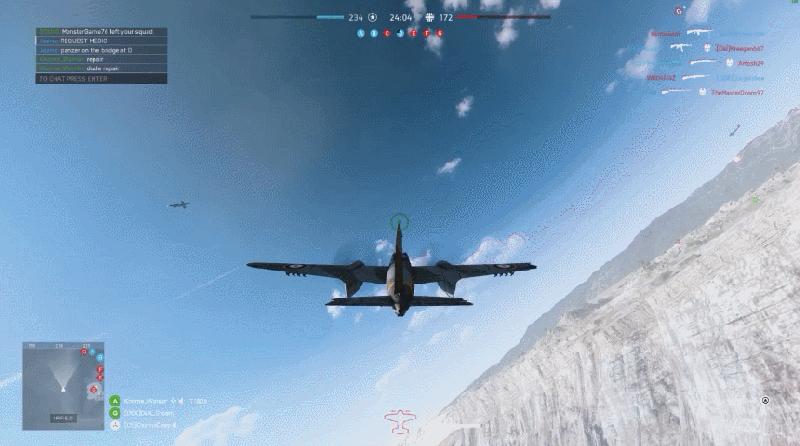 Could You Do This?
Having played a little Battlefield V, it's difficult to understate just how difficult this would be. If you do, however, have a V1 rocket on the way and a team member willing to sacrifice themselves, not that this has been discovered I daresay more than a few people are going to look to replicate this over the coming days.
What do you think? Impressed with the clip? Do you think you could do it? – Let us know in the comments!