be quiet! Dark Rock Slim CPU Cooler Review
---
---
---
Mike Sanders / 3 years ago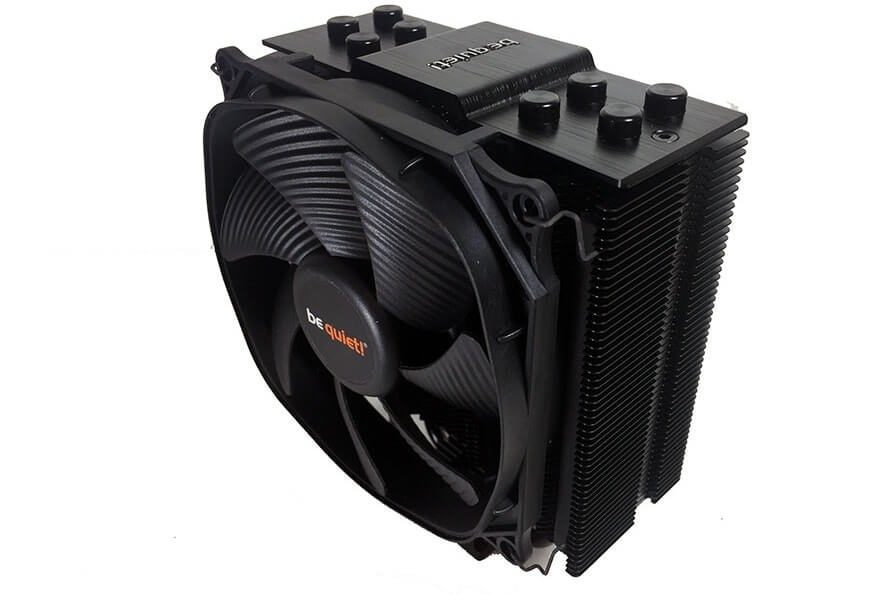 be quiet! Dark Rock Slim
For the sake of fairness, I feel that I have to start this review with something of a confession. We have in the past reviewed many of the be quiet! Dark Rock coolers and while we have always found them to be excellent in performance, there has always been a common factor. Namely, that they have had one of the most complicated mounting systems ever devised.
In installation terms, the Dark Rock 3 was a nightmare and although slightly improved in the 4, still was not hugely better. So, you can imagine my reaction when the Dark Rock Slim landed on my desk.
Combining a much sleeker and smaller design than it's counterparts, however, we do have more than a few hopes that this will be a much more promising release. Utilising their highly-excellent 'Silent Wings 3' fan technology, we expect not only exceptional performance but also near silent operation. Let's just hope we can actually mount it to our test bench! (Spoiler alert – we did and it's very good!).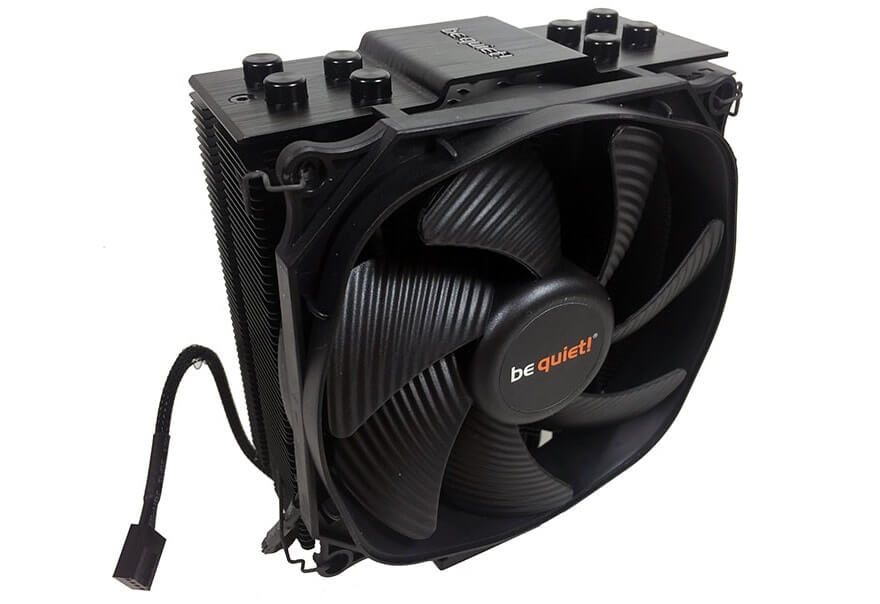 Features
Compact construction does not block memory slots
Virtually inaudible Silent Wings 3 120mm PWM fan
Achieves only 23.6dB(A) at maximum fan speed
Four high-performance copper heat pipes
Airflow-optimized, wave-contoured cooling fins
Special black coating with ceramic particles enables perfect heat transfer
Supports an additional 120mm fan; fan clips are included
Easily installable black installation kit can be mounted from above
Brushed aluminium top cover with diamond cut finish Space-saving slim design perfect for compact PC-systems
What Does be quiet! Have To Say?
"The Dark Rock Slim provides exceptionally high cooling performance of 180W TDP and is equipped with a virtually inaudible Silent Wings 3 120mm PWM fan. It offers enough headroom to silently cool any mainstream processor while keeping the space above occupied RAM slots clear. It is the perfect choice for high-end builds with limited space. Uncompromisingly compact. ." – Official product website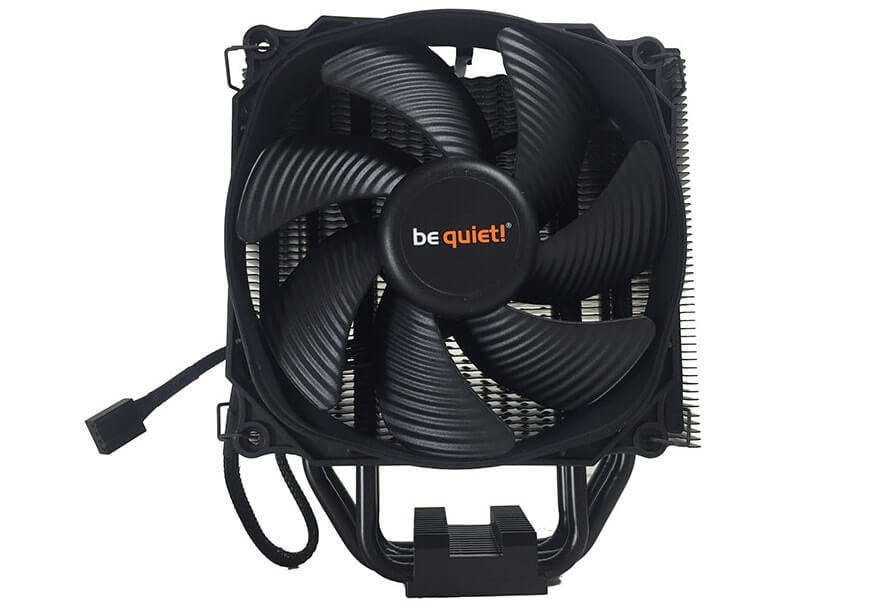 Technical Information
For more in-depth specifications, please visit the official product page via the link here!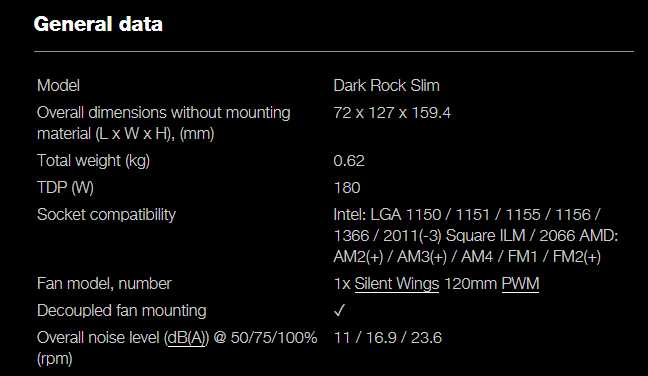 Dimensions
Exterior Packaging
In terms of packaging, be quiet! has a very recognisable brand image and that is clearly reflected. Despite the rather black outlook, however, they have been very careful to ensure that you get a strong clear view of the cooler to the front and centre of the box work.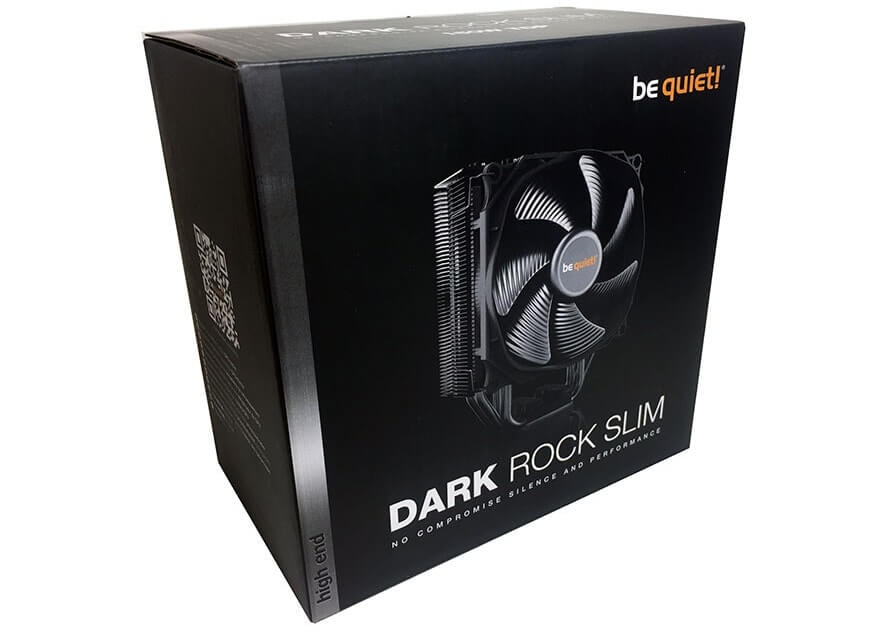 While it is somewhat lacking in presentation terms, the ethos of the design is all about business. the Dark Rock coolers don't have any RGB and are designed primarily with one job in mind. Namely, to keep your CPU as cool as possibly while keeping the noise levels down.
In that regard, the packaging certainly fulfils the remit, albeit they could've afforded to make the font and images larger. There is, after all, a lot of room here that hasn't been used.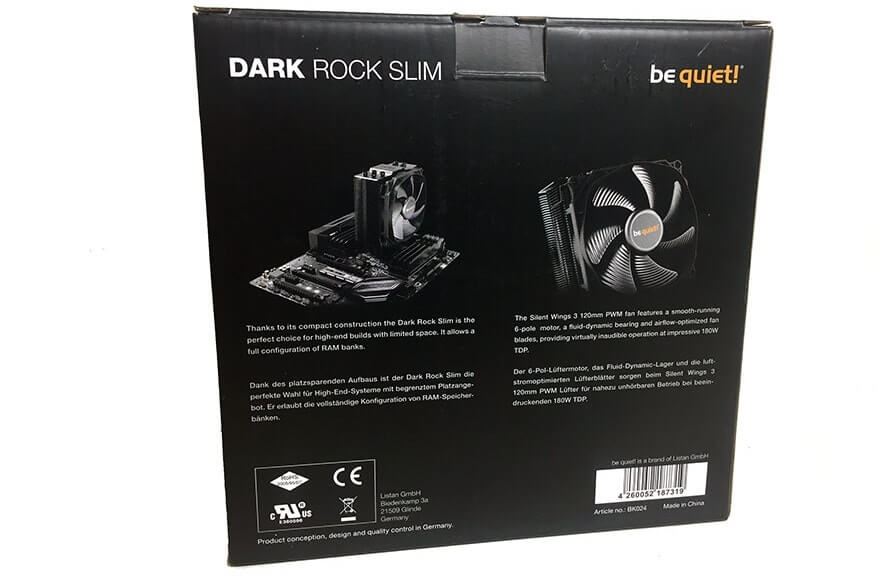 Accessories!
The main key accessories include a product manual, clip attachments for the fans (including an extra set if you wish to add a 2nd fan) and itemised bags containing the Intel and AMD mounting equipment.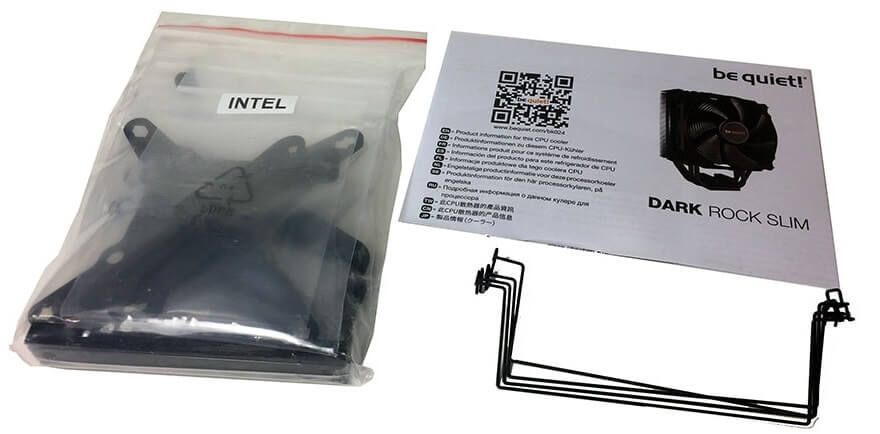 Separating both the Intel and AMD parts makes the unboxing very straight forward as you only need to deal with the parts specifically for your particular chipset design. While you are not exactly spoiled with goodies, you have absolutely everything you need right out of the box to get this fitted to your system. Well, with the exception of a screwdriver.