Best Gaming Mice of 2015 – Which One Will You be Buying?
---
---
---
Peter Donnell / 7 years ago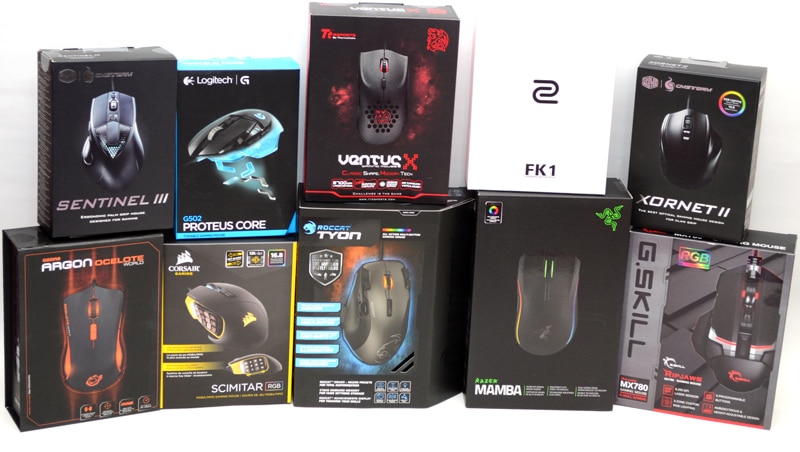 Picking the right gaming mouse can be a tricky task as there are virtually countless brands on the market offering a staggeringly huge range of mice in seemingly every shape, colour, size and budget you can think of, so where do you even get started?
We've had a dig around for some of our favourite gaming mice, albeit with a slight focus on more recent models, giving you a good impression of what's currently available on the market and with any luck, help you find the one that is right for you. Of course, which is best is a matter of personal opinion, one may have a better sensor, but you may prefer the look or grip of another, it's about finding what's best for you and your requirements.
As you can see from the list below (and the image above), we've got quite a selection of great gaming mice at our disposal, and we're confident that no matter which you choose, you'll be very happy with it as these are all great products in their own respects. We've got a wide range of budgets covered too, from around £20 to well over £100! Let's get on with the fun stuff and take a closer look at what each of these gaming mice has to offer!
CM Storm Xornet II
Zowie FK1
Ozone Argon Ocelote World
CM Storm Sentinel III
Logitech G502 Proteus Core
Corsair Scimitar RGB
TteSports Ventus X
G.Skill Ripjaws MX780
Roccat Tyon
---
CM Storm Xornet II
A lightweight and compact mouse design that is well suited to fast-paced gameplay, the Xornet II is a great little gaming mouse. The compact design lends well to fingertip and claw grip play styles, making it a great weapon for twitchy FPS shooters, but it's also very well suited to younger gamers who naturally have a smaller grip and hand size, so it's a popular option for the Minecraft generation. The buttons are light and responsive too, which is great for frantic MOBA sessions.
With a smooth optical sensor, with three programmable DPI levels, as well as an adjustable lift-off height, fully programmable buttons and a little bit of full RGB flair, it's a versatile tool for gaming and day-to-day desktop use, at a price that's certainly attractive; it's actually one of the cheapest in our round-up today.
Buttons: 7
Sensor: Avago 3320 Optical
Min DPI: 250
Max DPI: 3500
Macro Engine:
Built-in Storage:
Weight: 132g
Grip: Claw and Fingertip
Price: £19.99
Check out our full review here
---
Zowie FK1
Zowie has a very respectable reputation in the pro gaming scene, offering a range of mice that are loved by gamers at home and in the eSports industry. A lightweight and nimble design, as well as large slipmats, give the FK1 exceptional glide and agility, combined with comfortable ergonomics, responsive switches and a zero fuss design that lends well to competitive gameplay.
The flawless deployment of the Avago 3310 Optical Sensor is pixel perfect, something that'll benefit both work and gameplay, but we find this mouse is at its absolute best in games like CS:GO and we're certainly not the only gamers to think so.
There's no desktop software, the DPI selector is on the base of the mouse, offering up 450/1150/2300DPI and the ergonomic left-and-right handed design can be toggled back and forth directly on the mouse, so no need to worry about setup, you can just plug it in and get right on with the action.
Buttons: 7
Sensor: Avago 3310 Optical
Min DPI: 450
Max DPI: 2300
Macro Engine: No
Built-in Storage: No
Weight: 90g
Grip: Claw
Price: £49.99
Check out our full review here
---
Ozone Argon Ocelote World
Another mouse with an eSports pedigree, the Ozone Argon is a great gaming mouse, but we like their special edition which was designed by legendary pro gamer Ocelote. Equipped with a pin point accurate Laser sensor, a switchable ambidextrous design, on the fly DPI switching, grippy side panels and 9 fully programmable buttons, the Argon has all the features you could likely ever need or want from a gaming mouse.
The stylish and lightweight design is certainly appealing, but you can also benefit from a weight tuning system that allows you to customise the glide and balance of the mouse to best suit your play style. While not the cheapest or most expensive mouse here today, you will struggle to find better value for money than what Ozone have to offer here.
Buttons: 9
Sensor: ADNS 9800
Min DPI: 100
Max DPI: 8200
Macro Engine: Yes
Built-in Storage: 128KB / 5 Profiles
Weight: 125g + optional 4 x 4.5g
Grip: Claw
Price: £42.32
Check out our full review here
---
CM Storm Sentinel III
Cooler master is the only brand we have in this list twice, so you can be certain that there's a good reason for doing so. Their recently released Sentinel III is their latest and greatest Sentinel gaming mouse yet, with practically every aspect of the mouse having been improved upon, especially the build quality, without ruining what we loved about the original.
The Sentinel III ticks all the right boxes for a desktop mouse, with an accurate sensor, fully programmable buttons, comprehensive software, a built-in OLED display for DPI and profile readout, weight tuning system, on-board memory, full RGB lighting and more, making it as versatile for office work, as it is for competitive gaming; a solid all-round mouse.
Buttons: 8
Sensor: Avago 3988
Min DPI: 400
Max DPI: 6400
Macro Engine: Yes
Built-in Storage: 512KB / 5 Profiles
Weight: 115g + optional 22.5g
Grip: Palm
Price: £39.99
Check out our full review here
---
Logitech G502 Proteus Core
There are a lot of things I can say about this mouse and every single on of them is positive. Without a doubt, the G502 is one of the best gaming mice in the world today and comes with all the latest features you would expect from a flagship gaming mouse.
Equipped with what may very well be the best sensor we've ever tested, the accuracy of the G502 is unmatched. With extensive customisation options available via the desktop software, 11 fully programmable buttons, a sniper mode button, on-board memory for saving your profiles, full RGB lighting, a weight tuning system, as well as the iconic unlockable scroll wheel that has been a popular feature for Logitech mice and so much more, there isn't a thing that the G502 wouldn't be perfect for.
It's a little more expensive that some other options, but the saying that you get what you pay for rings loud and clear here, and I think it'll be a long time before we see a better mouse on the market.
Buttons: 11
Sensor: Exclusive Delta Zero 12,000DPI
Min DPI: 200
Max DPI: 12,000
Macro Engine: Yes
Built-in Storage: Yes / 3 Profiles
Weight: 121g + optional 5 x 3.6g
Grip: Palm
Price: £54.99
Check out our full review here
---
Corsair Scimitar RGB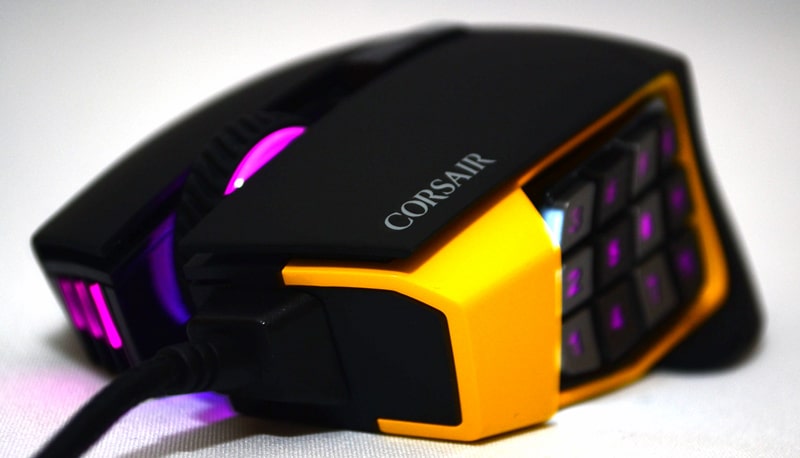 The world of MMO and RPG gaming can be quite demanding, with complex commands and more often than not, a control setup that uses virtually every key on the keyboard and mouse. The help gain more control and speed over the competition, the Scimitar deploys a fantastic mechanical keypad on the side of the mouse, giving you a frightening amount of flexibility for deploying macros, cooldown timers, shortcuts and more, giving you the edge over the competition when you're in the middle of a complex raid mission.
On top of the monstrous amount of buttons, it's also a fantastic looking mouse, with some of the coolest RGB lighting that you'll find on any gaming mouse. Snappy and responsive switches, comprehensive software features, built-in memory and a fantastic sensor make the Scimitar a powerful weapon for control-intensive gaming.
Buttons: 17
Sensor: Optical
Min DPI: 100
Max DPI: 12,000
Macro Engine: Yes
Built-in Storage: Yes
Weight: 147g
Grip: Palm / Claw
Price: £69.99
Check out our full review here
---
TteSports Ventus X
One of the more affordable mice on our list today, the Ventus X is a great all-round mouse that may not have all of the crazy features of some of the products we've suggested so far, but it certainly has all the basics right.
A smooth sensor, snappy and response switches, comfortable ergonomics, a new grip coating and durable rubber grip side panels, weight tuning system, LED lighting, hand ventilation, macro engine and more make it suitable for a wide range of gaming and work applications, it also looks pretty stylish too.
The laser sensor may not be the highest grade on this list, but you'll find it gives silky smooth results right across the range, giving you excellent accuracy. Combined with the effortless glide and tunable weight, it's easy to use even after many hours of gaming.
Buttons: 6
Sensor: Avago 9500 Laser
Min DPI: 100
Max DPI: 5700
Macro Engine: Yes
Built-in Storage: 128KB
Weight: 155g + Optional 3 x 4.5g
Grip: Palm / Claw
Price: £30.65
Check out our full review here
---
G.Skill Ripjaws MX780
G.Skill may be relatively new to the peripherals market, having spent years making award-winning memory products, but the MX780 is proof that they're able to deliver the same relentless high-quality and performance in a new market. The MX780 is not only one of the best-looking mice we've ever seen, it's also packed full of fantastic features, such as the removable side panels that allow you to tweak the ergonomics, or turn it from a right to left-handed mouse.
All the high-end features you would expect are here, RGB lighting, high-quality sensor and switches, weight tuning system and more, all topped off by the fantastic laser sensor, making this a great gaming mouse for a wide range of users, play styles and more.
Buttons: 8
Sensor: Avago Laser
Min DPI: 100
Max DPI: 8200
Macro Engine: Yes
Built-in Storage: 512KB
Weight: 111g + optional 2 x 4.5g
Grip: Palm
Price: £59.62
Check out our full review here
---
Roccat Tyon
The Tyon is an easy mouse for me to recommend, as it has been my mouse of choice for a year now and I've no intention of swapping it out anytime soon. The sensor is great, offering up to 8200 DPI and the rather fantastic software from Roccat is, in my opinion, the best on the market.
Customising the mouse with macros, RGB lighting effects, the sensor performance and more is easily done and with the addition of a dual switch fin on the top, a button on the wing, extra buttons next to the LMB and RMB, as well as an analogue thumb controller, the Tyon is an unrivaled mouse for FPS gaming; especially for games like Battlefield, where those extra buttons are great for controlling vehicles.
Buttons: 16
Sensor: Pro-AM R3 Laser
Min DPI: 50
Max DPI: 8200
Macro Engine: Yes
Built-in Storage: 576kb
Weight:
Grip: Palm / Claw
Price: £72.62
Check out our full review here
---
Razer Mamba 2015 – 16,000 DPI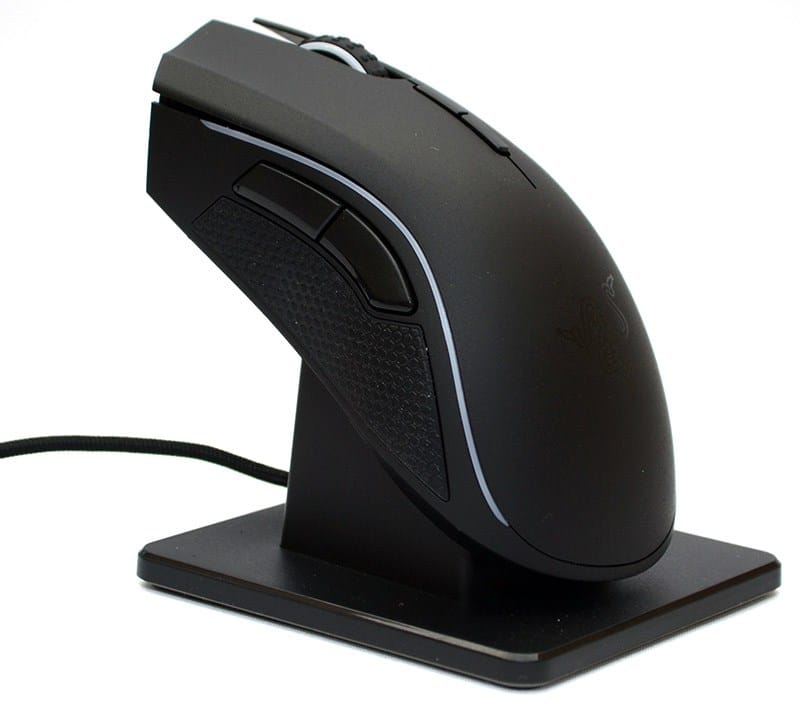 Razer is one of the most recognisable gaming brands in the world, proving a popular choice for gamers at home, as well as many members of the eSports community. Razer claimed their new Mamba mouse was one of the most advanced mice ever created and while it comes with the price tag to reflect this, it delivers on features and performance that help justify the investment.
Capable of being used wirelessly and wired, with incredible RGB lighting effects, a fully programmable button layout, one of the best sensors you could ever imagine on a mouse and so much more. Capable of performing at up to 16,000 DPI, there's no doubt this sensor can provide you with everything you need and more. However, the best features, at least in my opinion, is the adjustable click responses on the left and right mouse buttons. Wants them fast and light or clicky and heavy? Not a problem, just turn the screw and get them just how you like them.
Buttons: 9 + tilt-click scroll wheel
Sensor: Razer 5G Laser
Min DPI: 50
Max DPI: 16,000
Macro Engine: Yes
Built-in Storage: Yes
Weight: 125g
Grip: Palm / Claw
Price: £134.99
Check out our full review here