Biostar Confirms Initial Support for New Ryzen 5000/4000 Desktop CPUs
---
---
---
Mike Sanders / 11 months ago

BIOSTAR has confirmed the launch of new support for the latest AMD Ryzen 5000/ 4000 series processors. With the announcement of AMD's latest Ryzen 5000/ 4000 series processors, the industry is abuzz with the search for viable motherboards that support these latest chips. AMD's latest processors, engineered on their groundbreaking ZEN 2 and ZEN 3 architectures, are built to perform, catering to a wide range of use cases.
With this in mind, therefore, BIOSTAR has announced the first batch of motherboards ready to support the latest AMD Ryzen 5000/4000 series processors. Addressing the high demand of the mid-range market first, BIOSTAR launches a comprehensive BIOS update for the B550, A520, B450, and A320 motherboards, that makes them compatible with the latest AMD Ryzen 5000/ 4000 series processors.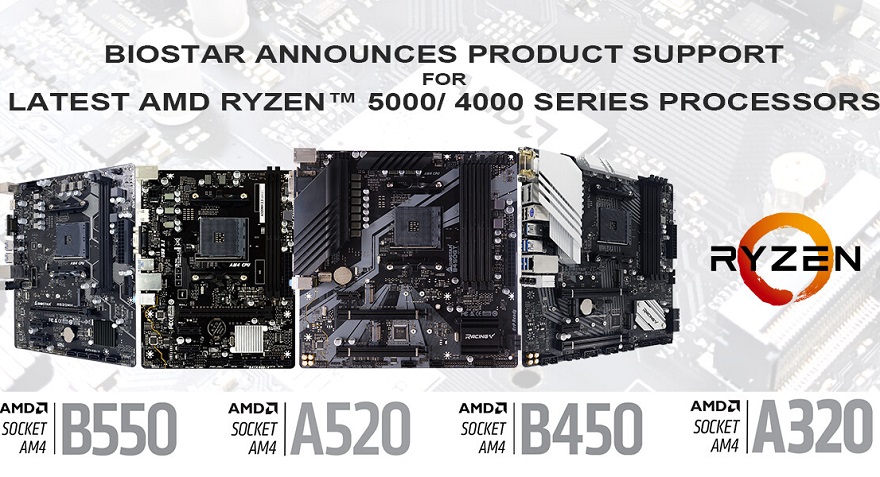 Biostar Ryzen 5000/4000 Desktop CPU Motherboard Support
AMD's latest offerings of Ryzen 7 5800X3D, Ryzen 7 5700X, Ryzen 5 5600, Ryzen 5 5500, and Ryzen 5 4600G, Ryzen 5 4500, Ryzen 3 4100, bring users more comprehensive choices on highly favorable price points. – Users can either go for the optimal performance combo using BIOSTAR's high-performance series motherboard with Ryzen 7 5800X3D processor or build a price-competitive platform using BIOSTAR's mainstream series motherboard with Ryzen 3 4100 processors.
In conclusion, consumers can now choose between some of BIOSTAR's highest-selling motherboards that carry the best technology on-demand with more support for their other 300-series designs expected to be announced/confirmed in the coming months.
For more information, you can check out the official BIOSTAR website via the link here!
What do you think? Are you looking forward to the release of the new AMD Ryzen 5000/4000 processors? If so, do you know if your current motherboard is supported? – Let us know in the comments!