Biostar Launches its Racing Z590GTA/B560GTQ Motherboards
---
---
---
Mike Sanders / 2 years ago

BIOSTAR has today announces the launch of their new RACING series Z590GTA and B560GTQ motherboards designed to run the latest Intel 11th gen Rocket Lake-S processors.
Approved by many users as one of the best motherboard brands in the market, BIOSTAR's RACING series motherboards have always been the top choices for gamers and content creators for their style and durability. BIOSTAR carries their RACING series legacy with the all-new RACING Z590GTA and the new RACING B560GTQ motherboards. Both motherboards are engineered with new design elements updated to be great at thermal dissipation that improves the system's overall performance and lifetime substantially.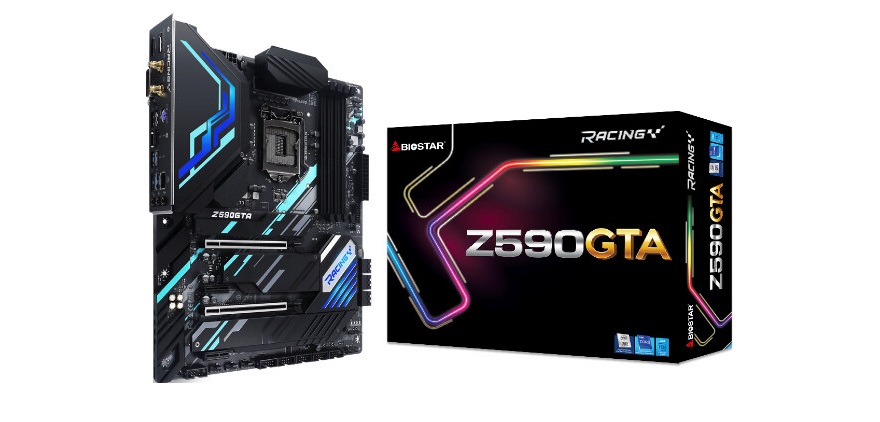 Biostar Racing Z590GTA/B560GTQ Motherboards
RACING series motherboards have always been a top choice for gamers and content creators for their style and durability. BIOSTAR carries their RACING series legacy with the all-new RACING Z590GTA and the new RACING B560GTQ motherboards. With new design elements and big improvements for thermal dissipation, the latest iteration of the RACING series has evolved into a versatile platform where users can benefit from the reliability and top-shelf performance that BIOSTAR motherboards are renowned for.
Based on Intel's latest Z590 and the B560 chipsets, the RACING Z590GTA and the RACING B560GTQ motherboards from BIOSTAR are sleek and refined. Caring down BIOSTAR's proud RACING label, the new RACING series motherboards are designed with a fresh new look with the RACING Z590GTA coming in a full ATX form factor while the RACING B560GTQ motherboard designed in a Micro-ATX form.
Coming to the market with a brand-new color scheme of black, accented by blue and grey, the new RACING series motherboards are fitted with BIOSTAR's all-new Armor Gear design language much like BIOSTAR's VALKYRIE series motherboards, meant to be functional as well as pleasing to the eye. Both motherboards use the new fins heat sink design which significantly enhances their cooling capability. – Active cooling and a full copper base design that can improve power supply efficiency, the RACING series motherboards are capable of reducing the overall temperature by 29.1% and extend the life and quality of the system by a great deal.
When it comes to power delivery and safety features, the RACING Z590GTA motherboard uses features like BIOSTAR's proprietary 14-phase power design, the use of 20K Hours Durable Solid Capacitors together with features like Tough Power Connectors make it extremely safe from any electrical mishaps. Furthermore, BIOSTAR's Digital PWM technology makes sure all the components of the motherboard are supplied with stable power with faster transient performance, adding extra durability and longevity to the system.
In comparison, the RACING B560GTQ motherboard is powered by a 12-phase power design carrying 10K Hours Durable Capacitors extremely efficient in delivering stable power across all electrical components with long-lasting durability. The RACING B560GTQ motherboard also comes with the Digital PWM technology and BIOSTAR's proprietary 2.5Guard technology much like its bigger brother providing ample protection to its connected components from electrical surges.
The RACING Z590GTA motherboard is engineered to run dual-channel DDR4 memory across 4 DIMM slots with support up to 128 GB with the capability of up to 5000+(OC). Additionally, features like PCIe 4.0 add extra versatility to the motherboard, providing the best platform to support the latest Nvidia or AMD graphics cards that enable high refresh rate graphic performance.
Meanwhile, the RACING B560GTQ is equally capable, providing the capability to install up to 128 GB of DDR4 memory and up to 4000+ boost clock speeds. Furthermore, the RACING B560GTQ also has the latest PCIe 4.0 port capable of running the latest and greatest graphics cards in the market with ease even with its smaller Micro-ATX form factor when compared to the RACING Z590GTA's larger full ATX size.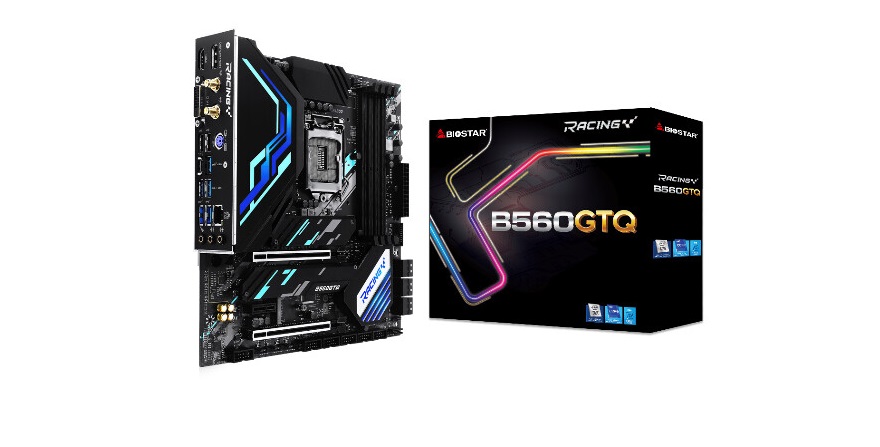 Where Can I Learn More?
At the time of writing, Biostar has not confirmed any specific regional release dates, nor how much we can expect these new Z590 motherboard designs to cost. With Rocket Lake-S expected to make it's debut in March, however, we daresay that we'll have some firm confirmation regarding both of those questions in the very near future!
For more information, you can check out the official product websites below:
What do you think? – Let us know in the comments!