Braebo Computers 'Titan' AMD Gaming System Review
---
---
---
Chris Hadley / 8 years ago
Introduction
---

When we take a wide look at the pre-built systems market in the UK, the number of names out there that one can choose from is growing on a near day-to-day basis. The scale at which each of these system integrators run does vary quite considerably and on the high-end of the scale where the big names such as Scan Computers and Overclockers UK dominate the market, competition is fierce and the number of systems that each name has to offer covers an incredibly wide range of budgets. When we look towards the other end of the scale, where getting your name out there is key, pitching just high-end systems that costs hundreds to buy is not exactly going to be an easy way of doing this. Instead of offering systems on the upper end of the performance scale, the other option is to create a line of budget friendly systems that contain a more modest level of performance making them ideal for the first time buyer who is just getting their feet into the door and the world of gaming on a PC.
Based in Rushden, Northamptonshire; Braebo Computers, compared to the big names out there, are a small company that was setup by two brothers since they started building systems for the public back in 2002. Since then they have developed a small range of systems, all with components from some of the biggest brands in the industry and whilst their operation my be small, they strive to offer excellent value for money with a customer service that would rival that of the market leaders. Building quality systems that are suited to your needs are where they excel and this ethos is what is driving them forward in a highly competitive market space.
The system that we are taking a look at today is one of their latest creations, offering an all-AMD based lineup consisting of the latest A10-7700k APU and an R9 270 graphics card, along with an SSD courtesy of Corsair, 16GB of memory from Crucial and off of this is spread out across one of Gigabyte's top performing AMD boards – the F2A88X G1 Sniper. Alongside the system itself, our review package today consists of a full desktop setup that Braebo offer to all of their customers meaning that we have all the basic items needed to get the system up and running – ideal for the first time buyer. In this care package we have a 22″ monitor for AOC and a USB mouse and keyboard set from Microsoft. In addition the Titan comes with the lastest version of Windows 8.1 pre-installed and the added extra of a wireless card for connecting your new system into your home network. It looks as though all the basic essentials have been taken care of and ticked off, so lets take a look at the Titan system and see what it's made of.
Name: Braebo Titan
Case: Xigmatek Asgard 381
Cooler: Stock AMD
RAM: 16GB Crucial CT2KIT102464BA160B 1600MHz (8GB x2)
SSD: Corsair Force LS 64GB
HDD: 1TB Seagate Barracuda
GPU: VTX3D AMD Radeon R9 270 2GB
PSU: Corsair CX600
ODD: 24x Dual-Layer DVD Writer
WLAN: Asus PCE-N10 802.11n 150Mbps
Monitor: AOC E2250S 22″ LED
Peripherals: Microsoft Basics Mouse & Keyboard
OS: Windows 8.1
Warranty: 3 year RTB – 1 month collect & return
Price: £799.99 Inc VAT / £699 Inc VAT without monitor, mouse & keyboard
Compared to the full on specifications of the systems that we have seen up to today, Braebo's Titan is more modest and this all comes down to its target audience. When looking across the board at every pre-built system that can be bought, the main bulk of these are aimed directly at the mainstream consumer and up towards the super enthusiast, where money is no object and performance is everything. The Titan brings this all back down to earth with a more basic lineup of components that round-up to a price that is more suited to the entry-level end of the spectrum.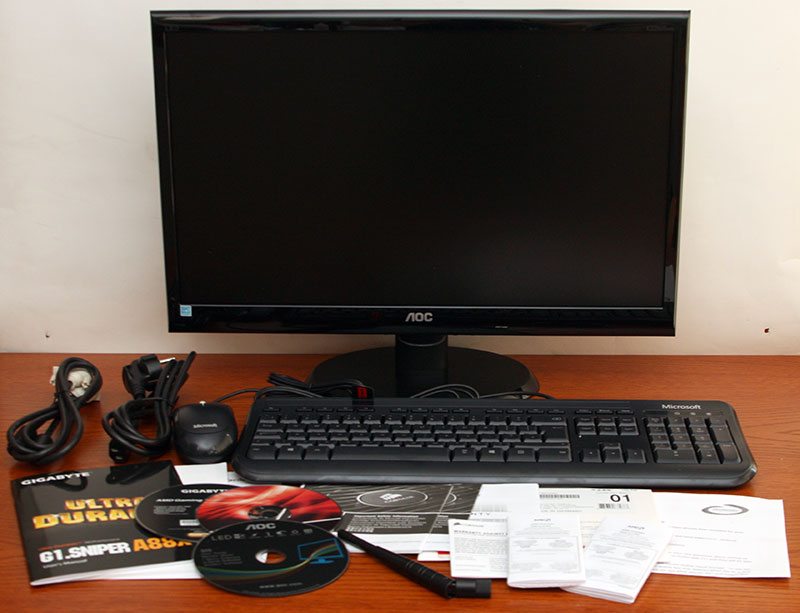 When we look at the accessory set of a pre-built system, on the whole it is made up of all the little extras that come with each individual component such as manuals, adaptors and cables. Braebo's Titan is no different, although depending on the package that you opt for, you can choose to get a complete setup headed your way instead. in the complete package Braebo bundle in a 22″ AOC monitor and a Microsoft mouse and keyboard set, giving you everything that you need to get up and running.