Bruce Campbell Confirms Ash Williams has Hung Up His Boomstick!
---
---
---
Mike Sanders / 9 months ago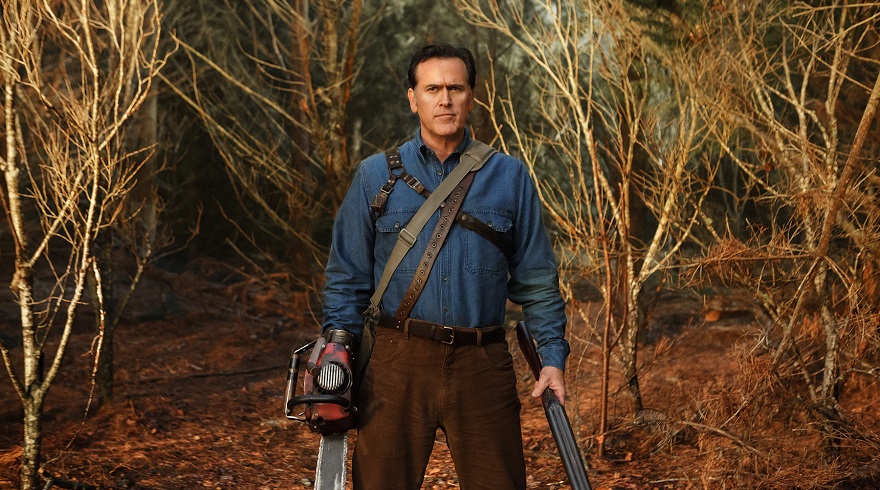 It has been 40 years now since the release of the original The Evil Dead film and the introduction of the iconic 'Ash Williams' character. (Yes, yes, I know about the even lower budget concept that came before it, but you get the idea!) – Representing effectively the debut of both Sam Raimi (as director) and Bruce Campbell (as a lead actor), however, it's hard to deny the impact and influence the film has had not only on their respective careers but the horror genre in general.
While Bruce Campbell has, of course, had other roles over the course of his acting career, there has always been something of a gravitational effect that has taken him back towards the boomstick wielding Ash Williams. Most recently within the highly excellent 'Ash VS Evil Dead' TV series. – Following a report via SlashFilm, however, Bruce Campbell has confirmed that, at least in a principal onscreen role, Ashley Williams has now 100% officially been retired!
Bruce Campbell (Mostly) Retires Ash Williams
With Bruce Campbell now 63-years-old, it's hardly surprising that he no longer feels capable of putting in the physical performance necessary for Ash Williams. Given that 'The Evil Dead' in general was so heavily inspired by the comedy of The Three Stooges, getting beat-up was practically part of the job description (and one in which apparently Sam Raimi took great pleasure in inflicting upon him). Speaking in an interview, however, after years of seemingly wanting to finally give Ash a well-deserved retirement from battling Deadites, in seems that he's now (mostly) going to get it!
"If you saw the emails pleading with various directors that were like, 'Hey, my knee's not working right.' 'Be careful about tomorrow.' 'Let's have the stunt guy nearby.' 'Hey, I can't run anymore.' It just was an endless physical struggle. I'm really glad we did it because we saw Ash's home, we went into his bedroom, we met his girlfriends, we met his daughter that we never knew he had and that he never knew he had, and we met his father, played by the great Lee Majors.

I feel we really pushed all the buttons and he fulfilled his destiny written in that ancient book. He was the guy destined to defeat evil in the past, present and future, and he took off with a hot robot chick at the end to go kick in the future. What else do you need? We knew the ratings were bad. We knew, going into the last season, that we had to have an end because we didn't think Starz was gonna re-up us and we were right. So, thank God we did that."
As One Door Closes
Based on the comments made in the interview, although not specifically asked on the subject, it does appear that when Bruce Campbell is talking about the retirement of playing Ash Williams, he's only referring to this in regards to an actual on-screen role. In other words, it seems all but certain now that Bruce Campbell will never again reprise the character for a film or television production. At least, not in a full-time sense. – This doesn't, however, rule out the possibility of him perhaps continuing his voice-over work which is perhaps best indicated with the upcoming release of the upcoming 'Evil Dead' video game. Unless Sam Raimi's in the recording booth hitting him with a stick, it's not as if that's too physically taxing for him to carry on sort of reprising the role.
Admittedly, and unlike Bruce Campbell's comments above, I didn't think the ending to the TV series was particularly satisfying. The chances of another series ever getting picked up though always looked bleak due to his accurate comments on the show never attracting a particularly huge audience.
On the plus side though, it appears that while the film aspect of the franchise remains somewhat dormant for the moment, we might simply be waiting for the Necronomicon to land in a fresh pair of (soon to be dismembered, I'm sure) hands!
What do you think? – Let us know in the comments!