Gaming PCs at Risk Due to New California Power Law?
---
---
---
Mike Sanders / 2 years ago
EDIT – Since the below article was written, more detailed information has started to be revealed surrounding the 'California's Energy Consumption Tier 2' – We will be looking to update this accordingly as this does appear to be quite a complicated set of requirements that nobody seems to quite understand fully yet.
While there has undoubtedly been a huge push in recent years to try and reduce the overall carbon footprint the human race has on the planet, so far I think it would be safe to say that gaming PCs have largely avoided the angry gazes of environmentalists. – Following a report via Videocardz, however, in something that only can be described as an act of total insanity, California has just put a new law into effect that has effectively banned the sale of 'powerful' pre-built gaming-based PCs within the State. – If that wasn't enough though, it would appear that various other States in America are also planning to follow suit in the very near future!

Powerful Gaming PCs Banned in California
The law, known as the 'California's Energy Consumption Tier 2', is effectively a new set of regulations that requires an electrical product to not exceed a certain potential power consumption within a 12-month period. So, the bottom line (and relevant one for our readers) is that many PC systems, and specifically pre-built ones, are no longer legal for sale in the state of California.
This law has first come into the public spotlight as it was confirmed that Dell was no longer allowing shipment of their Aurora R10/R12 gaming desktop systems as they did not, apparently, comply with this new law. – As noted above, however, this policy for Dell has extended beyond California with various states seemingly now declaring war against seemingly inefficient PCs and how much they might gobble up from the wall socket.
"Yes, this was driven by the California Energy Commission (CEC) Tier 2 implementation that defined a mandatory energy efficiency standard for PCs – including desktops, AIOs and mobile gaming systems. This was put into effect on July 1, 2021. Select configurations of the Alienware Aurora R10 and R12 were the only impacted systems across Dell and Alienware."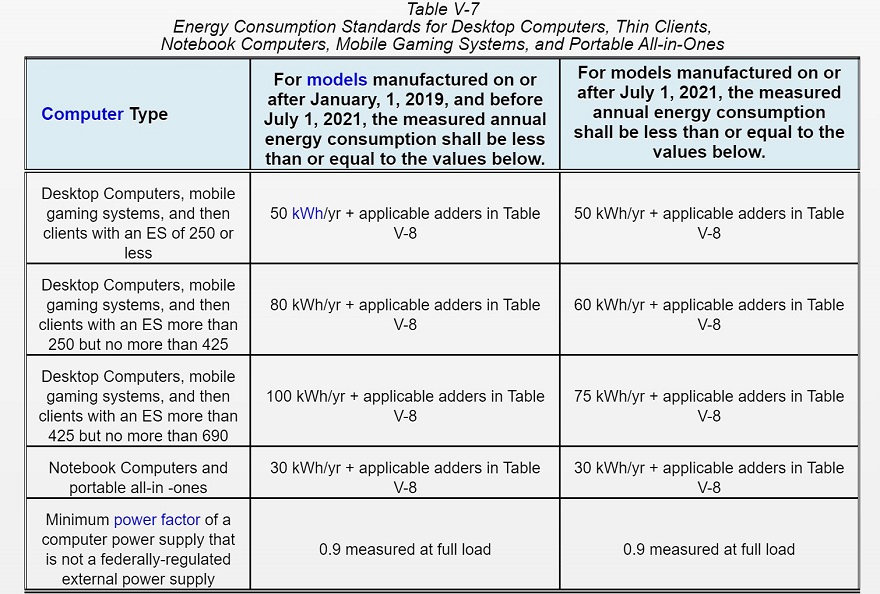 What Do We Think?
While looking to reduce energy consumption is clearly a good thing in principle, it seems abundantly clear here that this new law has more than a few problems for consumers looking for a specific system configuration. – As far as I'm concerned, one of the biggest issues with this law comes in a clear contradiction that pre-built systems can not be sold that exceed the power thresholds, but at the same time, there is absolutely nothing preventing the individual from putting together a system that would, if sold by a retailer, be technically against the law.
It does, however, appear that the main crux of this law ultimately boils down to just how complex the system is. The very basic version is that more ports and higher bandwidths on the motherboard do affect the overall level of power the system is allowed to consume. While the key factor behind this is in the 'idle' performance, it does create a very bizarre set of circumstances where a gaming/HEDT system could easily meet this power remit whereas an M-ITX build may likely not (due to it likely having fewer PCI-E and RAM slots).
Given how power-hungry both the AMD Radeon 6000 and Nvidia 3000 GPUs are, however, not to mention processors, it's going to be very interesting to see how major manufacturers in the US adapt here because, quite frankly, I'm struggling to find many loopholes they could potentially exploit here beyond just choosing more elaborate motherboard models. – Power supplies come into this too with the new laws requiring an 80-Plus Gold minimum efficiency rating as well as a minimum 0.9 PFC (Power Factor Correction) rating at 50% load. Albeit, for the sake of fairness, this is about what most consumers should be looking towards in terms of 'good' PSUs anyway. On a gaming PC, you really should be viewing this as a 'minimum'.
This is undoubtedly going to cause many manufacturers more than a few headaches, however, and while some may be citing that this really isn't as bad as it appears (and in truth, in many circumstances, it probably isn't), it's hard to deny that the information following this new law has not been presented well at all regarding these new regulations.
What do you think? – Let us know in the comments!