You Can Now Buy A Life-Size Iron Man Mark III Figure for $7950
---
---
---
Ron Perillo / 6 years ago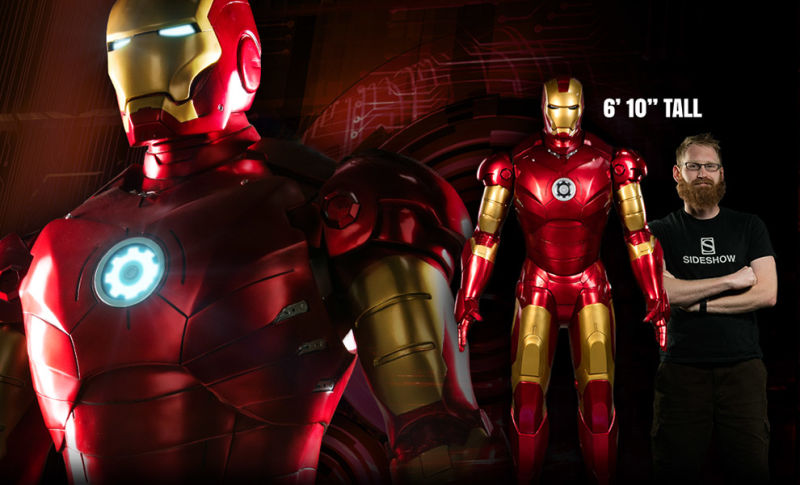 Sideshow collectible figures are well-known in the nerd community for their incredibly detailed high-quality work. Their latest figure however, a life-scale Iron Man Mark III figure is one of the largest they have ever offered for sale. The Iron Man Mark III armor is the classic "gold and red" armor from the first movie which Tony used to defeat Obadiah Stane in the Warmonger armor.
Sideshow previously released two Iron Man Legendary Scale figures which were 43 inches tall and were based on the Iron Man Mark XLVI and Iron Mark XLIII from Avengers 2, but the new Iron Mark Mark III figure stands tall at 6'10" with the base. Its price also scales up accordingly at $7950 compared to $2300 for the Legendary Scale models.
What do you get for $7950? A finely crafted museum quality collectible that is the most accurate movie replica out of any offered before. The base lights up the figure from below, and it also has illuminated repulsers, eyes and arc reactor. It is not just a solid figure, but the armor pieces are actually layered like how it would look if a real Iron Man Mark III armor is standing in Tony Stark's lab. It would make for a fine addition to the lobby of an epic home theater setup.
In case you want the figure and you can't afford the $7950 single payment, it can be purchased via a monthly payment plan of $715.50/month instead. Once ordered, it will be ready to ship around December 2017 to February 2018.