Captain Marvel Punches Old Lady in First Official Trailer
---
---
---
Ron Perillo / 5 years ago

First Official Full-Length Trailer
Marvel Studios has finally released the first full-length official trailer for Captain Marvel. The movie features Oscar Award-winner Brie Larson in the title role. Unlike most Marvel Studios movies, this one is set entirely before the first Iron Man movie. Although, it does not go as far back as the 1940s with the first Captain America film, it takes place in the 90s.  In fact, Samuel L. Jackson's Nick Fury is in this movie, albeit a CGI de-aged version of him. He even looks younger than Jules from Pulp Fiction.
Watch the first full length trailer for yourself below:
Wait! Why Did Captain Marvel Punch That Old Lady?!
Those who are casual fans of Marvel may not be entirely familiar with the background of Captain Marvel. The trailer itself, although lengthy, keeps most of that ambigious for now. However, Marvel did reveal earlier that an alien race called Skrulls will be the villains in this movie. In the comic books, Skrulls have the ability to shift shape into anyone. So the main plot of Captain Marvel revolves around Skrulls trying to invade earth by hiding amongst the populace. The old lady she punches in the trailer is most likely a Skrull agent in hiding.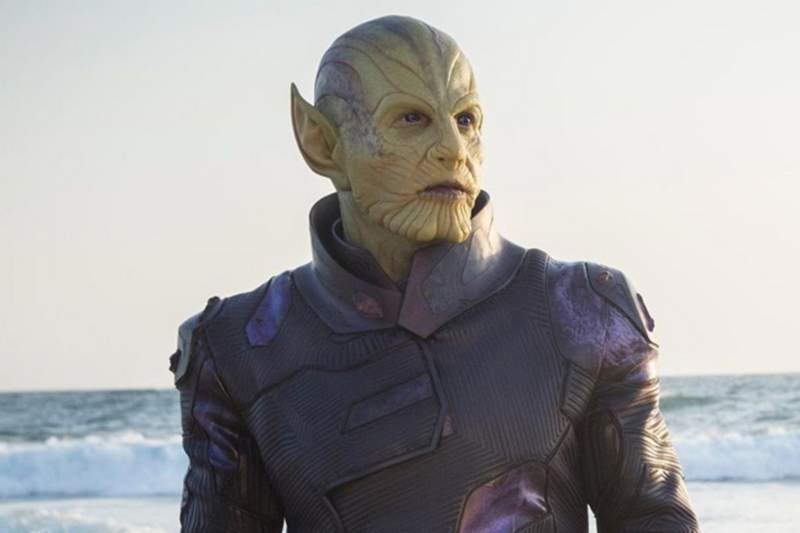 This race of villains is at war with another alien race called the Kree. Viewers of Guardians of the Galaxy will be familiar with that race since the antagonist in that is a Kree. In fact, actor Lee Pace will also be reprising his role as Ronan the Accuser, years before he joins Thanos. The MCU Captain Marvel most likely is part of a Kree special-ops team 'Starforce'. This group also includes Djimon Hounsou's Korath who was in Guardians of the Galaxy, and the original Captain Marvel (Mar-Vell played by Jude Law).
When is Captain Marvel Coming Out?
The premiere for Captain Marvel is not until March 8, 2019. So we will most likely see more trailers fleshing out some details of the plot before then.