Chinese OEMs to Blame For Overpriced Nvidia 3060/3070 Laptops?
---
---
---
Mike Sanders / 10 months ago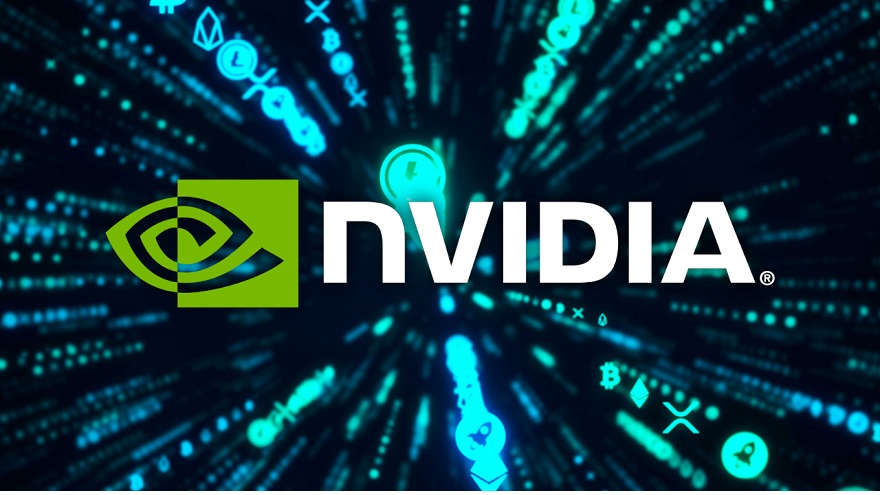 While the desktop graphics card situation has improved quite notably over the last 6 months, I daresay that many of you are more than a little aware that the laptop situation hasn't been quite as positive. – Stock is definitely out there, but it's hard to ignore the fact that for a model featuring Nvidia's latest 30XX mobile GPU, prices have been notably higher than what you might have expected under 'normal' circumstances (whatever the hell they are anymore!).
With many simply putting this down to stock and chipset supply issues, however, following a report via Videocardz, shocking images have appeared online that may potentially give us another answer that, quite frankly, is so bizarre it's almost hard to believe!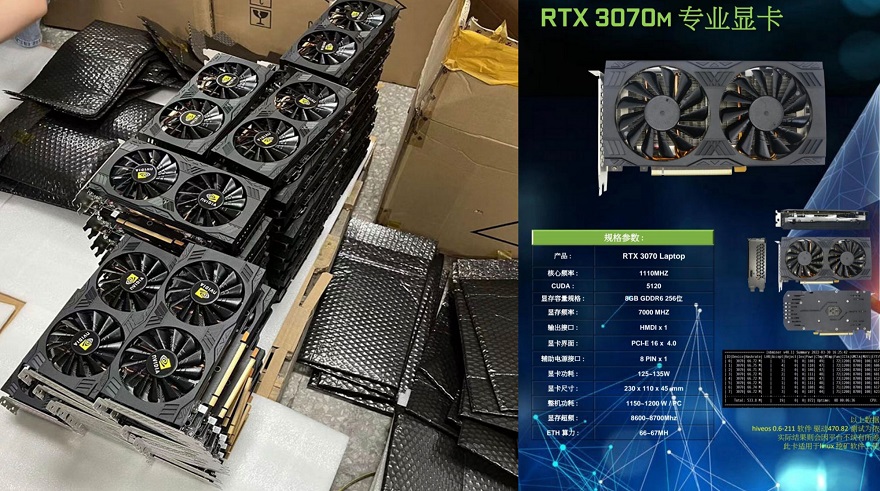 Chinese OEMs Repurpose Nvidia Laptop GPUs for Mining Market!
Although no specific business, OEMs, or individual names have been cited (beyond those in the picture below of what appears to be private sellers), images have appeared online that all but confirm that retailers and/or resellers within China have been purchasing vast quantities of Nvidia laptop graphics adaptors with the specific purpose of removing repurposing it into a desktop PCIe configuration. – And this isn't just a handful of instances either. Based on what we can see here, there may be literally hundreds of laptops that have been either butchered or not assembled at all solely because of the OEM's wish to make a faster/better profit off this graphics card.
Why would they be doing this though? Well, there's an exceptionally long and complicated answer to this, but I'll try and break it down into three quick points:
Mobile graphics cards do not have any LHR (lite hash rate) restrictions. Yes, laptop GPUs are generally weaker than their standard desktop counterparts, but an unrestricted mobile version is proven to be better at mining (we're in the remits of small margins multiplied hundreds of times)
It's already been well established that the lack of laptop supply has been directly linked to the cryptocurrency mining industry within China. To date, however, it was always understood that the laptops themselves were being used. Not their graphics component
China is severely cracking down on cryptocurrency mining. Graphics cards believed to be en route for mining purposes are being seized by the government. Laptops and/or components being imported, however, are likely dipping under the radar – Hardware for manufacturing is, after all, imported into and out of China all of the time!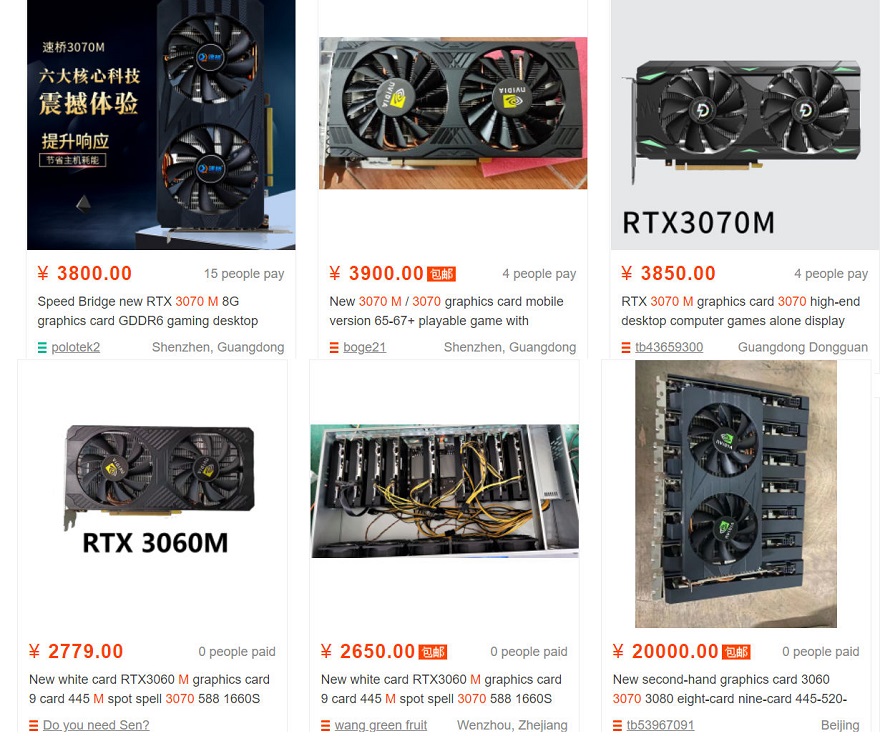 What Do We Think?
More than anything, I think it's rather cute in that they've decided to apply an exceptionally crude (and possibly incredibly outdated) Nvidia logo stick to the centre of this generic cooling solution in order to somewhat represent this as a legitimate product. – The bottom line, however, is that these both are and are not Nvidia 3060 and 3070 desktop graphics cards.
Yes, they have been created to run on desktop PCIe hardware, that can conveniently sit within a mining rack, but underneath that crude shell, what you're actually looking at here is a 3060 or 3070 mobile (laptop) graphics adaptor. – And they don't even seem to bother hiding that fact either. It's clearly denoted within many of the listings above.
With Nvidia mobile graphics cards having found this new purpose, however, this is a huge problem for us consumers. Largely because even if Nvidia did attempt to do something about it, it's going to be incredibly difficult for them to identify which OEMs are doing this. Remember, these are shipped to a manufacturer for the initial representation of them being put within a complete laptop that will eventually hit the retail market.
Unlike a lot of other instances where Nvidia has been accused of selling directly to the cryptomarket (the term accused being used simply for the purpose of being diplomatic and polite), for once, they're probably not to blame for this. Oh sure, it's tempting to blame them, but their hands might actually be clean in this one. Well, aside from the fact that they probably haven't, and won't, do much to investigate this.
The bottom line though is that however you look at this, this new market for Nvidia 3060 and 3070 mobile graphics cards is not going to help bring more laptops to the retail markets around the world, and more so, even less to help reduce their already inflated prices!
What do you think? – Let us know in the comments!