Chris Pratt's Take on the 'Ice Bucket Challenge' Is A Little Different
---
---
---
Dave Alcock / 9 years ago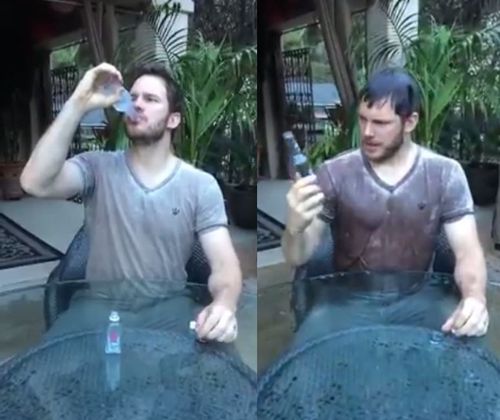 Chris Pratt who has starred in such films as Guardians of the Galaxy and The Lego Movie has done his "ALS Ice Bucket Challenge" and put his own little spin on it. He has done what I would like to think I would do in the circumstances and managed to have a few drinks whilst having ladies dowse me in water. What a legend! He was challenged by Disney CEO Bob Iger and actor Vincent D'Onofrio and he certainly didn't disappoint.
Here is the video:
[youtube]https://www.youtube.com/watch?v=B_iCIg2oCCs[/youtube]
For those who don't know, the challenge is to dump buckets of ice cold water over their heads to raise awareness for ALS/Lou Gehrig's disease. Its actually getting some great exposure with people like Bill Gates and Mark Zuckerberg helping to raise awareness. It's certainly becoming the next viral craze with celebrities and Youtube stars all jumping on board to help.  After they have dumped water over their heads, they are meant to nominate at least one other person to do the same, in the above video Chris nominated actors Gregory Smith, Nick Offerman and wrestler come actor Dave Bautista. Hopefully, even more of these will be done to raise awareness but I do hope that people do continue to try and make them as entertaining as possible.
Thanks to Jezebel for supplying us with this information.