Cooler Master Masterair MA610P and MA410P Review
---
---
---
Peter Donnell / 6 years ago
---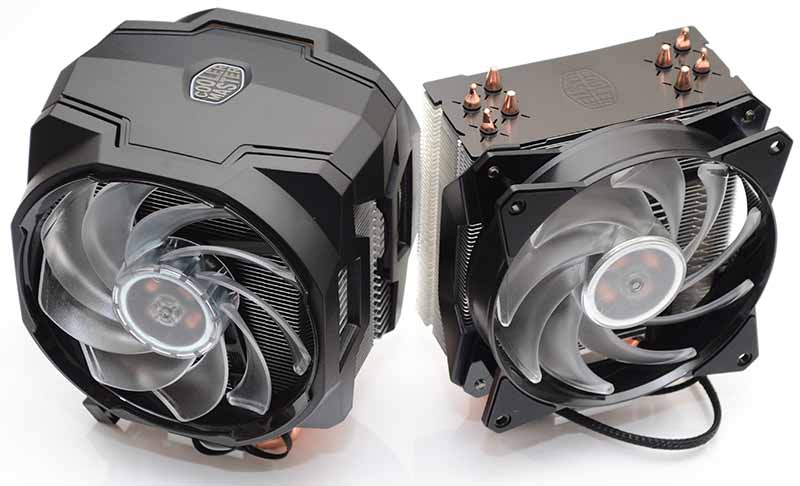 Cooler Master MasterAir
As one of the most popular brands in the PC component market, Cooler Master has a big reputation to live up to. For many years, their budget-friendly Hyper 212 series of air coolers have been the default for many system builders. More recently, they've revised that line with their MasterAir products, and we've got two of their new offerings in for review today.
For those on a tighter budget, we have the compact and single fan equipped MA410P. For those looking for more high-end performance, we have the thicker dual-fan equipped MA610P. What makes these two coolers really standout is their RGB lighting performance. Both are equipped with RGB LED fans, and a built-in on-cable RGB controller for added customisation.
RGB Fans
See the MasterFan RGB in action in our full review. If you're feeling a little lazy, just check out our video of them in action below.
Masterair MA610P
"The MA610P is for enthusiasts and gamers to push their systems to the limit. Exceptional cooling performance is a must to keep it running stable and at max speeds. The MA610P is also stylishly design to match the precision engineered components in your build. It even comes with a dual RGB fans and controller for you to change the your lighting without limitations." – Cooler Master
Check out the full specifications on the Cooler Master product page.
Masterair MA410p
"The MasterAir MA410P is the upgraded version of the MasterAir Pro 4, the Pro standard in CPU air cooling design and production from Cooler Master. The Continuous Direct Contact Technology 2.0 (CDC 2.0) increases the surface area of the cooler base by 45%. With the added bonus of the MasterFan 120 Air Balance RGB, making it not only silent and efficient in heat transfer, but also the most vibrant and fun choice when it comes to air cooling. If you are looking for an air cooler based on performance, silence, and quality RGB lighting, the MasterAir MA410P is the perfect cooler for you." – Cooler Master
Check out the full specifications on the Cooler Master product page.
RGB Controller Built-In
The small built-in RGB controller is great, allowing you to quickly and easily setup the fans mode and colours to suit your taste. It also negates the need for desktop software, making the setup process faster and easier for everyone.
Packaging
Both come nicely packaged, with great images on the front. You'll also find details of the RGB lighting, offering 16.7 million colours. Even better, they support ASUS, ASRock, Gigabyte, and MSI motherboard lighting technologies!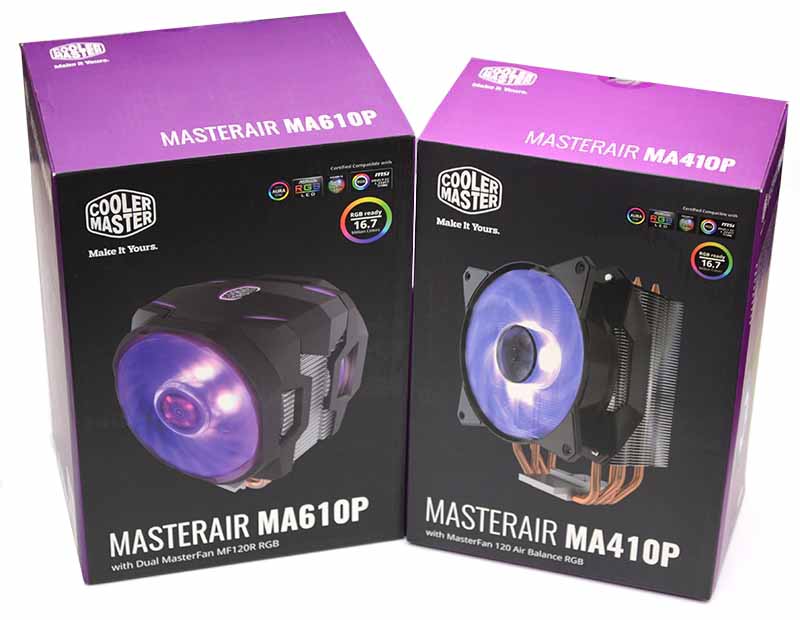 What's in the Box
Each cooler comes with a mounting kit for all major Intel and AMD sockets, as well as the RGB controller, extension cables, and some thermal paste. The MA410P also comes with an additional fan mount should you wish to upgrade to a two fan configuration.