Cooler Master Silencio 550 Chassis Review
---
---
---
Andy Ruffell / 11 years ago

It seems that quite a few cases have been released recently and while this might seem a bit repetitive it does at least allow us to compare the cases quite well.

Today's case is the Cooler Master Silencio 550 Chassis which is trying to be slightly different to your standard case but at a price that will not break the bank. The name itself might give it away slightly but if it's not obvious Cooler Master do claim 'near silent' operation when using this case. That seems like quite a tall order when most users will be using fairly hefty CPU Coolers and a decent powered PSU. All we can say from the start is that they certainly haven't compromised the looks of this case.

Cooler Master are a huge player in the computing world and are probably best known for their cases so we are expecting very good things. They are also certainly willing to listen to the public and to give the support that is needed to their customers, which in turn is helping them to create even better products and we certainly hope this Silencio Chassis is one of those.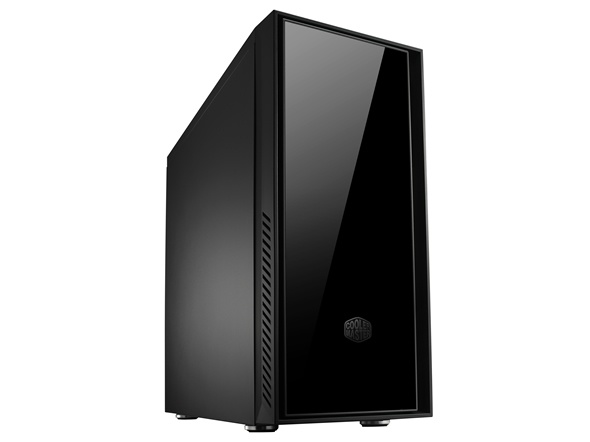 Specifications
[TABLE=width: 100%, class: grid]
[TR]
[TD]Available Color[/TD]
[TD]Full Black[/TD]
[/TR]
[TR]
[TD]Material[/TD]
[TD]Steel body, Plastic front bezel[/TD]
[/TR]
[TR]
[TD]Dimension (W / H / D)[/TD]
[TD](W) 210 x (H) 415.5 x (D) 505.2 mm / 8.3 x 17.8 x 19.9 inch[/TD]
[/TR]
[TR]
[TD]Weight[/TD]
[TD]9.2kgs (20.3lb)[/TD]
[/TR]
[TR]
[TD]M/B Type[/TD]
[TD]Micro – ATX / ATX[/TD]
[/TR]
[TR]
[TD]5.25″ Drive Bay[/TD]
[TD]3 (without the use of exposed 3.5″ drive bay)[/TD]
[/TR]
[TR]
[TD]3.5″ Drive Bay[/TD]
[TD]7 Hidden[/TD]
[/TR]
[TR]
[TD]3.5″ X-Dock[/TD]
[TD]1 Exposed (converted from one 5.25″ bay)[/TD]
[/TR]
[TR]
[TD]I/O Panel[/TD]
[TD]USB3.0 x 1, USB2.0 x 1, Mic x1, Audio x 1, SD card reader x 1[/TD]
[/TR]
[TR]
[TD]Expansion Slots[/TD]
[TD]7[/TD]
[/TR]
[TR]
[TD]Cooling System[/TD]
[TD]Front(Intake): 120mm x 1, 800rpm silent fan pre-install
(Support 120mm fan x 2 or 140mm fan x 1 optional)
Rear (Exhaust): 120mm x 1, 800rpm silent fan pre-install[/TD]
[/TR]
[TR]
[TD]Power Supply[/TD]
[TD]Standard ATX PS2 (optional)[/TD]
[/TR]
[TR]
[TD]Maximum Compatibility[/TD]
[TD]CPU cooler height: 6.10-inch (154mm)
VGA card length: 11.10-inch (281mm) (With HDD cage)
15.80-inch (400mm) (Remove HDD cage w/120*25 fan)
16.80-inch (427mm) (Remove HDD cage w/o fan)[/TD]
[/TR]
[/TABLE]