Corsair AX1600i Titanium – The Ultimate Enthusiast PSU?
---
---
---
Peter Donnell / 5 years ago
Introduction
---
Corsair AX1600i Titanium
There are few times the PSU market is exciting, but today looks set to be one of those times. The saying "go big or go home" really applies to the AX1600i, as it rocks the best of the best to deliver world-leading performance for the enthusiast PC user.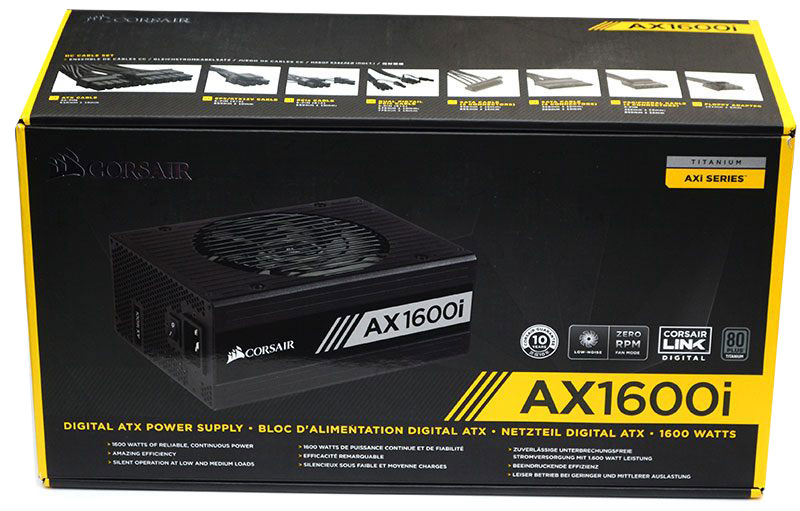 Equipped with 105c all Japanese Capacitors, Bridgeless totem-pole PFC circuits using Gallium Nitride instead of Silicone, and many other leading manufacturing and design techniques, the AX1600i has few, if any, rivals. It's able to deliver a staggering 1600W of continuous power with an efficiency rating of 80 Plus Titanium – the highest efficiency currently available to any consumer. Add to that a slew of safety features, class-leading voltage regulation and more, and you've got the high-end power delivery system to meet the most demanding of PC scenarios.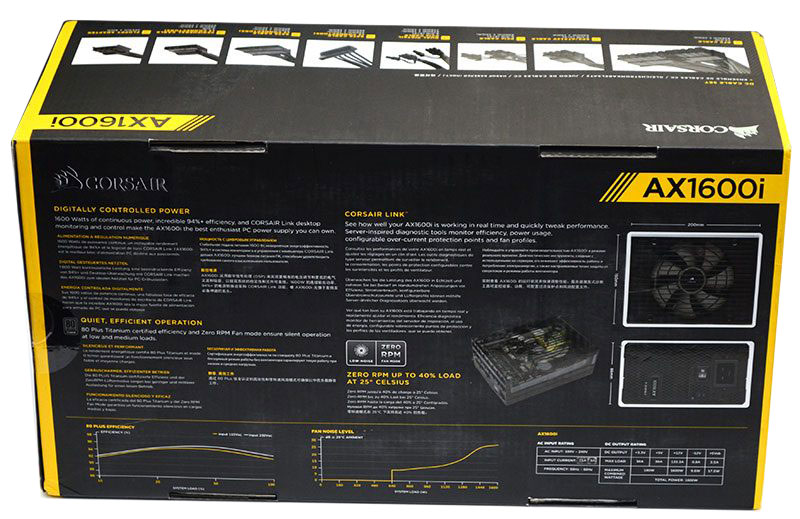 Features
Fully Modular Cables – Type 4
Custom cable support
80 Plus Titanium Efficiency
Self Test Function
Corsair Link Compatible
Custom Fan Curve Support
140mm FDB Fan
Zero RPM fan mode
Cables
The PSU comes with this beautifully packaged bundle of cables, each in their own pouch on this Velcro storage bag.

The cables are sleeved, chunky and durable, just what you need for such a high powered power supply.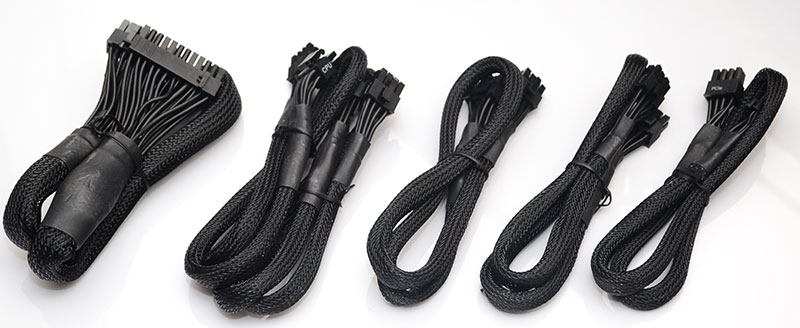 No shortage of options here either, with six 6+2 pin PCIe cables, and two more of longer length, you could easily hook up a rack of GPUs on your next mining rig or rendering system.
Safety Protections
Over Current Protection (OCP): Shuts off power if any rail is overloaded beyond a safe level.
Over Voltage Protection (OVP): Shuts off power if voltages exceed specification.
Under Voltage Protection (UVP): Shuts off power if voltages drop below specification.
Short Circuit Protection (SCP): Shuts off power if a short circuit is detected.
Over Temperature Protection (OTP): Shuts off power if temperatures exceed a specified value.
Over Power Protection (OPP): Shuts off power if the total output power exceeds a safe level.
What Corsair Had to Say
The AX1600i is CORSAIR's most efficient and powerful PSU ever. With incredible features like 80 PLUS® Titanium efficiency, up to 1600 watts of clean power output capacity, 100% all 105°C rated Japanese capacitors, a full software suite for monitoring and control, and world-class electrical performance, it's more than the best PSU in its class – it's the ONLY PSU in its class.
The AX1600i has groundbreaking electrical performance. From its staggering voltage regulation to its jaw-dropping electronic ripple and noise reduction, there is no enthusiast power supply that can provide cleaner, more reliable power to your system. But don't take our word for it. Nobody needs cleaner or more reliable power than pro-level overclockers, where even a small variance can be the difference between top of the leaderboards and a system crash.