Corsair Carbide 270R Mid-Tower Chassis Review
---
---
---
Peter Donnell / 6 years ago
Introduction
---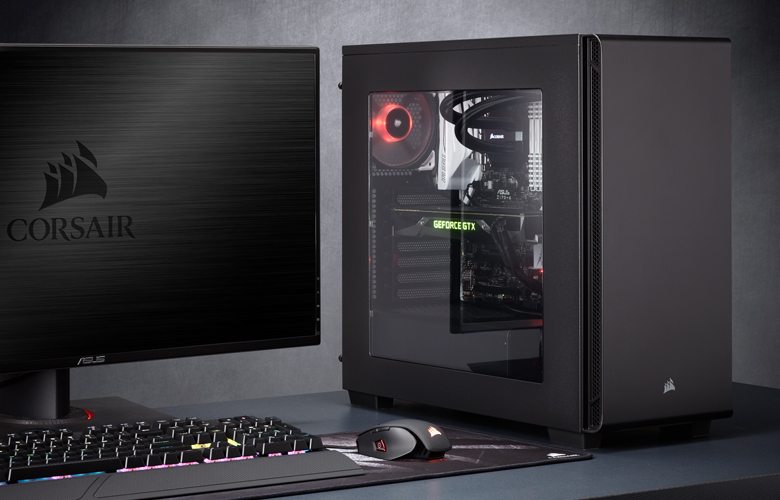 Corsair has a huge range of products under their belt, ranging from gaming hardware to power supplies. They also cater to a very wide range of budgets, with products in every range offering something for those saving their pocket-money, to the enthusiast looking to blow a months wages on a new stick of RAM. It's this diversity that's kept Corsair's brand going strong, and that's why today we're very happy to see their budget-friendly 270R in the offer, a far cry from the 570X we just reviewed, but that doesn't mean we can't enjoy the 270R too!
"Solid, sleek and understated, the CORSAIR Carbide Series 270R offers all the essentials of a high-end PC case, while retaining a spacious internal layout and versatile cooling options. Available with either a huge transparent window or solid side panel, the 270R's minimalist exterior hides an expansive interior that's designed to make building a PC as easy as possible. Deep cable routing channels, numerous tie-down points and convieniently located drive bays combine with a dedicated cable routing compartment that surrounds the PSU, making clean and professional builds simple. The 270R windowed comes equipped with a red-LED lit AF120 120mm intake fan and black AF120 120mm exhaust fan, while the 270R non-windowed ships with a single black AF120 120mm exhaust . Whichever you choose, the 270R offers great out-of-box cooling while also supporting a wealth of liquid cooling radiators and cooling upgrades. Able to mount upto a 360mm radiator in the front and a 240mm radiator in the roof, the 270R can accommodate almost anything your next PC might require, both now and in the future. It's everything PC builders need for the essential PC build."
Featuring a versatile design with broad hardware support for ATX PSUs, up to an ATX motherboard, a decent amount of hard drives, robust air and water cooling support, cable management and more, the 270R certainly sounds appealing on paper, but let's get it out of the box and take a closer look at what it has to offer.
Carbide Series 270R Specifications
Builder-friendly with simple and intuitive internal layout.
Versatile cooling options with space for multiple radiator configurations.
Clean and minimalist exterior design.

270R

Windowed includes 1x red-LED lit AF120 120mm intake fan and 1x black AF120 120mm exhaust fan.

270R

Non-Windowed includes 1x black AF120 120mm exhaust fan.
Built-in cable routing compartments enables clean builds.
Direct Airflow Path (™) provides airflow to the hottest components.