Corsair HX1000i Modular Power Supply Review
---
---
---
Ryan Martin / 8 years ago
Introduction & Packaging
---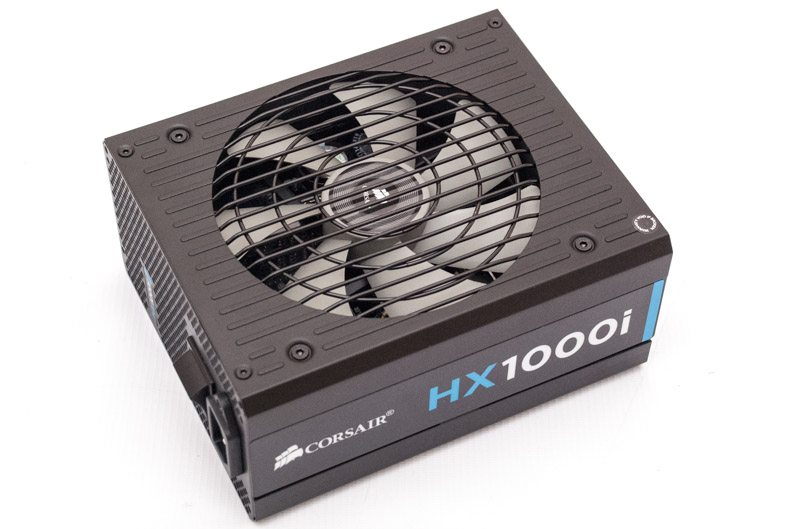 Corsair's power supply portfolio seems to be constantly evolving with major updates coming all the time as Corsair learn from previous product releases and customer feedback. In late 2013 we saw the introduction of the RM series which was Corsair's newest range of Gold rated power supplies with all the bells and whistles of a high-end PSU like a fully modular design with black cables, Corsair Link support and a semi-passive fan mode. The Corsair HX1000i that we have with us here today is the second largest wattage of the new HXi series of power supplies. The HXi series builds on the RM series platform in many ways. Channel Well Technology are the OEM producer of both series platforms and the HX1000i is an enhanced version of the RM platform as it features better efficiency, more sophisticated ripple suppression capabilities and extra bells and whistles such as digital monitoring and controls of the rail mode and fan speed. These digital controls are what give this product the "i" moniker that set it apart from previous HX series Corsair power supplies, but it is important to note the HXi series does not have digital circuits like the AXi series has. The HXi series should be thought of as partially-digital whereas the AXi series is fully digital.
With 1000W of continous power Corsair are targeting this particular unit at multi-GPU system owners who need something with proven quality. The HX1000i comes backed with a 7 year warranty as well as being rated for continuous stable power delivery at 50 degrees celsius. That stability under high temperatures is one of the main reasons Corsair are able to deploy a semi-passive fan mode on this unit with an extremely tame fan profile when the fan does finally need to turn on. The HX 1000i seems to be the ultimate power supply to have before making the step up to Corsair's AXi series which features even more advanced digital controls of voltages and ripple suppression. Strangely Corsair do not offer an AX1000i unit so the HX1000i has no direct competitor, the closest model is arguably the AX1200i.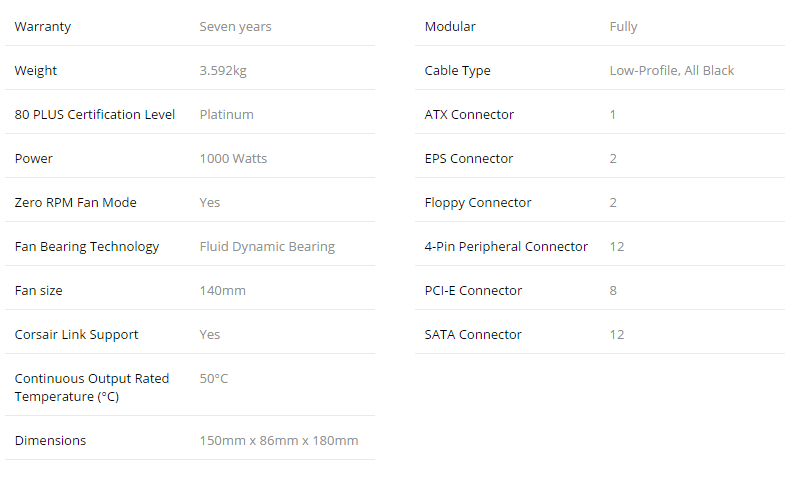 Packaging and Contents
The HX1000i comes packed in a substantially sized box. The main reason for the large package is that the power supply unit is quite large but also because Corsair include a significant selection of cables to cater to just about every possible use-case scenario of 1000 watts.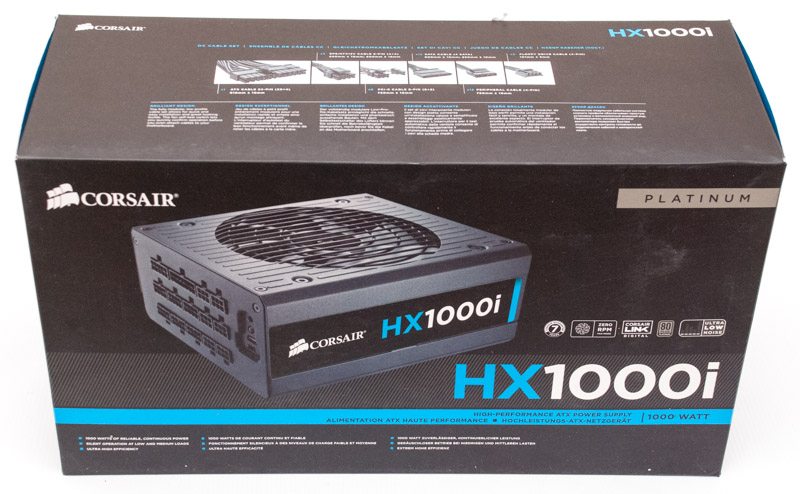 The accessory package includes a variety of documentation, black zip-ties, a Corsair case badge, black case screws and a power chord.