Corsair Vengeance K70 Mechanical Keyboard Review
---
---
---
Peter Donnell / 10 years ago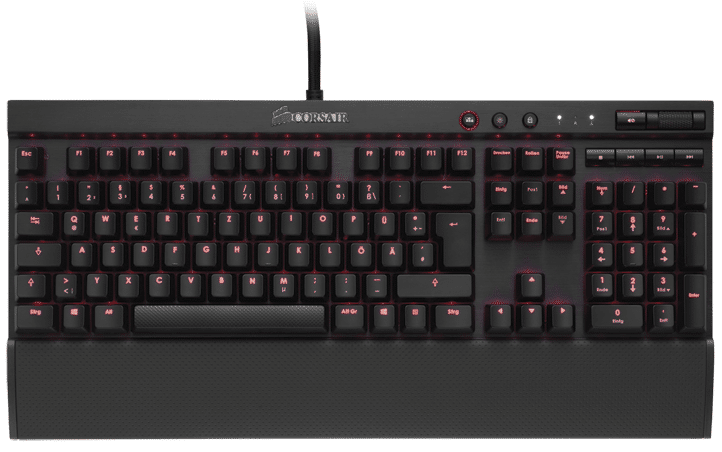 Corsair have been known to make some seriously cool peripherals in the last few years, most notably for me are their range of premium gaming mice such as the M65 and M95, both of which are some of the finest mice on the market and their K60 and K90 keyboards have already proven popular with gamers around the world and won multiple awards for their performance, but can the K70 live up to the high standards that Corsair sets themselves and can it bring anything new to the mechanical keyboard market given that the market is already pretty crowded with great options to spend your money on? Well that's what I hope to find out today.
With a price tag of £119.99 it's safe to say this isn't a budget model, once you get over the £100 price mark your well into enthusiast level technology and within this price range there are more than a few options to pick from with your hard-earned money such as the Razer Blackwidow Ultimate or the QPAD MK-85, both of which are incredible keyboards but when your spending this kind of money you want something exact, something that suits your play style, that offers a design your happy with and you also want premium quality and performance, many of which are subjective qualities and it will be interesting to see what the K70 has to offer.
The K70 comes in a nicely design box with a great image of the keyboard on the front as well as highlighting a few of the major features such as the Cherry MX Red switches, key-by-key backlighting and contoured and textured WASD 1-6 key caps.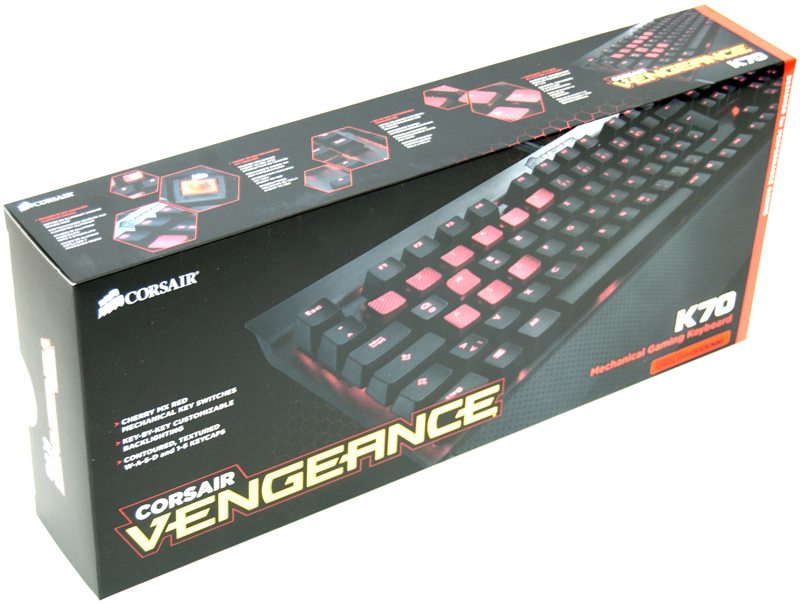 Around the back we have a more detailed breakdown of the features, but we'll be taking a closer look at those in a moment.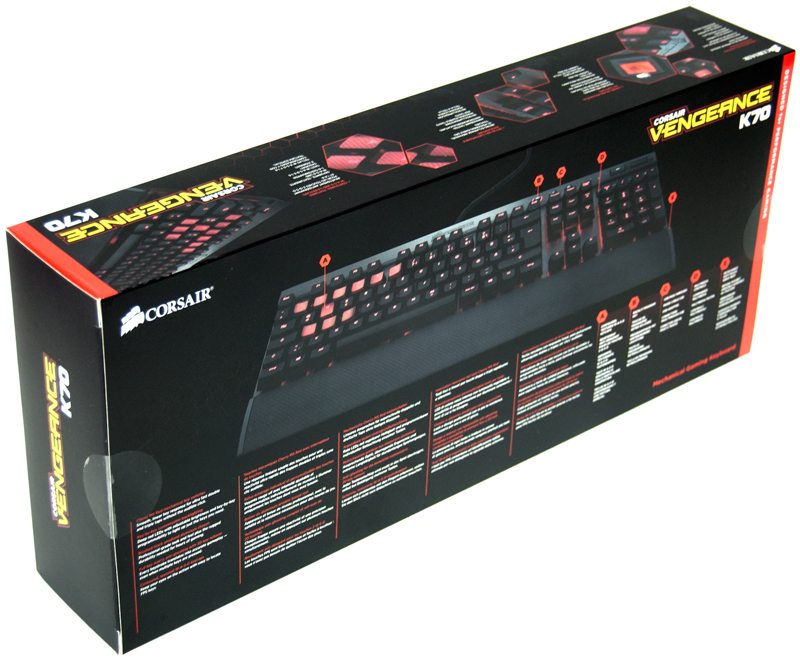 In the box I found the quick start guide, a warranty guide, 10 extra key caps and a key removal tool.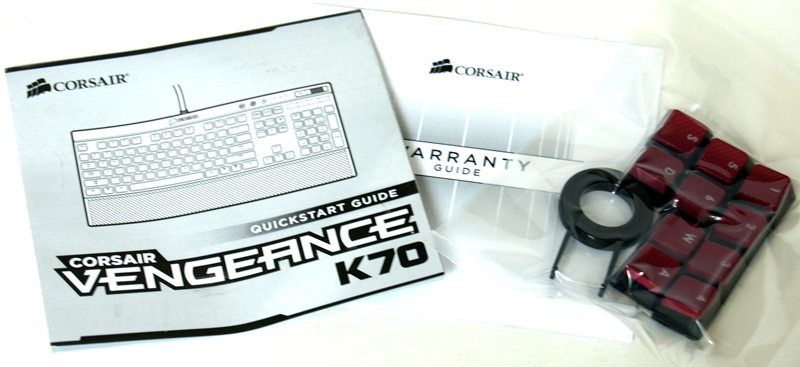 Also included as a full width, clip on wrist rest.

there are two connection points on the underside and a simple push-click will lock it into place on the keyboard, a light tug will remove it, no tools required.

Up close you can see it features a slight embossed texture, but it is also finished with a quality feeling soft touch rubber, this provides comfort and grip.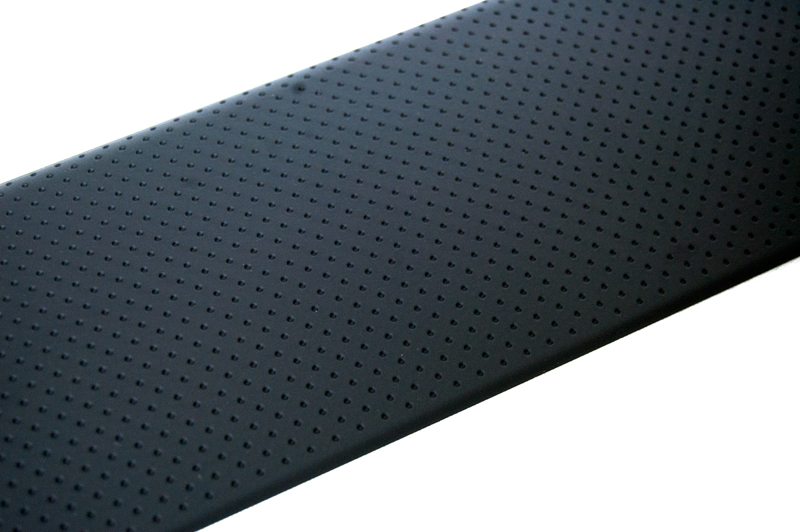 While the keyboard comes equipped with stock key caps, there are 10 more that you can use on WASD and 1-6 keys, these feature a unique texture, shape and colour that really makes that stand out from the rest.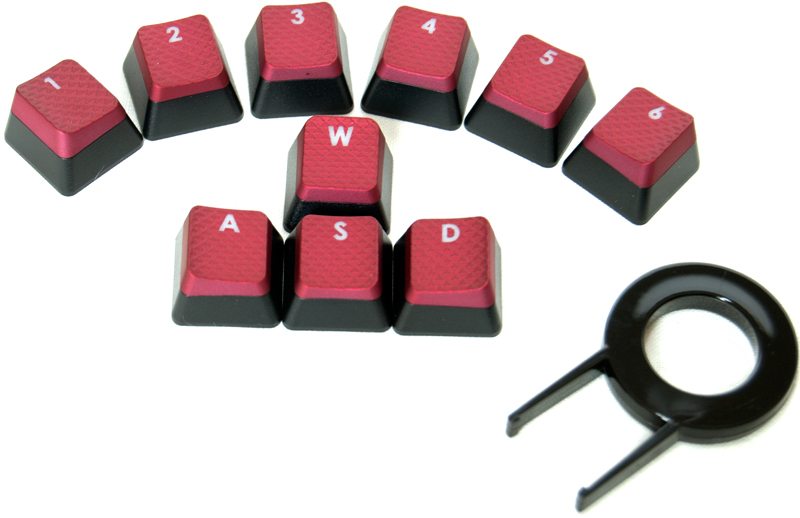 Each key has a more prominent curve and ergonomic shape that helps you find a great hand position for gaming.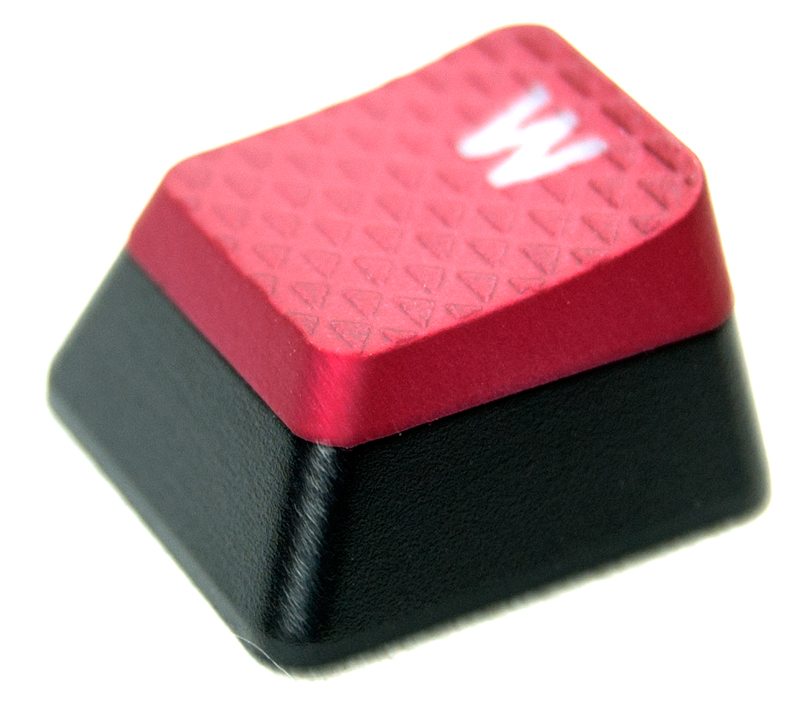 The key caps are a standard push on fitting type and you could just as easily use your own 3rd party custom caps if you wish.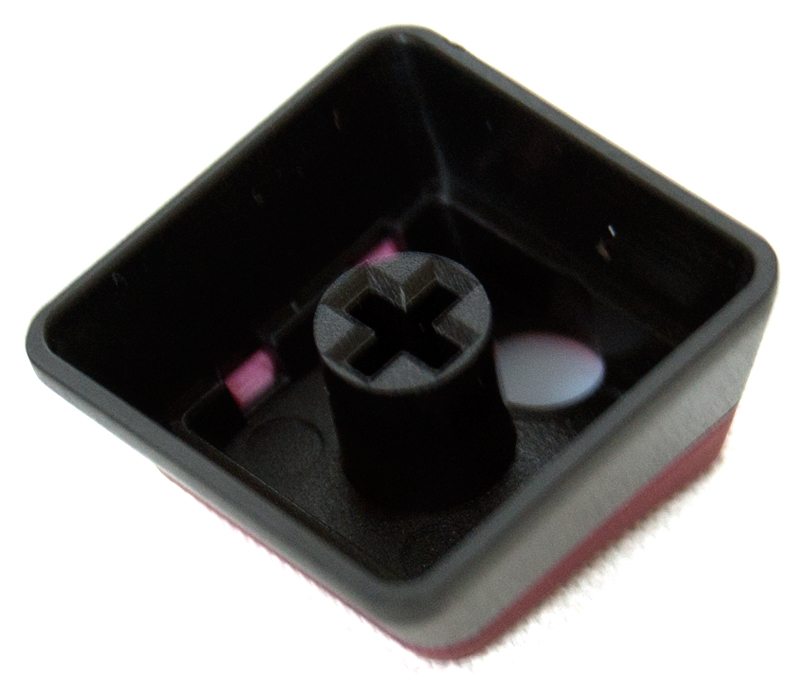 The keyboard comes hardwired out of the box and features a long and very durable cable.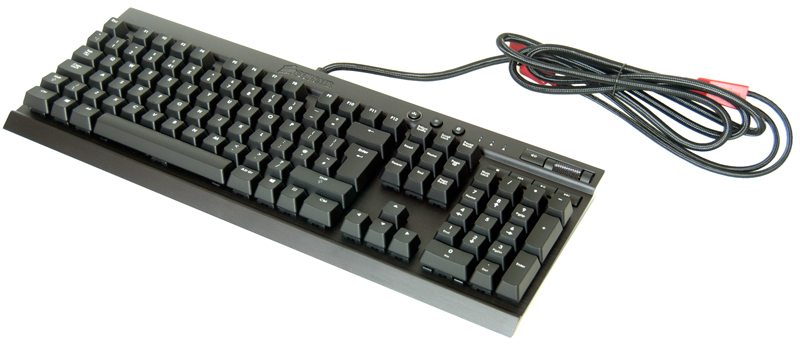 The cable is thick and features a high quality braiding that looks great, but it will also help protect the cable. There are two USB connections required but the keyboard does offer USB passthrough, perfect for hooking up your headset or other USB compatible device without reaching behind your computer.

The keyboard is full size and features all black fitting with white lettering that gives the keyboard a sleek and tidy appearance.

If we get in a little closer you can see that the chassis of the keyboard is made from brushed aluminum, which gives off a subtle shine and it feel really nice to the touch. In the top right we have some key config buttons for backlighting and windows lock, the num, caps and scroll lock LEDs, master mute switch and a very cool and textured infinite scrolling wheel that controls your system master volume. Below that you will find four more multimedia keys, giving you quick and easy control over your multimedia applications.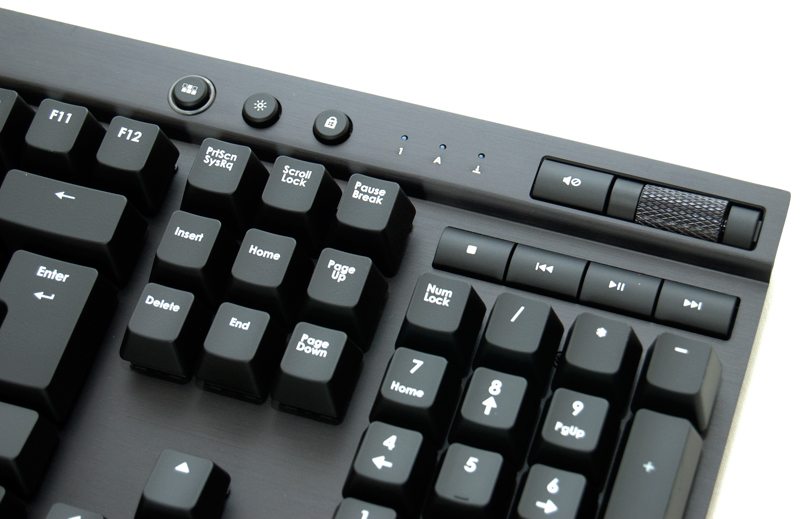 The board features a gentle ergonomic sweeping shape to the key layout, which provides a nice level surface for your fingers that compliments the wedge shape of the keyboard chassis.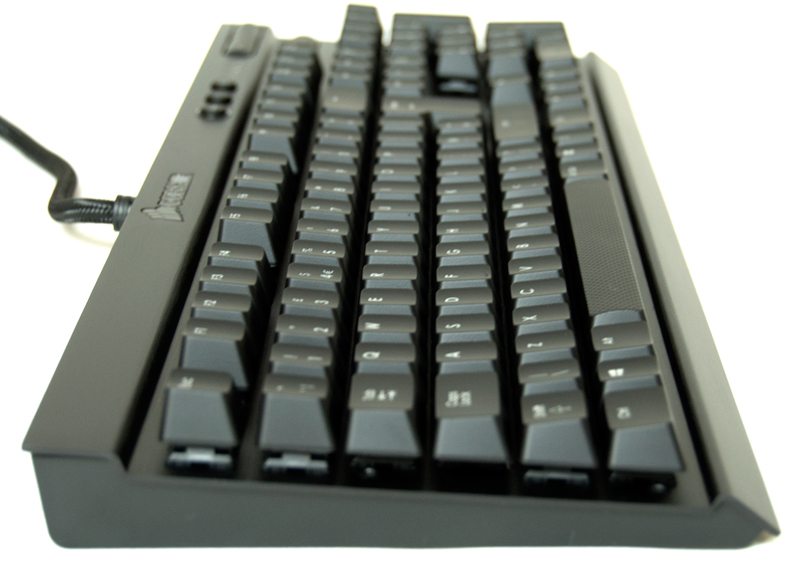 Around the back we see the USB port that can be used for headsets, flash drives etc and also a mode switch, which should help make the board compatible with your computers BIOS, so many times I've seen premium keyboards that don't work (at all) in my BIOS, so this is an extremely welcome feature!

The space bar is ever so lightly textures and while it gives a slight tactile difference it adds a nice little style touch too as the texture matches that of the volume scroll wheel in the top right corner of the keyboard.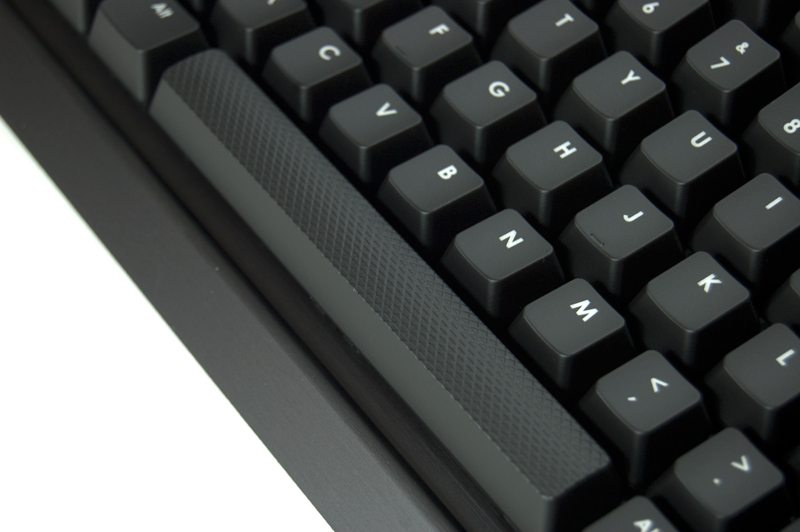 Keycaps are easily removed with the included too and as you can see they do indeed feature Cherry MX Red switches.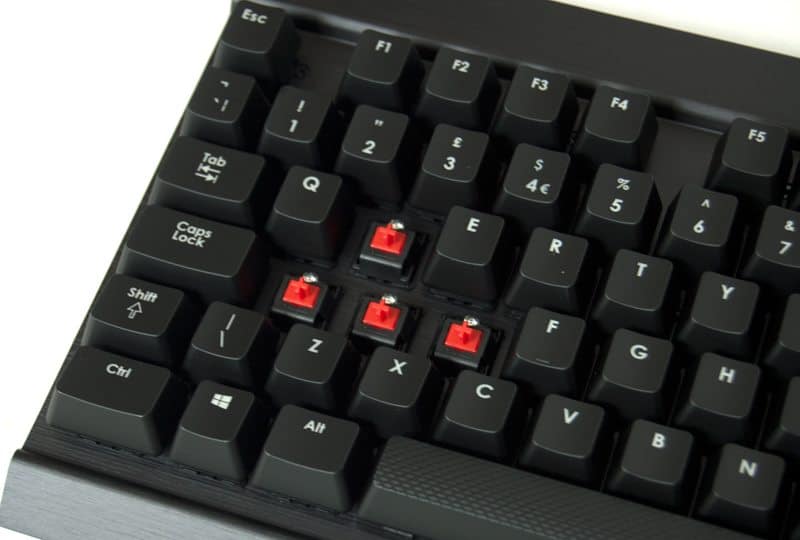 The extra keys are completely optional but as you can see below, they look fantastic and give a really bold contrast to the black and white finish of the rest of the keyboard.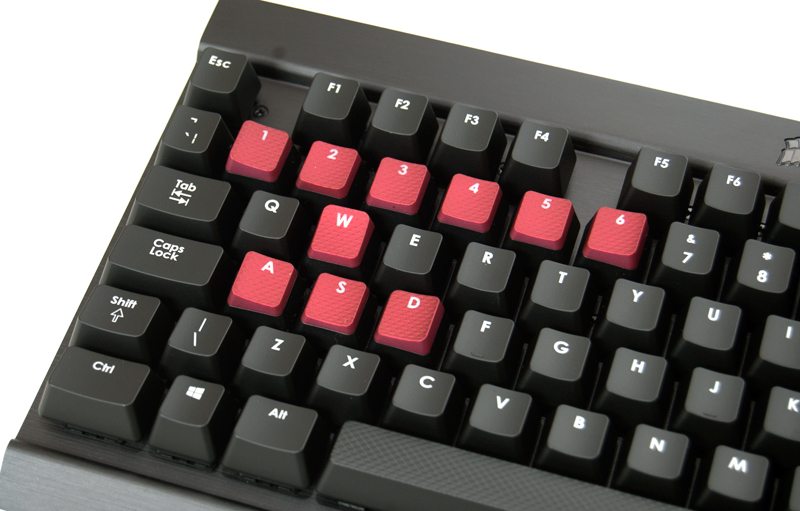 There is a concave ergonomic shape between the 1 and 6 keys that make them really easy to find without looking and you'll find a similar shape between the WASD keys.

Around the back there are no standout features, but you will find four small rubber grips as well as four flip out feet. The rear ones provide a greater angle to the board, while also using the front feet provides more height and a change in angle for the wrist rest.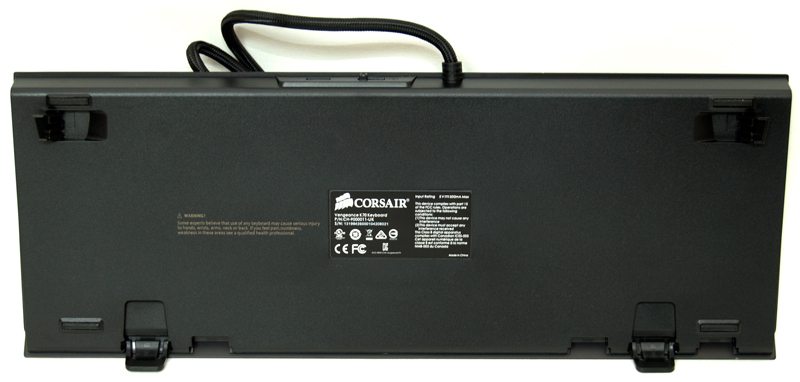 The wrist rest makes a big visual difference to the overall style but it's more there for practical reasons and it's a welcome feature to have included, but also just as welcome that its use is optional.

Setup & Installation
This keyboard couldn't be more simply to operate, plug and play is all you need to get going and all major features can be adjusted from the keyboard its self, very handy if you're lugging it around to LAN gaming events too as it means you don't have to concern about drivers and specialist software to enjoy the day to day performance and functions.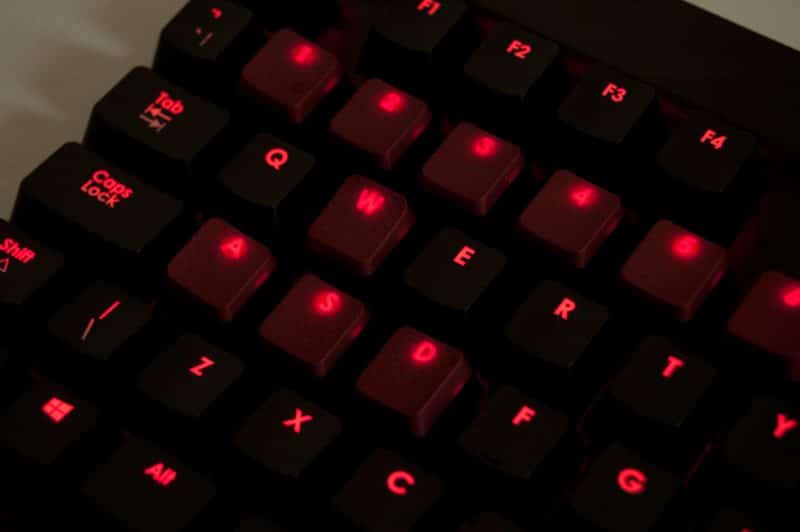 The backlighting looks fantastic and while it does provide s "through key" lighting effect, most of the light shines below the key and gives them a devilish underglow, which is most noticeable from the rear of the board since the LED's sit ever so slightly below the keycaps, allowing the light to radiate sideways.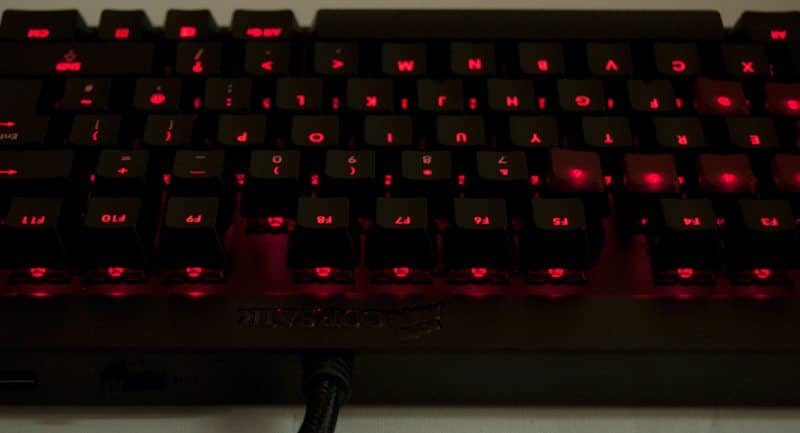 Performance
I'm a big fan of Cherry MX Red switches as they provide a very satisfying typing response that manages to be quick and lightweight but still offering just enough resistance that you can rest your fingers over the keys, all vital aspects for a gaming keyboard where your fingers tips will often be on the WASD for extensive periods of time.
The keys feel really snappy and while I think they can be a little loud, generally from the key cap hitting against the frame when fully depressed, this is an issue that plagues just about every mechanical keyboard around and not something I can really blame Corsair for overall.
For day to day typing you really can't beat a good mechanical keyboard and MX Red switches really do offer a nice balance for both gaming and working, but the MX Red switches are not unlike every other MX Red equipped board and the only real tactile difference here comes from the custom key caps that were included. They're a neat little gimmick and I really like the custom shape they've been given, it's a tiny difference but an effective one non the less.
Gaming wise this is a samurai sword in terms of performance, the response is quick, the ergonomics are good and the build / key quality is best in class, you couldn't ask for much more from your keyboard.
Multimedia keys have never really been anything worth shouting about in my opinion, but it is handy to have them and the ones on the K70 have been really well designed, especially the scroll wheel.
Final Thoughts
Corsair have a solid reputation for solid quality products and that is something they've clearly adhered to today, this keyboard features faultless build quality and the choice of materials goes a long way to justifying the price tag. I've seen gaming keyboard with similar switches that come with a plastic covered chassis, giving them a much cheaper feel, but the full metal chassis and body work on the K70 just screams high quality all over. This is further complimented by the heavy-duty and nicely braided cable that is hard-wired to the keyboard, with custom red coloured USB connections, attention to the little details clearly goes a long way.
The back lighting is really nice too and I really like that you can enable or disable the backlight LEDs on a per-key basis, meaning if you only want WASD lit up, you can do just that, or of course you could just turn them all off and have a smart looking black brushed aluminum keyboard.
The only issue I have with this keyboard is the price, I wish it were cheaper because I'm sure there are many out there who want a keyboard this good but simply cannot afford it. Yet on the other side of that issue is that while the keyboard is very expensive, it is also great value for money. The life expectancy of this keyboard should be fantastic, the keys should last years and should one fail they're easily repaired or replaced, the cables are tough, the chassis is metal and should survive more than a few knocks and bumps and every bit of it has been lovingly assembled to give a faultless finish and when it comes down to it, if a product is of high quality and has the performance to match, then it is worth paying for (if you can afford it of course).
eTeknix says: "Although the K70 may be ideal for the gaming market I see no reason to pin it down in one part of the market. If you want a high performance keyboard for things like checking your emails and wasting time on Facebook, then you'll still get as much joy from using the K70 as someone  using it to compete in eSports, overall a solid all round performance from Corsair."
Pros
High build quality
Customisable key caps
Excellent design
Cons
Might be a little expensive for some