Corsair K95 Mechanical Keyboard Review
---
---
---
Peter Donnell / 9 years ago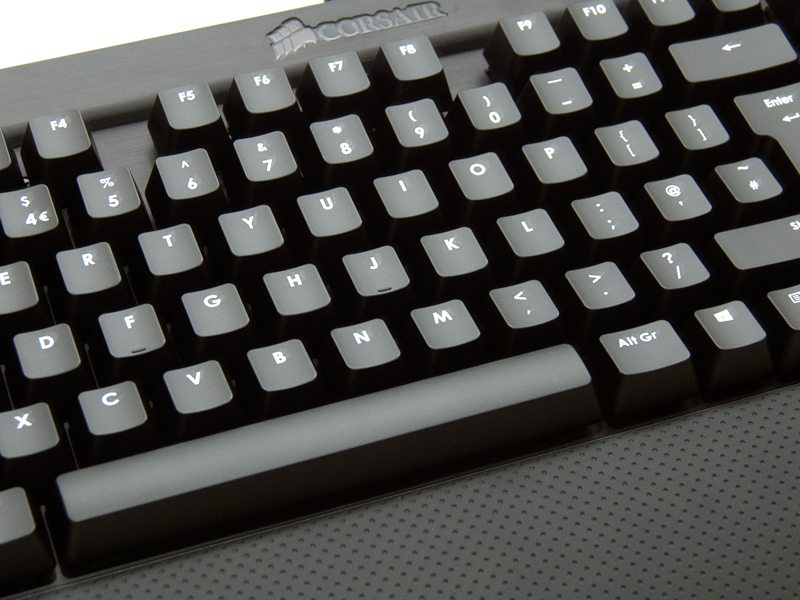 In the office today we have something a little special, the Corsair K95 mechanical keyboard and it's not only the latest in the very cool Vengeance range of products from Corsair, but also Corsair's new flagship keyboard. We've already had great fun testing previous keyboards from Corsair so if this is truly the best they have to offer then I'm really looking forward to testing it out. It was only recently that we took a look at the gorgeous Corsair K70 and I still find that to be one of my all time favourite mechanical keyboards, but can the K95 really be that much better?
Corsair are one of the biggest names in the industry, there is a good chance your current system, a previous system or your next system contains something they've made, be that a power supply, cooler or even a chassis. Playing off the success of their hardware business they've also created some incredible peripherals in recent years and their headsets, keyboards and in my opinion especially their mice are some of the best around.
The keyboard we are looking at today isn't cheap, although mechanical keyboards rarely are cheap, this one is set to cost you a whopping £130 and that is a stern investment for any peripheral so today I will be expecting to see all of the Corsair pedigree crammed into this keyboard, flawless performance and premium grade build quality because nothing short of perfection would make me spend so much money on a device like this.
"In the world of high-performance gaming gear, there are few things that match the feeling of using a well-designed keyboard with mechanical key switches. Vengeance gaming keyboards use Cherry MX Red switches, hailed by gamers worldwide to be the best of the best. They combine great key feel with super-fast reaction times and smooth, linear travel with low operating force. Vengeance K95 takes the next step with a 100% mechanical layout – there's a Cherry MX Red switch underneath every key. So, you'll get that optimal tactile feedback and responsiveness, no matter your fingers go." – Corsair
The K95 is well equipped and as you can see from the specifications below this keyboard comes with plenty to keep both gamers and general users happy; the ever popular Cherry MX Red switches are well known to be fast and accurate switches, key-by-key backlighting, 18 macro keys, aluminum construction, 20 Key rollover and a wrist rest should all make for an enjoyable experience.
Cherry MX Red Mechanical Switches
Key-by-Key Customizable Backlighting
18 Programmable G-Keys
Brushed Aluminum Chassis
Full Key Matrix Anti-Ghosting with 20-Key Rollover
Detachable full length wrist rest
The box is nicely designed with a cool looking shot of the keyboard and a few of the major features listed on the front.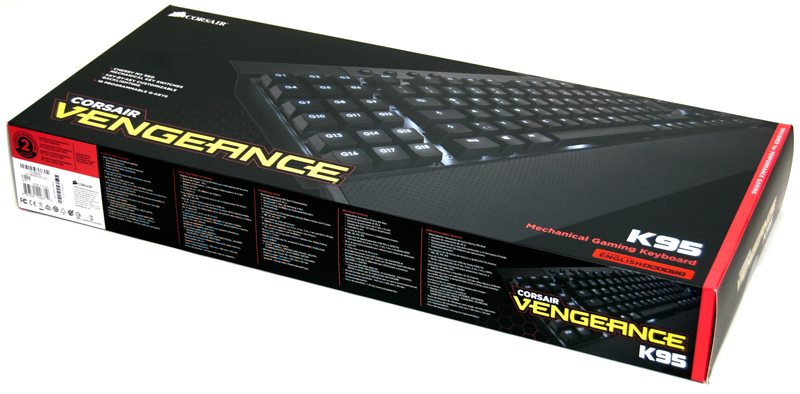 Around the back of the box we have a more detailed breakdown of the keyboards features, but we'll take a closer look at those shortly.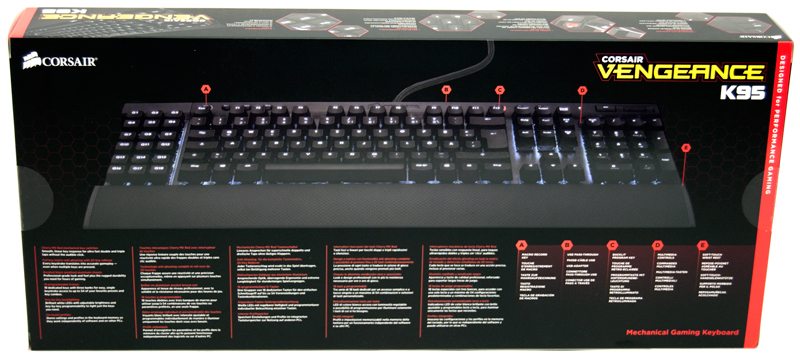 In the box there was a user manual and some warranty information, oh and of course there was also a great big keyboard in the box!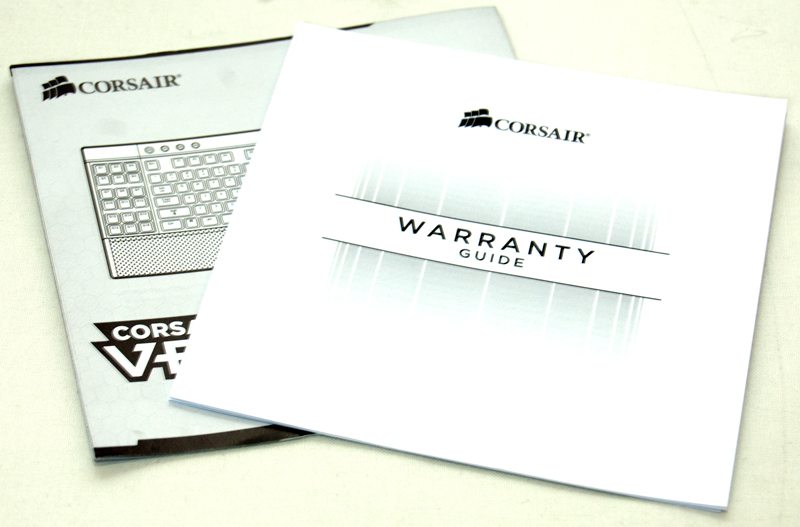 Next out of the box was the detachable wrist rest, with a full width soft touch design.

Some plastic "push-click" pins hold the rest in place, but there are also two metal screws to give extra security.

There is a light texture to the surface thanks to these little pressed holes, this provides a little extra grip when combined with the soft-touch finish and overall the surfaces feels rather luxurious.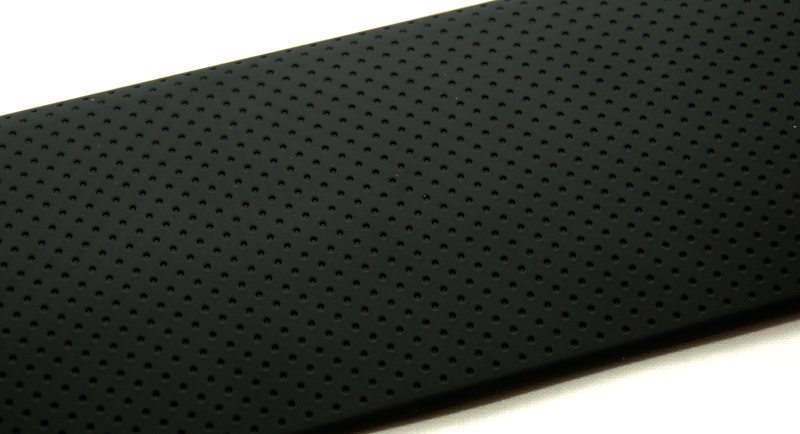 The cable for the K95 features two heavy duty USB 2.0 connections and the keyboard requires that you have a high-power USB 2.0 port to operate it, if you want to use the USB pass through feature you also need to connect both USB cables. The cable is ridiculously heavy and if this isn't the toughest cable on a consumer keyboard then I don't know what is. It's a little unwieldy but at least it should last a life time.

The keyboard is pretty huge, this is mostly due to the extra macro keys on the left side but you best make sure you've got a wide desk area should you wish to accommodate it.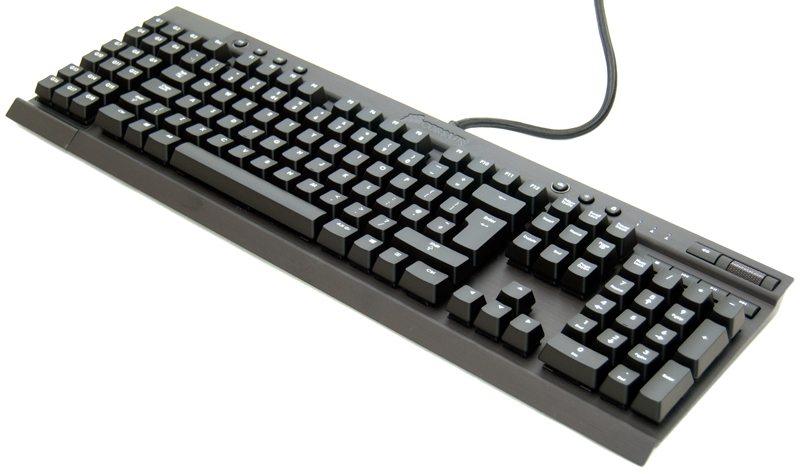 It features a fairly low profile overall but it's about average in terms of height and the keys features a very slow and gentle curve to their ergonomics.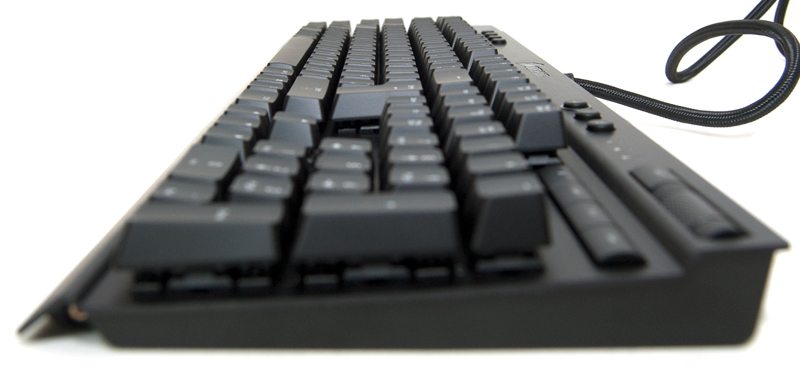 The top right of the keyboard features a very fancy metal scroll wheel for system volume control, a master mute switch and below that (above the number pad) are some dedicated media controls. The keyboard features three more buttons along the top for controlling the lighting features as well as a lock control.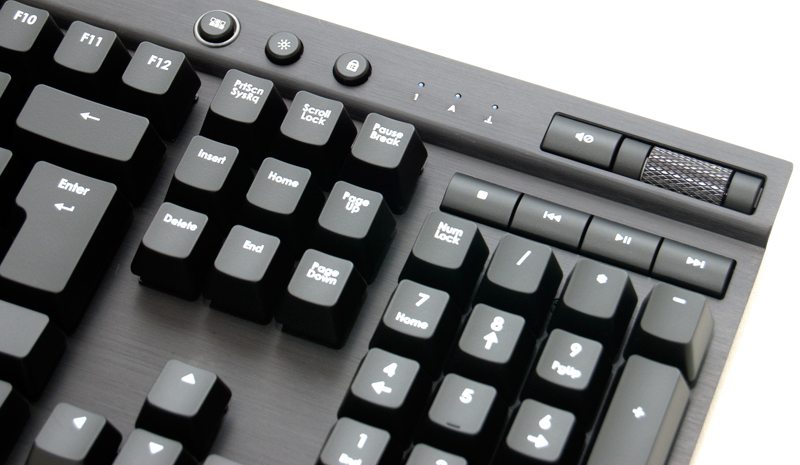 The G keys are situated on their own extension on the left and it features a different finish to the rest of the board that I dare say looks a little cheaper, but it does give a nice visual distinction between the two areas and it still look pretty good in terms of design. The keys are separated into three groups of 3×2 and this makes navigation a little easier, plus there is a decent amount of space between the main keyboard keys and the G keys so you don't accidentally trigger them, but it's not so far that you feel your going out of your way to use them.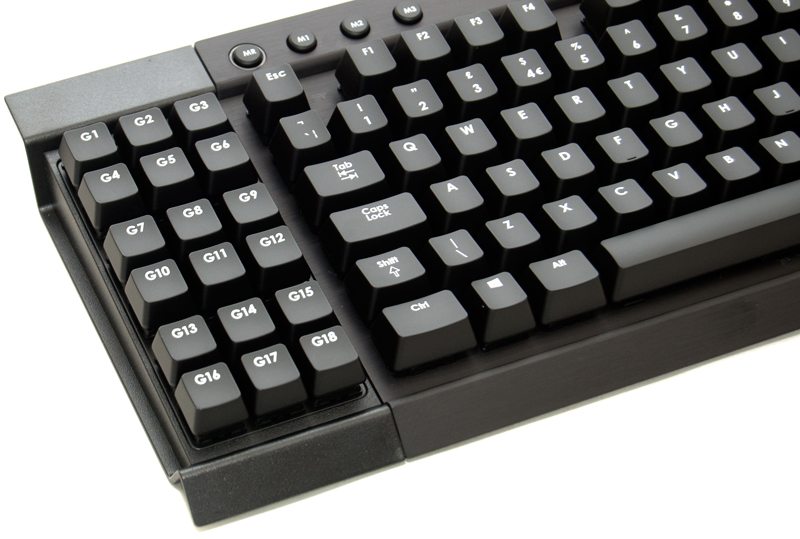 There was no key cap removal tool included with the K95 but the caps are fully removable non the less. Every key is mechanical with the exception of the top M and media buttons and all feature Cherry MX Red switches with individual LED lighting which can be see here under the WASD key caps.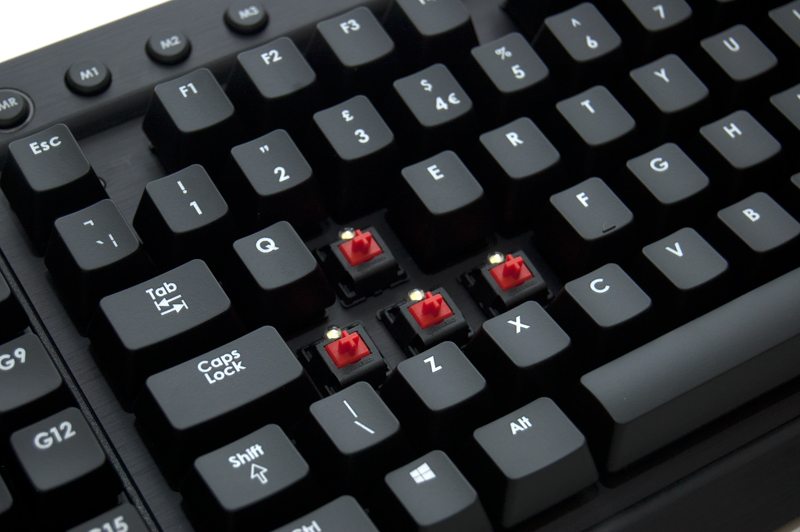 The key caps are plastic moulded but they feel durable and well finished with just enough curve to provide a good finger resting position when typing or gaming.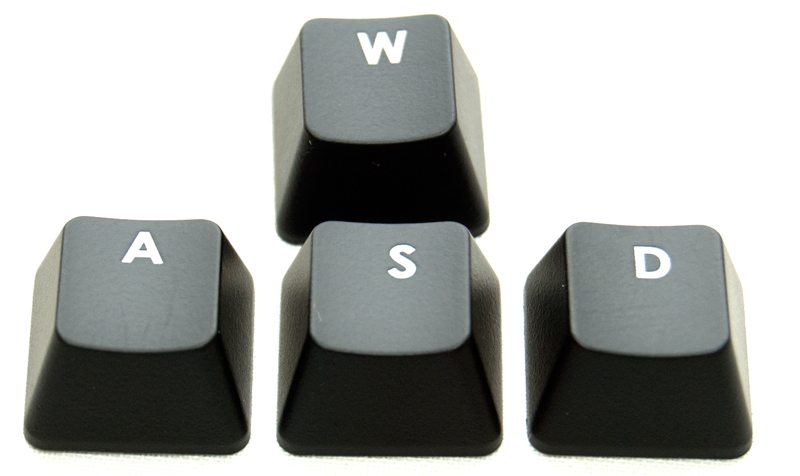 The underside of the keyboard features two flip out feet to increase the hight of the board and there are also four small rubber grips to prevent the board from sliding around your desk, although it is quite heavy so I doubt that will be an issue.

The back of the keyboard features a single USB port that you could use for your mouse, headset, or any other USB compatible device really. There is also a BIOS switch that allows you to change compatibility modes as most high end keyboards are often incompatible with most motherboard BIOS screens, that shouldn't be the case here.

The wrist rest might not be something everyone would want to use so I appreciate that Corsair made it detachable, but in my opinion it completes the design and the keyboard looks easily twice as good with it attached and it doesn't feel as wide and narrow as it does without it.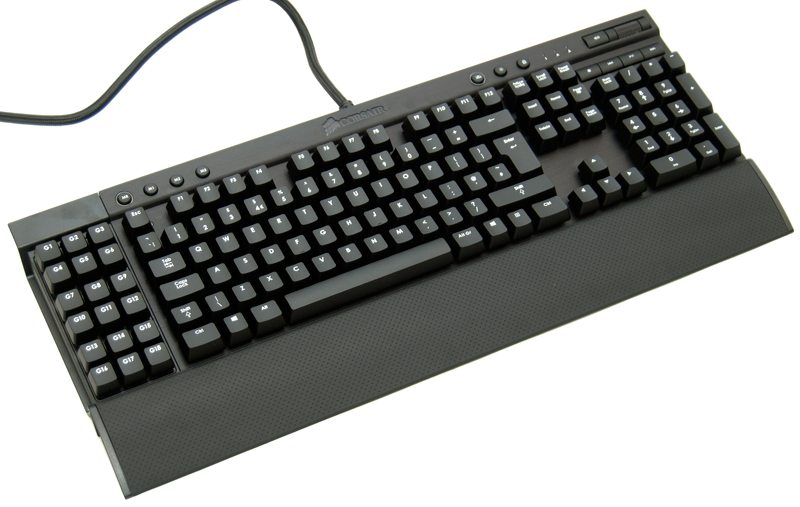 The angle of the wrist rest lines up with the rear edge of the keyboard chassis which is below the keys and the keys effectively hover above it, looks pretty cool but also has some practical applications too. The keys and the switches are raised from the chassis of the keyboard, as if there was a lid to go around them and its been left off to show the bare chassis, this makes cleaning super easy but it also gives it a slightly industrial look that I must admit I am fond of.

Setup & Installation
The keyboard is plug and play compatible and works straight out of the box but if you want to use the funky G keys then you're going to need to download the software from Corsair. Of course this is highly recommended because you don't buy a huge keyboard with 18 custom keys if you don't want to use them (if you don't want them, you should buy the K70 instead). Upon hooking up the keyboard we see the white LED lighting and at first I think it's a little bright but you can adjust it from off to full in 4 stages of brightness.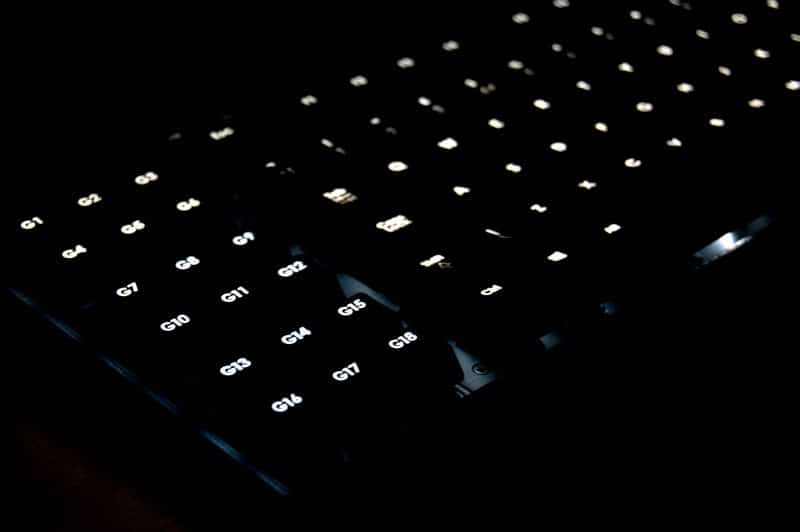 The lights not only light up the letters in the key caps but the light bleeds downward and lights up the gaps between the keys and the base chassis below them, it's a very nice effect and in a very dark room it gives the keys the visual appearance of floating and glowing that looks rather cool.

If that is a bit much for you, you can also turn off / on each key on the keyboard, allowing you to have different zones illuminated on different profiles.

The software gives you complete control over the G key configuration, you can set macros or launch applications and more over each profile. Unfortunately you can't configure any of the rest of the keyboards functions and all macros have to go on the G keys, although that's hardly a compromise given there are 18 of them.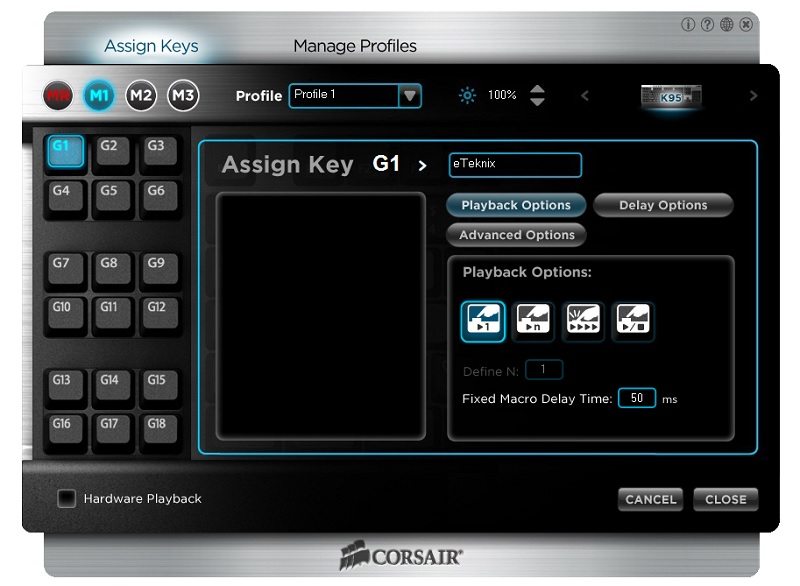 You can also set custom names for each profile so you know which is which and you can even save them direct to the keyboard on-board memory.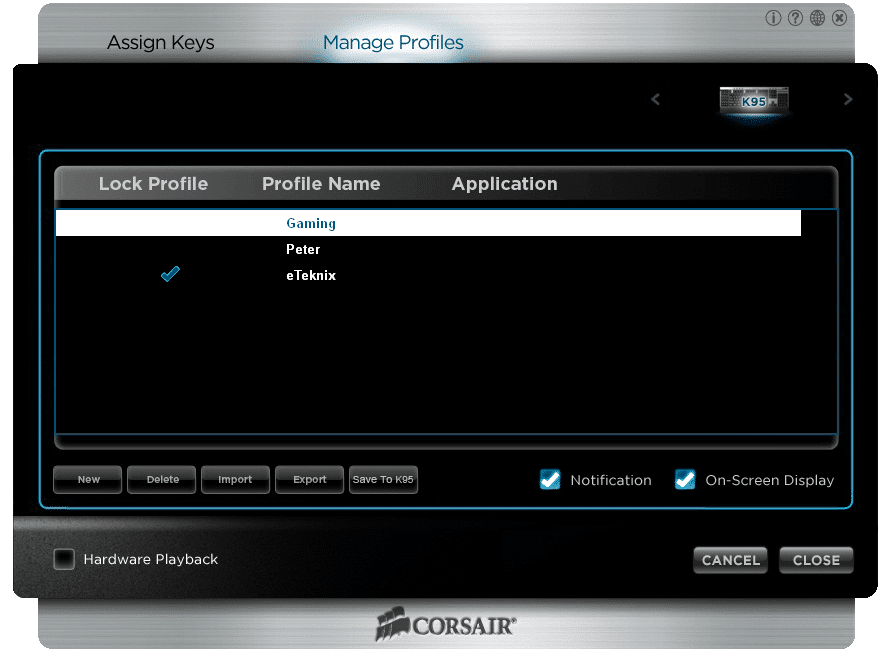 Performance
Just loading up my game and logging in on this keyboard is a lush experience, the keys feel light and snappy at my fingertips. I decided to tackle an FPS first to test the most important keys of all, WASD! I have to admit I tested this on Battlefield 3 far longer than I had planned to and while I can't say I did better at my game I certainly had a comfortable experience thanks to the wrist rest, light keys and the K95 didn't let me down once. Yet this is hardly pushing the limits of the K95 so I fired up WoW and Diablo III for a while, making sure I setting up some macros before hand. I can safely say I think that 18 G keys is too many, I must have used 6 per game at best and I was even able to assign one game per block of 6 keys, meaning I could keep my games on one profile! Still, far too many for my liking, at least for gaming.
Day to day usage however is where the G keys really start to shine, Photoshop shortcuts, email shortcuts, app launchers, text macros and more really make my workflow a whole lot easier and having them in three groups allows me to get through things super quick. I found it a little cumbersome changing profile automatically for software as it doesn't switch back when you access other apps or your desktop, so having an "all in one" profile is more suitable in my opinion, but then again I don't need 18 macro keys for any one task, I doubt many people do.
Typing is incredibly quick on this keyboard, the keys are super responsive and the ergonomics of the board present you with a good typing position. The only downside is that when I'm typing at around 70wpm the noise of the key caps striking the keyboard chassis is enough to annoy anyone else in the room after a while, although this is true of 95% of the mechanical keyboard I've tested. The upside of course is that you don't care about the noise because it feels so nice to type, pros and cons I guess.
The media keys are also a welcome feature and since I listen to music all day long on my computer while I work and game, having dedicated keys is vital for me, especially ones that don't require you to press a Fn key first.
Final Thoughts
You don't "need" a high end keyboard to enjoy your favourite games, you don't even need the best equipment to be a winner either, but that doesn't mean to say that it couldn't help. The super fast keys of the K95 could cut milliseconds from your reaction times, doesn't sound like much to most people, but if your a pro gamer then you know that every millisecond counts in the heat of battle. Plus when your sat down on an evening with your favourite game, the last thing you want is for your fingers to feel tired and fatigued from a cheap keyboard and you can feel every penny of the £130 under your fingers tips when typing, reminding you that it was totally worth the investment.
How it performs and feels under your finger tips is easily the most important factor for a keyboard, but I'm not so sure I should give Corsair so much credit here as all that work is being done by the Cherry MX Red switches, a switch that is common place and can be found in many other mechanical keyboards, many of which are half the price of the K95. So what does the K95 do that other keyboards do not to justify the extra price tag?
Many mechanical keyboards are boring rectangles and a mere box to hold the nice switches in place, gorgeous to type on but nothing fancy to look at. The Corsair K95 just oozes luxury with its black brushed aluminium chassis and with the LED lighting reflecting of the texture of the metal it just looks better and better. The only gripe I have is that the G keys look tacked on, maybe Corsair were just trying to make a distinction between the two areas but I think a one piece chassis design would have looked better, even if the current configuration doesn't look particularly bad.
Because of its metal chassis the keyboard is super strong and should last more than a few years worth of knocks and bumps, plus the keys are very easy to keep clean and maintain. Just remember that Aluminium is easily scratched, so I wouldn't be putting your car keys next to this thing if you know what's good for it.
So have Corsair made the best keyboard on the market? No not really, it's on par with the competition in terms of performance but that is again because of the reliably uniform performance of the MX Red switches, so it's hard to say one keyboard "feels" better than the other. What corsair have made however is one of the best designed and constructed keyboards on the market, it has a premium feel that is unmatched and a lush aluminium finish that goes a very long way to justifying the high price tag.
Pros
Fantastic typing response
Huge amount of macro keys
Aluminium chassis
Well made and durable
Premium design
Cons
Might be a little expensive for many
Only available with MX Red Switches (even if they are very good, it's nice to have a choice).
Macros restricted to G keys
 eTeknix says: "Corsair looked to create their ultimate keyboard and the K95 delivers on that promise, it's incredible to use and it looks fantastic. It performs as well as any other mechanical keyboard on the market but it's build quality is in a league of its own."