Corsair Katar Elite Wireless Gaming Mouse Review
---
---
---
Peter Donnell / 1 month ago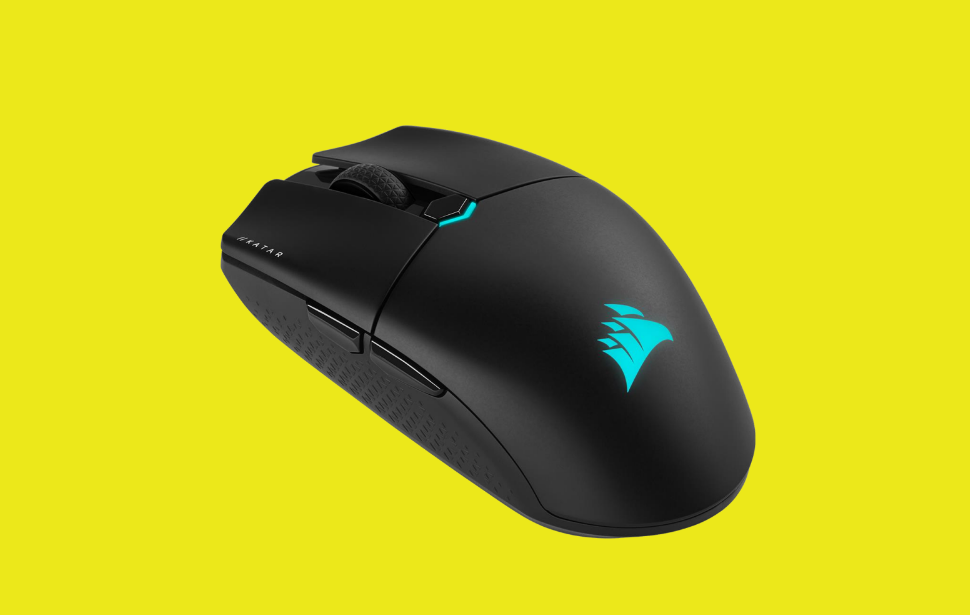 A couple of years ago, I reviewed the Corsair KATA Pro XT, one of their more popular ultra-lighting gaming mice. It was surprisingly affordable but came with a killer sensor, Omron switches and rock-solid performance. So, surely there's not much room for improvement there, right? Corsair has equipped this new version with a new sensor, new switches, and even their class-leading Corsair Slipstream Wireless technology and plenty more beyond. The end result is the price has pretty much doubled, but on paper, it looks like it's a significantly upgraded mouse, so I'm eager to see what it can do!
Cosrair Katar Elite Wireless
The old mouse had some decent hardware, with an 18,000 DPI optical sensor. However, it now has a truly exceptional Corsair Marksman sensor with 26,000 DPI that can be adjusted in 1 DPI steps for extremely accurate fine-tuning of your performance. The Corsair Quickstrike Buttons are precision-mounted Omron switches with zero gap, allowing for a faster and higher click response. Plus, with Slipstream Wireless, Low Latency Bluetooth and 2000Hz Hyper-Polling in USB mode, you'll be getting exceptional connectivity here too. However, I think the most impressive thing is that despite going from wired to wireless and upgrading the internals, the wireless version actually weighs LESS than the wired version. Going from 73 grams down to 69 grams.
MM700 3XL
For a bit of added fun Corsair has also sent me the MM700 RGB EXTENDED 3XL mousepad. Clocking in at 1220 x 610mm, this thing is an absolute beast, and while I said it'll fit on my desk with all the confidence in the world, now that it's here, I'm not so sure, but we'll find out later in this review.
Features
Ultra Lightweight at Just 69g: Makes for effortless and extremely agile mouse movements for extended gaming sessions.
CORSAIR MARKSMAN 26,000 DPI Optical Sensor: With an astonishing native 26,000 DPI and 650 inches per second (IPS) tracking at up to 50G acceleration, the MARKSMAN sensor captures every mouse movement.
Hyper-Fast SLIPSTREAM WIRELESS Connection: SLIPSTREAM WIRELESS offers a sub-1ms wireless
connection to your PC or Mac, or alternatively connect with versatile Bluetooth® and USB wired.
Up to 110 Hours of Rechargeable Battery Life: A single charge lets you play uninterrupted, match after match.

110-hour battery life with Bluetooth. 60-hour battery life with SLIPSTREAM WIRELESS.

CORSAIR QUICKSTRIKE Buttons: A spring-loaded design delivers zero gap between the primary mouse buttons and their OMRON switches, so your clicks, shots, and spells are faster than ever.
Large 100% PTFE Glide Pads: Mouse feet built from ultra-low-friction PTFE pads offer the smoothest glide and quickest movements, easily replaceable if they get worn down on your journey to the top.
2,000Hz Hyper-Polling: Delivers inputs up to 2x faster than standard wireless gaming mice.
Onboard Profile Storage: Six fully programmable buttons that support button remaps and custom macros you can take on the go with onboard profile storage.
Switch DPI on-the-fly: Switch between DPI settings without having to interrupt your game.
Unite Your Setup: Powerful CORSAIR iCUE software enables vivid dynamic RGB lighting control, macro programming, and full-system lighting synchronization with all compatible iCUE devices throughout your setup.
What Corsair Had to Say
"Weighing in at just 69g, the CORSAIR KATAR ELITE WIRELESS gaming mouse packs amazingly agile performance in a compact design that's ideal for claw and fingertip grips. A CORSAIR MARKSMAN 26,000 DPI optical sensor captures every mouse movement with extreme precision, enabling you to manoeuvre with ease. Connect via sub-1ms SLIPSTREAM WIRELESS for a hyper-fast, ultra-stable connection. CORSAIR QUICKSTRIKE buttons provide zero gap between the primary buttons and their OMRON switches, so all your actions, spells, and clicks are accurate and lightning-fast. Wield the KATAR ELITE WIRELESS as a top contender in lightweight design and heavyweight wireless performance." – Corsair
Specifications