Corsair M95 MMO Gaming Mouse Review
---
---
---
Peter Donnell / 11 years ago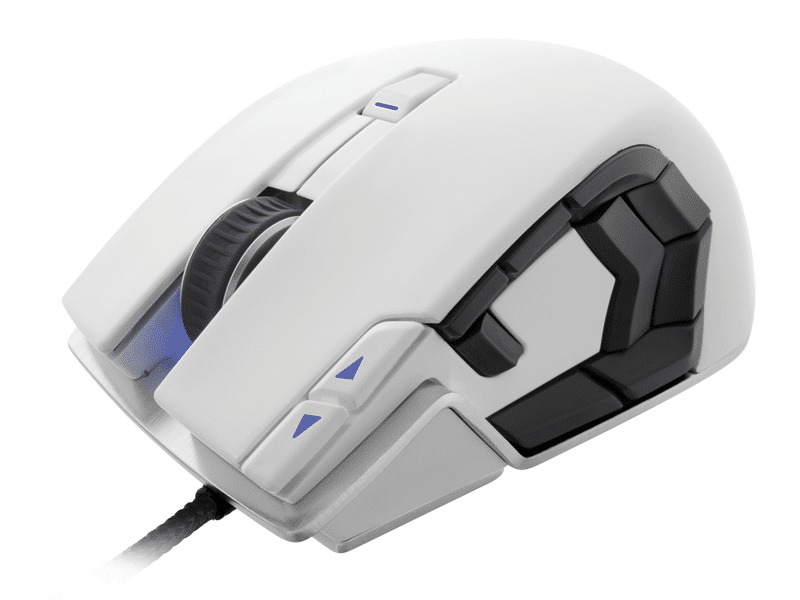 This week I have been spending time with the M95, the latest gaming peripheral from Corsair. Corsair have a long and rich history in the PC market and have experience in making everything from some of the finest PC chassis on the market, award-winning high-end CPU coolers, SSD hard drives, memory modules and many of them prove popular around the world with enthusiast gamers, PC users and just about anyone else, chances are this if you've been a PC user for more than a couple of years, you've owned at least one Corsair product.
The M95 is part of the Corsair gaming range and will take its place along side other Corsair products such as the M65 FPS mouse which we reviewed last month and while that was one of the finest FPS mice I've ever seen, the M95 is set to tackle the world of MMO gaming, if you think the world of competitive FPS gaming is fierce, then move aside, because MMO gaming can demand so much more of a gaming mouse, but will the M95  have what it takes to fulfil the exacting demands of the MMO gaming crowd, or is it just another mouse with more buttons that most people need?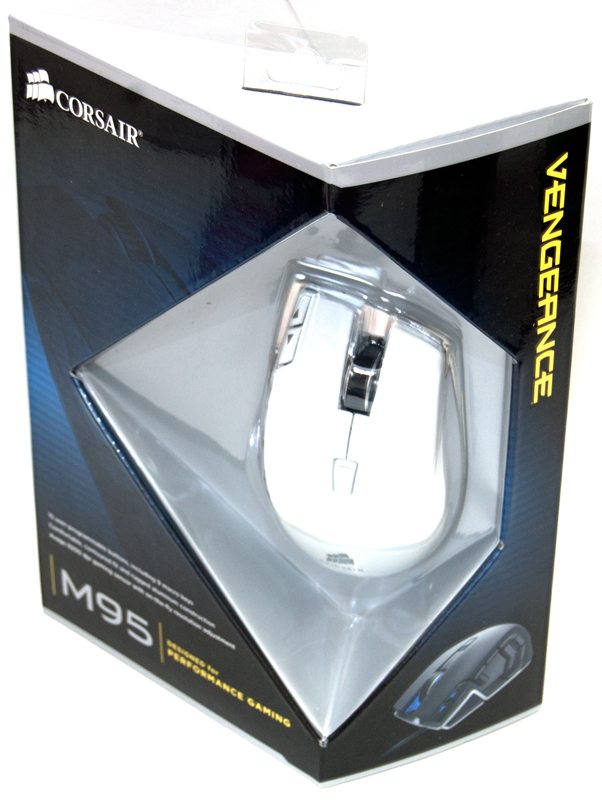 The m95 comes in a fairly standard package, which is clearly targeted at retail displays as it features a nice large display window that gives us a great first look at the mouse its self.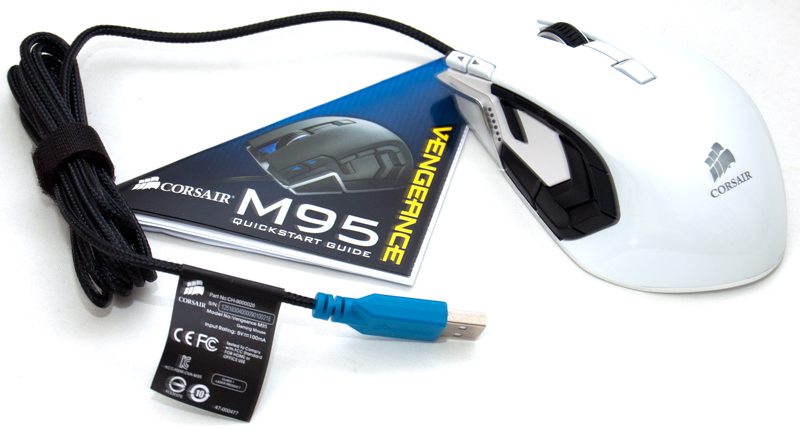 In the box there was next to nothing in the way of extras other than a quick start guide and the mouse its self. Of course there doesn't need to be extras, but they're always welcome.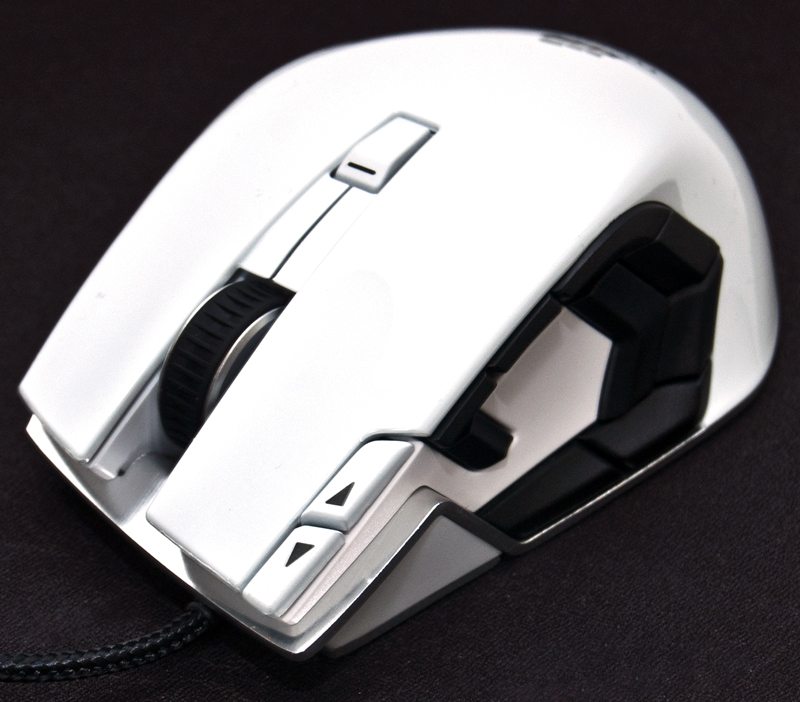 The mouse is absolutely packed with buttons and design features that immediately set it apart from the crowd. The left and right mouse buttons are formed from the top shell of the mouse which has a hard glossy coating that is as smooth and slippery as ice, it's hard to describe, but it just feels expensive and lush some how. The front left of the mouse features not only the LMB but also two configurable switches.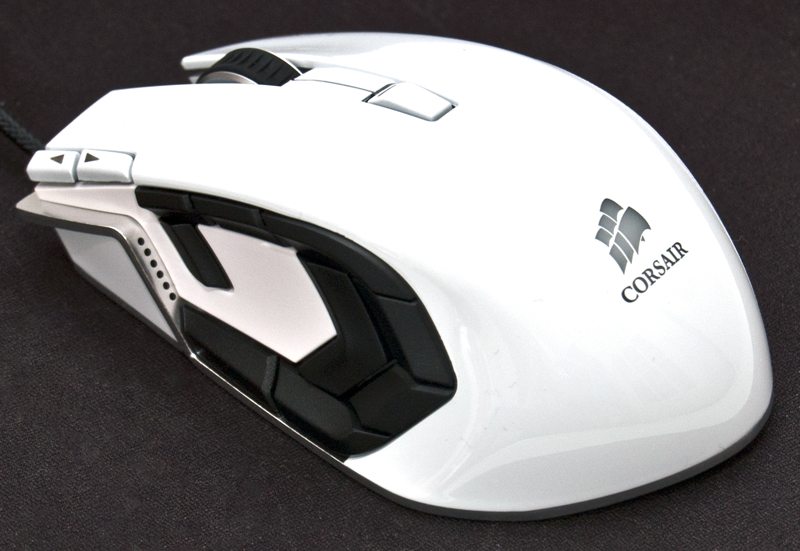 Down the left side we find there are 9 more ergonomically shaped buttons and each features a unique shape that makes them super easy to locate with your thumb, a welcome feature given it's a little crowded here and the last thing you need to be doing is looking at your mouse mid game when you can't find a button. Here you can also see the Aluminum chassis of the mouse curving up toward the front, extending out sideways and there are 6 small holes punched through it, this is little more than a stylish flair and rightly so, I think it looks cool.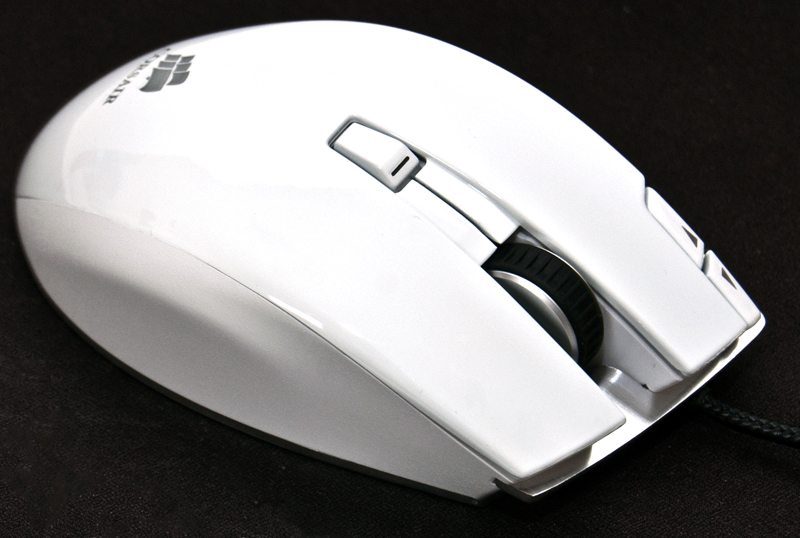 The right side of the mouse is super clean and short of an ergonomic curve and bump to the panels there is little here, but this is a mouse tailored for right-handed players so that's hardly an issue. The central part of the mouse features a heavily recessed scroll wheel but a wide split between LMB and RMB gives more than enough room for your finger to operate the scroll wheel. The scroll wheel is well weighted and features notches when turned to give you some tactile feedback as well a durable rubber grip coating for extra control. Lastly we have a DPI toggle switch in the top centre, perfect for adjusting settings mid game.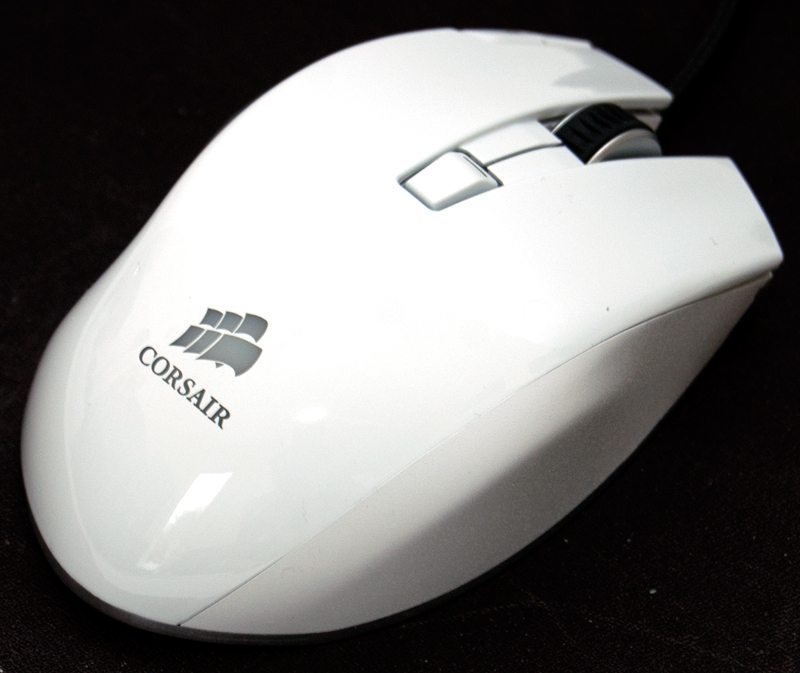 There is a join on of surfaces between the right side panel and the main gloss finish top panel but it's very close and can't be felt while using the mouse.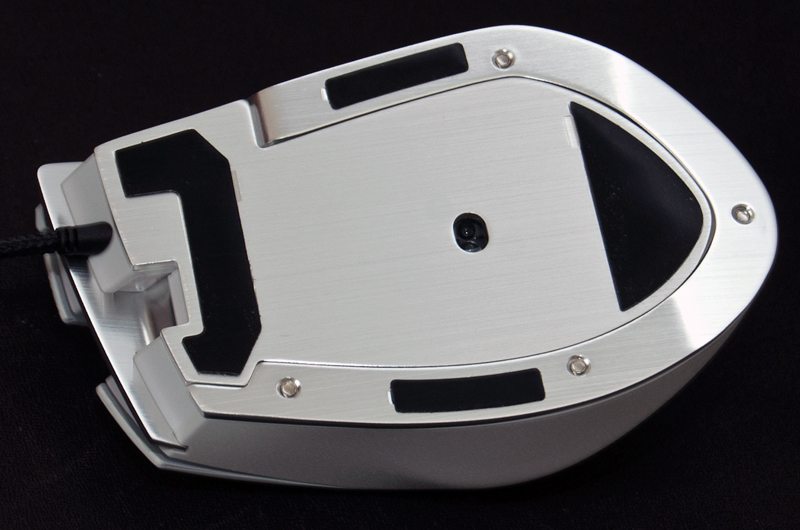 Personally I find the underside of the mouse more interesting than anything, with a slick brushed aluminum finish, some really nice engineering in terms of design and construction and little beyond some Teflon slipmats and a small sensor that really standout, it makes me wish the entire mouse has the same aluminum finish!
Setup & Installation
The mouse is plug & play compatible should you need the basic functions, but many of the side buttons will be pretty useless without the software, although you can still adjust the DPI sensitivity up and down so it's not too bad. The software has to be downloaded from the Corsair website (33mb file) and is easy enough to install but it does provide you with a robust feature set once installed.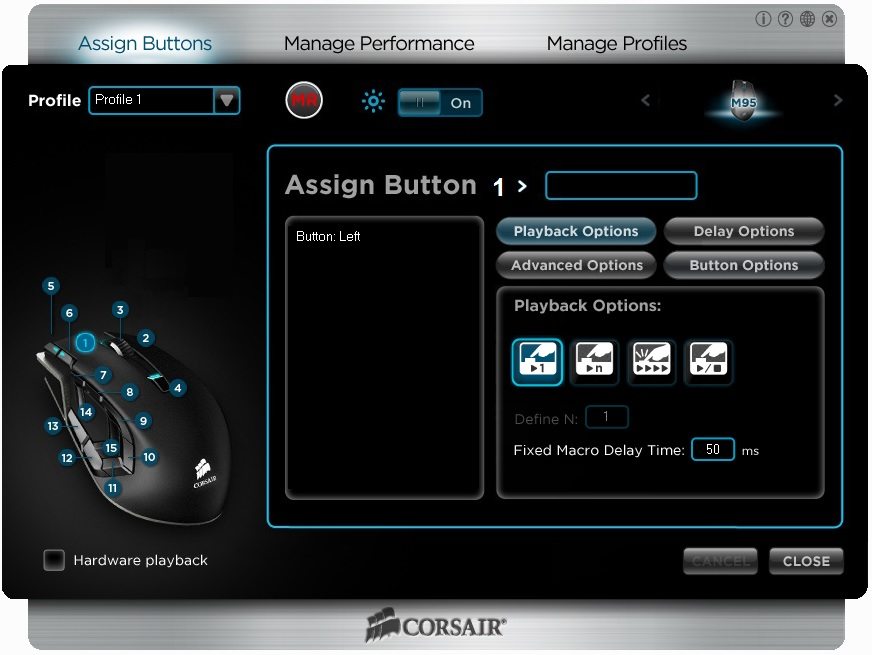 The software gives a macro recording feature that will no doubt prove popular with MMO gamers and its vital to be able to make accurate macros given the large number of buttons featured on this mouse. You can also switch between multiple profiles as well as enable / disable the built-in lighting on the mouse.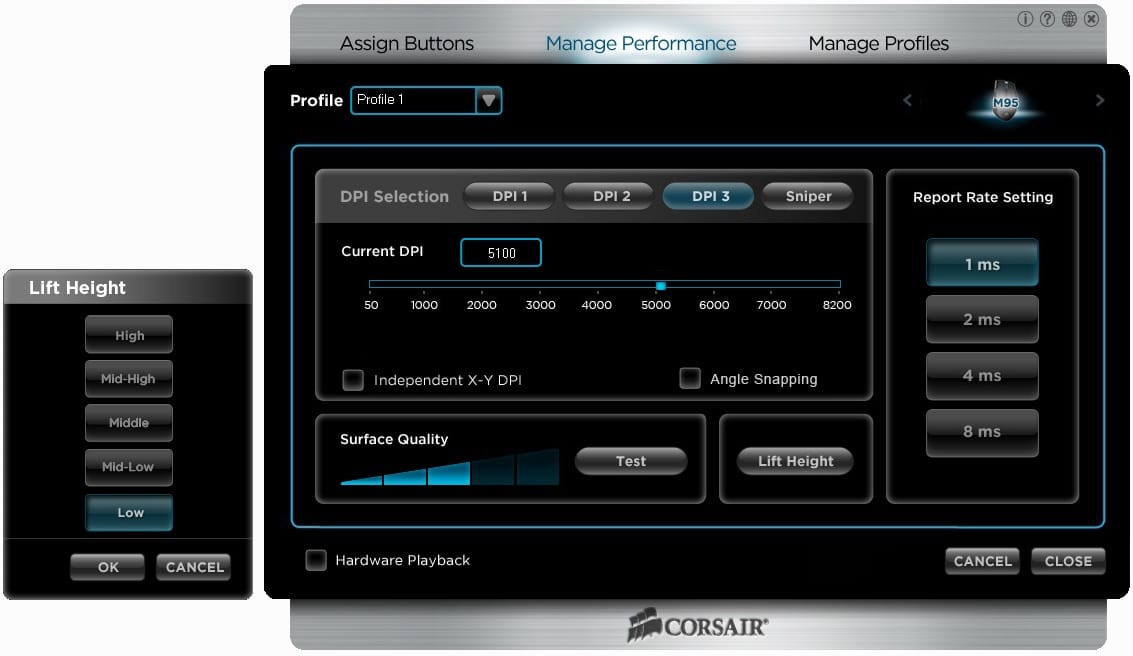 For those that want an even more tailored setup you can adjust the four main DPI settings, between the immensely slow 50 DPI and extremely high 8200 DPI, giving both high accuracy and high-speed respectively. The sensor is also able to detect surface quality, although personally I find this a stupid feature as I think the best gaming surface is what ever feels best for you, the M95 rated my mouse mat average, but I personally can't play on anything else.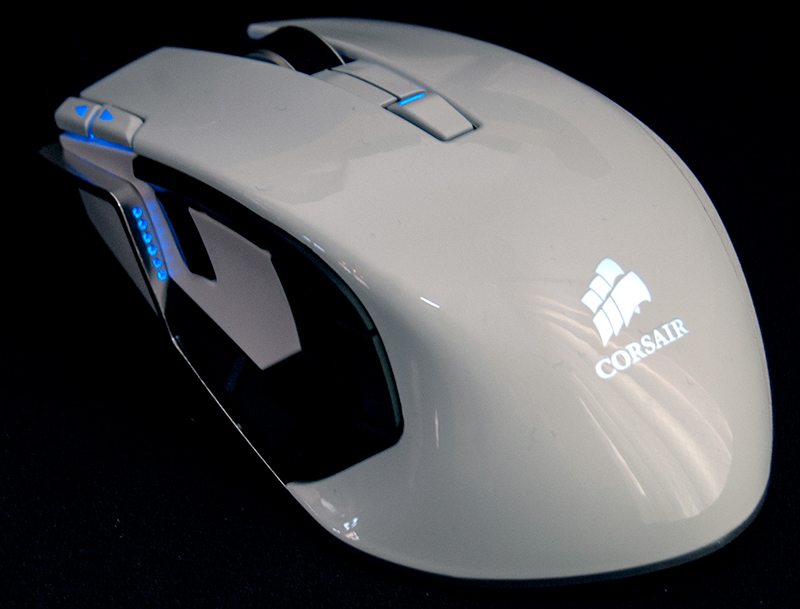 Performance & Calibration
The mouse glide across pretty much any mouse mat with ease, even though the chassis makes the mouse quite heavy it still glides with the relative ease of an ice skater, this is party due to the Teflon pads but it's also helped by the smooth brushed aluminum finish on the underside of the mouse.
Liftoff distance is full customisable and while you can get it up to around 3mm, it's not recommended as this mouse features ergonomics that don't lend well to the mouse being lifted, it will slip away from your more often than not should you try, party due to its higher than average weight. The minimum setting was certainly under 1mm and I had no issues with accuracy on either high or low settings.
Angle snapping is enabled by default but its far too strong for my liking and its near impossible to draw a circle in MSPaint without Angle snapping turning it into a rounded square, I'm sure some of you have a use for the feature but personally, I would advise you leave it off for gaming.
There were no noticeable signs of acceleration here, a few tests across multiple DPI settings informs me that the sensor can be trusted to give you 1:1 feedback, even at high acceleration and DPI settings.
Gaming & General Performance
The first thing I had to do with this mouse was setup a multitude of macros for my favourite games, given this is a button laden MMO mouse it deserved nothing less. It takes a little while to get used to the button layout but given that each button has a unique ergonomic shape it does make them easy to distinguish without having to glance at the mouse. More than a few games of League of Legends and a couple of hours on Diablo III flew past and I couldn't find fault with the mouse performance.
It's been holding up just as well in day to day tasks too, especially in Photoshop where I have been finding the extra macro keys especially useful, it may be a gaming mouse at heart, but its comfortable ergonomics and switchable macro profiles allow you to tailor it to many day to day tasks.
Final Thoughts
The first thing that really surprised me about this mouse was the visual aspect of it, it looks absolutely stunning and there is nothing quite like it on the market, with the exception of the Corsair M65 which we reviewed a few weeks ago, which is again unique in its own way. The high gloss top panel really shines against the dark contrasting side buttons and having it all mounted on an extruding aluminum chassis just tips it to being one of the best looking mice on the market, of course that is a subjective quality, but love it or hate it you can't deny that the styling is really cool, can you?
The next thing that took me by surprise with this mouse was the price, it has a feel of a product that has a triple digit price tag and I was fully expecting something in the region of £120, the build quality and materials used just feel that nice. The M95 is still expensive at just under £70 but for this level of build quality and performance, this is still a sound investment.
This price tag sets it in the same area as the NAGA Hex, MMO7, Level 10M and Kone XTD, all of which have proven themselves to the gaming community on one level or another and now it seems Corsair have entered the fight with unrelenting force, is the M95 better than all those rival products? Yes and no, it's really a subjective and down to personal taste, I personally would have no issues going out and spending money on any of them as I'm confident all would perform exceptionally, but the real tipping point for me today is style, Corsair have made on the best looking mice ever made and as a bonus they've packed high-end performance and features that shouldn't leave any gamer feeling disappointed.