Corsair Hints at Super Fast Performance With its MP700 PCIe 5.0 NVMe SSD
---
---
---
Mike Sanders / 10 months ago
With the upcoming release of AMD Ryzen 7000 and its new AM5 socket platform, it shouldn't, of course, be forgotten that this will also see the introduction of the new PCIe 5.0 connection standard for storage devices. – With this in mind, therefore, it's hardly surprising that Corsair is getting prepped for what will undoubtedly represent a new and exciting evolution of data transfer speeds.
Just how good can we expect these to initially be though? Well, following an update to their official website, Corsair has given us an indication that, while PCIe 5.0 will be impressive, its debut might be a little tamer than many might have hoped!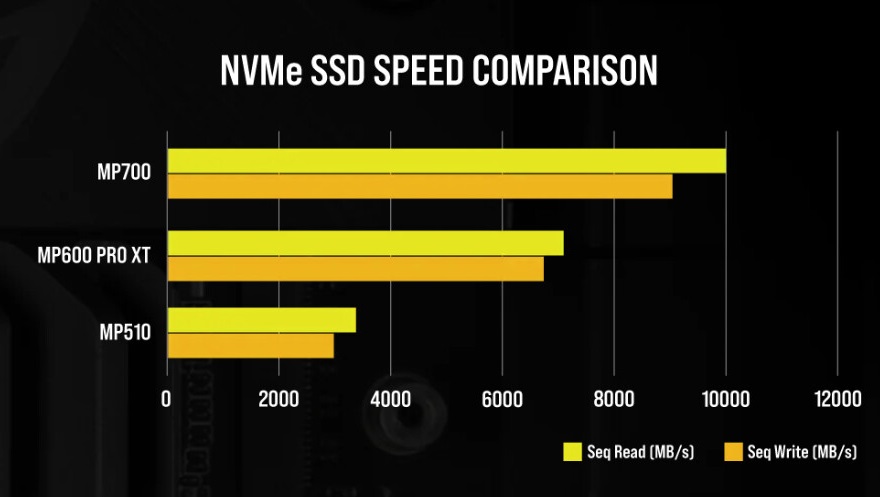 Corsair MP700 PCIe 5.0 NVMe SSD
Before we take a closer look at the key highlights of the performance chart above, we should note that Corsair hasn't revealed anything in terms of specifications or, you know, what the new upcoming MP700 will actually look like. – What they have confirmed, however, is that the new PCIe 5.0 connection standard will allow the SSD to achieve sequence read/write speeds of, roughly speaking, circa 9,500-10,000 MB/s.
Now, while this is clearly an incredibly fast speed, it should be noted that some will find it mildly disappointing that it's not exactly a monumental leap forward from what can currently be achieved on PCIe 4.0. – In this regard, however, I think people do have to consider that this is a very new technology.
Similar to the debut of DDR5 memory last year with Intel Alder Lake, initial speeds for new tech standards are, generally speaking, rarely that impressive. Lest we forget, sticking with RAM, that DDR4 has had 8-years to get where it is today! – Overall though, it does seem to suggest that massive performance margin gaps between PCIe 4.0 and PCIe 5.0 may not necessarily be anticipated until 'next-generation' (for want of a more accurate description) products arrive.
In other words, PCIe 5.0 is certainly looking good on its debut. But we definitely expect things to get massively more impressive over the next year or two!
What do you think though? – Let us know in the comments!Corsair decided it was time to start teasing its upcoming MP700 PCIe 5.0 NVMe SSD, although the company didn't bother providing any images of the drive itself, or any specifications in the teaser. However, Corsair did provide some sequential performance figures, which end up being impressive and disappointing at the same time. The MP700 is said to offer sequential read speeds of up to 10 GB/s or 10,000 MB/s if you prefer and sequential write speeds of 9.5 GB/s. These are obviously very fast speeds, but quite far from what the PCIe 5.0 can deliver and the performance figures are only a bit faster than the best PCIe 4.0 drives. It's likely that we'll see better performance from second generation controllers, just as we did with PCIe 4.0 SSDs, as this gives both the SSD controller makers and the SSD makers a chance to refresh their products a year or two down the line.