Cougar 450M Optical Gaming Mouse Review
---
---
---
Peter Donnell / 7 years ago
Introduction
---
Today we'll be taking a look at the latest gaming mouse from Cougar, the 450M. Equipped with a high-performance optical sensor, which is capable of up to 5000 DPI with a polling rate of 1000Hz, as well as an ambidextrous design, programmable buttons and more, it's certainly going to appeal to a lot of gamers, and we've got high expectations for its performance too, after awarding multiple Cougar gaming peripherals here at eTeknix over the last year.
Equipped with RGB lighting, eight fully programmable buttons, a powerful 32-bit ARM processors, side grips, as well as being backed up by the fantastic Cougar UIX software, the 450M is sounding pretty great for gaming. There's also on-board memory, so you can store your profiles directly on the mouse, making it tournament friendly.
The packaging is nicely designed, showing off the style of the mouse, as well as highlighting the UIX software and 16.8 million colours LED lighting.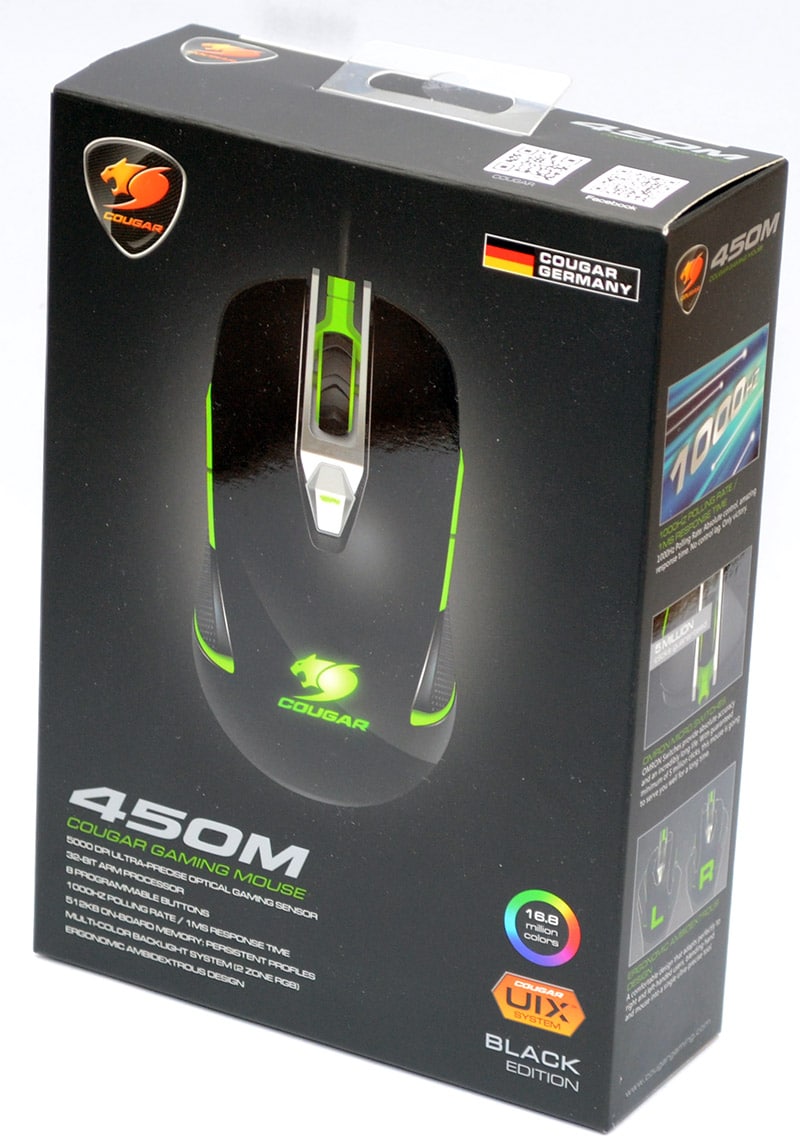 Around the back, quick run down of features like the Omron gaming switches, anti-slip flanks and programmable buttons.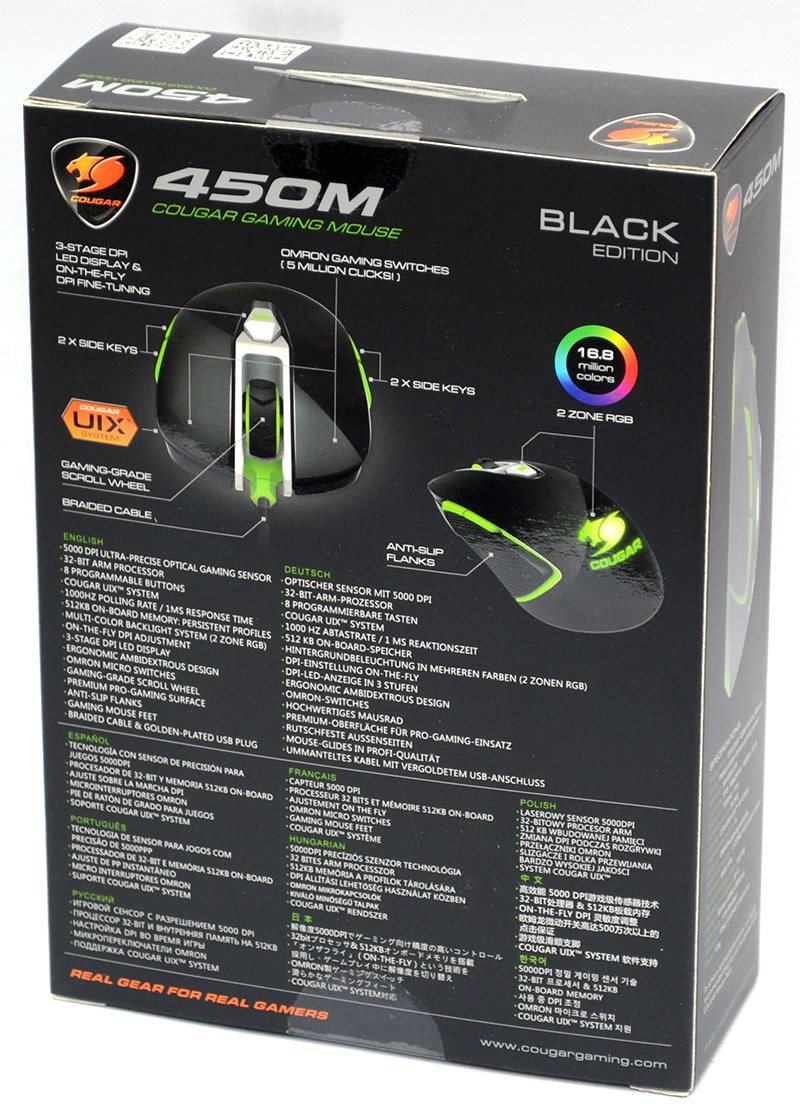 The 450M comes hard-wired with a really nice quality black braided cable, a custom shaped USB header and a gold-plated connector.

———————–
A Closer Look
---
The first thing you'll notice about this mouse is that it has some stunning bright green highlights, which I think look rather funky, but they could also clash with your RGB lighting colour choices. The top panel is a silky smooth gloss finish, which is highly reflective and looks rather nice, but there are two firm anti-slip grips, one on each side of the mouse, so don't worry about that slippy top panel.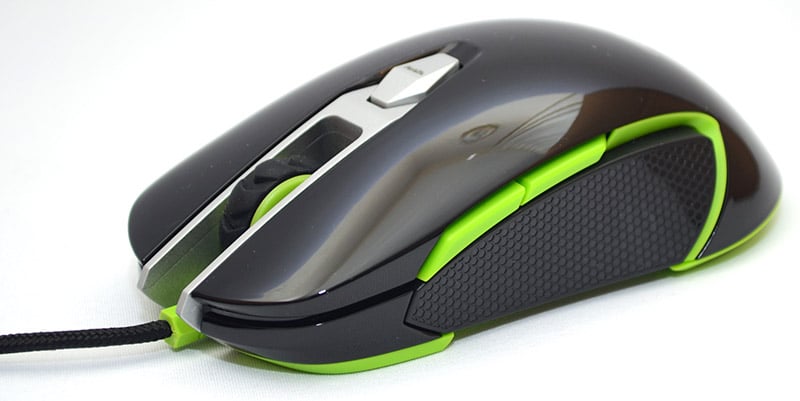 There's a pair of control switches on the left side, fairly standard stuff, but the Omron switches are certainly a nice choice and have a nice tactile feedback to them.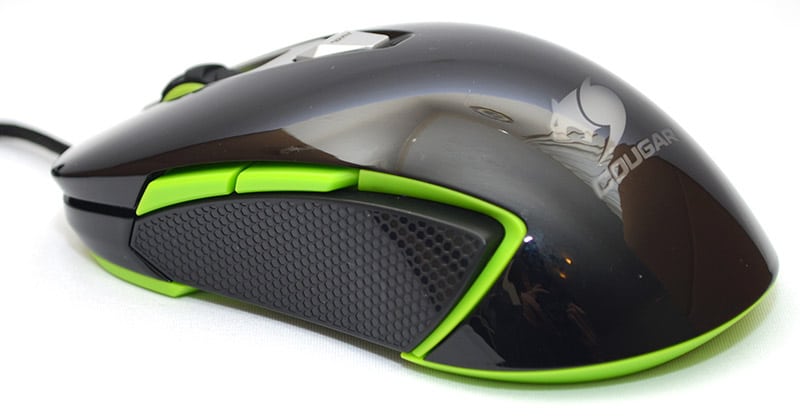 The is an ambidextrous mouse, so it comes as little surprise that the right side looks identical to the left.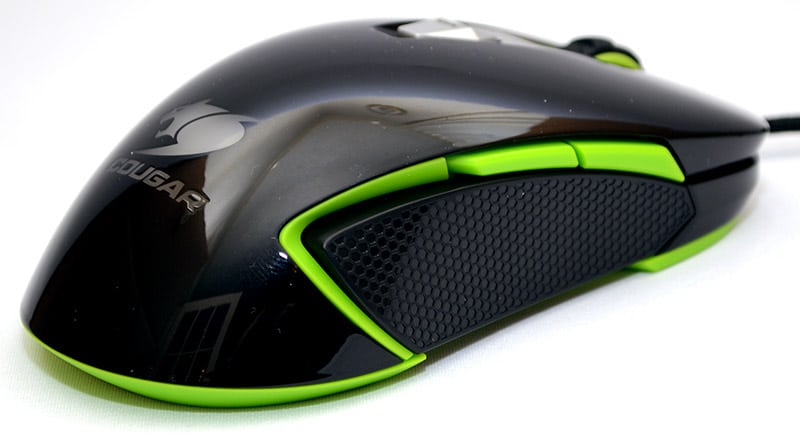 I love the ergonomic shape of this mouse, it is designed to work well with a wide range of grip types, but since the mouse is quite large, I find a hybrid of palm rest and claw grip works very well here.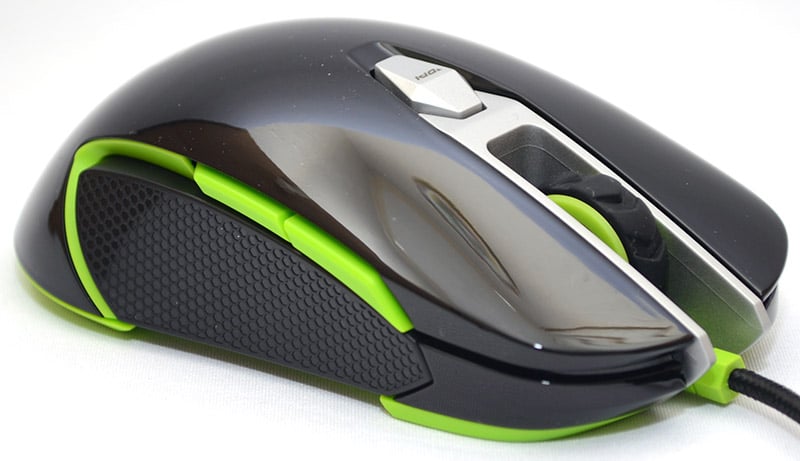 The central section of the mouse is cut away, giving lots of room for that lovely scroll wheel. It comes coated with a super thick and soft rubber grip, giving you excellent precision and control while working and gaming. Behind that, you'll also find another programmable switch, which is perfect for swapping through profiles and DPI settings.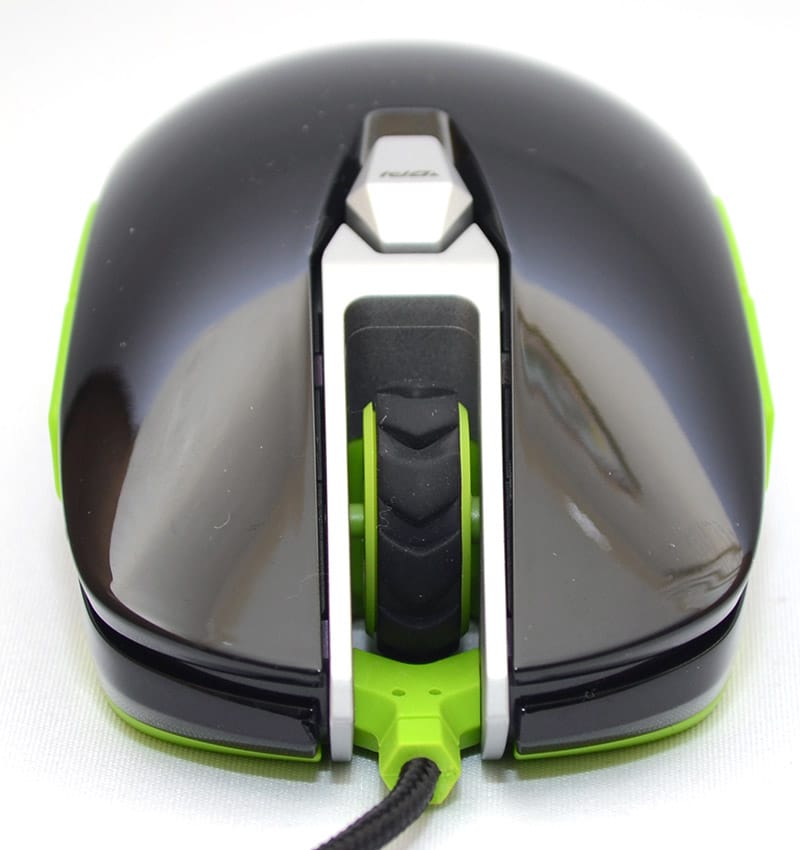 At the back of the mouse, there's a nice and large Cougar logo, which looks great as it is, but this is also the main focus for the 16.8 million colour lighting, so we'll see that in action in a moment.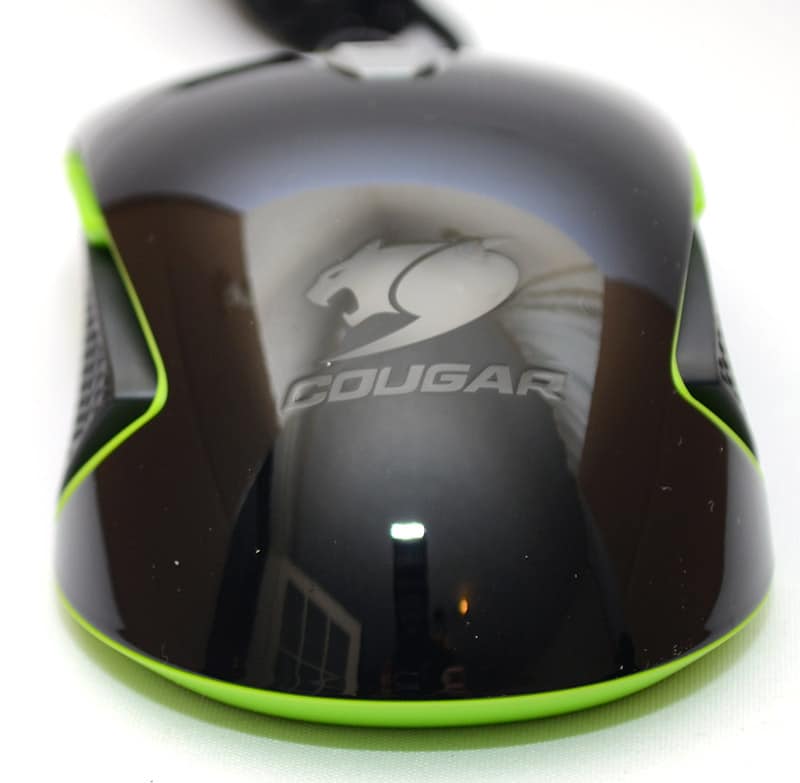 The base of the mouse keeps that funky green theme going, and there are three good size slipmats that give the 450M great glide.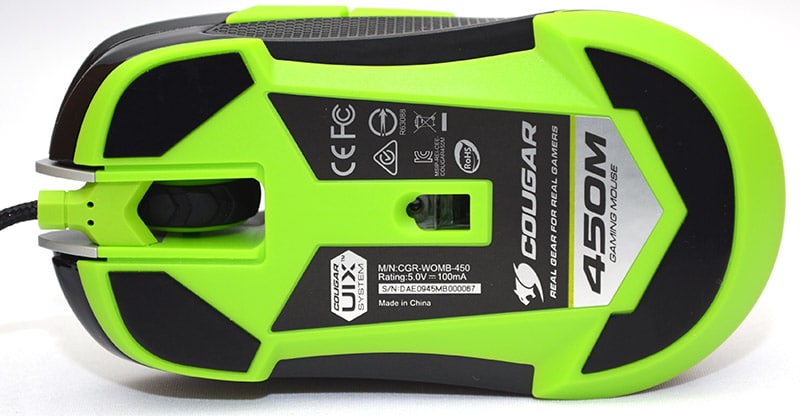 The Cougar UIX software is easily downloaded from the Cougar website and allows you to tweak many settings on the 450M. Here you can tailor up to three separate DPI levels, and store up to three profiles, giving you nine levels that can be stored directly to the mouse. What I really like that while the 5000 DPI maximum is great for fast navigation, you can drop it as low as 50 DPI, and even configure a sniper button; perfect for nailing those precision manoeuvres.
There's a total of three profiles, each can have their own DPI, lift height, scroll speed, lighting settings, etc. This is great for switching between game types or work tasks, as you're only a button tap away from having the settings you really need when you really need them.
All of the buttons on the 450M can be fully customised and remapped, which has obvious benefits for those switching between left or right-handed use, but also allows you to add gaming shortcuts and macros, a sniper button and more.
The powerful macro engine is particularly useful too, especially for those who do a lot of repetitive editing in Photoshop or those who play MMO games that often required timed commands or repeat and sometimes complex spell casts.
Finally, we have the RGB lighting. There are two zones that can be separately customised and a full RGB colour selector to ensure you get the exactly colour you're looking for.
Nothing says great gaming mouse like a silky smooth and pixel perfect sensor. The 450M delivers smooth and jitter free performance across the full DPI range, and after much testing, I can confirm that it's simply amazing for fast-paced gameplay on Counter Strike, although to be honest, a great sensor is good for anything you throw at it.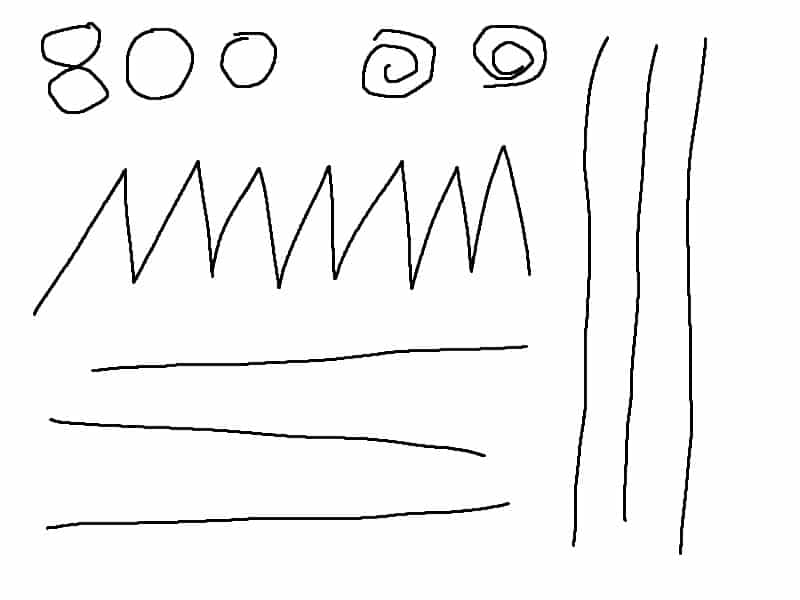 Having the sniper button is great too, as you can hold down a button to drop (or raise) your DPI to any other setting, allowing you to quickly get the control you need without having to toggle through the three main DPI settings.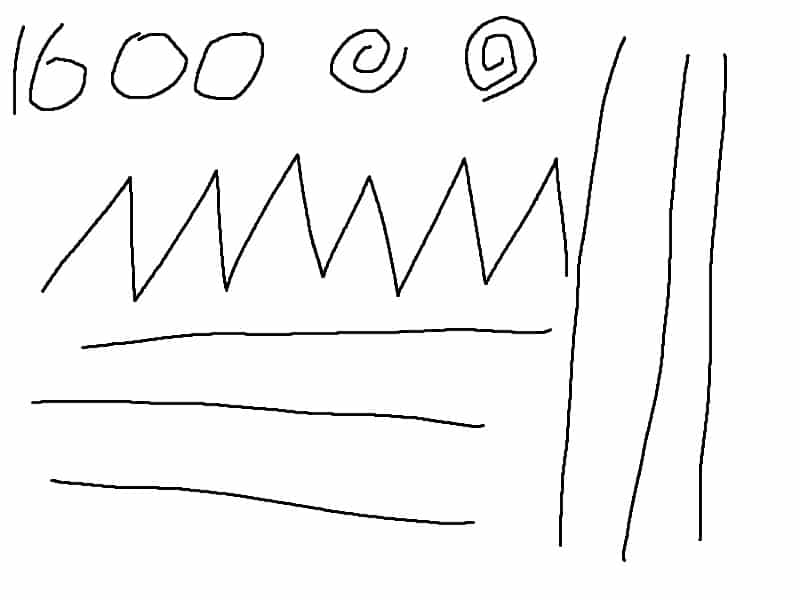 The buttons on the mouse are nice and light, with a good tactile click that gives them a nice accurate response; perfect for firing off rapid clicks on your favourite MOBA of choice.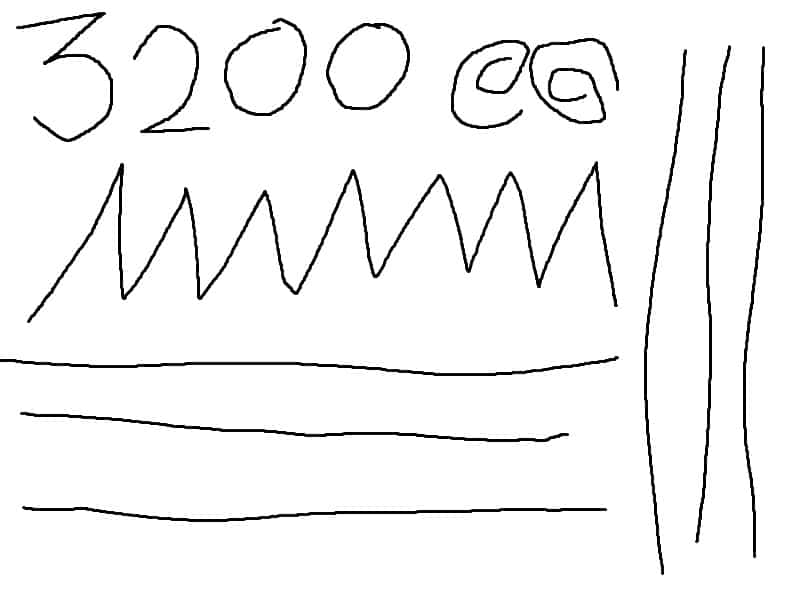 The RGB lighting may be limited to a small light and the cougar logo, but it still looks great. Set to green, it really does a great job of complementing the glossy blacks and the green plastic trim.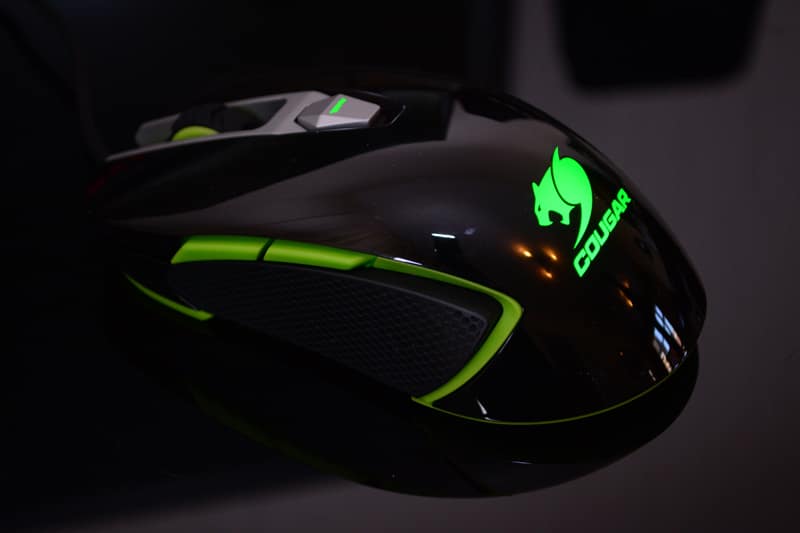 That being said, even other colours look vibrant and interesting.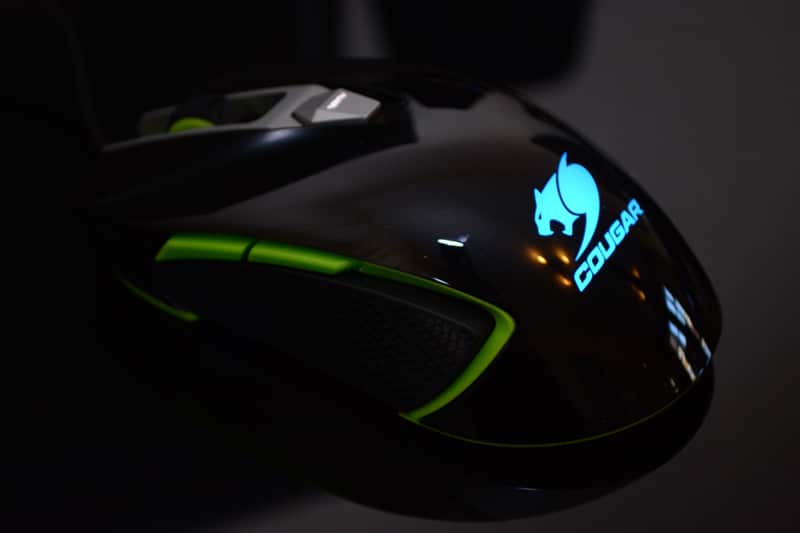 ———————–
Final Thoughts
---
Price
Having tested this mouse over the last few days, I was expecting it to cost close to £50-60, but I was very wrong in this assumption! At just £38.64, the Cougar 450M is an absolute bargain, and one of the best value gaming mice we've seen recently here at eTeknix.
Overview
The Cougar 450M is quite simply a fantastic gaming mouse, I literally could not find a single fault with it throughout all of my testing. The build quality is great, but the mouse is still light and nimble enough to allow it to glide effortlessly on your gaming surface of choice. The overall finish is certainly unique, with a glossy black top panel that is accented nicely by the neon green trim and tough textured side panels, giving you added grip, as well as helping to improve the overall aesthetics. The use of a high-quality and high-performance optical sensor is obviously a welcome bonus, as is the use of high-quality switches; for a mouse that costs under £40, you certainly get a lot of quality in return for your investment.
An ambidextrous design is great for those who play left and/or right handed, but it also means that there are two extra side buttons at your disposal. I personally found these to be very useful for adding macros and shortcuts to the 450M, something that pays off big time in control intensive titles such as MMOs and MOBAs. On board memory is nothing new in the mouse market, but having three profiles that you can store directly on the mouse means you're not always tethered to the desktop software to get the settings you need, something that will please those who want to use the 450M in gaming tournaments, where desktop software is often not permitted.
While the mouse does have a gaming pedigree, and a gamer friendly visual design, it's still every bit as good at day-to-day tasks. From browsing Facebook, to doing your taxes, the comfortable ergonomics and smooth sensor will keep putting a smile on your face. When it comes time to kick some butt in your favourite game, it'll keep up with the best.
Pros
Great build quality
Stylish design
Programmable buttons
RGB lighting
Glides effortlessly
Ambidextrous
Fiercely competitive price
Cons
"The Cougar 450M Optical Gaming Mouse has all the features a desktop user and gamer could ask for, as well as flawless performance and a fantastic design that exceed the humble retail price; one of our favourite mice this year!"
Thank you Cougar for providing us with this sample.