Cougar 600M Gaming Mouse Review
---
---
---
Peter Donnell / 9 years ago
Introduction
---

Cougar is relatively new to the gaming peripherals market. the company has had success with their chassis and power supply products, but as many of you know, there's a booming PC gaming market, and Cougar want in on the action. The 600M is certainly a product that stands out, most obviously because it comes in dayglow orange. Of course you can also buy the mouse in black, but it's the bright orange one that I have in the office today.
"COUGAR 600M has been designed with the clear objective of offering gamers a mouse that can both provide state-of-the-art technology, all the features necessary to enhance the gaming experience and an aesthetically pleasing design. Its premium components (OMRON switches, ADNS-9800 Sensor, premium quality soft touch surface) guarantee a flawless performance during gameplay, and its 32-bit ARM processor and 512KB on-board storage provide virtually instantaneous responses and the possibility, without depending on any computer or external device, of keeping up to 3 full configuration profiles stored on board." Cougar-World
The Cougar 600M comes equipped with a bundle of features that will certainly appeal to a gaming audience. We've got the popular ADNS-9800 laser gaming sensor, a 32-bit ARM Cortex-M0 CPU to deliver lag-free macros and shortcuts, as well as 9 programmable buttons.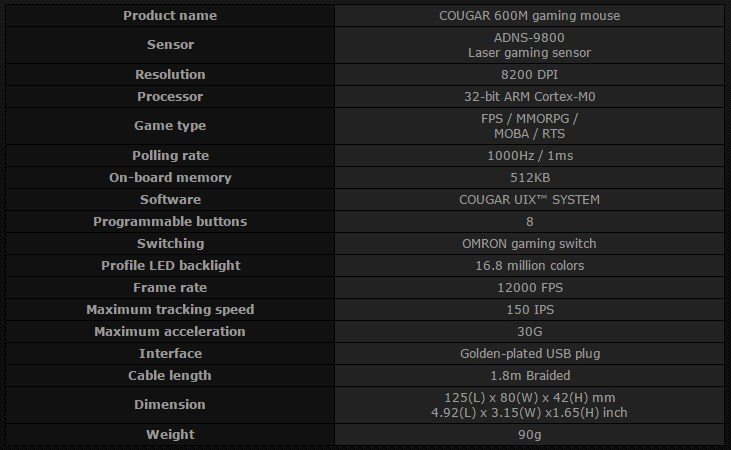 First of all, oh my god that orange is bright! Don't let your eyes fool you, it really is the colour of an orange highlighter pen. Love it or hate it, this stunning hue comes from the grippy soft-touch rubber coating of the mouse. The rubber finish gives the mouse exceptional grip, and it also looks and feels great.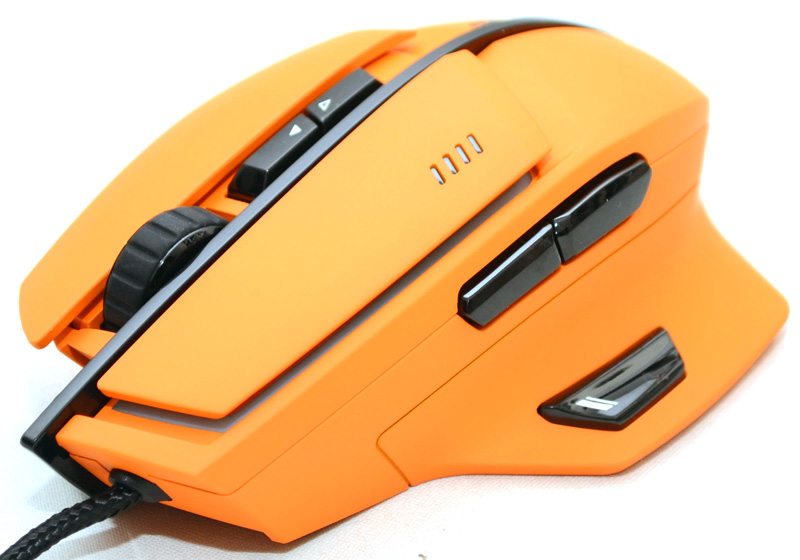 There are three switches on the left side, as well as a huge wing that doubles as a thumb rest.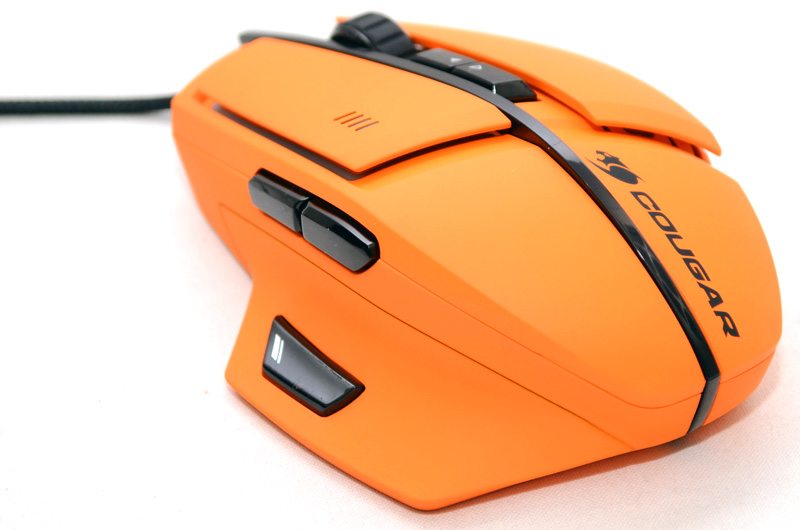 One of the more prominent features of the 600M is the black fin that runs down the middle of the mouse. It looks like it's going to get in the way of your hands or fingers, but it's nicely recessed into the body of the mouse; it's purely aesthetic.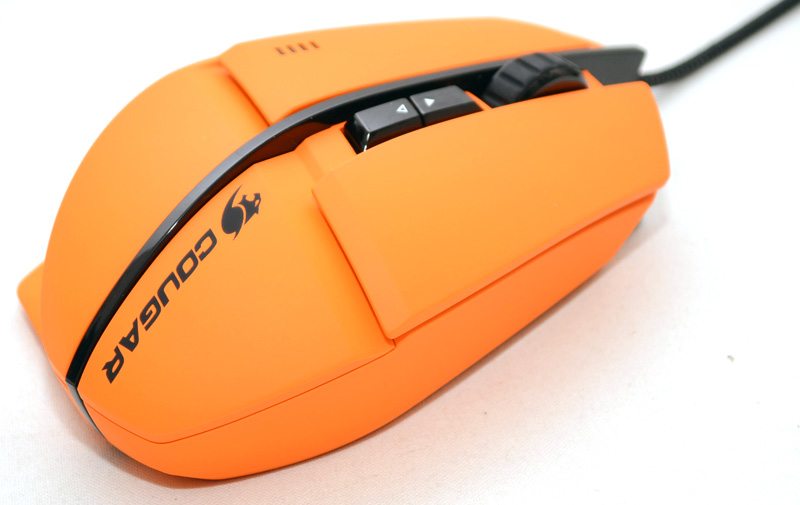 The black fin splits the mouse in two, with the rubberized scroll wheel and two of the programmable switches located on the right side of the mouse; slightly off-center.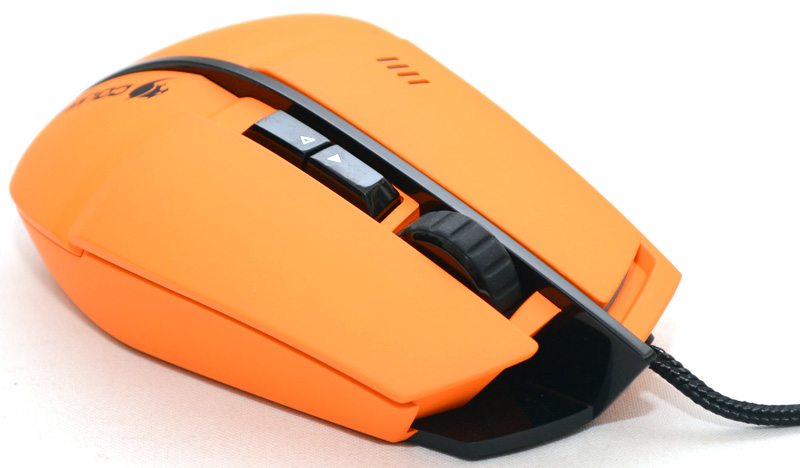 The off-center design does look a little strange, but the overall shape and angle of the mouse body means it feels perfectly natural.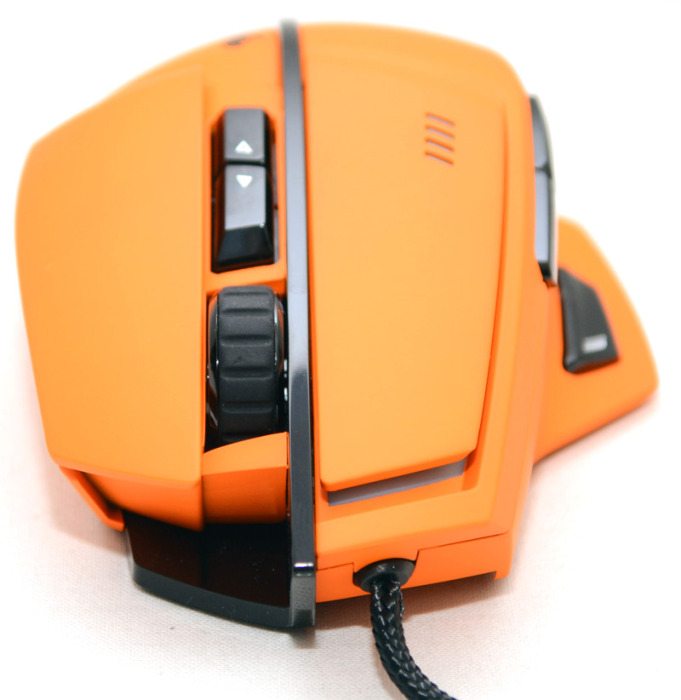 There are four slipmats on the base of the mouse that should provide a good amount of glide on a multitude of surfaces.