Cougar Spike Mini Gaming Tower Chassis Review
---
---
---
Peter Donnell / 8 years ago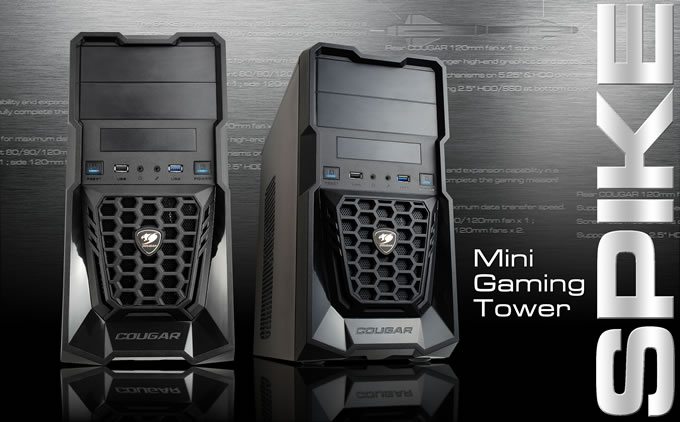 It's been far too long since we saw a Cougar chassis in the eTeknix office, but I'm happy to say that they have graced us with their presence once again, for those of you who missed the older Cougar reviews you can read up on the robust Cougar Evolution and the very funky, if somewhat loudly styled Cougar Challenger.
Cougar has been on the market since 2007 and in terms of chassis and components manufacturers that makes them pretty new to the game, but that's still long enough to have given them plenty of experience with the modern demands and needs of the PC market and they've already proven them selves capable of build a rock solid product, with a unique visual twist in the past, lets hope they can offer us a repeat performance today and that they haven't lost any of the unique visual flair that sets the Cougar brand apart from many others.
"COUGAR is particularly targeting enthusiast gamers who not only demand state-of-the-art PC chassis and highly efficient power supplies, but also want to express their dynamic gaming lifestyle with reliable quality products." – www.cougar-world.com
The chassis I'm looking at today is the Spike, a mini gaming tower design that is set to offer a solution for a mid to high performance gaming rig with a space saving compact chassis design, a tough part of the market to crack in deed given that everyone from Silverstone to Bitfenix has a compact solution, although not all within the same motherboard as the Spike, either way this should be an interesting review, so lets get started and see just what the Spike has to offer.
The Spike comes in a pretty standard box, featuring a nice high contrast image of the chassis.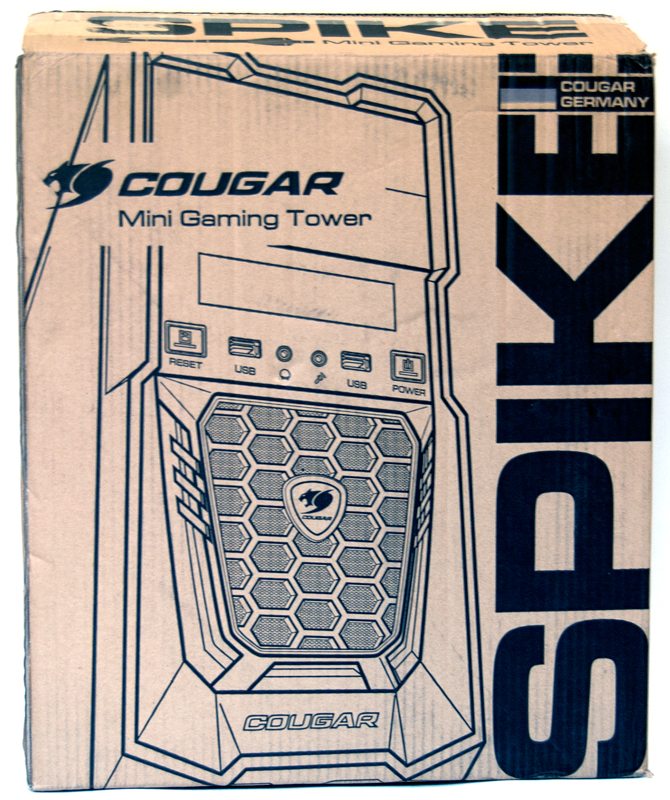 Around the back we have a nice breakdown of the major features, such as the compact space saving design with takes up just 180 x 370mm floor space (not accounting for air flow space for the fans). Here we can also see some of the major component compatibility that the Spike offers.
Interior black painting.
Advanced USB3.0 port for maximum data transfer speed.
Support for 4 fans: front 80/90/120mm fan x 1; rear 80/120mm fan x 1 ; side 120mm fans x 2.
Rear COUGAR 120mm fan x 1 is pre-installed.
Support for longer high-end graphics card up to 330mm.
Screw-less mechanisms on 5.25" & HDD devices.
Support installing 2.5" HDD/SSD at bottom cover.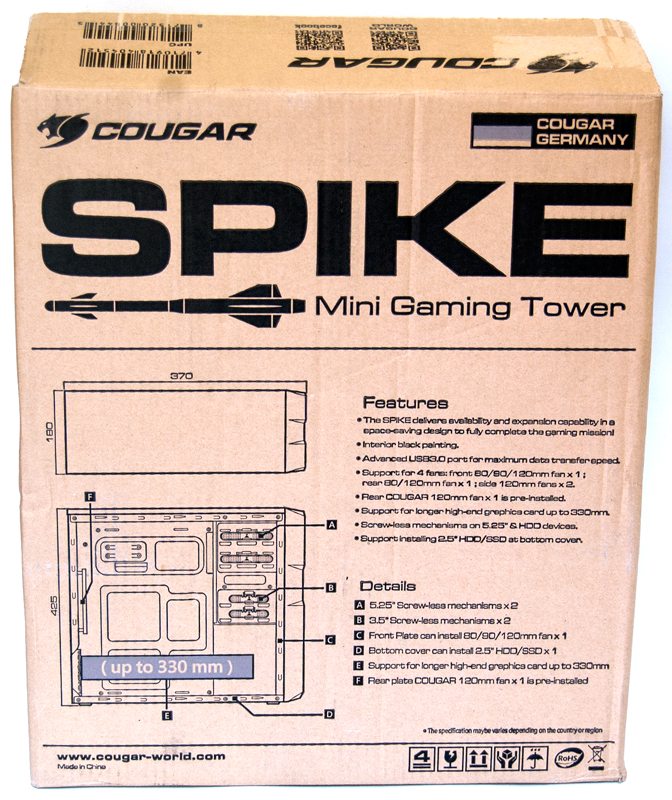 In the box I found a simple black and white user guide, with easy to follow instructions on how to install all major components, as well as a nice assortment of washers, screws and standoffs required to install your system.