Creative SoundBlasterX G5 7.1 Headphone Amplifier Review
---
---
---
Peter Donnell / 6 years ago
Introduction
---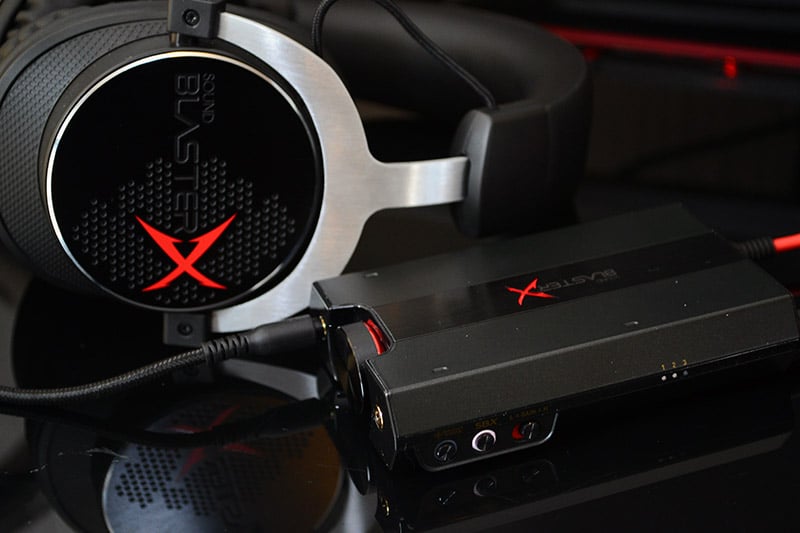 Creative has a long-running history in the PC audio world, having created some of the most popular audio hardware of several generations, such as headsets, amplifiers, sound cards, speakers and more. Today, we have their new G5 desktop amplifier at our disposal and we're really eager to see and hear what it has to offer, especially since it's not been too long since we reviewed their flagship X7 desktop amp and were nothing short of blown away by its level of features, performance, and design, even if it was a bit of a wallet buster. However, their new G5 is much more compact, much more affordable and still promises a truckload of features to add some new excitement to your audio.
7.1 HD Audio Portable Sound Card with Headphone Amplifier
"The pocket-sized SoundBlasterX G5 delivers massively superior gaming audio performance in a compellingly tiny form-factor. This virtual 7.1 24-bit/192kHz, 120dB USB Digital Audio Converter (DAC) and headphone amplifier delivers for the ultimate headphone gaming audio experience – whether it is for your PC or for your gaming console." – Creative
It may be compact, but the G5 comes very well equipped with the latest SBAxx1 processor, offering up a SNR of 120dB (DAC), while being capable of operating via USB and Optical, with Scout Mode processing built-in, and a huge range of other features that you can tweak via the downloadable software. It's not as well equipped or as powerful at the X7, but at less than half the price, that only seems fair.
The packaging is compact and packed with features on the front, such as the 24-bit 192kHz audio support, 600 Ohm amp, SBAXX1 processor and more. One really important feature here though is the multiple formats supported!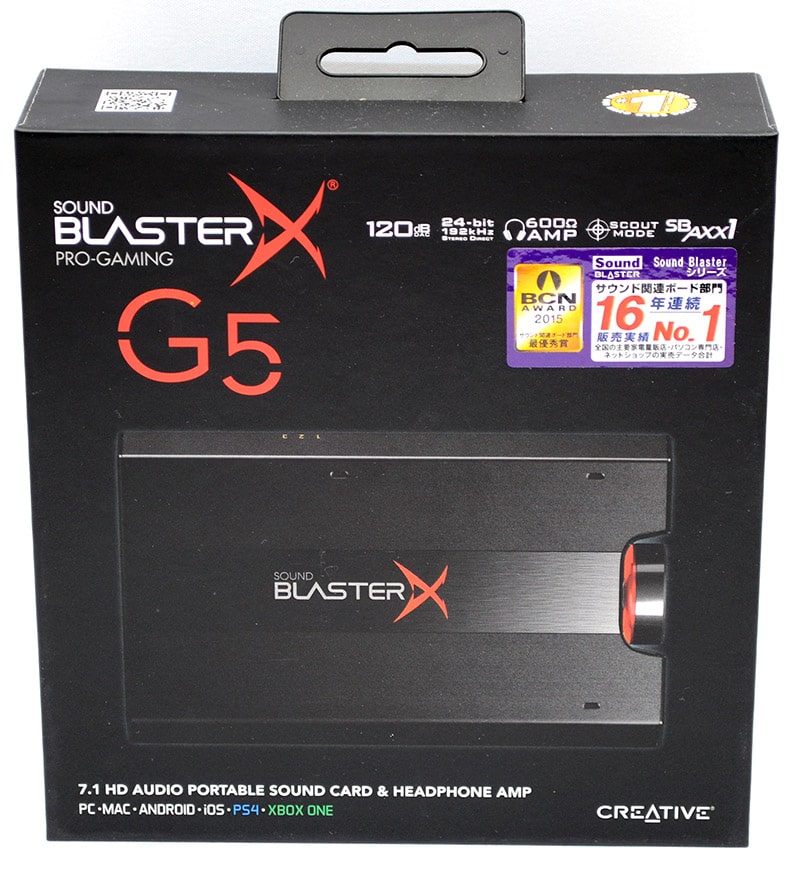 More technical details around the back, as well as multi-language breakdown.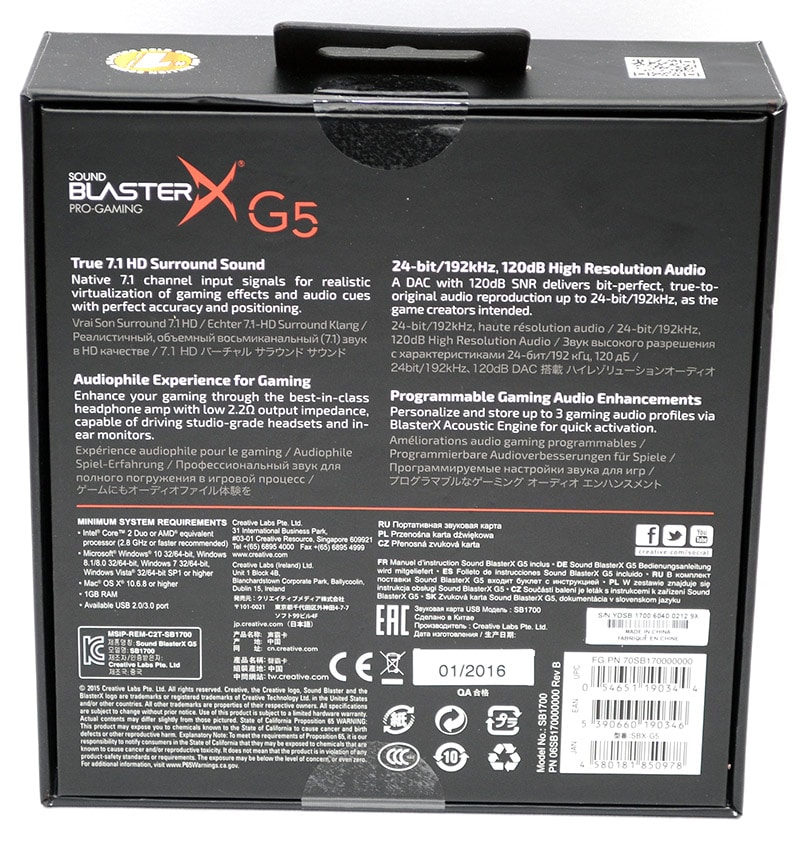 The box opens up to reveal the G5 sitting snug in a well-padded compartment, ensuring it is kept nice and safe in transit.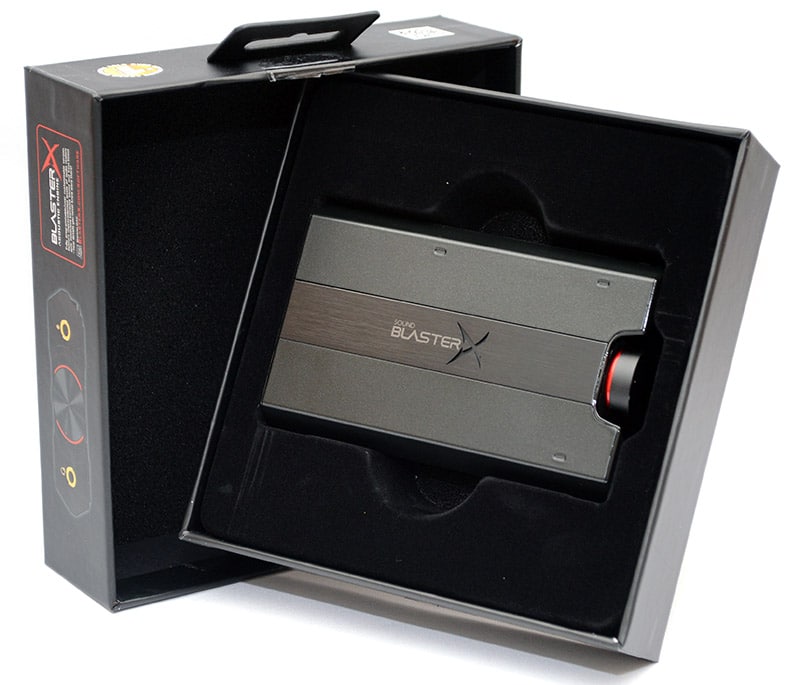 Also included in the box, a good length TosLink optical cable, rubber coated USB cable, and all the usual documentation and setup guides.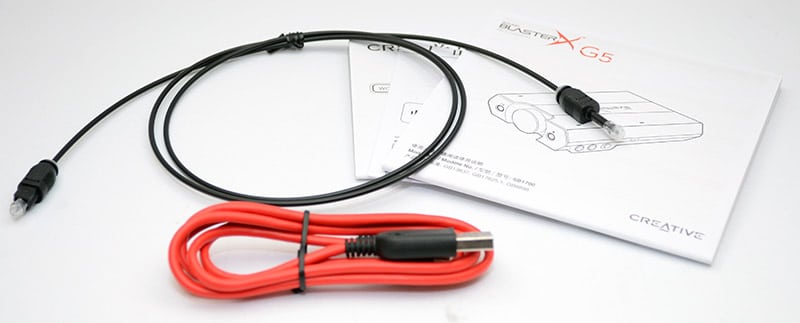 ———————–
A Closer Look
---
The amp is nice and compact, meaning it'll be easily moved around if you travel a lot while also taking up a minimal amount of desktop space. The metal housing is well finished with a mixture of brushed metal and matte finishes that gives it a premium look and feel. It's also quite heavy, so while that's not so great for carrying it around, it does feel more durable and is less likely to slide around your desk.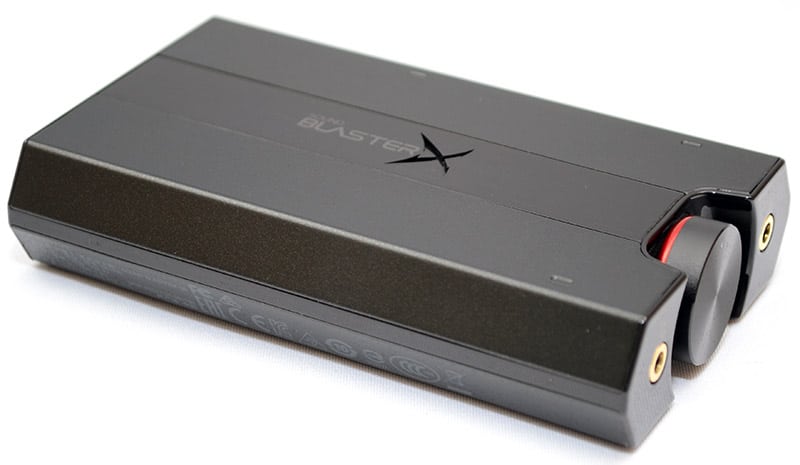 Up front, you'll find a microphone and headphone jack, both gold-plated and easily accessed. The left jack supports 4-pole combi-jacks for headset/microphone, and 3-pole for headsets/headphones so you can use the dedicated microphone jack or both, it's up to you. There's also a large control wheel for the master volume. It's got a smooth action on it, with a little bit of tension to help make steady volume changes, has infinite left/right rotation and when pushed inwards, it has a nice tactile switch to control the master mute/unmute function.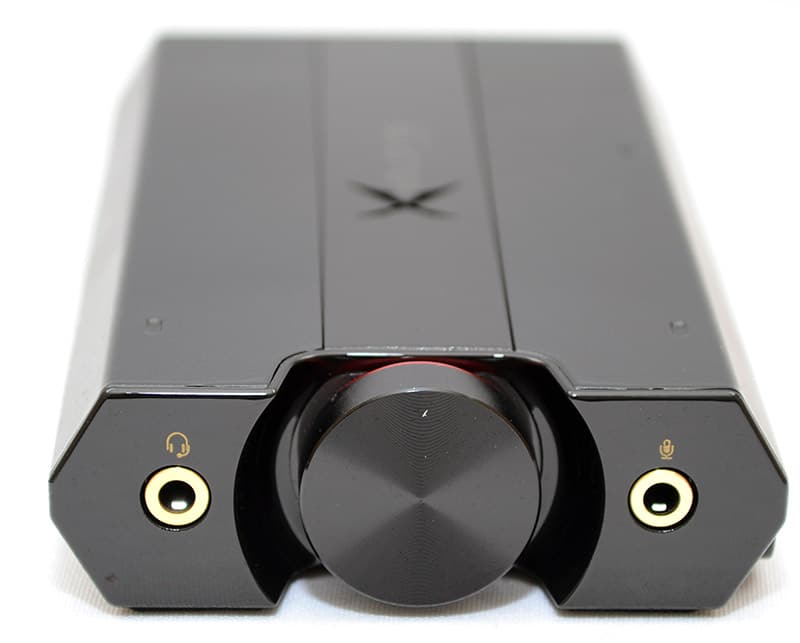 Down the right side, three controls buttons and three LEDs. Here you can toggle scout mode, pick your SBX profile (indicated by the LEDs) and change between low and high gain output.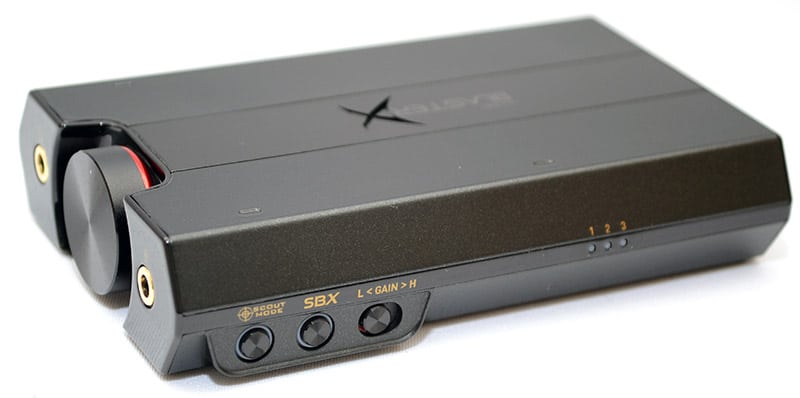 Around the back, you'll find an optical line in and out, which is great if you want to pass the audio through to a secondary amp or source, such as your surround sound, a USB device port and USB PC line in.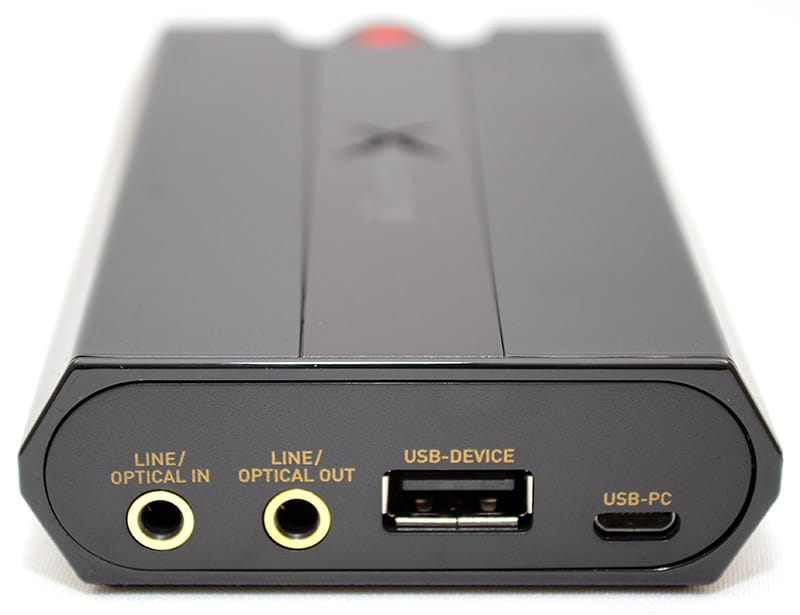 The base is hard-wearing rubber that will help prevent it from sliding around your desk, but it's also a great solution to prevent the metal housing from scratching surfaces also.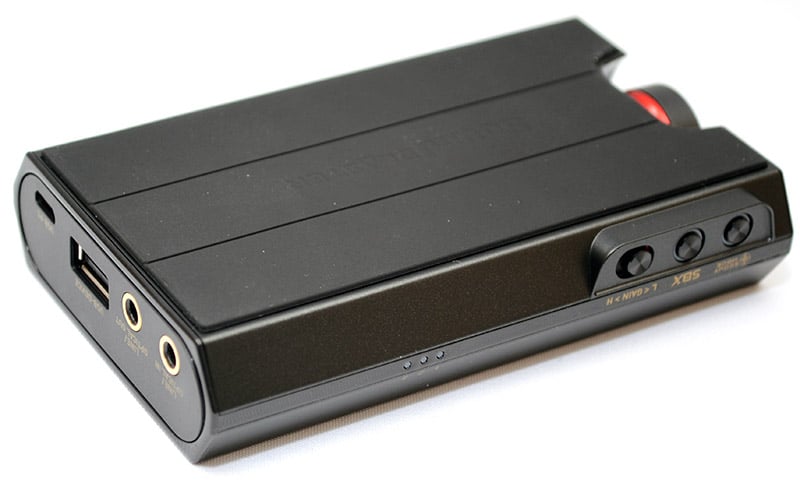 Hooking up the system is easily done, just plug-in the USB for power, although this can be an audio input too if needed, as well as the optional (albeit highly recommended) optical cable.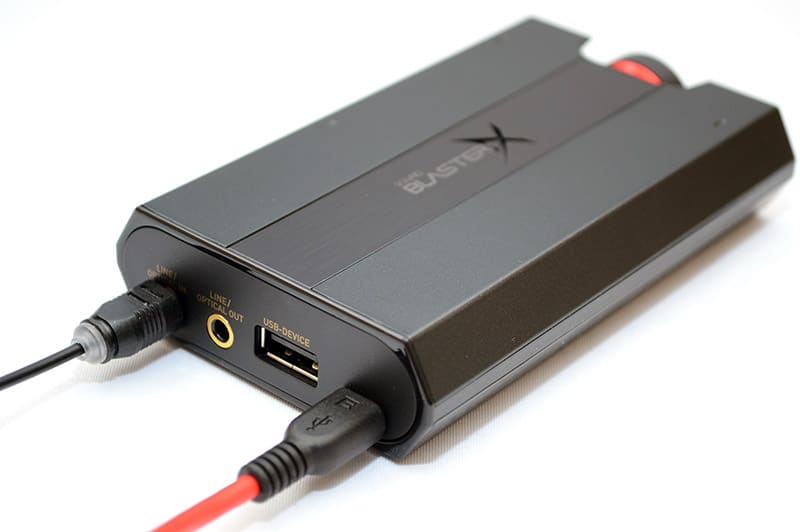 ———————–
Performance
---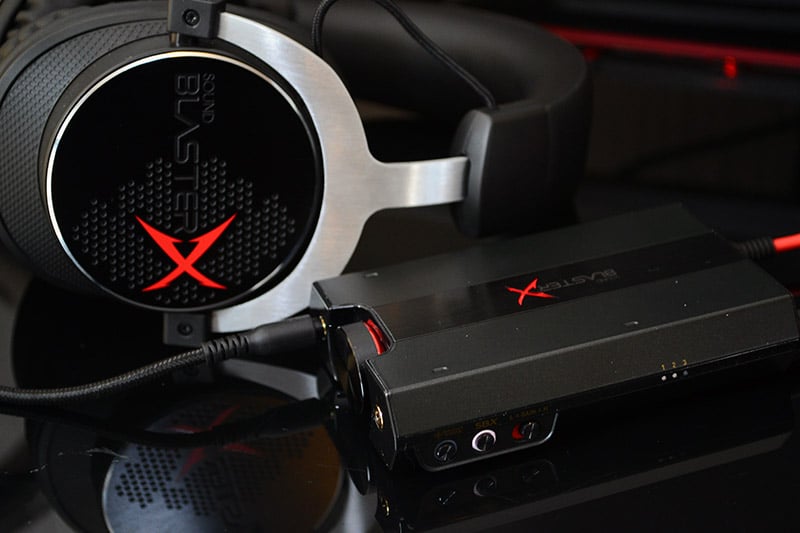 We'll be putting the latest SoundBlaster H5 headset through its paces with the G5 today, as they seem like a perfect pairing. However, further testing has also been done using the Astro A40 and in-ear Roccat Syva headphones. As I said before, setting up the G5 is nice and easy, just hook in the required cables and Windows will automatically detect it as an audio device, or hook it up to your mobile/games console and it'll be self-sufficient and plug-and-play ready. To get the most out of it, you'll want to download the latest SoundBlaster Acoustic Engine software from Creative.
The software is nicely designed and gives you quick and easy access to all the settings you'll require. Here you can configure, as well as demo multiple surround, and processing features in real-time.
Demo footage is available, giving you a lot of sound effects to listen to while adjusting settings. This is really cool too as I spent a lot of time playing on this screen. Dial in all your settings and hear the changes as they happen and WOW are they noticeable. The processing engine is extremely powerful and most importantly the surround processing is something that really has to be heard to be believed. If you use software surround processing on your desktop, forget it, this is in another league altogether. I found this worked well on any headset I tested, although closed back headsets (such as the H5) gave a more favourable surround effect, at least to my ears.
Once you've dialed in what you like, save the profile to one of the three on-board profiles and they'll be stored and available for any device you connect to the G5.
A full custom EQ. I had a lot of fun playing with this too. The flat EQ is still my favourite, as the sound quality is simply amazing, bringing out a huge amount of detail and dynamic range to any audio type; gaming, movies or music. However, you can really push those EQ settings quite hard, assuming your headset can handle it (the H5 certainly could), and give your audio all the punch it needs.
The default profiles are pretty robust, but as always, I recommend setting your own custom ones to suit your taste and the capabilities of your headset/headphones.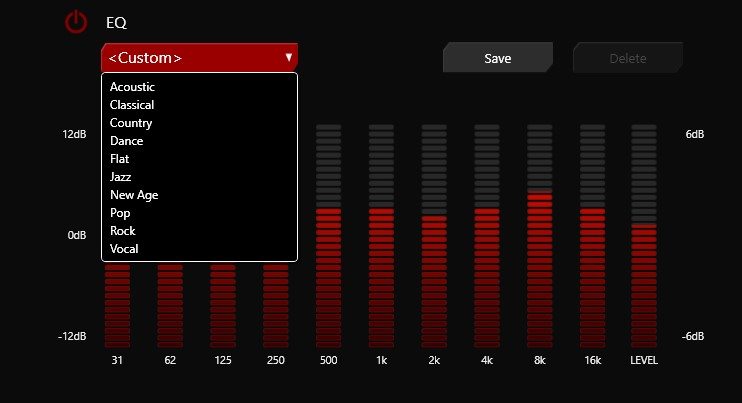 Scout Mode is a weird one, it completely ruins the acoustic properties for those who like realism. However, if you're playing Battlefield (for example) and you want to pick out your enemies footsteps from a greater range, the focused and boosted audio will certainly help you do that. What's even cooler is that you can set this to a hot key on your keyboard or mouse, and flick it on and off as you need it; it comes in handy if you like to camp in a corner with a sniper rifle.
Another welcome addition is Voice FX. Now I'll be honest, I hate it when people use this function, but a lot of people do like it and if you really want to sound like a space alien or manga star, you can with a few tweaks of the sliders. This works on consoles too, just save the profile to the device from your PC, take it to your PlayStation 4, setup and you're good to annoy your friends.
Diving even further into the settings, you can configure between stereo and virtual 7.1 mix. I personally recommend the stereo mode for music, but games and movies work very well in surround, just be sure you have enough channels in the source mix, as upmixing stereo nets mixed results.
While the stock performance is certainly impressive, you can tweak virtually every aspect of the audio to suit your needs. This includes the playback volumes, external microphones (which connect direct to the G5), recording volumes and more; this is great for those who use streaming services.
———————–
Final Thoughts
---
Price
The Creative SoundBlaster G5 is available from Overclockers UK for £124.99 and while that may seem like a lot of money to some, we think it is incredible value for money given the range of features, build quality and, of course, the performance. It's also a lot cheaper than the X7 amp from Creative, which is certainly worth the money, but at less than half the price, the G5 is a bit of a bargain.
Overview
If you take your audio just a little more seriously than most, then the G5 is certainly something worthy of your attention. Desktop software solutions or even those offered by some sound cards or on-board audio rarely come close to offering this level of acoustic performance. If you've gone out and spent good money on a great quality gaming headset, or headphones, then you're likely not getting the full range of their capabilities while watching movies, gaming or listening to your favourite albums.
The specifications on this unit are enough to excite any audiophile and that's pretty impressive given the competitive price. Equipped with the XB-Axx1 multi-core chipset for hardware accelerated audio, 24-bit/192kHz, 120dB Cirrus Logic CS4398 DAC equipped with a Texas Instruments TPA6120A2 headphone amp with a low impedance of just 2.2Ohm and capable of running up to 600Ohm for those who have seriously expensive headsets. As if that wasn't enough, the support for a wide range of headset/headphone/microphone configurations, multi-format support, fully configurable on-board profiles, scout mode, best-in-class surround processing, optical passthrough and the list just goes on and on.
It's really easy to set this unit up on any device you need, the software is a breeze to work with, the performance is exceptional, and build quality is rock solid and in our opinion, the price is pretty fair too. If you can afford it, we still love the X7 even more, but for those who can't stretch their budget that far, the G5 is a great bit of kit.
Pros
Durable build quality
Huge range of built-in features
High-quality components
Audio pass-through
Combi and separate microphone support
Configurable on-board profiles
Multi-format support
Competitive price
Exceptional sound processing
Compact size
Cons
Pushing the volume wheel to mute causes the device to slide back, perhaps placing it on top would have been better, but far from a deal breaker.
"Powerful, feature-packed and reliable sound processing from one of the most iconic audio brands in the industry. Through testing the G5, it's clear that Creative hasn't lost the competitive edge one bit, and for those looking for a versatile audio solution that gives a big sound, despite its compact size, the H5 is certainly the way to go.
Thank you Creative for providing us with this sample.