Creative SXFI AIR Gaming Review
---
---
---
Peter Donnell / 1 year ago
A Closer Look & Performance
First impressions are really good with this headset, and they should be given that it comes in as one of the more expensive gaming headsets on the market. It looks and feels like a quality product from the moment you take it out of the box, not that I was expecting anything less.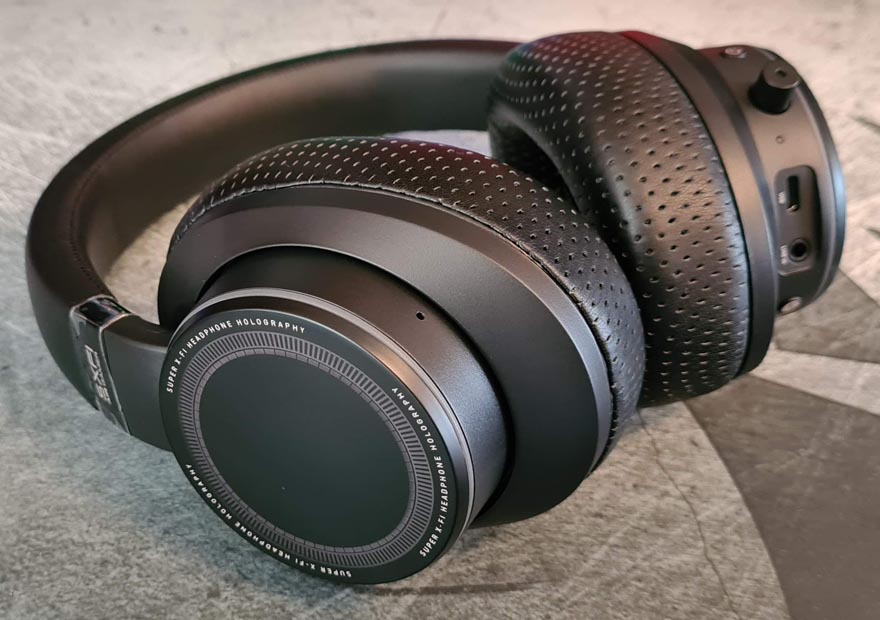 The keen-eyed among you will notice it looks broadly the same as the SXFI Gamer I reviewed almost a year ago. I mean, of course it does. It's the same series of headset with some new connectivity options thrown in. You still get the big Stargate like graphics on the back, which is fully RGB lit for some added customisation. Thankfully this can be completely turned off both on/off in the software and by simply holding the power button for a couple of seconds; turning it on decreases battery life. I love the materials Creative has used too. I don't know how they get their plastics looking and feeling so great, but I'm not complaining, it looks stunning. Plus, there's a nice shiny bit of black trim just above the ear cup.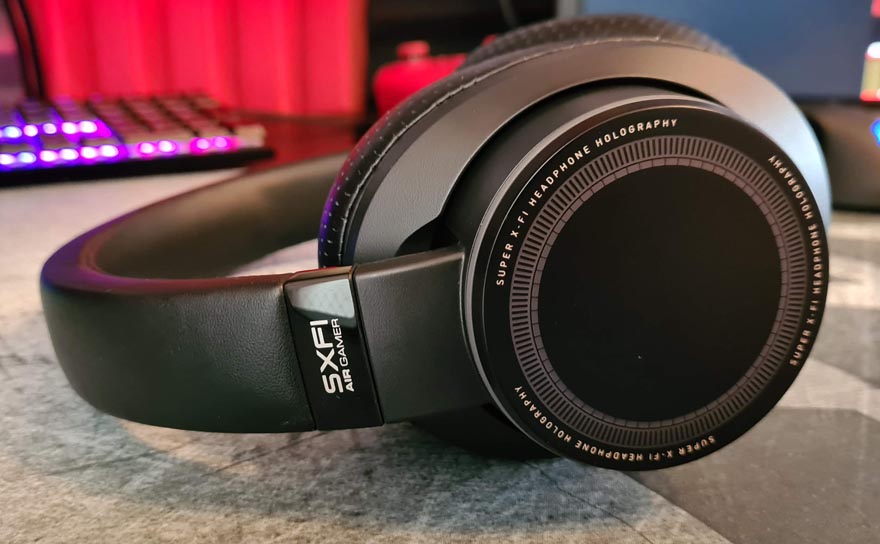 Pull on the ear cup, and you'll see it has a nice metal extender. I often remark in headset reviews that most headsets don't fit my, seriously, most don't. My head is just too big… However, Creative's headsets only need to be adjusted to level 7 to fit me, and this slider goes to 11… Beldar Conehead, this is your next headset. However, on minimum, it fits my 7 year old daughter great too, so well done Creative.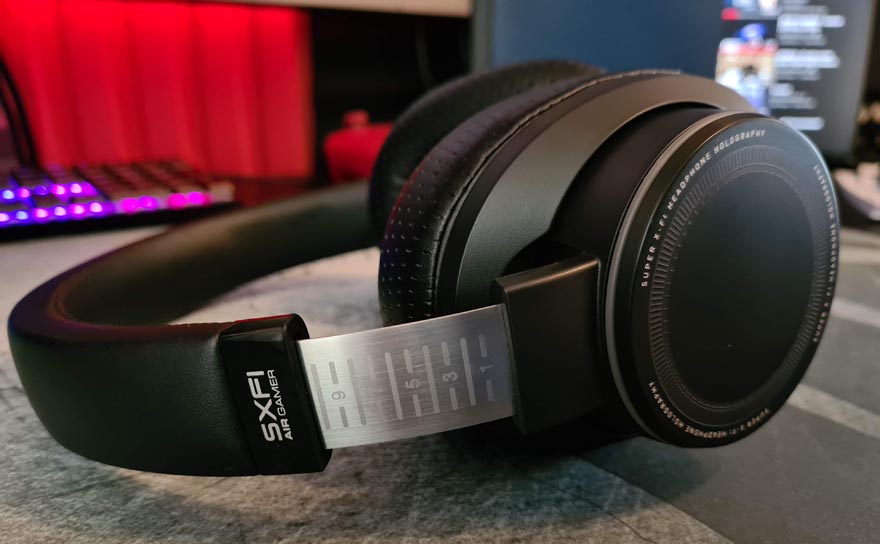 There are some notable changes here though, such as the padding on the ear cups. It's clearly VERY different from what Creative has used before. It's still PU leather, but the padding is deeper and perforated. The end result is a headset that isn't as noise-isolating as the Theater or the Gamer that came before it. However, if you plan to chat a lot while gaming, this makes sense, as you can hear your own voice a little more, and your surroundings. However, it works both ways, and if the headphones are loud, others around you will hear them more easily. Fun fact, though, they use the same mounting system as the Theater and previous Gamer headset, so you could swap them out for the older style if you have them.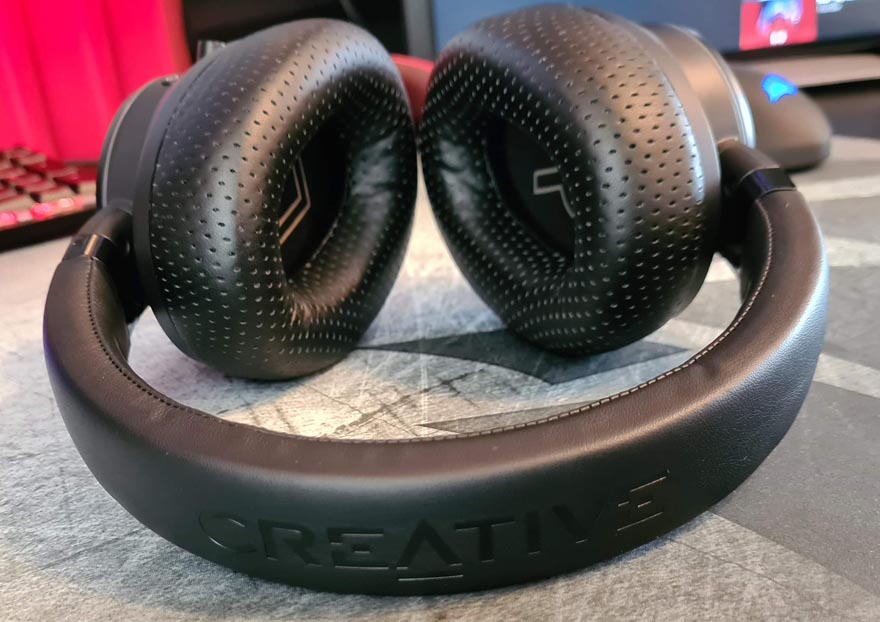 Down the side of the headset, you've got the master power button. Hold this down, and it'll turn the RGB on and off, hold it a little longer, and it'll turn the headset on and off. This weird little nub below it is actually a microphone! More on that in a moment.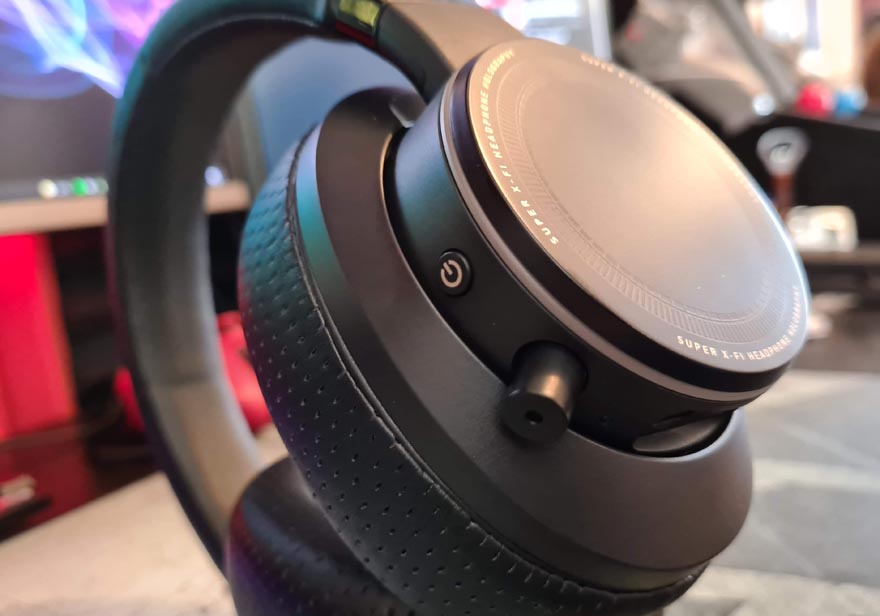 A built-in MicroSD card slot for music playback. Possibly a great way to sneak in music at work if you're not allowed to use your personal phone at your desk.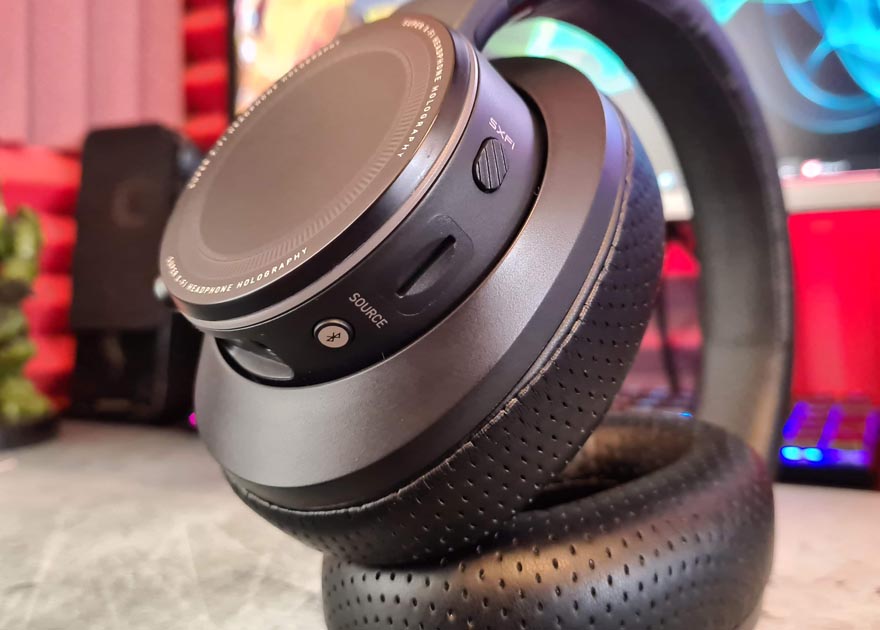 A source button below that, which is also the Bluetooth pairing button. Then you have your lin-in and USB-C in. These are both the main audio inputs, but the USB-C is also used to charge the headset. Of course, you can charge and play at the same time too, if you so desire.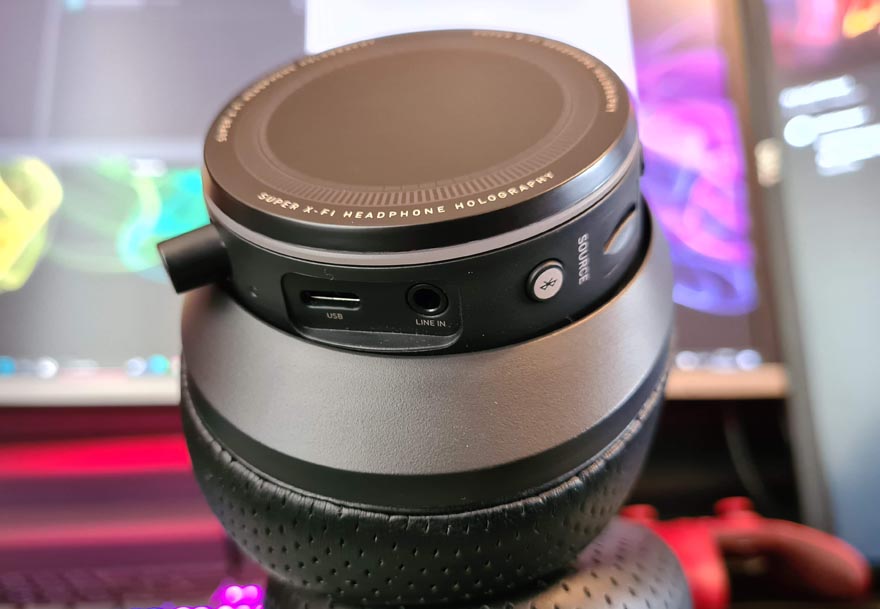 That little microphone is literally a little microphone. It has the usual jack on the back and can simply be pulled out. In addition, there's a rubber bung in the box, should you wish to remove the microphone feature completely.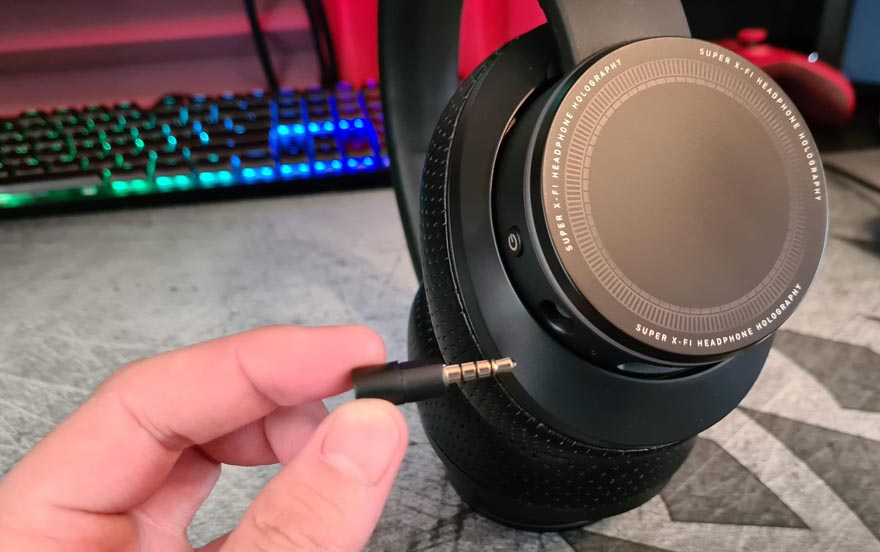 However, while the small one is fine for casual use, the big microphone is much more serious. I larger and more flexible boom, and their latest microphone technology.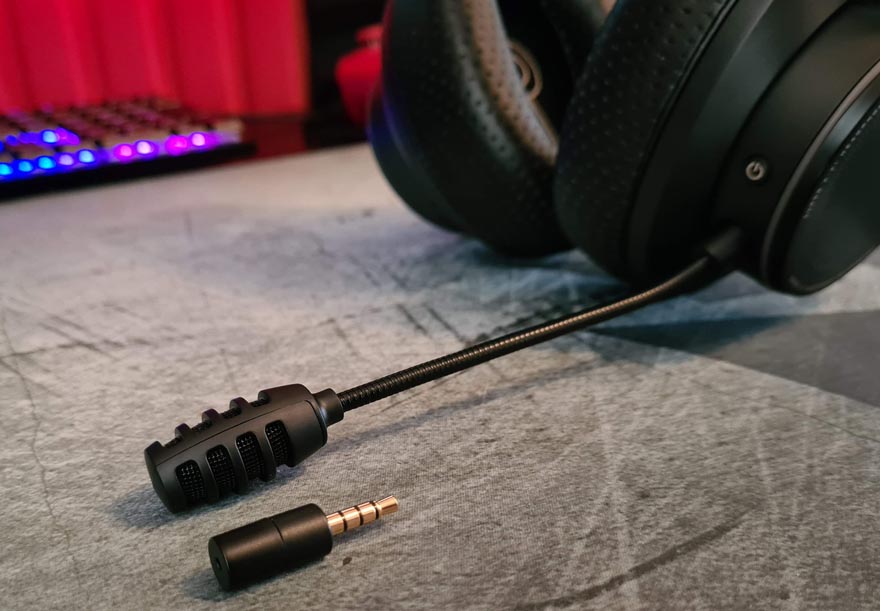 When I tell you this is the best sounding microphone I've heard in years, I really mean in. Combined with SXFI, it feels like having a face to face conversation, and it's really damn impressive actually; it has to be heard to be believed.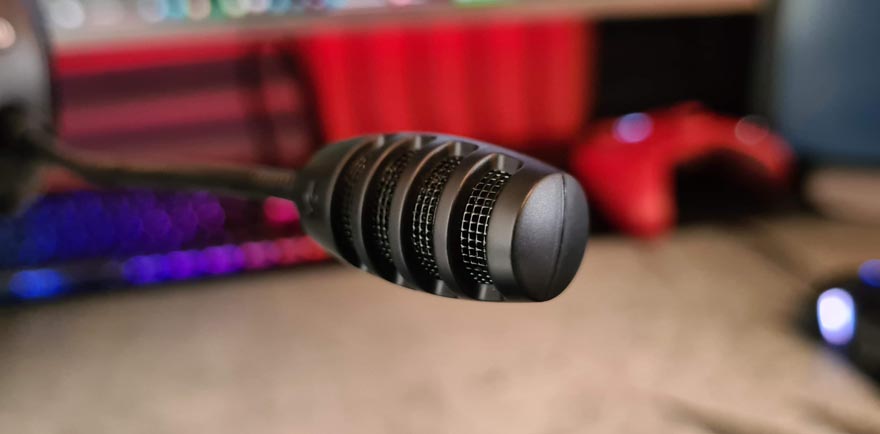 Let's get right to it, I'm a huge fan of SXFI. I've been using the Outlier in-ears and the Theater over ears for a couple of years now. I listen to music throughout the day, I play Elder Scrolls Online a lot, and I watch a movie every single night, sometimes two (seriously), and all on SXFI Theater. The audio holography technology works and gives me realistic surround sound. Or more accurately, realistic sounding speaker placement, as it works with mono, stereo, 5.1 and 7.1 sources. Thankfully, Creative has tinkered with bugger all when it comes to the drivers on this headset.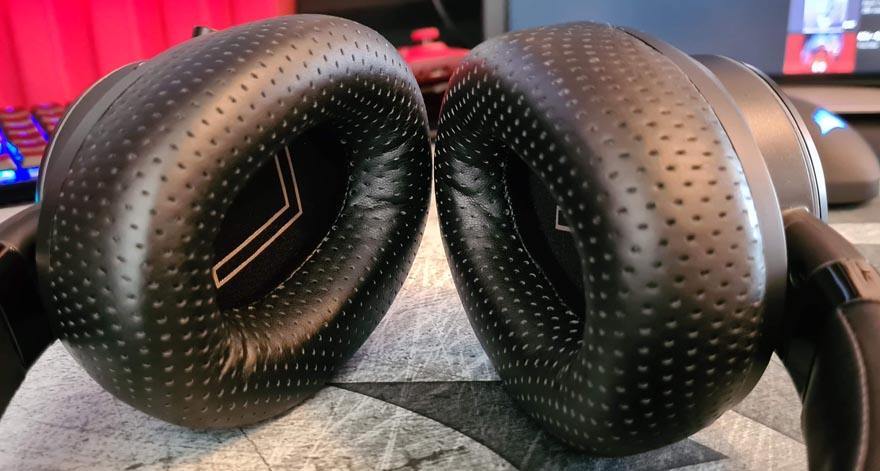 The good news is that it sounds just as good as other SXFI headsets, which is notably better than just about anything else on the market really. Powerful bass, and I mean POWERFUL. Not just some womp on the side of your head, but a sensation of a big subwoofer at the back of the room-filling the atmosphere with bone-shaking, brown note inducing sub frequencies. How Creative virtualise the subwoofer I don't know. However, how they do it without compromising the rest of the sound… witchcraft. However, turn off SXFI and it just sounds like a normal 50mm driver headset… bonkers.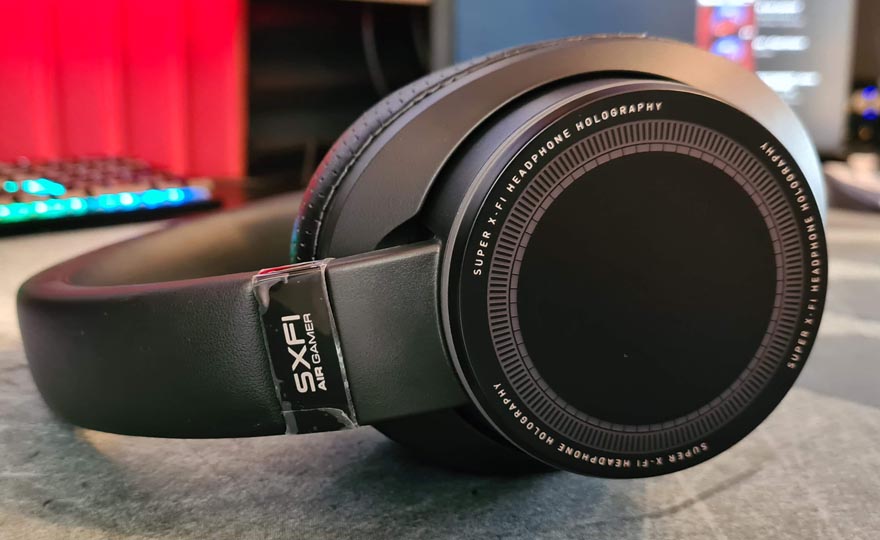 I should stress, your profile is unique to you. You can't turn on SXFI with your head scan and pass it to your partner; it'll sound like trash to them. Keep that in mind if you plan to share the headset, as you'll need to configure the headset for each use; you can save multiple scans in the app though, which does help. This headset is in another league for audio, but the new earpads are strange to me. They change the dynamic a lot, giving a larger and more open sound that makes things very clear to listen to. They also make using the microphone easier, as I tend to shout less with these than I do the solid leather Theater ear pads. Unsurprisingly, the Theater still sound better for movies, and the Gamer works better for gaming; I know, I'm a regular Sherlock Holmes. However, it's not the headset, it's all in the ear pads, so keep that in mind.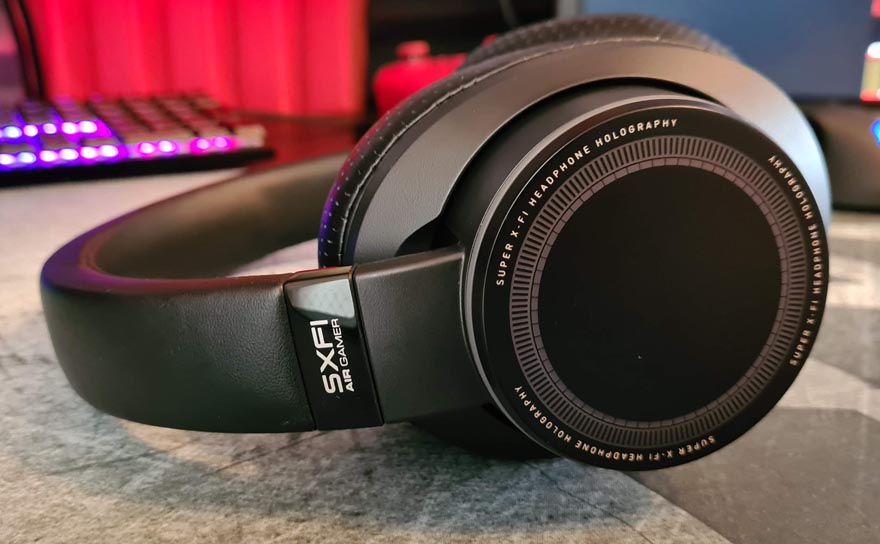 Creative, if you're reading this, you should include both types of ear pads in the box.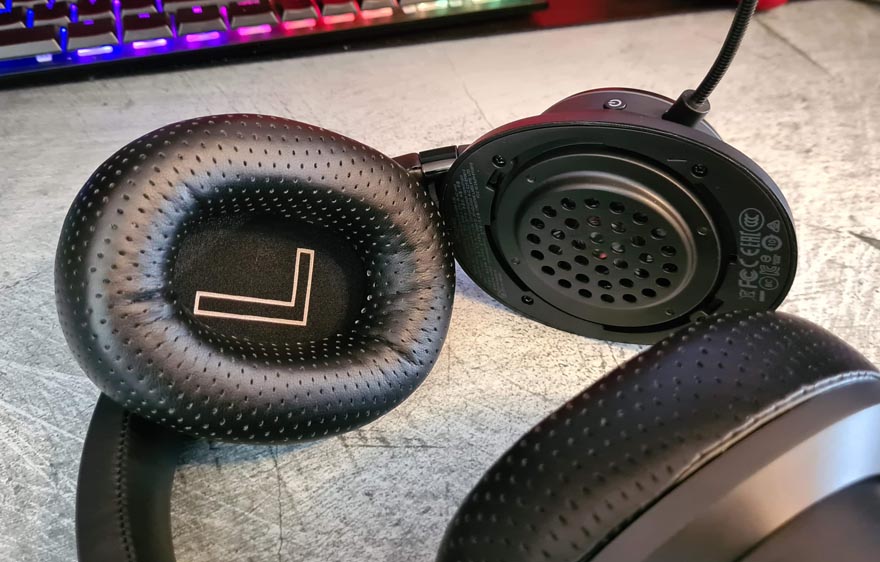 I'm sticking to every single word I said in the Theater review and the SXFI Gamer review though. This is the same headset where it matters, and almost three years later, it's still untouchable. But there are some new things here, no doubt about that. I was a little confused, as this isn't a wireless headset. The Bluetooth is really just designed for pairing your phone. The USB-C cable is the main connectivity option, so keep that in mind. Plus, there's the 3.5mm cable for older devices, but that doesn't deliver SXFI processing, it's just a passive hookup.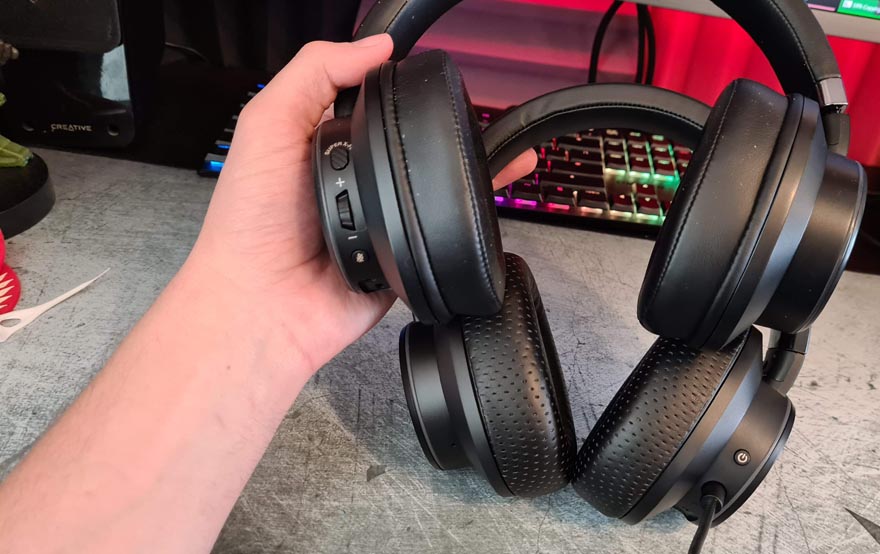 The smart thing is that audio holography can pull of a very interesting trick. You can have a call on whatever platform, let's say a phone call, or Discord. You can hear the person right in front of you, talking face to face with absolute clarity. However, you can play music in the background. Not just overlaid, but as if it was playing from speakers in the room, further away than the person you're speaking to. It's one of the best examples of object based audio I've ever heard, very impressive stuff.
The MicroSD card seems like an odd addition, and I can't see many people using it. However, if you want to play music without having extra software running on your computer, on a console that doesn't support such things, AND without using a mobile phone, then it'll certainly get the job done.