Crucial MX300 750GB SATA3 Solid State Drive Review
---
---
---
Bohs Hansen / 6 years ago
Introduction
---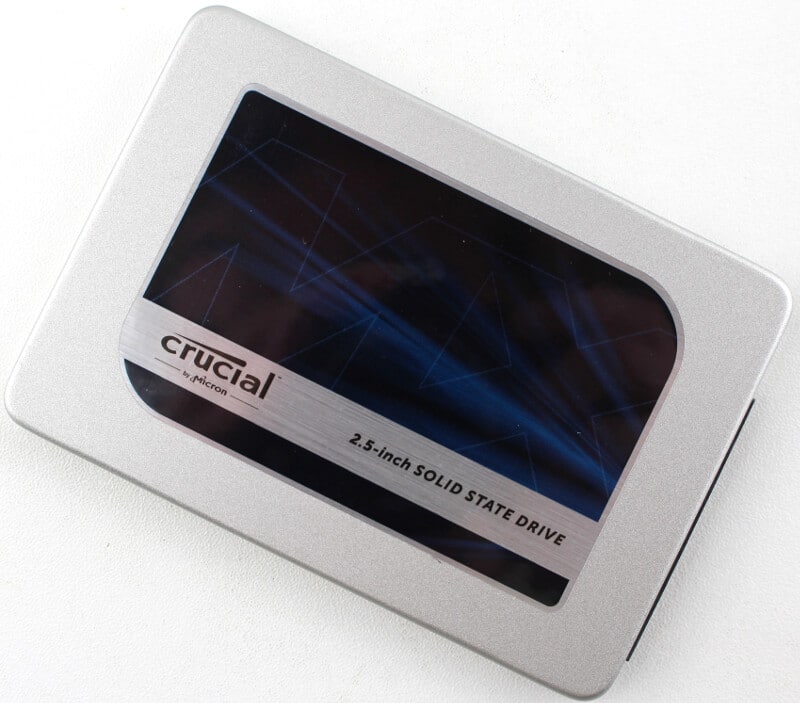 Today I'm taking a new solid state drive for a spin in my testing area, but before you skip ahead thinking that this just is the run of the mill new SSD, you might want to stop and read for a while. Because the Crucial MX300 Limited Edition 750GB model that I'm taking a closer look at today is anything but normal.
Crucial has two main SSD series, the BX series that provides massive capacities for very little money and the MX series that is the mainstream performance series. The new MX300, to say it with very few words, combines the best of these two worlds into one amazing new drive. You get an instant performance, one that lasts, and a lot of capacity to use.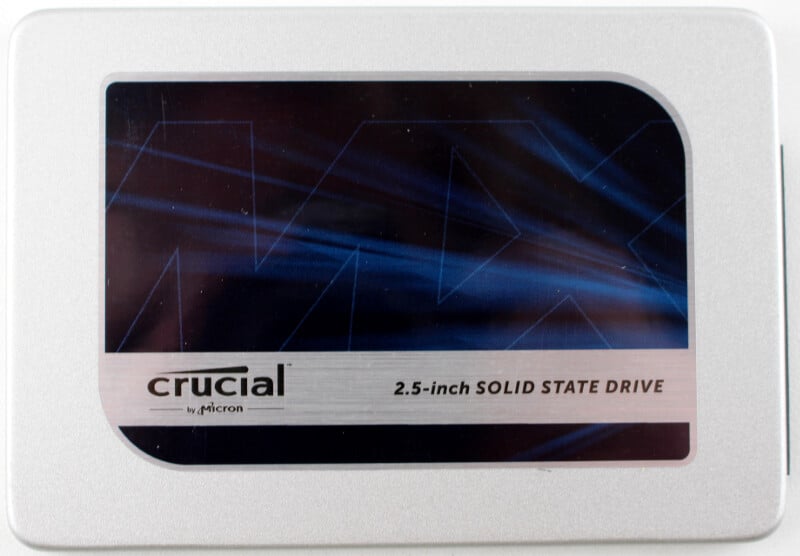 This is a limited edition drive because it is ahead of its brothers and sisters in the same family. In fact, it is the first drive to use Micron's new 3D TLC NAND and they just couldn't wait to show the users and customers just how great it is.
This turns the MX300 into more than just a storage container, it becomes an engine that load and saves everything you do and use. Micron 3D NAND is engineered with larger NAND cells that improve performance and prolong endurance and that is what sets it apart. In return, the Crucial MX300 sports impressive performance ratings of up to 530MB/s when reading and 510MB/s when writing sequential data. The random drive performance is rated equally nice, delivering up to 92K IOPS reading and 83K writing on all file types.
Endurance is something that will take a dive when we talk about TLC NAND, or so we have come to believe. Crucial and Micron break with this tradition when it comes to the MX300 SSD and Micron 3D NAND. The drive is rated for up to 200TB total bytes written (TBW) which equals to 120GB data per day for a 5-year period.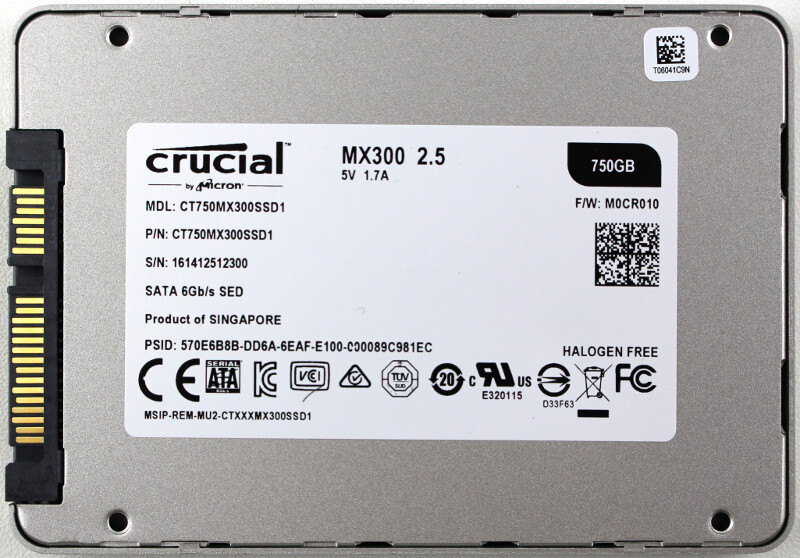 Performance is one side of a drive, the rest of the features have to follow in order to provide one of possible best SATA3 drives on the market. Over the years, customers have come to expect things from brands such as Crucial that have been on the market for a very long time and the MX300 doesn't let down on this aspect either.
To start with we have the basics such as Self-Monitoring and Reporting Technology (SMART), built-in Error Correction Code (ECC), Active Garbage Collection, and TRIM support. All vital aspects that have to be present these days.

The MX300 further features Dynamic Write Acceleration, a technology that uses an adaptable pool of high-speed, single-level cell flash memory to generate blistering speeds throughout the drive. This is partially responsible for the drive's great performance. The Redundant Array of Independent NAND (RAIN) feature works much in the same way a RAID setup works with multiple drives, only this works on a cell-level, but the benefit is the same: your data is stored in more than one location.
The data inside the drive has to arrive everywhere in correct order too and the MX300 features Data Path Protection and Power Loss Protection to make sure that this happens. The whole thing is rounded off with the Adaptive Thermal Protection that makes sure the drive performs great in any usage scenario.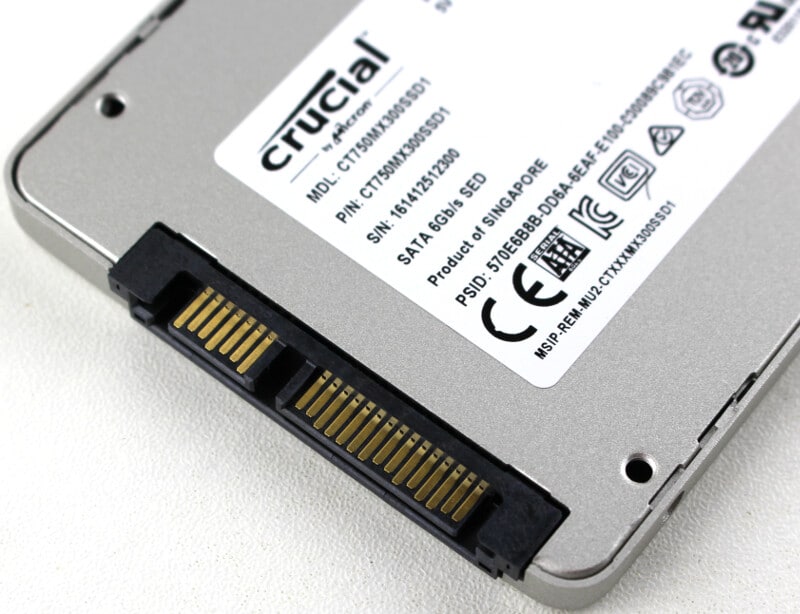 There are a few more features in the MX300 that are awesome and one of them is the Device Sleep (DevSleep/DevSLP) support. Device sleep puts the drive in an even deeper sleep state where it barely uses any power at all when you system goes into hibernation mode. In fact, the MX300 750GB only consumes 4mW during device sleep. But even when active, the drive doesn't consume much energy with its 75mW active average consumption and a maximum of 5.2 W during active operations.
Last but not least, the Crucial MX300 comes with hardware-based AES 256-bit encryption for that extra bit of data security on your files. The Crucial SSD software called Storage Executive adds access to all the vital drive information and features, including the Momentum Cache that can increase your system's storage performance ten fold. By using part of your system memory as a file cache, fewer write operations have to be performed while you get a much faster access in general.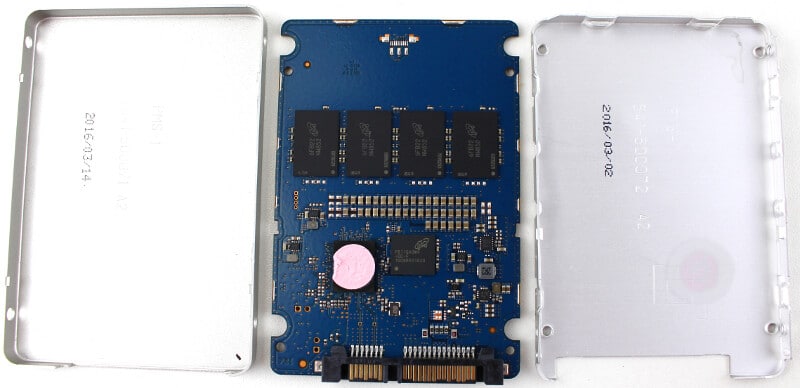 The MX300 is packed in a normal 2-piece snap-together casing, but other than that it doesn't look like a budget drive on the inside. On top we have the Marvell 88SS1074 controller that has a thermal compound that resembles real thermal compound more than the adhesive pads we find in other dries.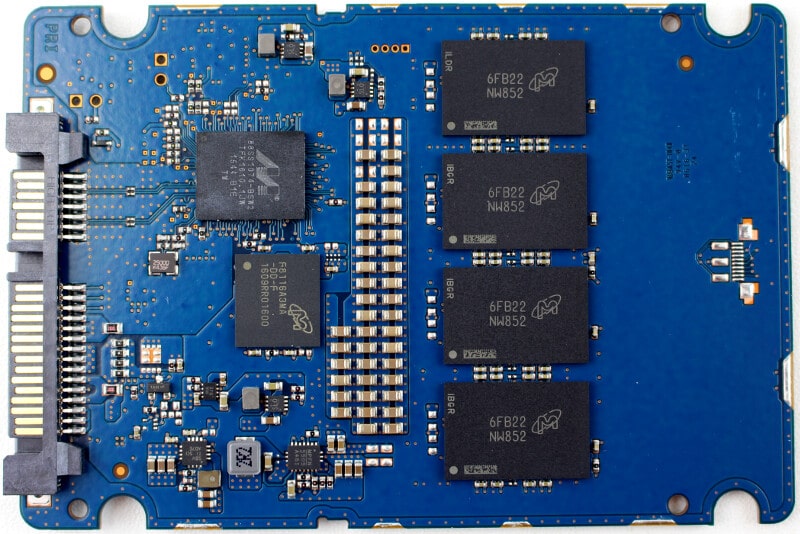 Four NAND chips on each side of the drive make up the 750GB drive capacity and we can also spot the power loss protection well on both sides.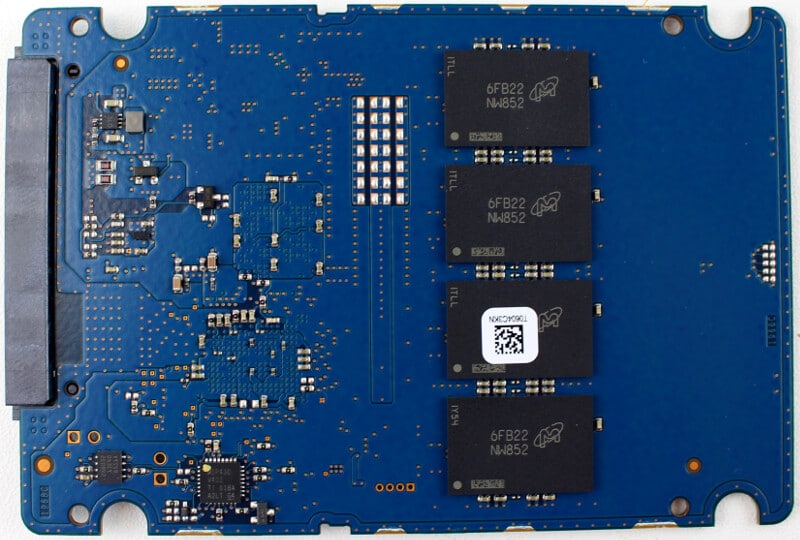 Feature Highlights
Instantly improve system performance
Up to 530 MB/s Sequential Read and 510 MB/s Sequential Write
Over 90x more energy efficient than a typical hard drive
75mW Active Average power consumption
Entrust your files to a drive that lasts
Up to 220TBW
3D TLC NAND cell structure delivers high performance and prolongs endurance
$199.99 MSRP
Packaging and Accessories
The Crucial MX300 comes in a square cardboard box with the drive securely placed in the middle. The front shows the drive's design as well as its size and capacity.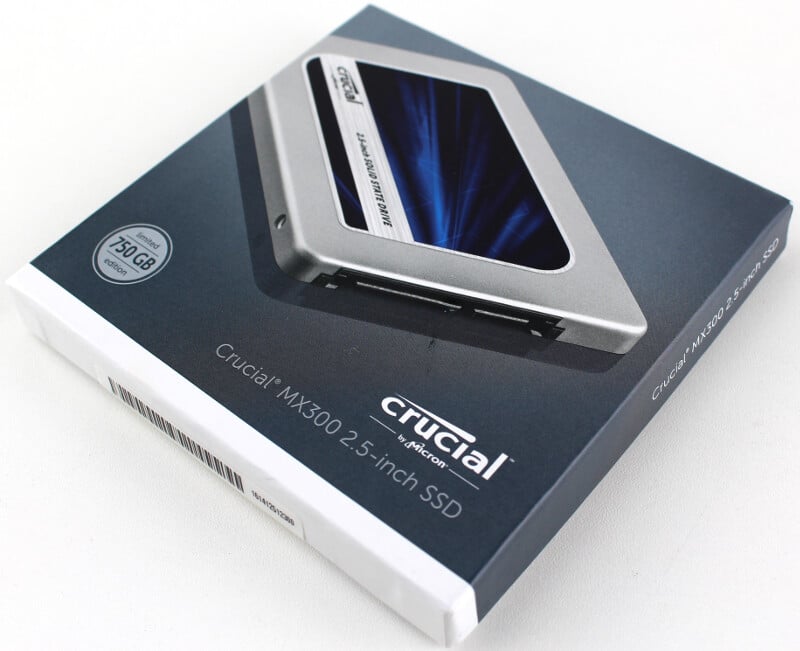 The rear reveals a few more details such as the included parts and the benefits of installing the Crucial Storage Executive.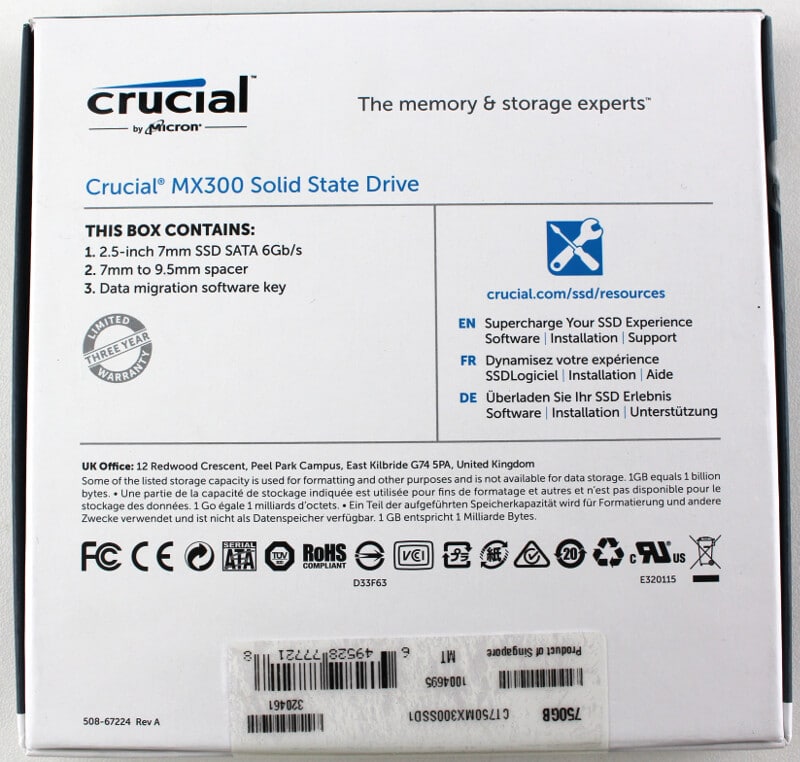 Inside the box is a key for the download of Acronis True Image HD, a spacer to make the SSD compatible with 9.5mm slots, and the drive itself.