D-Link Launches New Smart City Switches
---
---
---
Bohs Hansen / 4 years ago

D-Link Launches New Smart City Switches
Network switches are located in more areas than you might think, they aren't just in homes and offices around the world. With everything getting smarter, things need to be networked. D-Link announces a new ruggedised and high-performance series of switches. These switches, the DIS-100G, DIS-300G and DIS-700G, are industrial Gigabit switches.
The three new series are designed specifically to support the rising demand for smart city applications, industrial automation, and the growing adoption of Industry 4.0 techniques. They feature intelligent Quality of Service and advanced security as well as 10GbE connectivity (DIS-700G-28XS)
Smart City Switches
The overall series-name gives away the purpose of D-Link's new switches. They are intended for government, local authorities, transport operators, and the construction companies as well as the system integrators who support them. The series of switches are designed to be simple to install and deliver long service with low maintenance requirements.
The DIS-100G, DIS-300G and DIS-700G switches withstand wide temperature ranges from -40° to 75°C as well as vibrations and shock. This makes them ideal for outdoor deployment in curb-side compartments, whether in a frigid or tropical environment. The switches feature high EMI/EMC rejection, enabling them to survive in high EMI environments. They also support fast network recovery under 20ms to reduce downtime.
This hardened, robust design, combined with high availability network features, enables these switches to reliably perform their vital role in the network infrastructure. And do so without the need for costly air conditioning and vibration isolation enclosures.
DIS-100G Industrial Gigabit Unmanaged Switch Series
The DIS-100G Series switches are excellent entry-level switches for industrial environments. These unmanaged switches offer plug and play installation which is ideal for network edge deployment.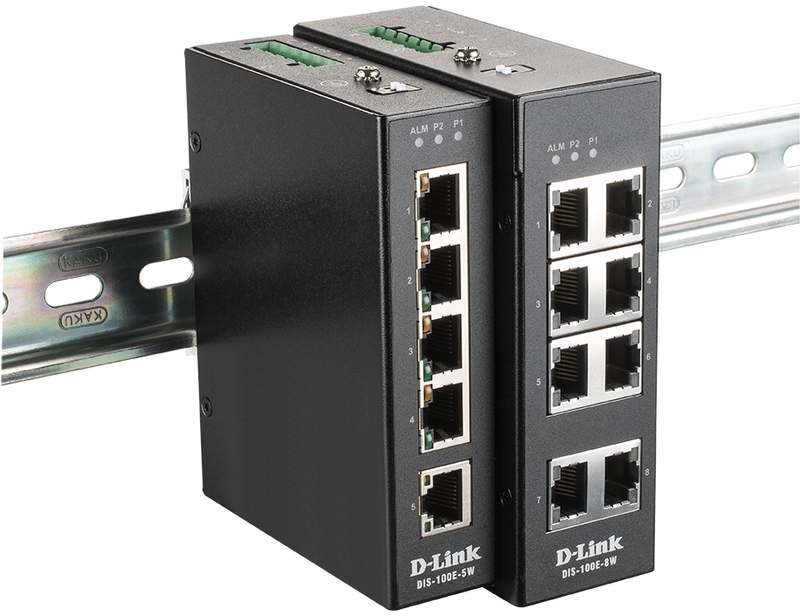 Customers get the choice of three models to fit their needs the best. There is the DIS-100G-5W, DIS-100G-5SW, and DIS-100G-5PSW. All DIS-100G Unmanaged Switches provide at least 4 Gigabit Ethernet ports.
The most notable device in the series is the DIS-100G-5PSW which is compliant with the IEEE 802.3at PoE+ standard. It delivers up to 30 watts power per port along with data on standard Ethernet cabling.
The DIS-100G Series of switches includes:
DIS-100G-5W; 5x 10/100/1000 ports
DIS-100G-5SW; 4x 10/100/1000 ports and 1x SFP port
DIS-100G-5PSW; 4x 10/100/1000 PoE ports and 1x SFP port, IEEE 802.3af/at, 120W PoE budget
DIS-300G Industrial Gigabit Managed Switches
The DIS-300G managed switches enable greater and more granular configuration options. This includes remote monitoring of performance, fine-grained configuration of data flows, and Quality of Service (QoS) to prioritise vital data. For instance, VLAN can isolate confidential data such as CCTV images and confidential data from other less sensitive data.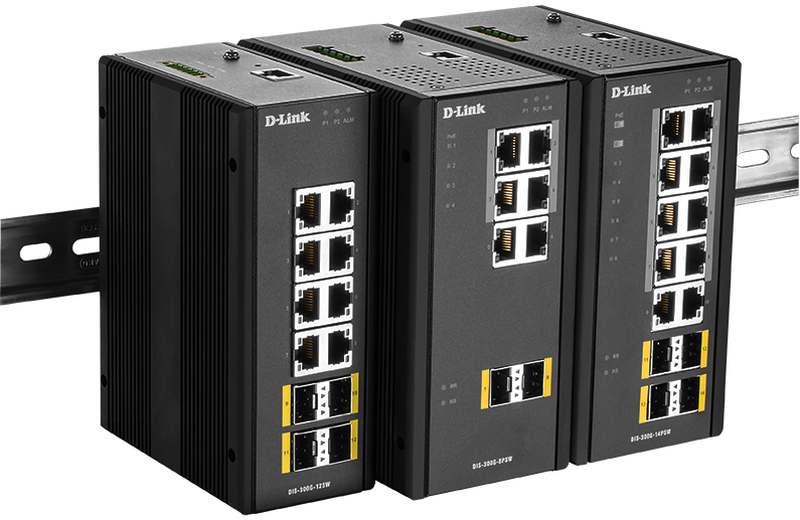 Like the DIS-100G series, the 300G series comes in three variants to give customers flexibility around their requirements: the DIS-300G-12SW, DIS-300G-8PSW and DIS-300G-14PSW. Like the DIS-100G-5PSW, the DIS-300G-8PSW and DIS-300G-14SPW switches are PoE switches.
The DIS-300G Series of switches includes:
DIS-300G-12SW; 8x 10/100/1000 ports and 4x SFP ports
DIS-300G-8PSW; 4x 10/100/1000 PoE ports, 2x 10/100/1000 ports, and 2x SFP ports. IEEE 802.3af/at, 120W PoE budget
DIS-300G-14PSW; 8x 10/100/1000 PoE ports, 2x 10/100/1000 ports, and 4x SFP ports. IEEE 802.3af/at, 240W PoE budget
DIS-700G Industrial Layer 2+ Gigabit Managed Switch
For the largest setups, there is the DIS-700G. It is equipped with intelligent QoS features including SPQ, WRR, and SPQ+ WRR scheduling schemes to support traffic shaping and bandwidth management. There is only one model in this series which is the DIS-700G-28XS L2+ Gigabit Managed Switch, a28-port aggregation switch with 10 Gigabit uplinks.

Among the features are comprehensive network redundancy and fast fault recovery. Together with advanced security features such as port-level security and malicious traffic prevention, it provides industrial-grade reliability and protection. Additionally, VLAN support provides another layer of security through segmentation and isolation.

The DIS-700G Series includes:
DIS-700G-28XS; 24x 10/100/1000 ports and 4x 10G SFP+ ports