Dell Is King Of The Monitor Market – Overtakes Samsung
---
---
---
Ryan Martin / 8 years ago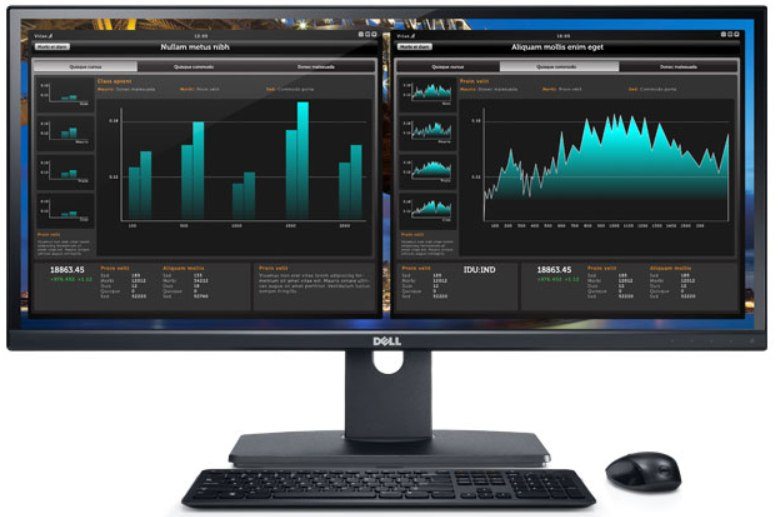 The latest figures from IDC suggest that Dell tops the monitor market. The results suggest that Dell managed to ship 5 million monitors with 14.9% of worldwide monitor shipments. Samsung followed behind in second with 12.6% and 4.2 million shipments with HP coming in third place with 4 million displays and 11.9%. LG come in fourth with 3.3 million (9.9%) and Lenovo fifth with 3 million (9.1%). The total number of displays shipped are 33.5 million.
Dell grew by 0.9% based on year-on-year figures while LG also grew year-on-year by a healthy 16.6%. All the other vendors suffered declines. Samsung declined 24.1%, HP 0.2% and Lenovo 9%.
Technology Highlights
LED backlight technology adoption continues to increase with 81.6% market share in 2Q13. This represents a year-over-year increase of 21.2 percentage points.
Screen size of 21.x-inches wide has held the largest worldwide share for the last three quarters, with 19.1% share in 2Q13.
Aspect ratio of 16:9 continues to dominate with about 75% market share, which is more than 4 times the second most widely used aspect ratio of 16:10. Aspect Ratio 21:9 has been growing over the past year, with a 70.5% increase quarter-over-quarter in 2Q13.
Monitors with TV tuners are expected to grow to 7.7% market share by 2017, up from 5.7% share in 2013, led by LG and Samsung with a combined market share of 95% in this category.
While touchscreen monitors are still a small segment of the total PC monitor market at 0.3% share, Dell leads the segment with 22.5% market share.
Vendor Highlights
Dell – Dell rose to the top position in 2Q13 with worldwide market share of 14.9% on shipments of 5.0 million units. The United States and Asia/Pacific (excluding Japan)(APeJ) regions delivered the biggest gains for Dell with 18.3% and 14.4% quarter-over-quarter growth, respectively.
Samsung – Although Samsung now ranks number two in terms of unit shipments, it remains the number one vendor in worldwide revenue with more than $1.1 billion in 2Q13, which represents 18.5% share in total market value.
 HP – Despite being ranked number three worldwide, HP was the number one vendor in Western Europe and Canada.
LG – LG had the biggest growth among the Top 5 vendors with a 16.6% year-over-year increase in unit shipments. LG continues to be the number one PC monitor vendor in Latin America with 27.8% share, and this past quarter it captured the top position in Central and Eastern Europe with 18.4% share.
Lenovo – Lenovo rejoined the Top 5 vendor ranking in 2Q13 after slipping to number six in the previous quarter with a 10.0% increase in unit shipments quarter-over-quarter. It also continues to rank number one in the APeJ region with 16.6% market share and is the leading vendor in China.
Image courtesy of Dell