Dell XPS 12 is a Microsoft Surface Competitor
---
---
---
John Williamson / 7 years ago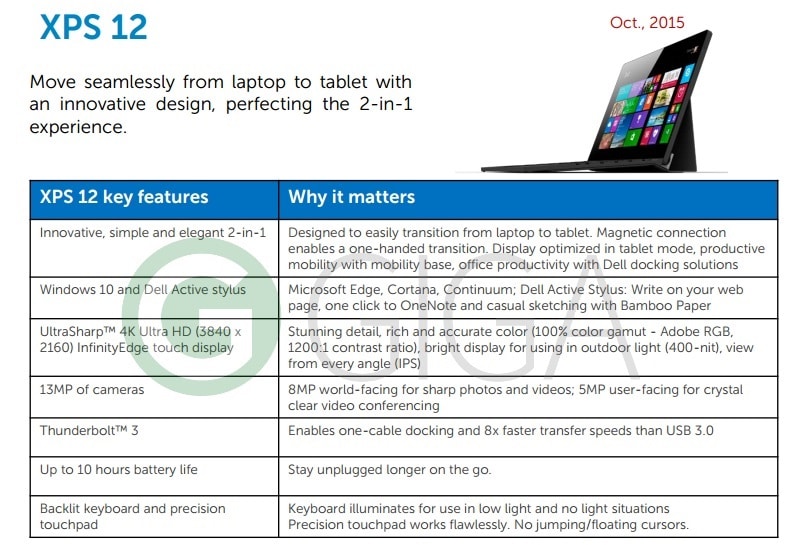 Dell is allegedly developing its own Surface-style tablet called the XPS 12 which features a 4K Ultra-HD Display and kickstand to hold the device upright. Other notable technical specifications include a 5-megapixel front-facing camera, 8-megapixel rear camera, backlit-key illumination, Thunderbolt 3 connectivity and up to 10 hours of battery life. The clip design is extremely reminiscent of Microsoft's Surface and follows a recent trend of manufacturers cloning the basic concept. Only recently, Apple decided to launch the iPad Pro which contains a clip-on, rubberized keyboard.
It's interesting to see companies following Microsoft's lead and Dell might perceive the form-factor as a re-imagining of the laptop. Of course, Dell is a huge brand in the PC industry and one of the top three manufacturers globally but sales have been dwindling for some time. The ultra-thin Surface-like devices are useful due to the touch screen panel and detachable keyboard. However, the pricing remains quite high and this doesn't look like changing anytime soon.
The XPS 12 is feature-rich and utilizes an absolutely blissful display. However, I'm not entirely convinced consumers are prepared to pay such a premium. Whatever the case, Dell's XPS 12 looks impressive from a technical standpoint, and should be a stunning addition to their product library.
Thank you The Verge for providing us with this information.