DinoPC Mayhem P2 GTX 1080 Gaming PC Review
---
---
---
John Williamson / 6 years ago
Introduction
---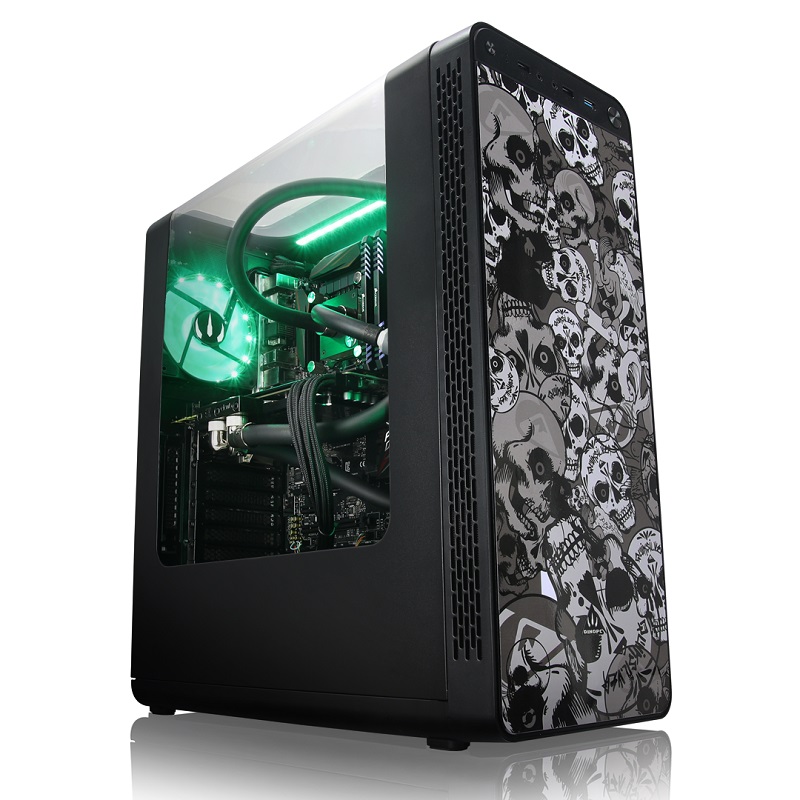 Despite the huge array of components available today, it is rare to encounter a pre-configured system which looks truly unique. Of course, this isn't always a negative concept because the interchangeability of PC components makes maintaining and upgrading systems a straightforward task. On the other hand, it's usually up to talented modders to take a solid foundation and add a more distinctive touch. The system integrator DinoPC hasn't conformed to traditional designs and taken a bold, innovative step to reinvigorate commonly used cases through custom vinyl finishes. This undoubtedly makes DinoPC's creations different from the competition and provides an additional incentive to buy a pre-configured model instead of making your own self-build.
Today, we're taking a look at the DinoPC Mayhem P2 which utilises an Intel Core i5-6600K overclocked to 4.6GHz, 16GB Corsair Vengeance LED 3000MHz dual-channel memory and the MSI GTX 1080 Gaming X with a pre-installed EK water block. The water block is attached to the EK Predator 360 which employs convenient quick disconnects and a full copper radiator. The machine also has a 120GB ADATA SP550 boot SSD and 1TB Western Digital Blue 7200RPM mechanical disk. DinoPC decided to include the Corsair RM650x, featuring a modular design and 80+ Gold rating and incorporated the entire build in the rather striking Thermaltake View 27. Priced at £1939, the system is a considered purchase and focuses more on high-quality water cooling hardware instead of the Intel Core i7-6700K. The question remains, how will this impact on the user experience? Let's find out!
Specifications
Name: DinoPC Mayhem P2
Case: Thermaltake View 27
Motherboard: Asus Z170 Pro Gaming LGA1151
Processor: Intel Core i5-6600K Overclocked to 4.6GHz
Processor Cooler: EK Predator 360
System Memory: 16GB (8GBx2) Corsair Vengeance LED 3000MHz dual-channel
Main Boot Drive: 120GB ADATA SP550 SSD
Additional Storage Drive(s): 1TB Western Digital Blue 7200RPM HDD
Graphics card: MSI GeForce GTX 1080 Gaming X with EK Water Block
Power Supply: Corsair RM650x 650-Watt 80+ Gold Modular
Peripherals: N/A
Monitor: N/A
Optical Drive: N/A
Wireless: N/A
OS: Windows 10 Home
Warranty: 5-Years Labour, 2-Years Parts, 1-Year Carriage
Price: £1939
Packaging and Accessories
The system arrives in a rather large cardboard box which offers excellent protection and withstands any knocks during delivery rather well. Saying that, the box doesn't contain fragile stickers or other precautionary labels informing the courier to adopt a gentle approach. Also, it would be advantageous to outline which way the system should be held so the water loop isn't positioned upside down. To be fair, you shouldn't encounter any problems with the current packaging and my sample didn't even suffer from cosmetic marks.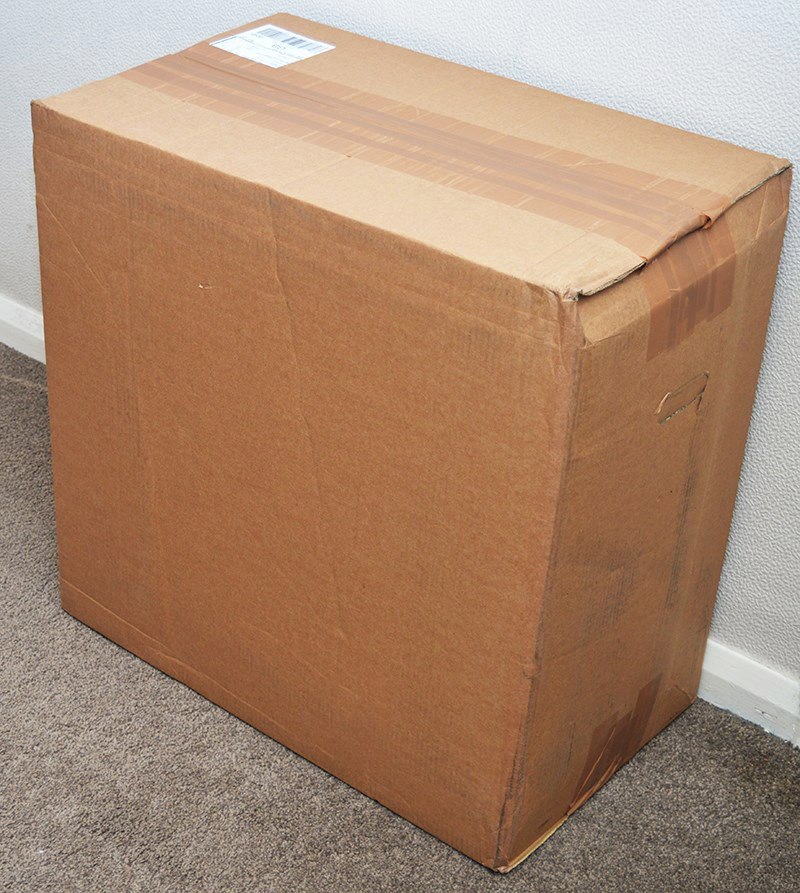 Once opened, the main chassis box is covered by an assortment of airbags which help to keep the system firmly in place and add extra cushioning. This is a cogent move and provides an additional layer of protection.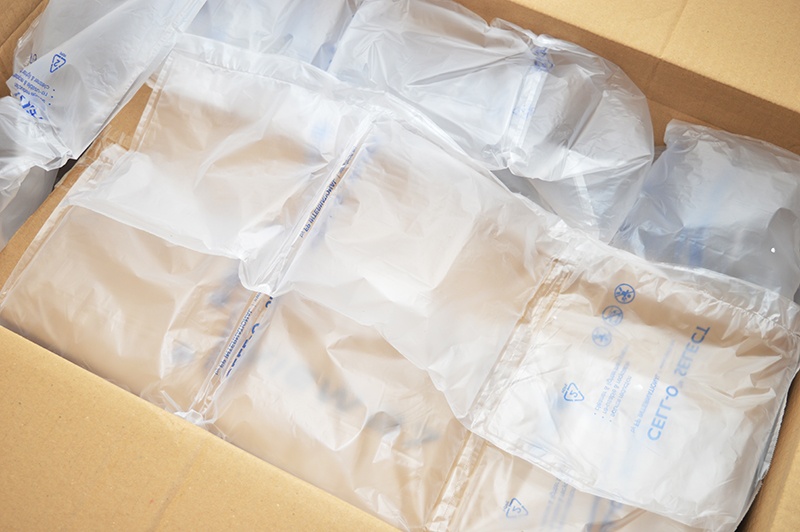 The chassis box has a simple snapshot of the product and Thermaltake branding. There's nothing too exciting to speak of but the cardboard is quite resilient and supports the system's weight in a proficient manner.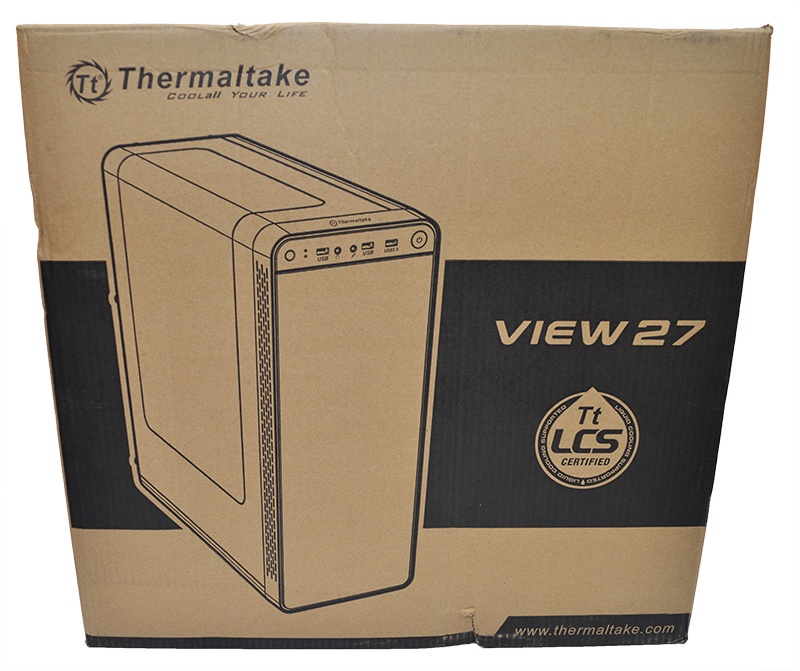 Before powering on the system, DinoPC posts a quick start guide to ensure you remove any internal packaging. This is vital because the rear fan blade brushing against the bubble wrap could cause some damage and require a replacement. Thankfully, the information is presented in a slick, easy-to-understand manner and there's even a walkthrough with clear pictures helping users without technical expertise. Additionally, DinoPC lists contact details just in case you encounter a technical problem or feel uneasy opening the system.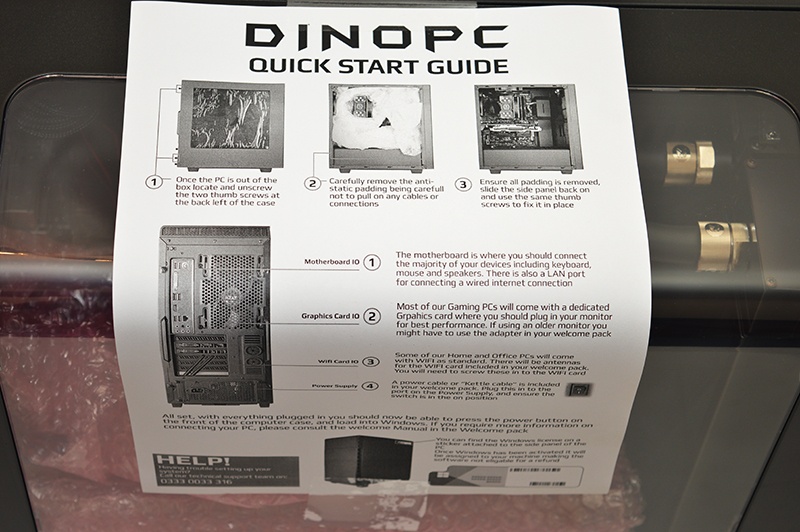 Here we can see the graphics card and other major components are protected by a thick roll of bubble wrap. This is a pretty good measure to support the water loop and reinforce the graphics card mount. However, it would have been better to use some foam instapacks because they're stronger and cover a larger area. As a result, the radiator's compression fittings and CPU block are exposed. Despite this, it's unlikely something will happen to the system and I'd describe the internal packaging as decent.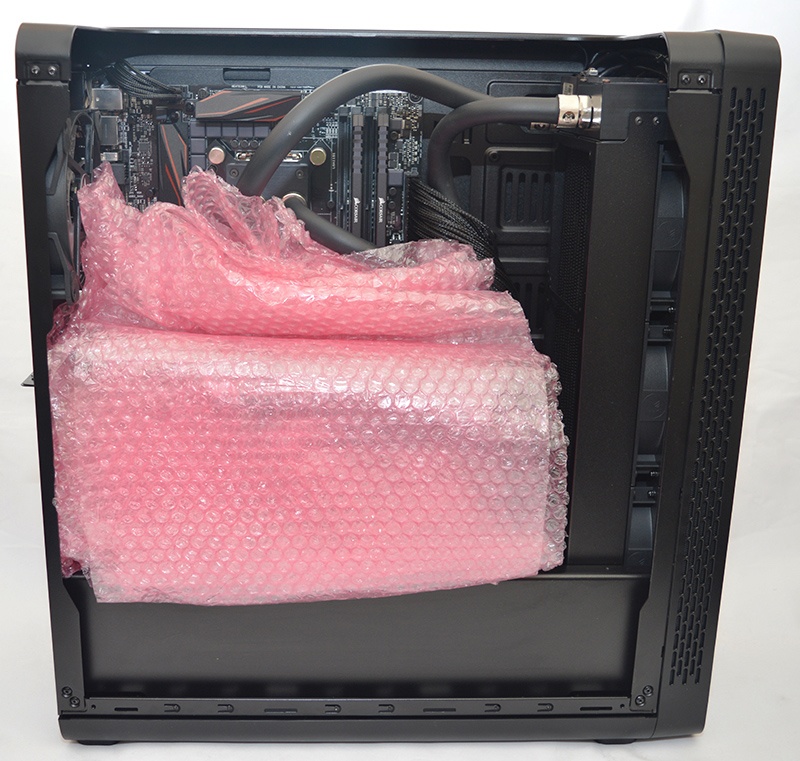 In terms of accessories, the system is bundled with component documentation, spare power cables, an AC adapter, RGB remote control, case cover plate and a useful Corsair cable bag.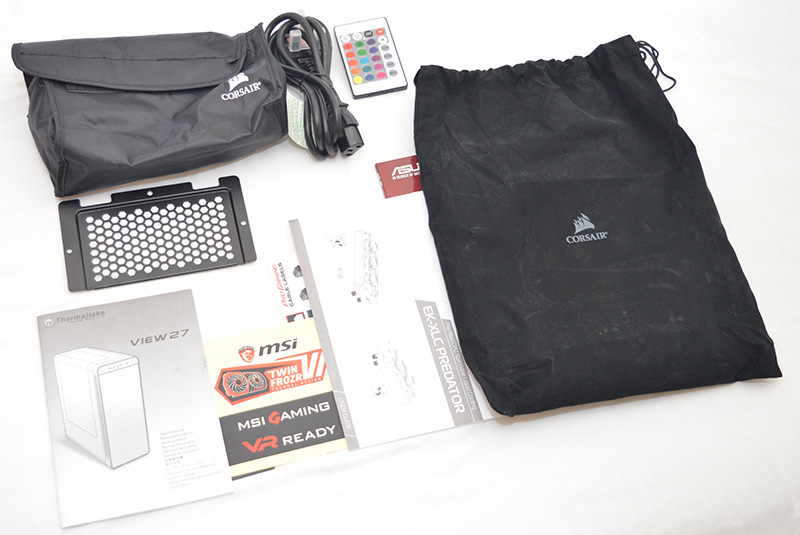 CPU-Z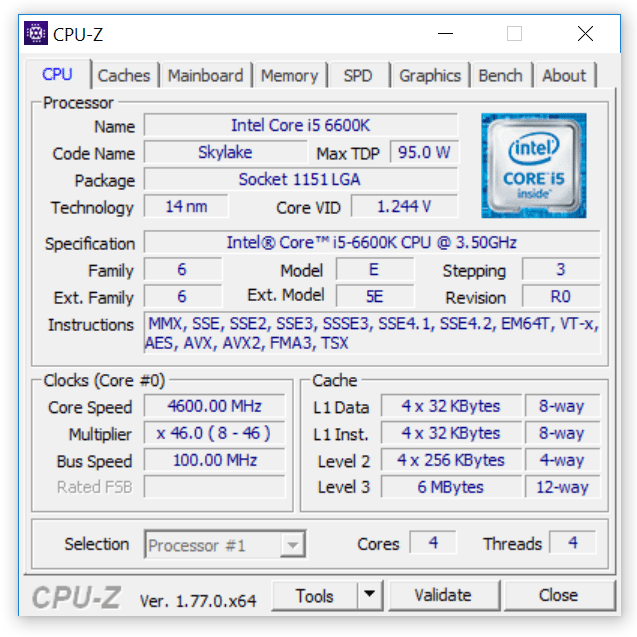 GPU-Z