Drobo 5N 5-Bay NAS Review
---
---
---
Bohs Hansen / 6 years ago
Introduction
---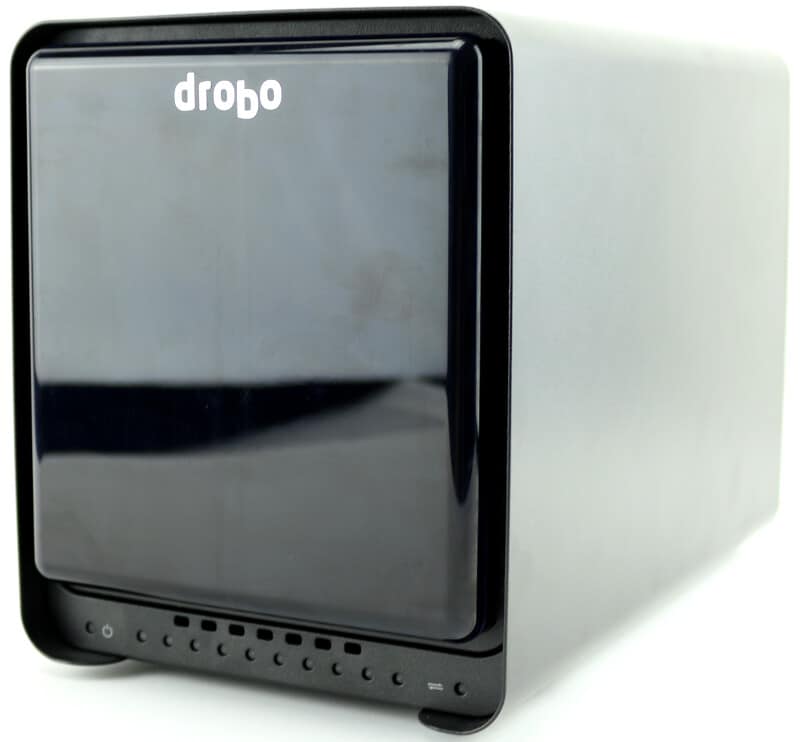 I've reviewed quite a few NAS devices in my time here at eTeknix and tried a lot more NAS devices before and during that I haven't written about, but the one I'm taking for a spin in the testing area this time is something different and not like other NAS devices: the Drobo 5N.
The Drobo NAS devices are designed with one purpose in mind: to deliver the ultimate experience in sharing storage and accessing data on your network and that with the least amount of trouble from the moment you plug it in. It doesn't require much knowledge from the user and it might very well be the easiest device to get starting with for people that haven't entered the world of network attached storage devices before.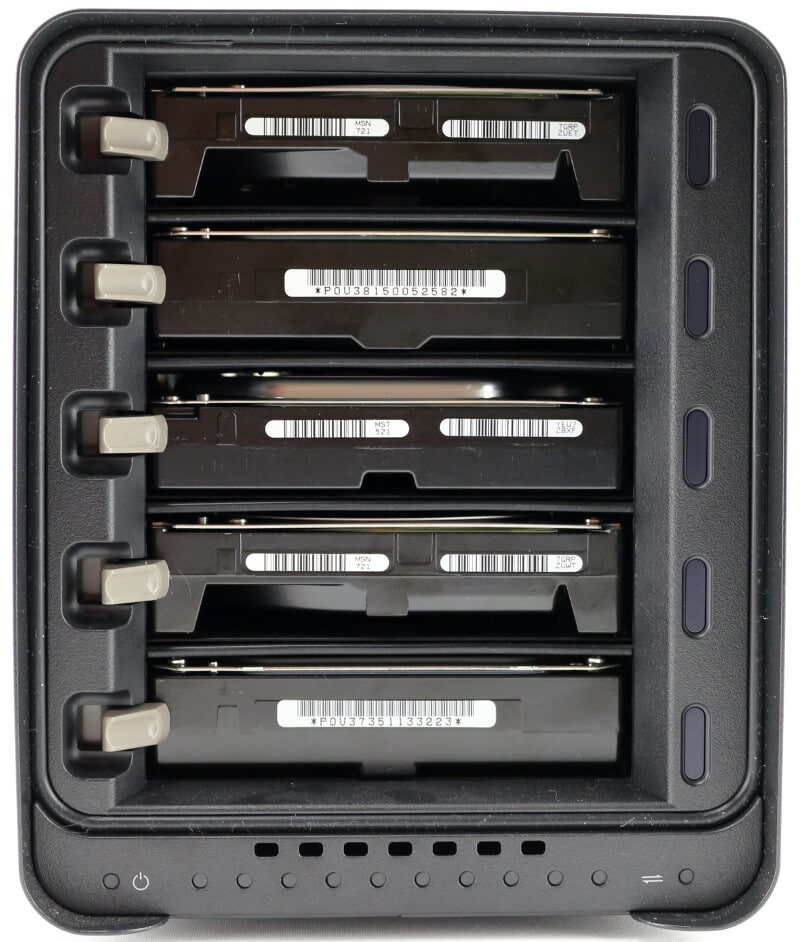 One of the things that sets this device most apart from other devices is the BeyondRAID technology that drives the storage pool. The name is very fitting as it takes the RAID feature and goes beyond the traditional limitations by allowing you mix and match any type of drive and capacity and still get the biggest possible storage space out of it. BeyondRAID supports both single disk and dual disk redundancy, meaning that up to two of the installed drives can fail without you losing any of your precious data. BeyondRAID is also self-healing and has virtual hot-spares. If a drive happens to fail, Drobo will automatically re-layout the data to return to a protected state without disruption.
You can start out with the drive you have and add more when you run out of space on those. Just plug them in and the system will do the rest for you. Should you run out of space again, then you just purchase a bigger drive and replace one of the smaller installed ones. You don't even need to turn it off or move any files yourself as long as the current setup is in a healthy state. You can fully mix and match drive brands, different drive speeds, and drive capacity as much as you like.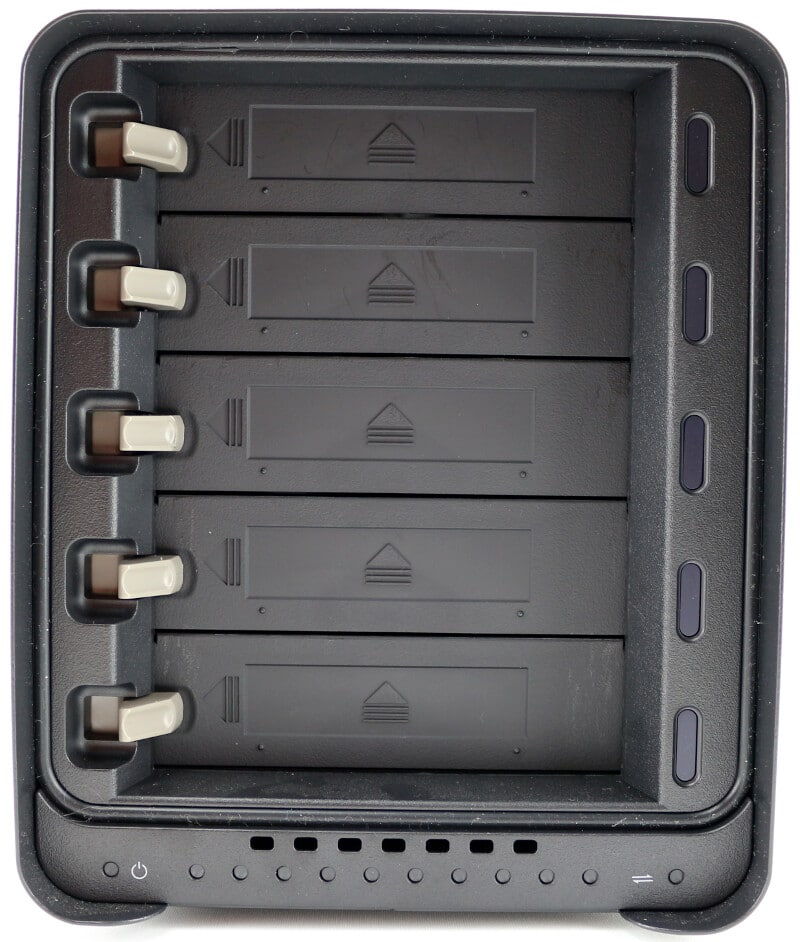 The Drobo 5N features a completely tool-less design for every part. The front is held in place magnetically and the drives don't require any tools or drive bays to be installed. Just slide them into the NAS and you're good to go. When you want to unplug them, then you press the button next to the drive and it will automatically eject.
Should normal hard disk speeds not be enough for you, then you can expand the unit with an mSATA cache drive on the bottom of the unit. That part is also completely tool-free in the installation. Slide open the cover, press the drive into the slot and close it up again. This is however one of the few times where you'll need to power the device off.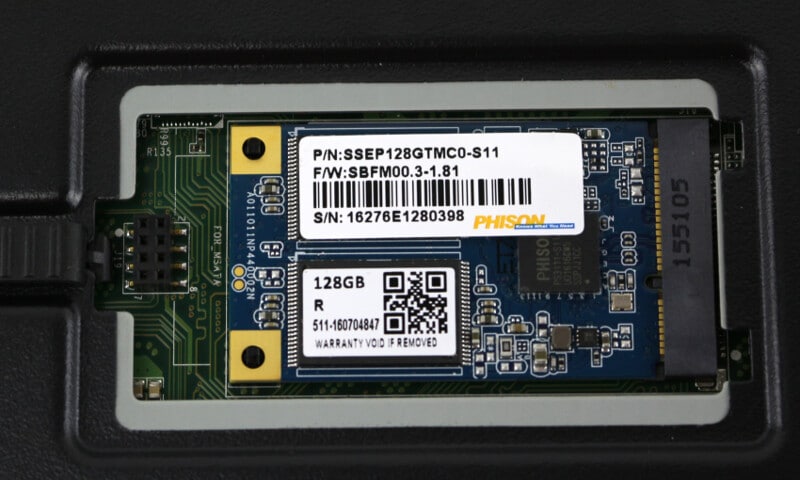 Drobo even included an onboard battery inside the NAS, allowing it safely to flush any data from the memory and onto the disks in the event of a power failure. This is a feature that we rarely see built into NAS device, but it's a very valuable one to have.
Drobo also offers their own DDNS service via mydrobo.com which allows you to connect safely to your Drobo NAS with end-to-end secure access and comes with hundreds of apps to extend its usability. It enables services such as DroboAccess, Koken, and WordPress to be accessed remotely in a secure fashion. DroboPix allows secure and automatic uploads of mobile photos and videos and more. Other Drobo Apps are embedded applications that extend the capabilities of the Drobo 5N ranging from Elephant Drive, BitTorrent Sync, Plex, MiniDLNA, and Couch Potato as well as features such as ProFTPD, WordPress, MySQL, Apache, and a lot more.
Package and Accessories
The package is simple but effective. The front and sides display the unit itself from various angles.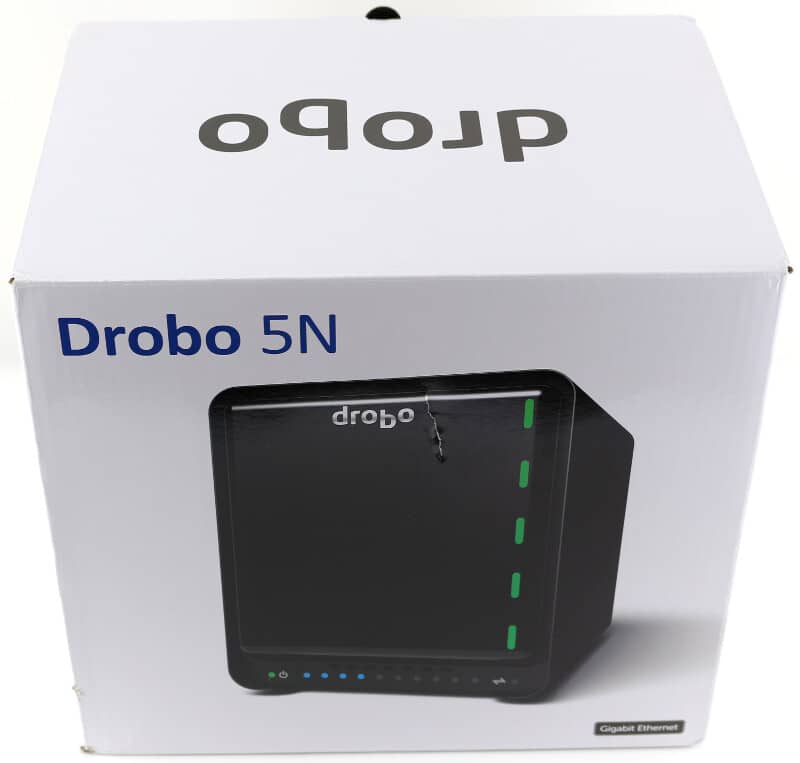 On the rear of the box is a more detailed description of the NAS and its features as well as included parts.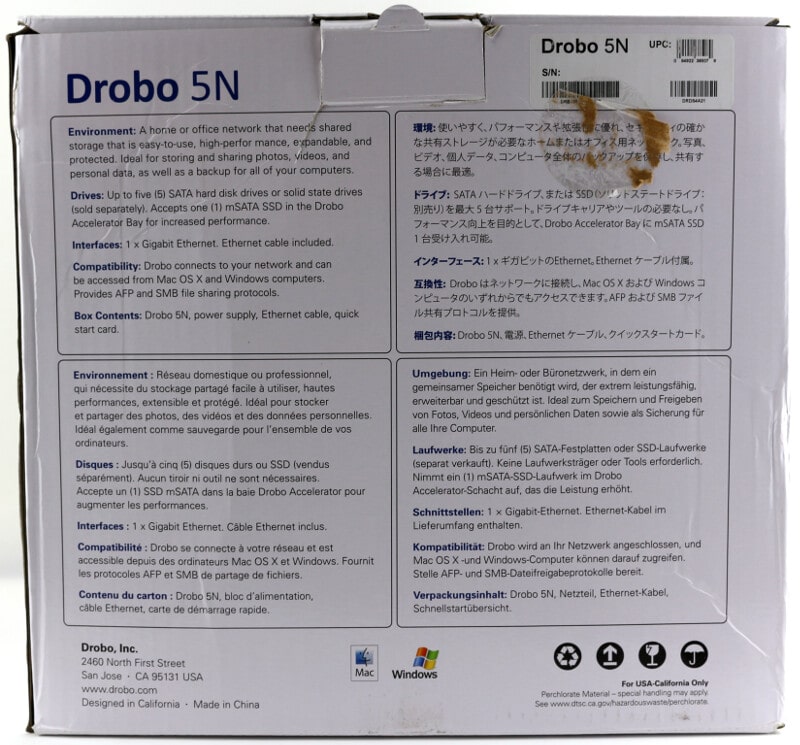 Inside the box is a lid covering everything that also is your quick-start guide for the setup of the unit.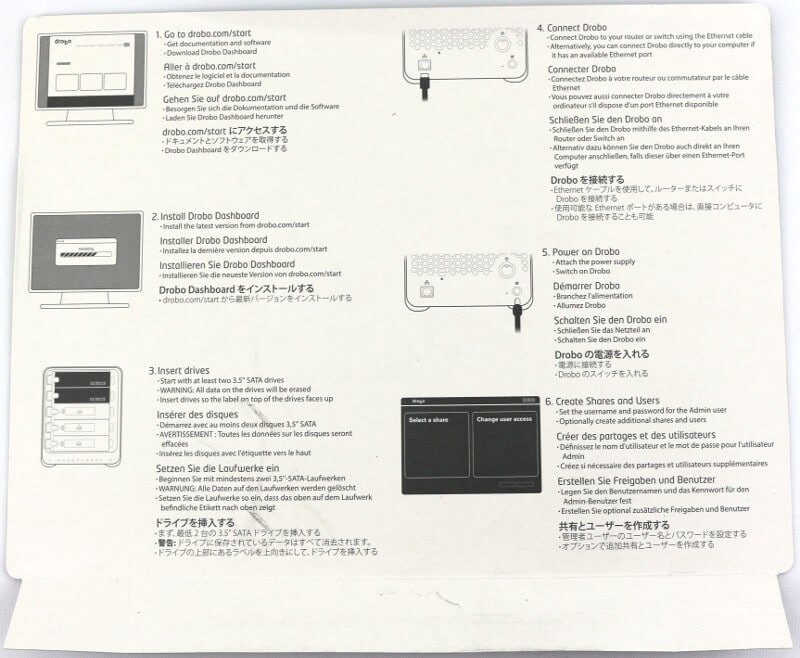 The NAS itself is packed insides a carry bag that you later can use when you go grocery shopping to show your Drobo pride.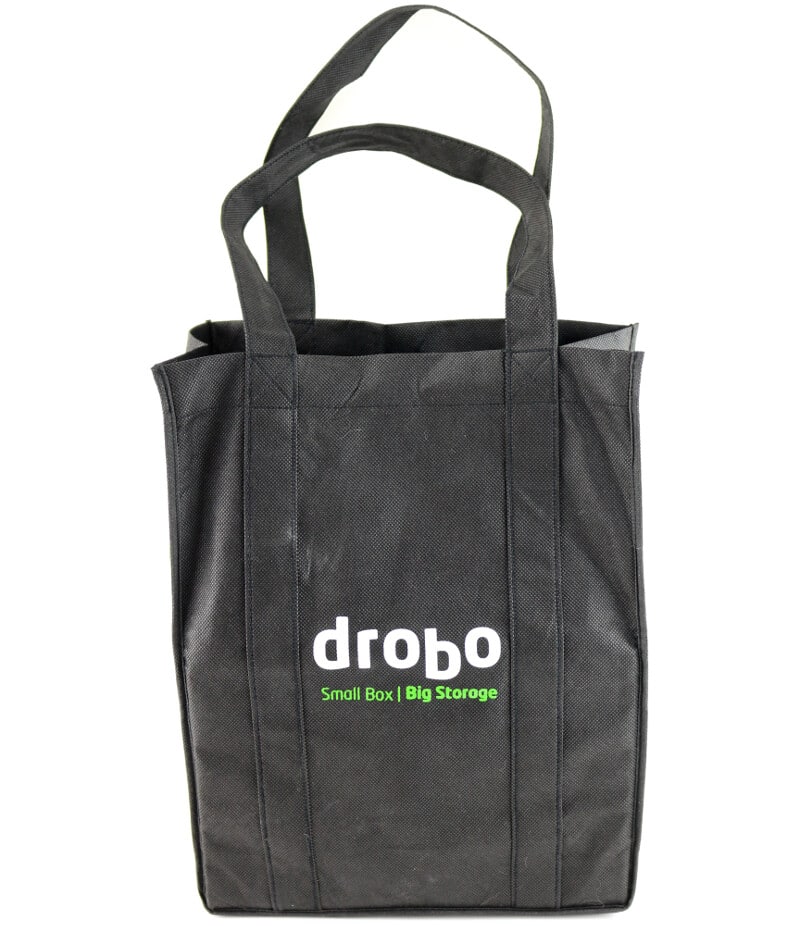 You get a power supply with a power cable for the region where you purchased it, in this case it is a US power cable, and a LAN cable for the network connection.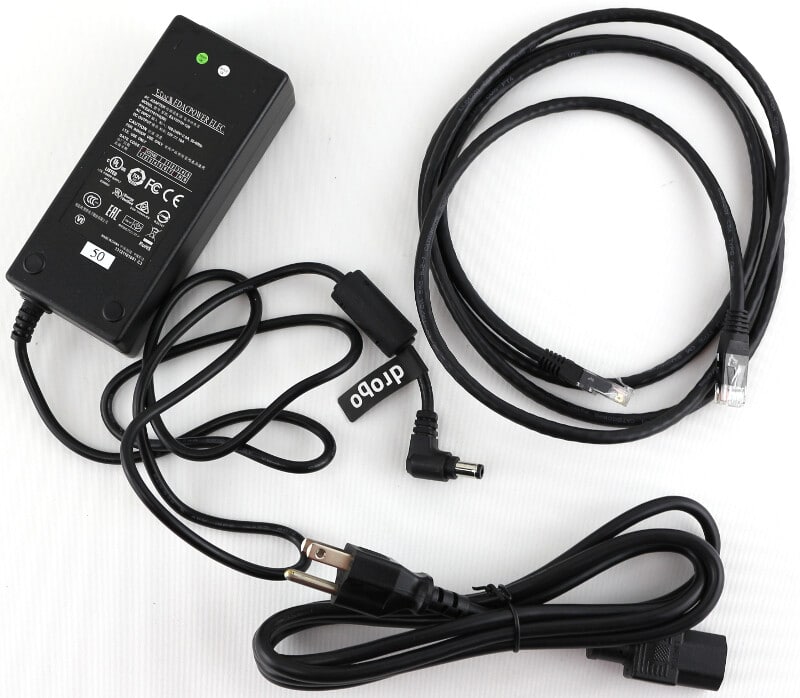 You also get a Drobo sticker and warranty guide as well as stickers in other languages to place inside the drive cover. The English one is already in place, but you might want to replace it with a different language.