ECS Elitegroup Z77H2-AX Golden Board (Z77) Motherboard Review
---
---
---
Andy Ruffell / 11 years ago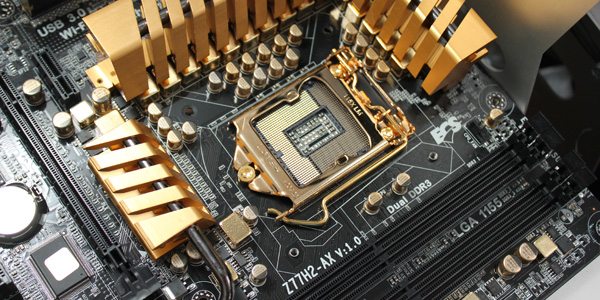 ECS are a brand that we don't hear much from in the UK, but they are around, and every so often we hear about a product coming out that is something a little bit special and Z77 was a prime opportunity for them to release a gold plated motherboard, known as the Z77H2-AX.
The Z77H2-AX features as part of the Black Extreme Golden range, and what a fitting name this board has considering its not so subtle styling. Not only will you find golden heatsinks, but also a golden CPU socket and pins to match and this all relates to the build quality that goes on behind this board and others in its range.
The Golden Board series involve extreme testing under extreme circumstances including high temperatures and extensive military-grade testing in conjunction with the gold plated aspects of the board to give a longer life expectancy and to improve performance and stability.
This board certainly has a very unique market to appeal to and one that we are quite interested to see the size of the growth behind as we can't honestly see consumers rushing to the shops to purchase a board that looks only fine enough for the Sultan of Brunei and Bill Gates.
The Golden Board series revolves around the Gold 4Ever stance with includes giving golden quality, stability, cooling and royalty meaning that we should see some fantastic results here today; at least in theory.
As always, we will take a look at the package on offer and any included added extras, before we take a look at the board itself, but be warned, as you may need sunglasses. After this we will take this board through our usual benchmarking suite of applications and also see how far our i7 3770k Ivy Bridge processor can be pushed by overclocking.