EIZO Releases World's First 240 Hz Monitor for Gaming
---
---
---
Peter Donnell / 7 years ago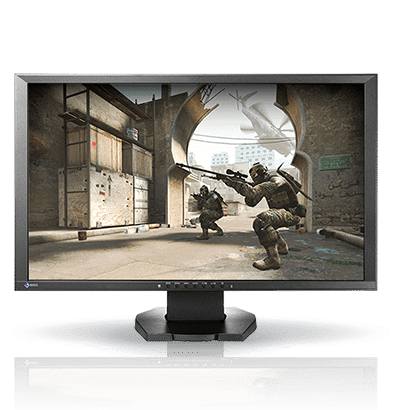 EIZO Limited today announced the 23.5-inch FORIS FG2421, the world's first gaming monitor with a 240 Hz refresh rate. The FORIS FG2421 also features a low input lag and gaming preset modes that were developed with professional gamers to make it ideal for first-person shooter, racing, fighting, and other fast-action genres.
The FORIS FG2421 comes with a new feature called Turbo 240 that surpasses the 120 Hz refresh rate of conventional gaming monitors. Turbo 240 converts 120 Hz signals to 240 Hz by controlling the blinking of the LED backlight. This high refresh rate along with a response time of less than 1 ms produces the smoothest image display available on a gaming monitor.
The FORIS FG2421 is the first gaming monitor with a refresh rate of 120 Hz or more to use a VA (vertical alignment) LCD panel. The VA panel provides a wide viewing angle of 176° and a high native contrast ratio of 5000:1 for deep blacks. This high contrast ratio increases visibility in dark scenes making it easier to spot enemies.
EIZO developed its own integrated circuit to minimize the input lag or the time it takes for commands from a keyboard, mouse, or controller to appear on the screen. With a 60 Hz input signal the input lag is less than one frame and with a 120 Hz signal it is less than 1.5 frames.
HDMI, DisplayPort, and DVI-D ports provide connectivity with PCs, consoles, Blu-ray players and cameras. A USB hub with one upstream and two downstream ports lets users connect peripherals such as a mouse and keyboard to the monitor. A line-out jack for connecting to external speakers and a headphone jack provide further functionality.
It packs plenty of other features too like shareable colour profiles, a smart image scaler and more. It certainly sounds like one epic monitor and if we are lucky we would hope to have on in for review later this year. Personally I haven't even made the leap to 120Hz yet, but I can see pro gamers falling over themselves to check this one out. The FORIS FG2421 is available at retailers now.
Thank you Eizo for providing us with this information.
Image courtesy of Eizo.