EK Release New CoolStream PE Radiators
---
---
---
Ryan Martin / 10 years ago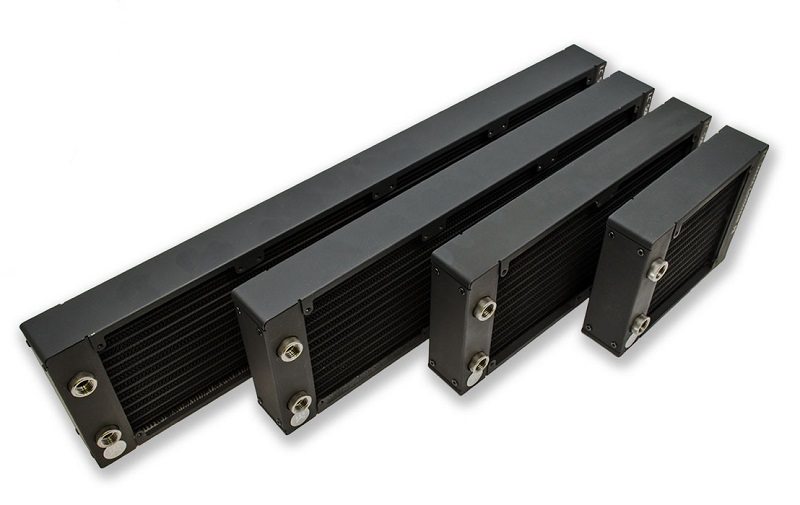 EK Water Blocks have unveiled their newest series of radiators the CoolStream PE series. This is EK's latest range of water cooling radiators available in four incremental 120mm fan sizes of 120mm/240mm/360mm/480mm. These radiators are priced at €37.56, €50.79, €64.00 and €76.20 respectively.
EK claim superb cooling across the spectrum of operational fan ranges whether that be low or high RPM fans. The radiators measure in at 40mm thick and use double stack copper fins. There are parallel flow cooling chambers to reduce hydraulic flow resistance. The radiator's shrouds are using UNC 6-32 threads on both sides to enable push-pull fan installation.
These EK radiators use G1/4 recessed threaded ports with pre-installed extenders to allow any G1/4 thread to fit. EK of course recommends its own EK-CSQ compression fittings for guaranteed compatibility.
Technical details:
Material: Copper fins, 90% copper tubing (H90), Brass chambers, Aluminium housing
FPI: 38
Port threading: 2x G1/4″
Fan compatibility: any standard size 120x120x25mm fan; UNC 6-32 thread tapping
These new EK radiators are available immediately through their web shop and will be available from EK distributors and resellers soon.
Image courtesy of EK