EK Water Blocks Enter the AIO Market like a Predator
---
---
---
Bohs Hansen / 8 years ago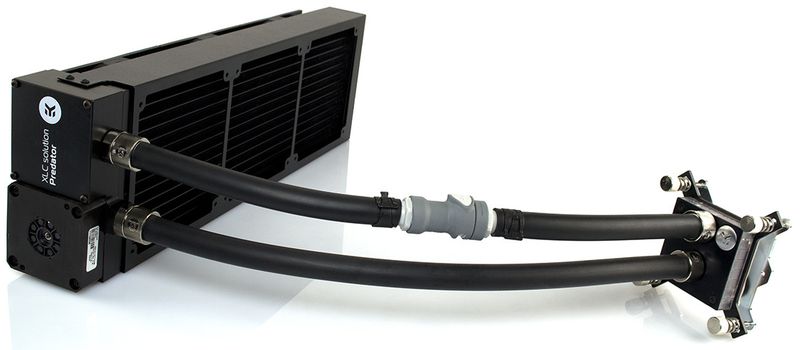 EK Water Blocks is mostly known for their do-it-yourself parts for liquid cooling enthusiasts, but that isn't enough for the company. They have set out "to shake up the liquid cooling market" with their newly presented Predator AIO CPU coolers.
EK has taken their top performing and market proven components from the existing enthusiast product line and assembled them together into one compact pre-filled solution. The result is the EK Predator 240 and 360 coolers that promise performance without compromise in a compact form factor, yet expandable, out-of-the-box liquid cooling solution. Being a AIO solution, the EK Predator is pre-filled and pre-assembled and comes with the EK-Vardar high static pressure fans with PWM controls to provide a minimal noise footprint, and noise is a common issue for existing AIO users.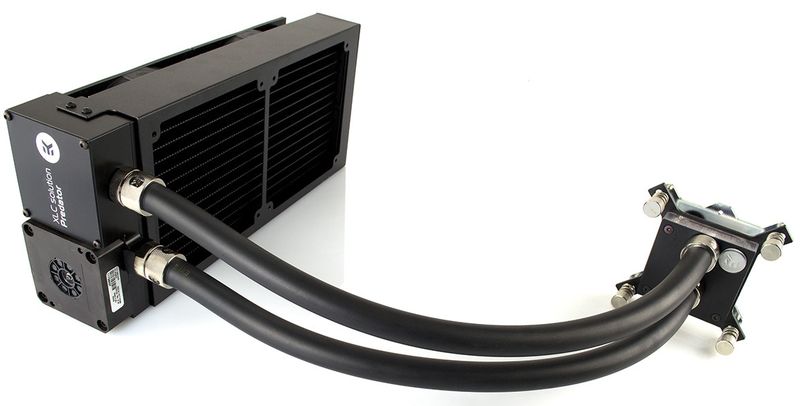 The EK Predator uses the industry standard G1/4 threaded ports and 10/16 mm Zero Maintenance rubber tubing (EK-ZMT) and it is therefore fully expandable with all custom loop gear available on the market. The Predator 360 also features an integrated Quick Disconnects (QDC), a special connector that allows quick and tool-less expansion of the system without the need to drain the unit. This could for example allow you to add a prefilled QDC-enabled GPU water block, something that EK Water Blocks will release too.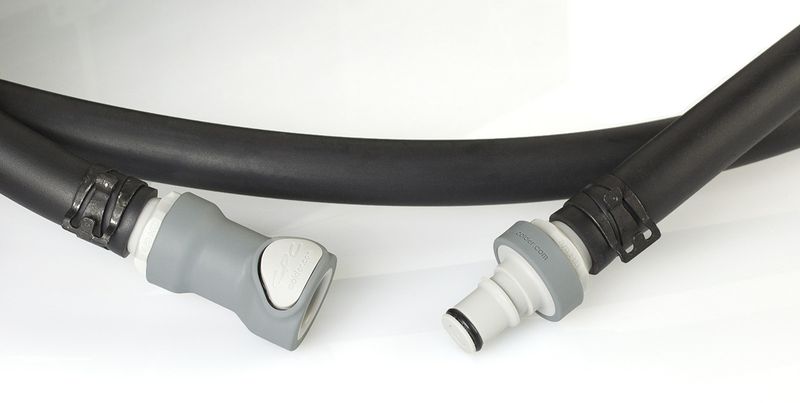 The dimensions of the main radiator unit on the Predator 240, with integrated pump and reservoir, are: 295mm x 133mm x 68mm. This should be small enough to fit into most modern computer cases. The Predator 360 is a bigger beast as it measures 415mm x 133mm x 68mm. EKWB will provide a list of compatible cases before launch.
Speaking of launch, the EK-Predator 240 will launch on September 23rd and will come with a $199 USD/€199 EUR MSRP. The EK-Predator 360 will follow and be released on October 19th and cost you $239 USD/€239 EUR. Both units will only be available for Intel CPU sockets, but AMD versions are planned for a release in sometime during 2016.
Technical Highlights
Hovercore is a revolutionary design of radiator dampeners that prevents a transfer of pump vibrations further down the unit and into the chassis, thus resulting in vibration free and silent operation.
Supremacy MX CPU water block, a top performer in the Enthusiast segment, is specifically designed for Intel CPUs and offers great hydraulic and thermal performance. Carefully machined copper base is made from purest copper available and is further polished to absolute mirror finish. This alone greatly improves the cooling performance of the block.
CoolStream PE radiator – 240mm or 360mm, has full Copper core being superior to aluminum alternatives in terms of heat dissipation. In conjunction with EK-Vardar fans, the result is increased performance across entire fan operational range thus delivering results both at low and high airflow operation.
Vardar fans – two on Predator 240 and three on Predator 360 – are high static pressure fans developed in-house specifically for liquid cooling systems. With low noise profile and PWM technology built in, you can always control the RPM and keep the fans silent while maintaining excellent cooling performance.
DDC pump is a powerful 6W liquid cooling pump providing 2-3x higher flow rate compared to other AIOs on the market. It's also PWM controlled allowing for automatic pump speed regulation depending on your CPU temperature. Full performance on demand or whisper quiet operation in idle mode!
Integrated Fan splitter hub reduces cable clutter and keeps the unit aesthetically clean. Predator pump and fans plug into the unit itself with only one PWM cable going into CPU Fan socket while a single SATA Molex cable powers the complete unit.