Emperor Chair 1510 – The Biggest And Meanest Workstation Or Gaming Gear Ever Made?
---
---
---
Gabriel Roşu / 7 years ago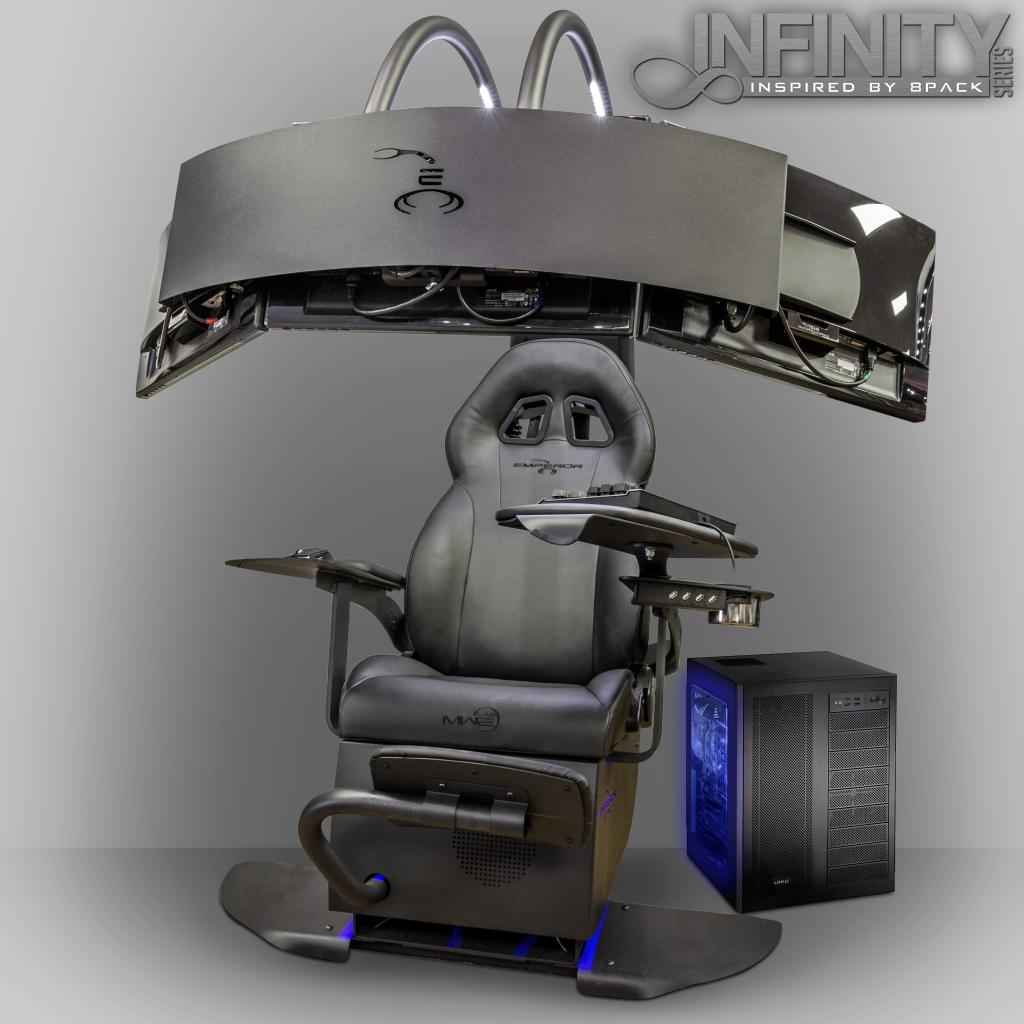 Now this is an interesting contraption indeed, the "Infinity Emperor", the ultimate in modern computing. Offering the future of workstations and the pinnacle of high-end computing, here and now. Featuring three 24″ Asus 144Hz Gaming monitors, support for a full audio system, Radeon R9-290X Crossfire, LED lighting and a full custom watercooled set up. Designed for the true enthusiast, the "Infinity Emperor" enables you to immerse yourself in the computing experience deeper than ever before. Constructed from premium grade materials. Equipped with the latest technology from Intel & AMD, the "Infinity Emperor"performs like no other.
The Emperor 1510 Chair could be the future for high-end workstations and home computing environments. The construction is stylized after a scorpion and very stable, providing the user varying options of tilt, an integrated audio system, LED lighting. It can also be solemnly used as a gaming seat as well. The Emperor 1510 offers various features that allow the user to experience new sensations of comfort never experienced before.
The brackets of the Emperor 1510 are handcrafted and made from molded stylish Canadian steel, which is solid 4.7 mm thick. All the steel straps present, are made of high quality powder-coating and are supplied by the manufacturer with 5 years warranty on any structural defects. The seat itself is of high quality microfiber fabric.
The varied mounting options for the monitor enables the user to install either the Emperor 1510 with a single monitor up to 30 inches wide or three monitors up to 24 inches (need to VESA standard support). The upper part of the seat is height adjustable via the attached steel bars.
In addition to the individual product, a complete system, the "Infinity Emperor" is offered at Overclockers UK. The Infinity Emperor system is armed with the Intel Core i7 4770K Quad Core, 8-Thread CPU overclocked to a minimum of 4.70GHz. Unchained, all four cores operate in unison in speeds never experienced before, bringing the computational experience into warp speed. Thermal management is controlled by a beautiful and intricate Custom Watercooling Loop featuring Mayhems Purple pastel fluid for a wonderfully organic effect. The memory runs at a rapid 2133MHz throughout all 16GB with a tight CAS latency of 10, bandwidth is nigh on unlimited.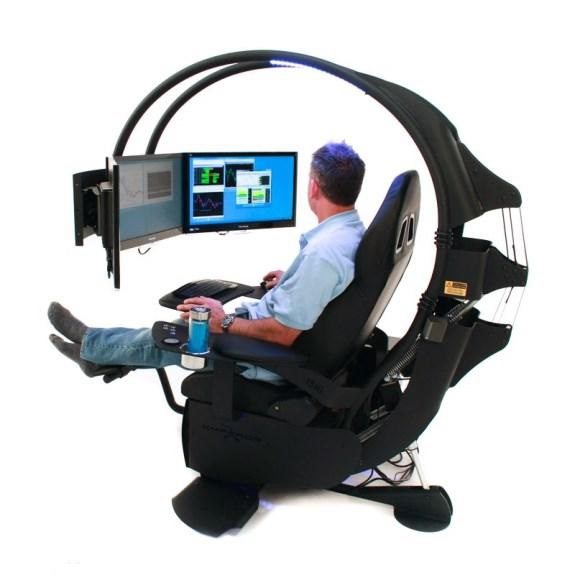 Storage is handled by both a SSD & HDD, a Samsung 840 Evo Series 250GB is selected a primary drive enabled for record OS boot times and configured for split second application and game load times. The secondary HDD is a Seagate Barracuda 2TB Sata III drive offering ample space for literally everything else. Tertiary drive options are available for those who wish to contain libraries worth of data with their Infinity System.
Decked out with a pair of AMD Radeon R9 290X 4096MB graphics cards configured in Crossfire for ultimate firepower in maximum attack mode. Both cards are fully watercooled which delivers a soothingly silent experience. There is even 4K display resolutions support to go with the rocket-powered configuration, coming as standardly configured with three Asus 24″ 144MHz LED monitors for a massive expanse of desktop space.
Powering up this massive beast is the Be Quiet 1000W "80+ Bronze Rated" 1000W PSU, relentlessly giving your components the life force required to operate at 110% whilst maintaining world-class efficiency and unrivalled silence. Modular cabling allows for a neat installation, which is beneficial both aesthetically and ideal for optimal airflow.All of this is installed within the Lian Li D600WB Brushed Aluminium Cube Case, showcasing the sophistication and empowerment unlined by the Infinity Emperor.
When it comes to prices, for the basic equipment you have to be prepared with a sum of £4999.99 inc VAT for each Emperor Chair 1510, and £9999.99 inc VAT for the complete system "Infinity Emperor" consisting of the Emperor Chair 1510 and the high-end gaming system and three monitors as standard.
Thank you Guru3D for providing us with this information