Endless Legend and Endless Space 2 Getting New Expansions
---
---
---
Ron Perillo / 4 years ago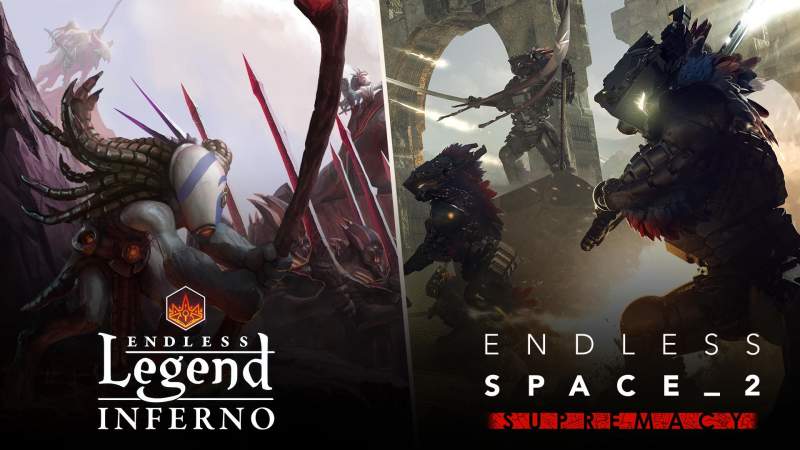 Two New Expansions from Amplitude Studios
Amplitude Studios is releasing new expansions for two of their games published by SEGA. This includes new content for the strategic space opera Endless Space 2 from 2017. Plus, Amplitude Studios is also releasing new content for the fantasy strategy game Endless Legend from 2014. This marks the 7th non-free expansion for the 2014 fantasy strategy game, and the fourth for the 2017 space strategy game.
The Endless Legend Inferno and Endless Space 2 Supremacy expansions are coming out in a few days. Specifically, both will be available starting the 2nd of August. Both are actually now available for pre-order via Steam, with a 10% off discount individually. Users can also opt for a bundle and save 20% off collectively.
What is New in Endless Legend Inferno?
Inferno introduces a brand new Faction to the game called the Kapaku. Forced to leave their volcanic home planet, the Kapaku lands on Auriga with the firm intention to create a paradise of ash and fire.
They gain strong unit buffs while on volcanic tiles and have productions perks that reward them for settling on volcanic regions. Their gameplay focuses on leveraging these perks to field large armies with quality gear, or teching quickly into wonders and deeds.
What is New in Endless Space 2 Supremacy?
Supremacy introduces the Hissho Major Faction to the game. Plus, the Behemoth Ship, which is a new massive galactic platform available to all Factions.
The Hissho are a military and expansion-oriented faction whose main gameplay feature is Keii. This new resource can only be replenished through combats is used to power special abilities.
Can My System Run These Expansions?
Minimum Requirements
OS: Windows 7 / 8 / 8.1 / 10 64-bit
Processor: Intel Core i3 4th generation / Intel Core i5 2nd generation / AMD A6 series
Memory: 4 GB RAM
Graphics: Intel HD 4000 / AMD Radeon 5800 series / NVIDIA GTX 550Ti
DirectX: 11
Storage: 8 GB
Recommended Requirements
OS: Windows 7 / 8 / 8.1 / 10 64-bit
Processor: Intel Core i3 5th generation / Intel Core i5 3rd generation / AMD FX4170
Memory: 8 GB RAM
Graphics: AMD Radeon 8000 series or newer / NVidia GTX 660 or newer
DirectX: 11
Storage: 8 GB
How Much Are These Expansions?
Both Endless Space 2 Supremacy and Endless Legend Inferno are currently only £9.89 in the UK. Without the promo discount, their regular price is individually is £10.99 via Steam.