Enermax 2.5 and 3.5-Inch Mobile Drive Rack Roundup Review
---
---
---
Bohs Hansen / 8 years ago
Introduction
---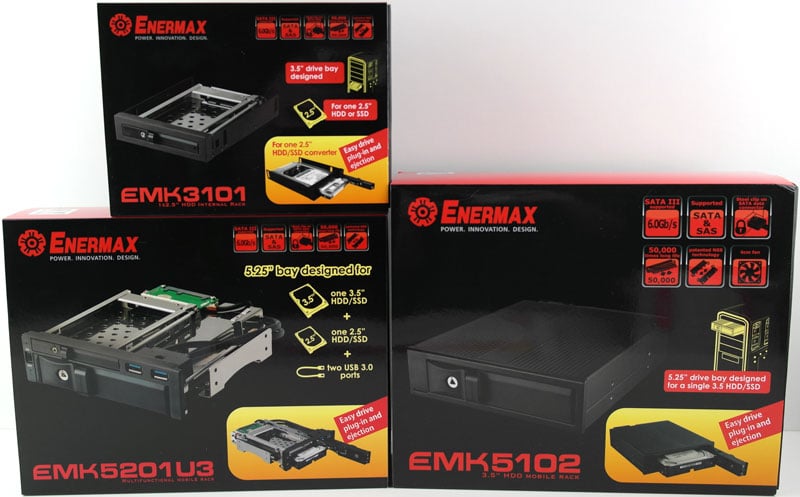 Being able to quickly eject drives can not only be an extra convenience but also a great bonus in many situations. Enermax has created a very long list of amazing docking bays and mobile racks for just this and today I'm taking a closer look at three of them in different form factors and with different capabilities – one for every usage scenario.
We will need to go up a drive size when we have a docking station around the drive, that's a given. The three mobile racks that I'm taking a closer look at today are the EMK3101 for a 2.5-inch drive in 3.5-inch bay, EMK5102 for a 3.5-inch drive in a 5.25-inch bay, and the EMK5201U3 that combines the two previous into one smart unit. It has both a 2.5-inch and 3.5-inch bay as well as two front USB 3.0 ports in the spare area.
The EMK3101 allows you to easy swap, plug-in, and swap out 2.5-inch drives in this 3.5-inch sized mobile rack. A simple mechanic lever will eject the drive when you need it and it comes with a lock when you want to make sure that it stays in there. The connection is a direct pass-through and one that won't affect performance. A simple solution that works every time.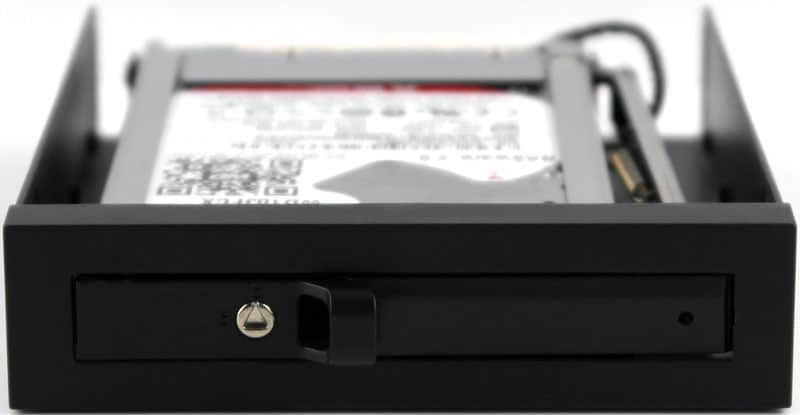 SSD or 2.5-inch HDDs might not be all you would like to hot-swap with easy front access, 3.5-inch drives are still king of the storage area and that is where the EMK5102 comes into play. The 5.25-inch sized mobile rack allows you to hot-swap a 3.5-inch drive, in the same way the EMK3101 does with a 2.5-inch drive.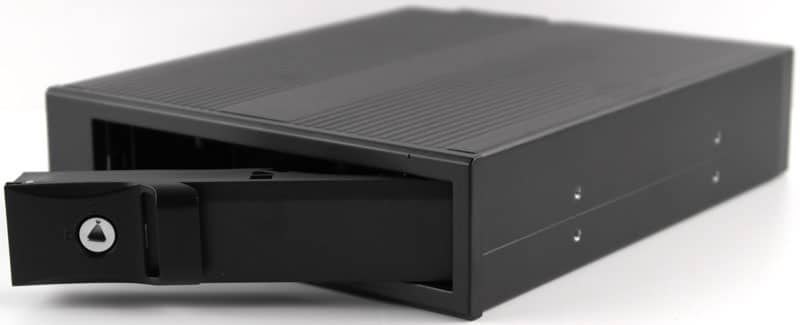 Combining the two enclosures above and adding two USB 3.0 ports and we get the Enermax EMK5201U3 mobile rack. It can hold both a 2.5-inch and 3.5-inch drive as well as having two USB 3.0 ports with direct header connection.

All three enclosures come with the patented Non-Scratch SATA connectors that guarantee a maximum life span with up to 50,000 drive insertion and ejections. The SATA connectors are gold-plated for better grip and protection from corrosion and the steel clip on the included SATA cable to avoid accidental cable removable.
The mobile racks support the latest SATA III and SAS drives as well as USB 3.0 5Gb/s connectivity for the EMK5201U3 model. The enclosures are built from with sturdy stainless steel frames to keep everything living for as long as possible and have LED indicators to show when the drives are being accessed.